San Diego Comic Con is generally the singular biggest event of the year for Sideshow Collectibles to unveil new statues at, and while SDCC 2021 isn't *really* happening this year as a physical show, Sideshow has been holding their own Sideshow Con 2021 this week instead! I'm somewhat disappointed in the lack of new X-Men statues from them, but Sideshow otherwise hit us up with a grand slam of other new headliner 1/4 statue Marvel Premium Format Figures: Venom, Carnage, Captain America and Black Widow!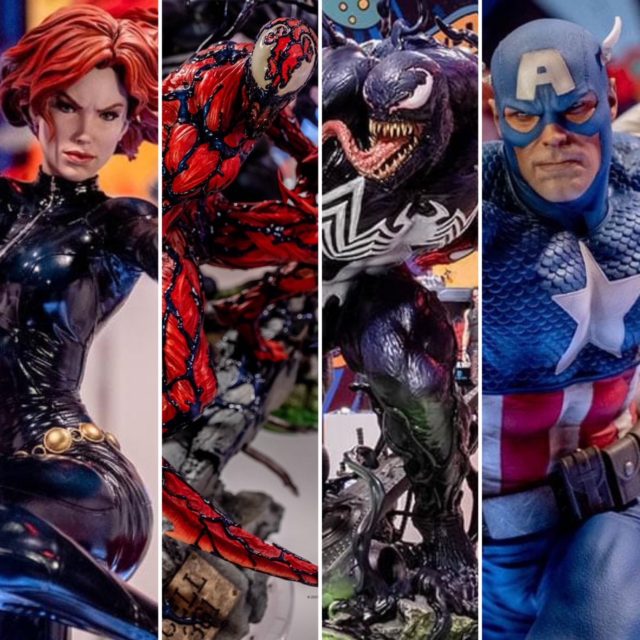 My wallet breathed a little bit of a sigh of relief this week when I realized that Sideshow Collectibles was in fact not going to debut any new X-Men Premium Format Figures right now, as I am hopelessly weak to resist anything that they put out in that lineup.
That relief was ephemeral, though, as I came to the epiphany that Sideshow was probably going to get another $1K+ out of me this year anyway, though, because I'm all but certain to break down and need to upgrade a couple of the characters they did debut at Sideshow Con 2021 to their new 1/4 versions!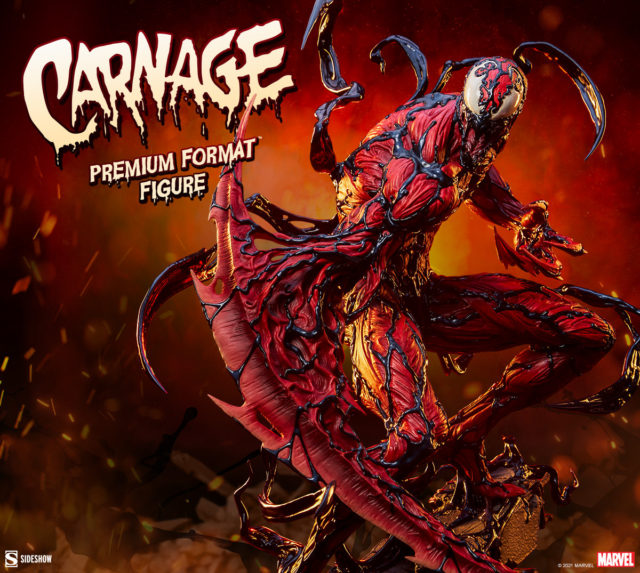 Of the quartet that premiered at the show, the one that easily caught my eye and impressed me the most is the new Carnage Premium Format Figure. Don't get me wrong—I still totally dig the 2016 Carnage PF. In fact, I regretted getting rid of mine and was lucky enough to have a friend sell me theirs last year because I missed it.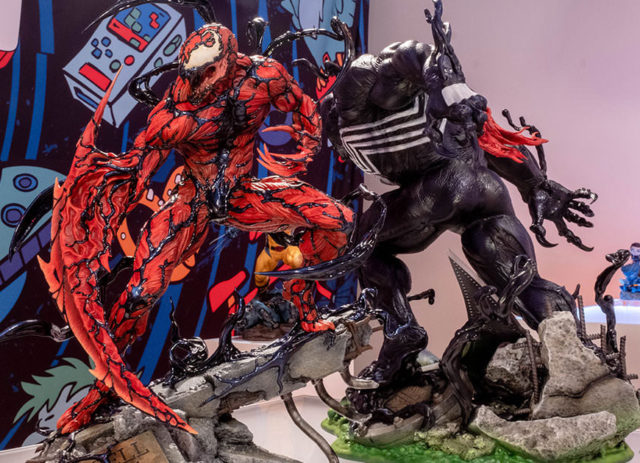 But as detailed and cool as the last Premium Format Carnage statue is, the stepping forward pose always felt a bit awkward to me. And that's where Sideshow has gotten me with this new version: even with a scythe-arm and his claws out, this is basically a museum-posed Carnage that looks natural and poised to bust out into a vicious attack at any time. Frankly, I love it.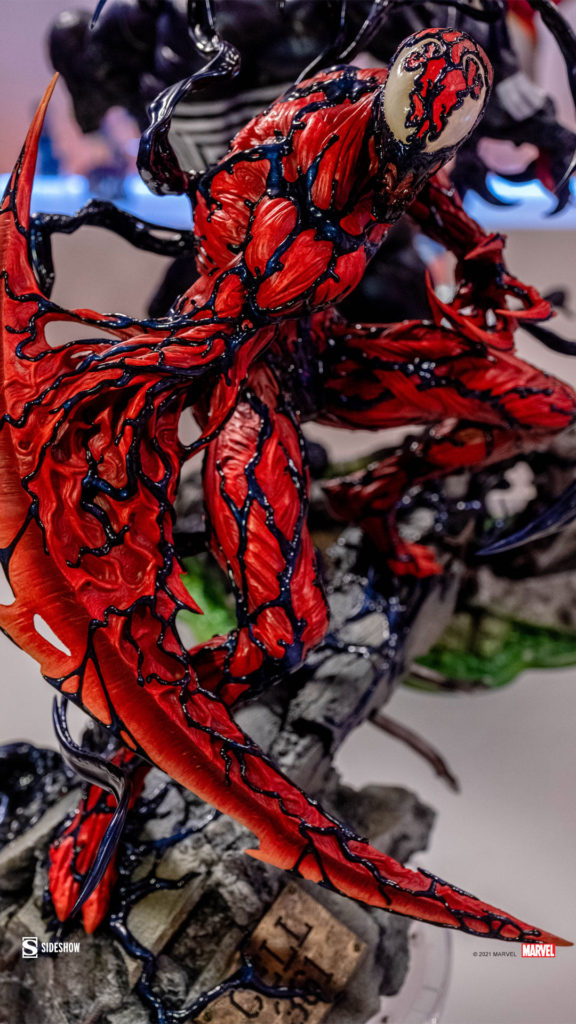 The color scheme this time around is much brighter and less gritty than the previous SS Carnage 1/4, which I do have done trepidations about, though. But the photos we've seen are under the bright studio lights at Sideshow Con, so I'm hopeful that the official pre-order photos will look a bit less bright. If so, this looks like a certain buy for me.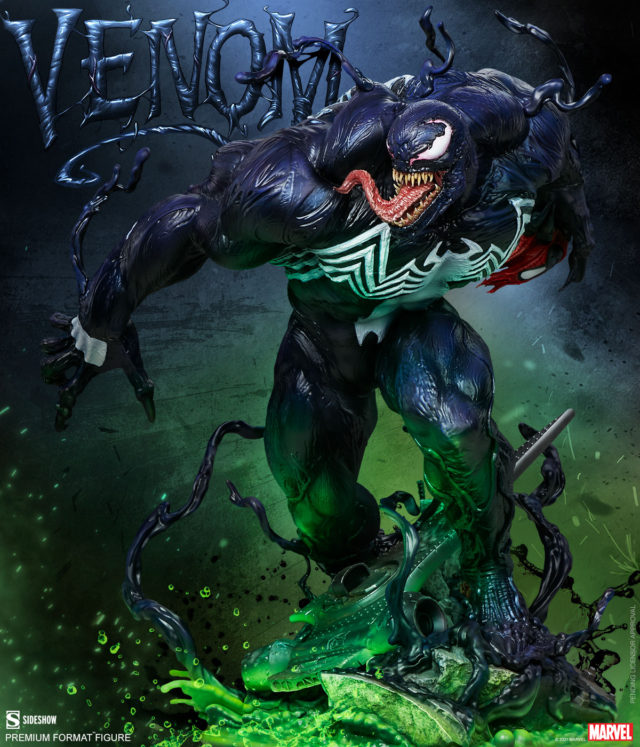 The new 2021 Venom Premium Format Figure… I am less convinced about. This Venom PF actually is in a bulky, stepping forward pose, and I'm not sure I love it.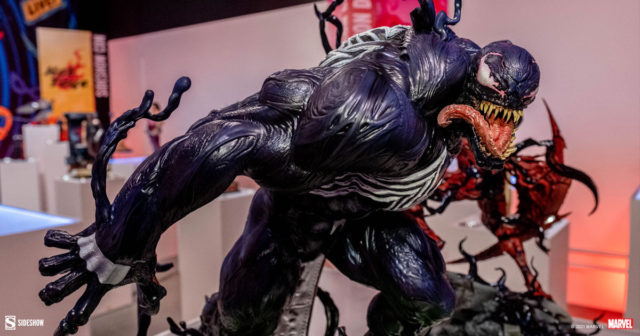 With both arms way back he doesn't seem particularly ready to strike, and the sinewy texture of the symbiote and the portrait seem like a step back from the 2016 Venom.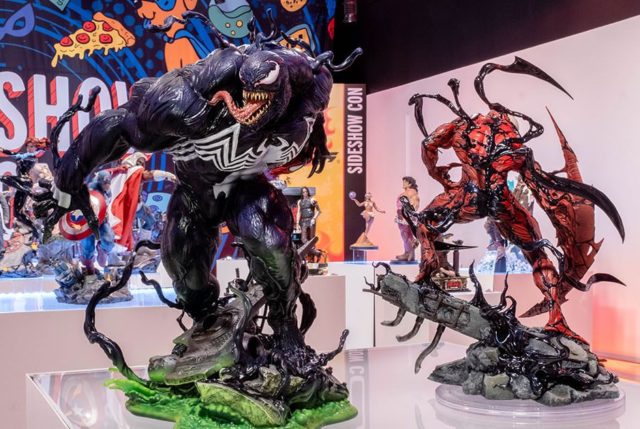 I probably can get past my other quibbles about this statue, because I like Venom an awful lot as a character and love buying cool merch of him—but for me, there's gonna have to be an interchangeable head (EX or otherwise) or this one is a no-go for me. Not bad, but not at the level of the previous effort in my eyes (at least not as he is).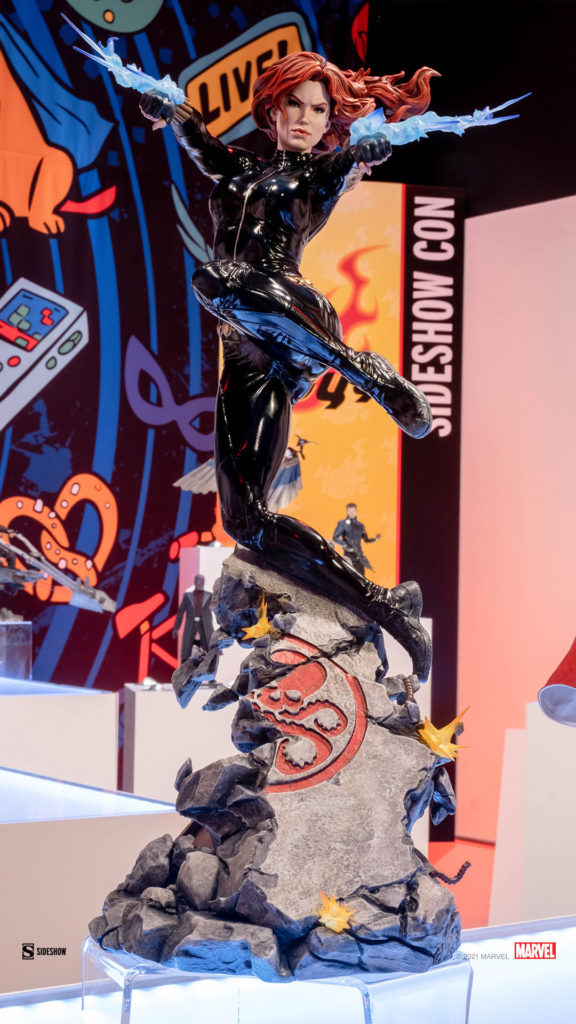 Moving on, we've got yet another Black Widow Premium Format Figure. The last one went up for order over three years ago and has been long sold out, though, so that's fine with me—especially with the supposed increased demand for the character thanks to her solo movie arriving this month.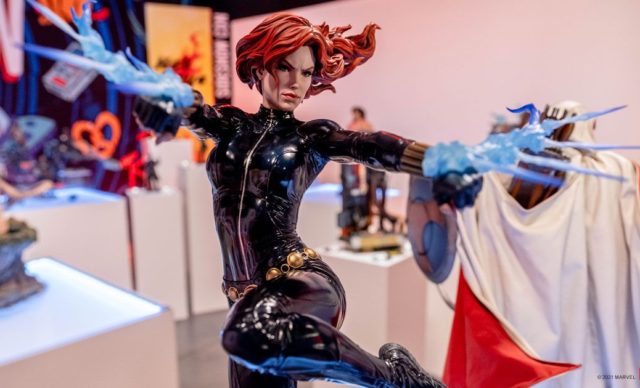 Rather than going for a museum pose with realistic guns as they usually do for Natasha, Sideshow chose a super-dynamic pose of Black Widow jumping into action and firing her Widow's Sting gauntlets. The translucent blue effects for this look a mite odd, and I'm not sure how I feel about the ultra-glossy black paint or the pose overall. I'm sure this will sell swell, but I don't think this one is for me.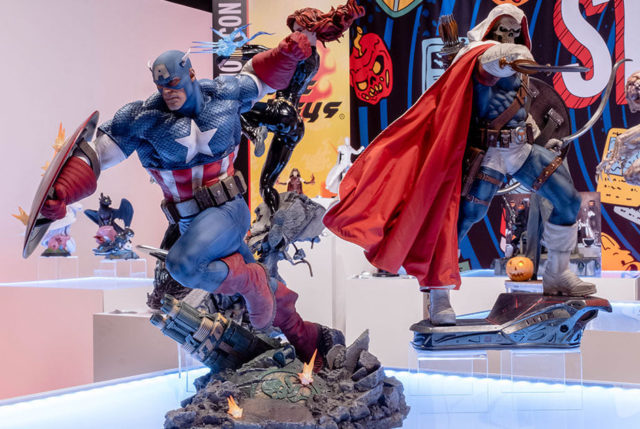 Finally, we got an all-new Premium Format Captain America statue—the first one since the February 2018 Daniel Bel version. That one was very museum-posed, so the name of the game is of course action pose this time around. Cap is lunging forward and using his shield to deflect bullets, while preparing to launch a knockout blow with his other arm.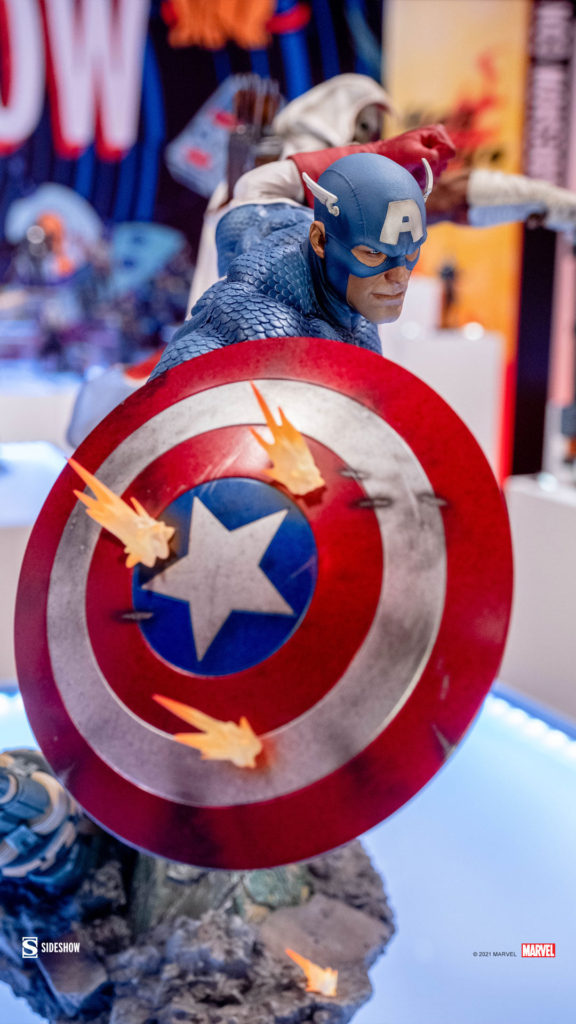 When I saw the first teaser of this new Sideshow Captain America statue that only showed a snippet of his chest and head, I hated it on sight and thought it looked like a bad Rob Liefeld Cap. After seeing more… this piece is legit growing on me.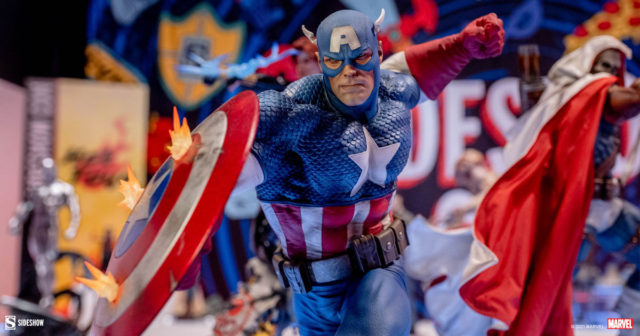 This is a very thick and bulk Captain America PF—more so than we've become accustomed to—but the dynamic feel of this piece and its unique look and proportions are resonating with me to a degree I would not have expected. I'm not in love with the bullet effects, but this is a pretty stellar Cap that may end up being the only comic book 1/4 of the character in my collection.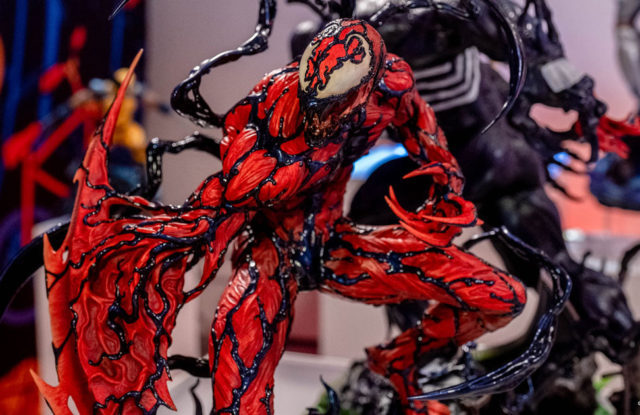 All four of these statues should be up for pre-order on the Sideshow Collectibles website in the coming months, and presumably with Sideshow Exclusive editions available only on the website. I think these are going to be four huge hits for them, even if a lot of fans are likely to complain about the repetition of "the same old characters".
What do you think about the newest four Sideshow Marvel Premium Format Figure reveals, Marvel collectors? Are any of these going to be upgrades to a quarter-scale version of a character you already have, or even your first 1/4 of that character? If you're frustrated about the revisits, what viable characters would you like to see SS so in this scale that they've never done before?
The post Sideshow Con 2021: Premium Format Venom Carnage Black Widow & Captain America Statues! appeared first on Marvel Toy News.