After a successful run of action figures based on 2018's Halloween – a direct sequel to the 1978 horror movie that started it all – NECA turns their attention to Halloween's ORIGINAL sequel, 1981's Halloween II. Confused? You have every right to be. After all, this is a franchise that has THREE movies named Halloween in it.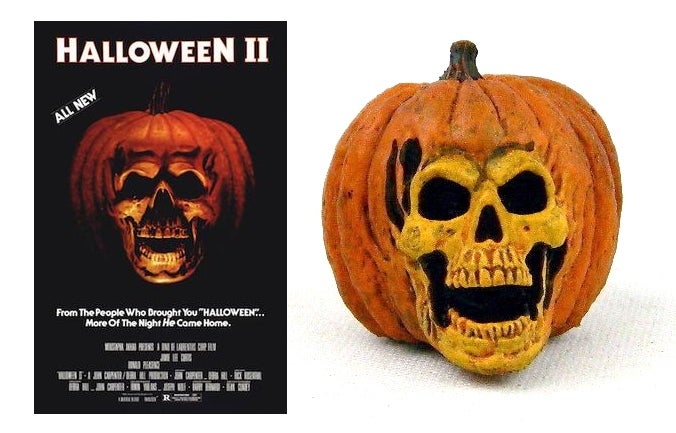 Regardless of Halloween's convulted continuity issues (don't even get me started on the Rob Zombie reboot), 1981's Halloween II was a great horror movie. It had everything fans could want in a sequel: a more relentless, unstoppable Michael Myers, the return of Jamie Lee Curtis as survivor Laurie Strode, and something the new movies will never have, Donald Pleasence in his unforgettable role as psychiatrist and Michael Myers hunter, Dr. Loomis.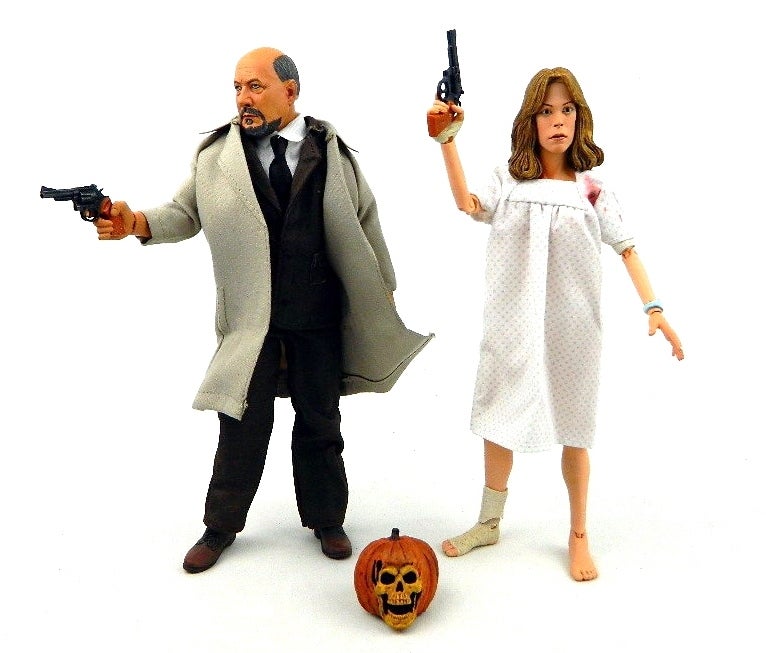 In an incredible act of fan service, NECA follows the release of Halloween II's Michael Myers in their 8-inch clothed figure format with a deluxe box set starring the other pivotal players in the movie: Laurie Strode and Dr. Loomis. As a cool bonus accessory, this pack even includes a replica of the Jack-O-Lantern skull seen on Halloween II's movie poster! Hitting retail anyday now, this amazing action figure package can be ordered now through many fine retailers, including EntertainmentEarth.com where it is priced at $64.99.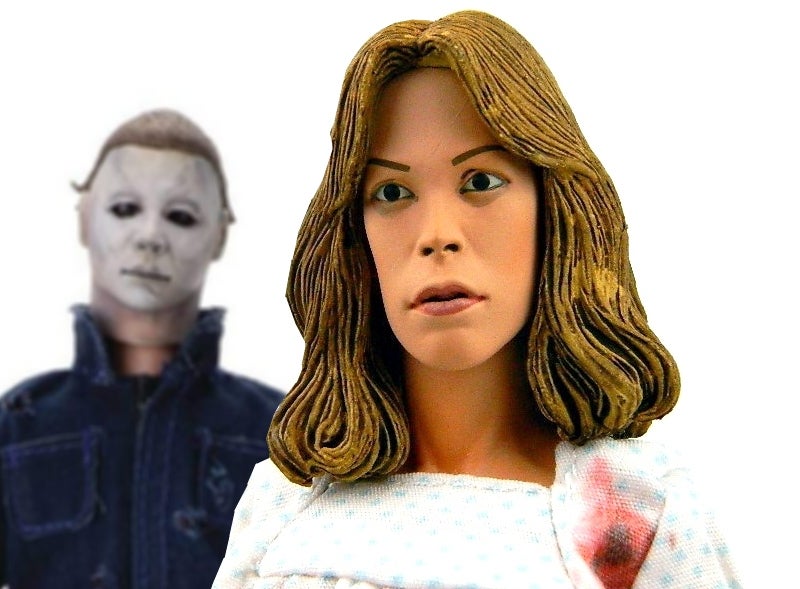 Both figures arrive in window box packaging that recreates the look of Haddonfield Memorial Hospital – the location where most of the action (killing) takes place in Halloween II. Laurie Strode is a patient there after nearly being killed by Michael earlier in the night (see 1978's Halloween). Curtis' character is represented here looking very much like the young actress in the movie, complete with film-accurate "battle damage" of a bloody hospital gown, bandaged hand and foot. NECA even sculpted a medical bracelet on her!
The use of a real cloth "outfit" really makes sense with this version of Laurie; the flowing hospital gown adding an extra layer of reaslim to the figure. For accessories, Laurie packs a revolver – the U.S. Marshal's pistol that she uses to shoot Michael Myers in the eyes at the end of the movie.

Rounding out this amazing set is Dr. Loomis. As Michael Myer's former psychiatrist, Dr. Loomis is one of the few people (aside from Laurie) that know just how inherently evil Michael is. The madman must be destroyed, prestigious medical career be damned! While I thought the likeness of Jamie Lee Curtis was spot on, NECA's work on the late, great Donald Pleasence takes the cake. Simply incredible sculpting work; a facet of NECA's 8-inch clothed figure series that truly elevates them beyond your typical Mego-style figure.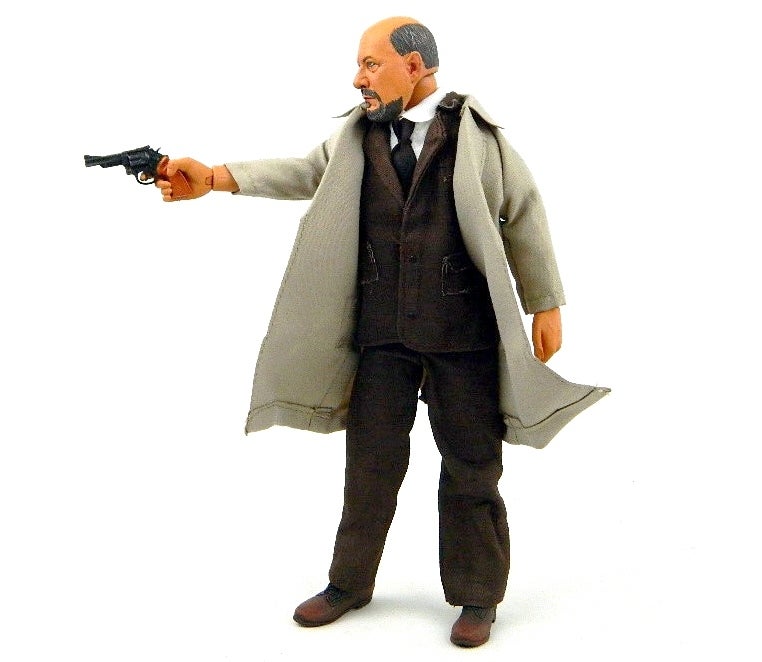 For accessories, Dr, Loomis packs his trusty revolver – which believe it or not, is ever so slightly different from Laurie's. I wasn't paying attention when I removed them from the package, but if you want true movie authenticity, be sure you arm both characters with the pistol that is closest to them. Loomis also includes an alternate hand holding a Bic lighter, perfect for recreating the explosive finale (or for hunting down Michael in the dark). You'll have to fuss a bit with Dr. Loomis' real cloth trenchcoat to relax the twisty tie creases, but the semi-poseable wire seam in his coat helps with the process (and makes for some dynamic windblown poses).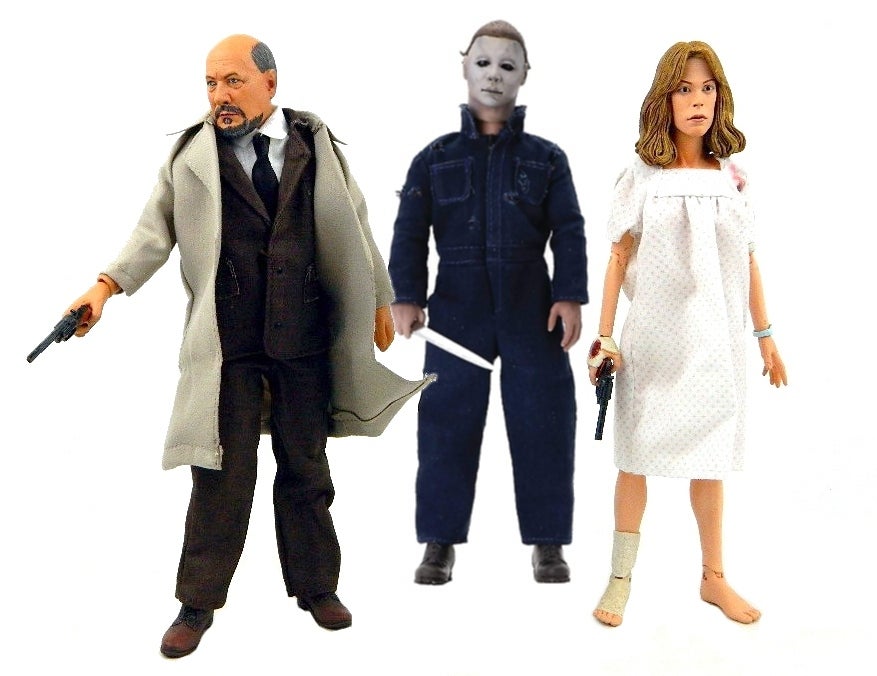 This is an excellent figure set for passionate Halloween fans . Collectors barely think twice about getting action figures of horror icon Michael Myers. However, receiving figures of equally iconic movie characters, such as Laurie Strode and Dr. Loomis, is a rare, unexpected treat. Kudos to NECA for getting them made.
Scroll on for more photos!
Review and and Photos by Jeff Saylor
Review Sample courtesy of NECA
We are committed to finding, researching, and recommending the best action figures and collectibles. We earn commissions from purchases you make using the retail links in our product reviews. Learn more about how this works.
[See image gallery at www.figures.com]
---