With somewhere between a month and a month and a half before the 2019 Marvel Legends Black Panther M'Baku Series starts appearing, we've got a bit of time to wait before we're likely to see more Hasbro ML news. But hey, it's not a total loss, as I still have plenty of review-less 2018 figures to cover! The Venom Legends series has been almost a unilateral win across the board so far, but there's one figure left to review: Marvel Legends Typhoid Mary is already selling for below retail price, but that doesn't mean she's not a solid figure…
The Right:
Typhoid Mary might not be the Marvel Comics character that's the most politically correct, but she's definitely one of Daredevil's most prominent villains to never be done before in super-articulated form.
And so, going into this review, I'm a little bit biased and on Bloody Mary's side. But with her rounding out a wave that she's not strongly related to (at all), is she still any good? Well, the answer is at least somewhat "yes". I'll talk about the aspects of this figure I dislike in a bit, but let's start off with the positives…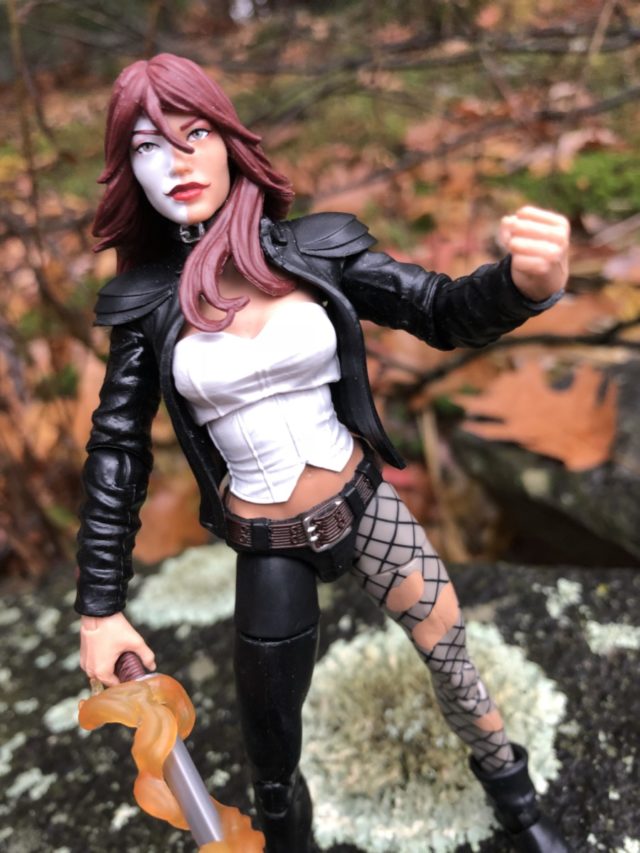 The thing that instantly caught my eye when this Marvel Legends Venom Typhoid Mary action figure was revealed was the new mold for her upper torso—a vest. Besides being quite attractive and well-sculpted, the vest mold has "new White Queen" and maybe even "White Rabbit" written all over it, so I'm definitely stoked to see where this part gets reused.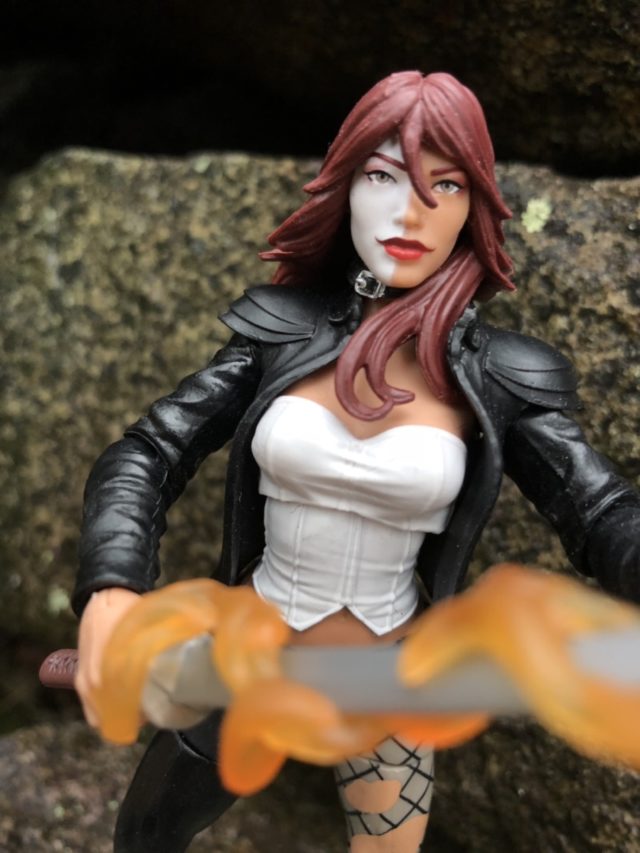 The vested upper torso is covered by a black leather jacket add-on piece, which fits snugly and looks seductively stylin'. Couple that with Mary's pretty (and maybe a little scary) face, and you've got a super-villainess who's quite the looker! No wonder Daredevil fell for her!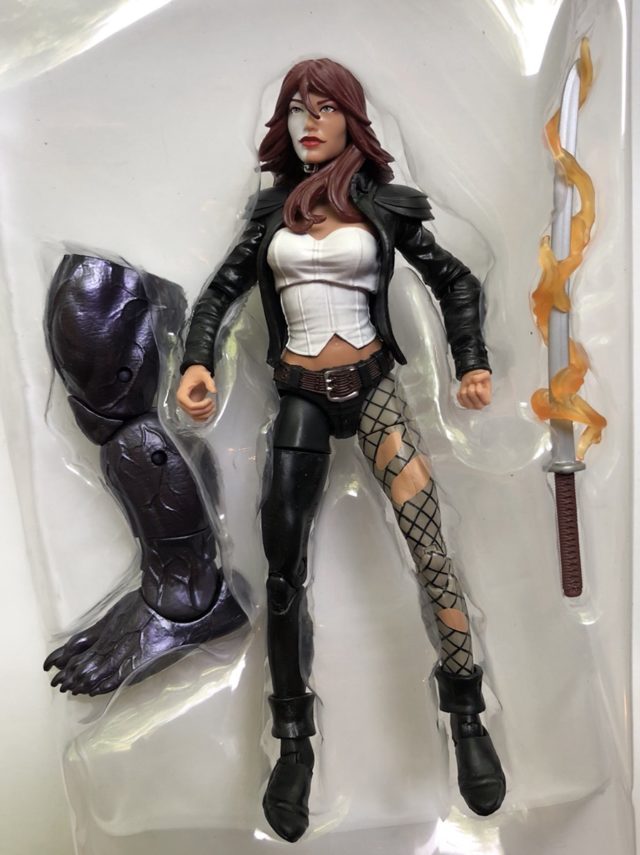 Mary comes with three accessories: a Monster Venom Build-A-Figure leg, a sword and a flame effects piece that fits over the sword. If that flame effect looks familiar, it's because we also just got it with the new Marvel Legends Psylocke figure I reviewed earlier this fall.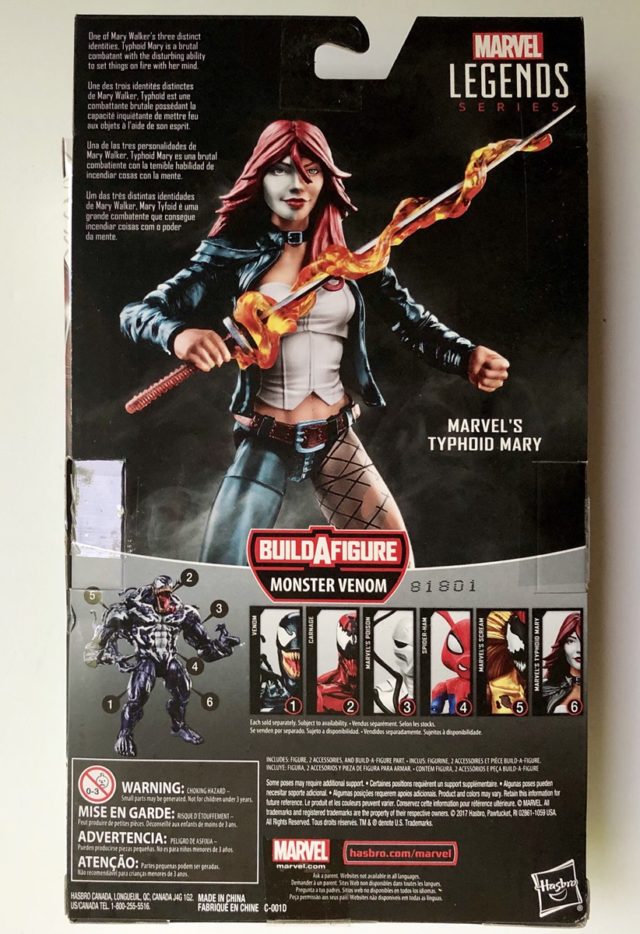 Pyrokinesis is a cool power to have and I'm glad to see Hasbro representing it here, although I'm less crazy about the sword for a reason I'll get into in a bit.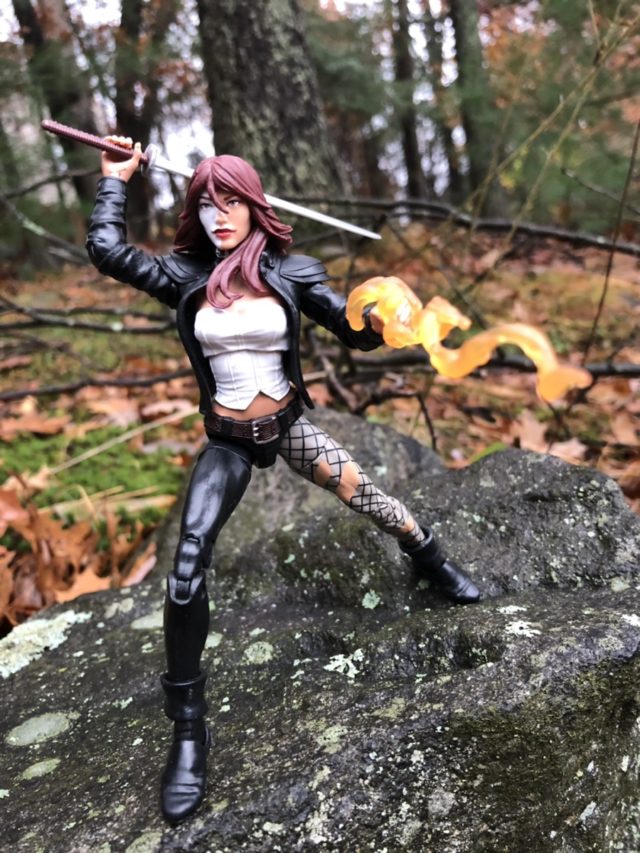 If you don't want the flame on the sword, it can also be attached to one of Mary's hands (which is actually where I prefer it). The "crotch" piece is also a standout for me, as I really like the sculpted texture lines on Typhoid Mary's belt. It's the little details like that that shine brightest on this figure.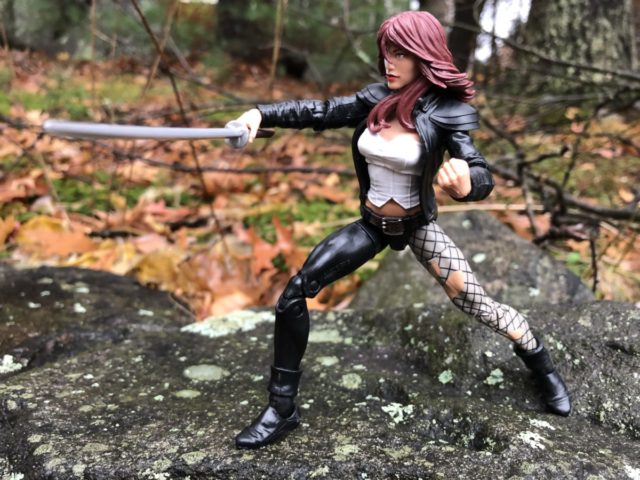 Articulation-wise, ML Typhoid Mary is… decent (which is to say, "super-articulated, but as usual, not as much as the male figures"). I had a harder time getting Mary to stand up stably than I typically do even with female Legends figures, despite the fact that all of her joints are fairly tight.
The Wrong:
I love me some Venom comic books, but I am at a loss as to what Typhoid Mary is doing in this assortment. Unless there's some deep and meaningful relationship between Mary and Eddie Brock that I've remained somehow oblivious to, the connection between these characters is tenuous at best.
Since this figure is required to build the Monster Venom BAF, I'm not a big fan of having a totally unrelated character included in a themed wave like this. This won't factor into the review score, but it is a choice that threw me for a loop.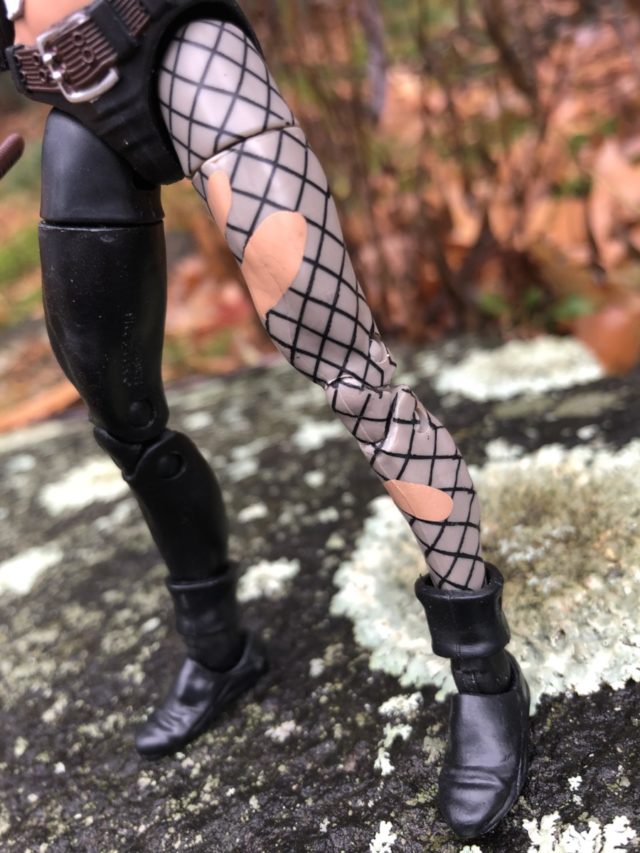 As far as the ML Typhoid Mary figure itself's flaws, it has its fair share. Fishnet stockings are a tough thing to replicate on a toy figure, and the basic way that they're painted onto Mary's left leg just looks bad to me. The blobs of paint representing torn sections of the stockings look ridiculous fake to me. The way the fishnets were executed just isn't convincing.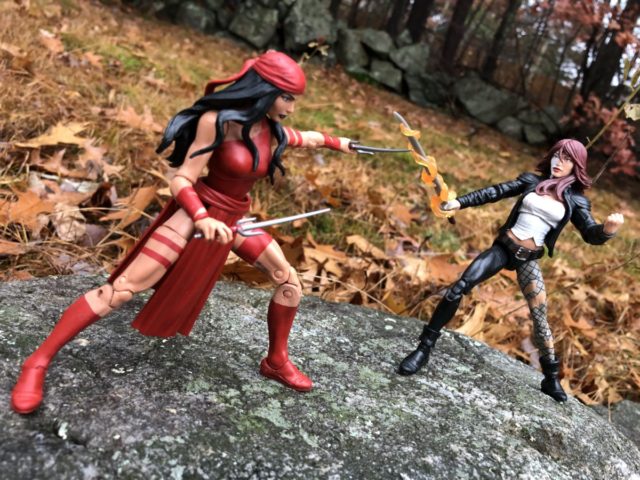 In addition, while I like that Hasbro gave Mary a sword with a flaming effects piece add-on, the sword is meaningless since the 6" Typhoid Mary Legends figure's grip is simply too loose to hold the sword. The sword falls in and out constantly, and posing with it is a major chore since it's not held tightly at all.
Even if ML Typhoid Mary could hold the sword, her arm articulation is fairly limited (like most Hasbro females), so she can't really wield the sword in the dynamic poses I'd like to achieve.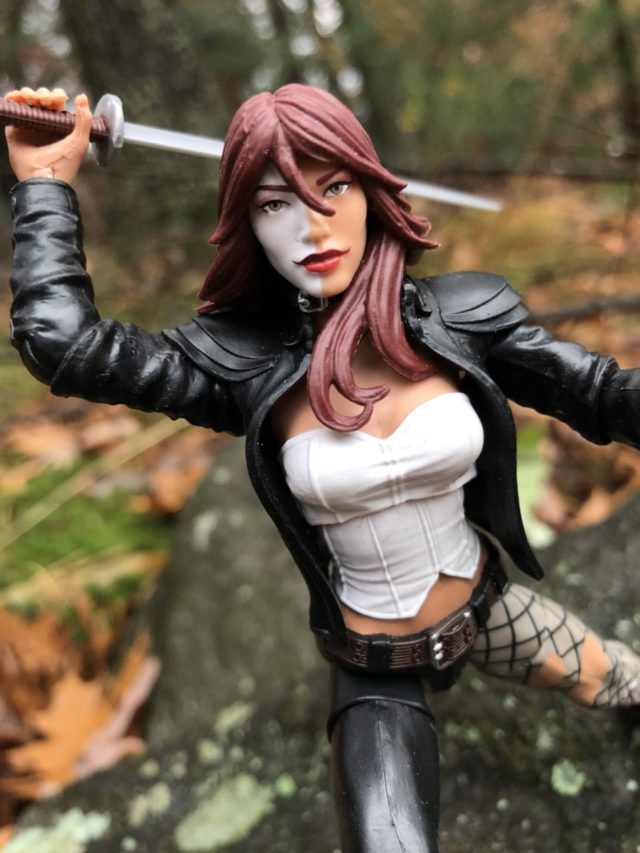 Overall: While I applaud Typhoid Mary getting her own six inch figure, this particular figure feels pretty average compared to the many hits Hasbro served us in 2018. Mary's including in the Venom Marvel Legends series is baffling, her articulation is less exceptional than most other modern ML and she can barely hold her sword at all.
On the bright side, she's a character never done before in super-articulated form, her jacket and vest upper torso pieces look fabulous, and the flame effects piece is rockin'. This is a decent figure that I think fans of the character will appreciate, but overall it's merely "good" and not at the same level as some of the best stuff Hasbro has done this year.
GRADE: B-
The post REVIEW: Marvel Legends Typhoid Mary Figure (Venom Series) appeared first on Marvel Toy News.