If anyone needed any evidence that absolutely nobody from the Marvel Comics universe is off-the-table anymore for getting an action figure, I point to the subject of today's review: Spider-Man Marvel Legends Frog-Man! I had hope in my heart that I could review the Fabulous Frog-Man as my first Spider-Man Marvel Legends 2021 review, and finding him by surprise before my online pre-order could arrive has made that dream a reality! Is Hasbro off to a good start with my first most-anticipated action figure of 2021?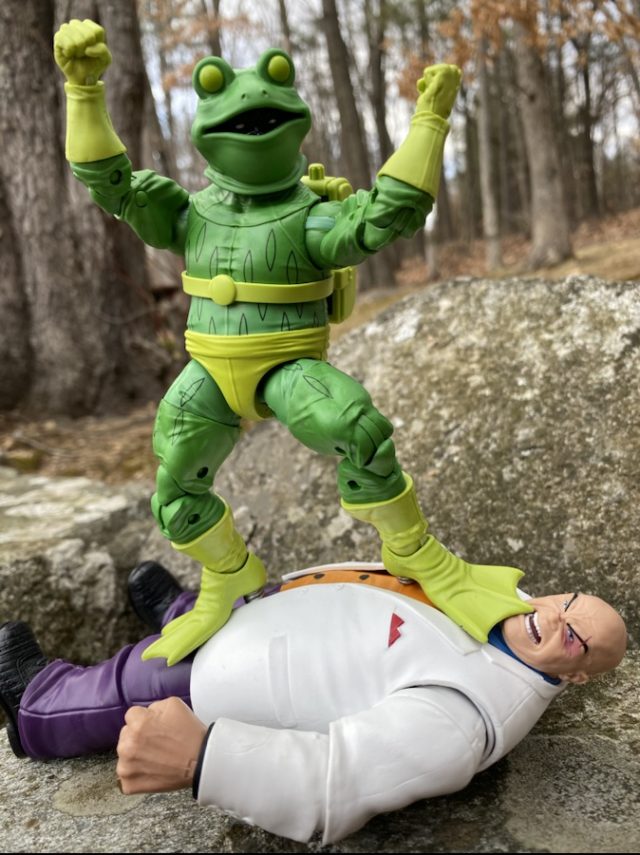 Anyone who's been reading this blog for a while knows that I have a legit, glaring weakness for the most wacky and absurd (and sometimes downright stupid) characters in the Marvel Universe.
So when I read issues of the Spectacular Spider-Man comics as a kid featuring the Fabulous Frogman, I knew in my pre-pubescent heart that I'd be pining away for my whole life for an action figure of a man in a frog costume with springs on his feet that was never gonna happen.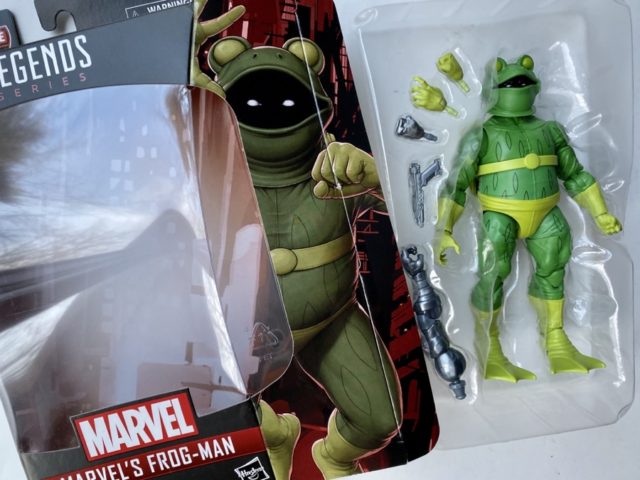 But when Marvel Legends White Rabbit was announced in summer 2019, suddenly the impossible seemed a whole lot more possible. And 17 months later, the possible has occurred, with the Fabulous Frog-Man Marvel Legends figure now released in the first Hasbro wave of the year! Is this figure everything I ever daydreamed of for almost 30 years…?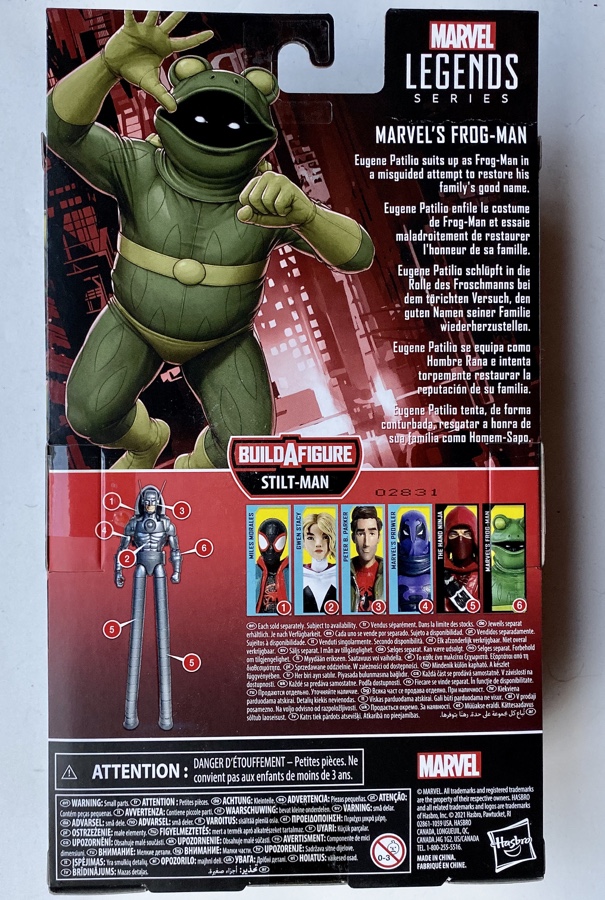 Frankly, it's hard for any toy to live up to close to three decades of anticipation—but this frog-costumed superhero figure definitely puts a big effin' smile on my face like few toys have this past year!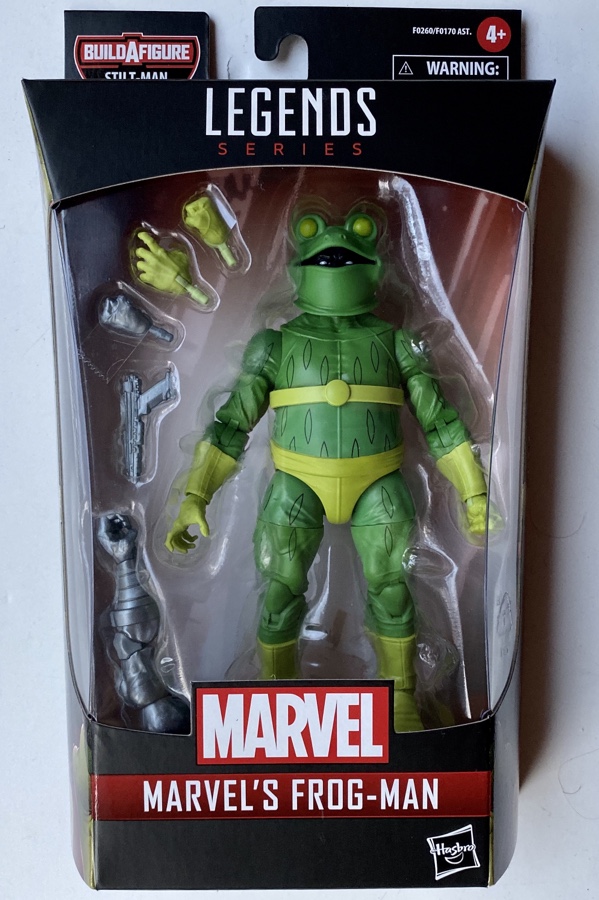 While this isn't a 100% new sculpt like some folks may think—the most recent Doc Ock Legends figure tooling was actually utilized in the construction of this figure—the tooling here absolutely works and the proportions look downright perfect.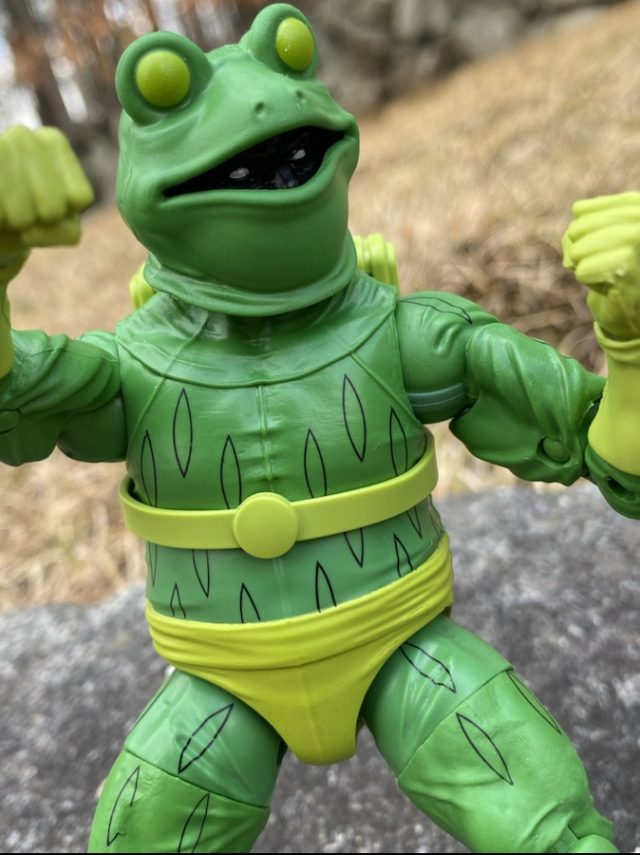 The oversized frog mask head looks every bit as comical and ludicrous as I could have hoped for, and it's a ton of fun posing and photographing ML Frogman from different angles so that sometimes Eugene Patilio's human eyes are showing from inside the frog mouth and sometimes they're not.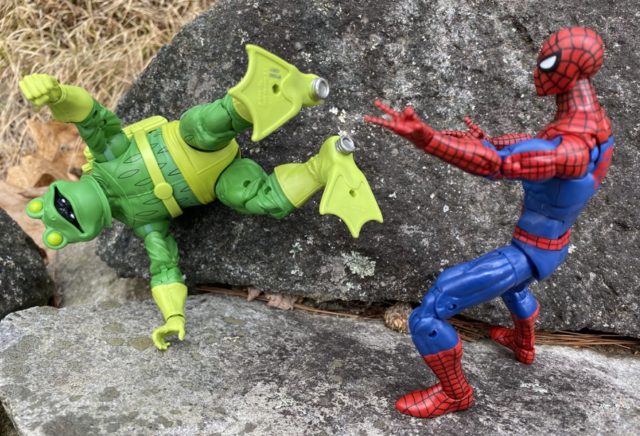 The leaping coils at the back of his webbed frog flipper feet are present and accounted for, and Hasbro kindly painted them silver (as they should be) rather than cheaping out and leaving the feet unpainted green. An important and necessary detail, as the springs are Frog-Man's sole "super power".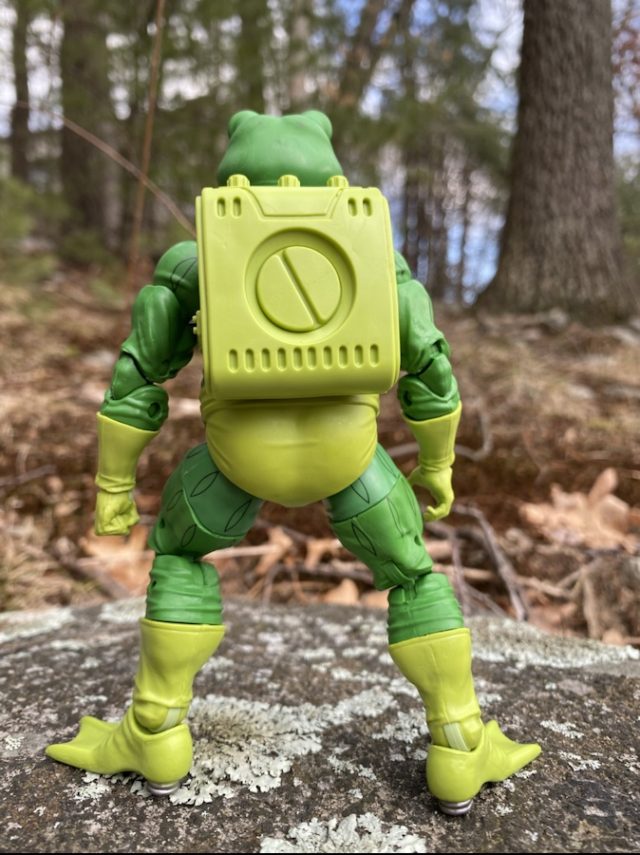 The oversized backpack for Frog-Man is similarly awesome—and ridiculous—and adds so much to the surreal feeling of this six inch figure. The backpack fits snugly with the chest strap and looks great.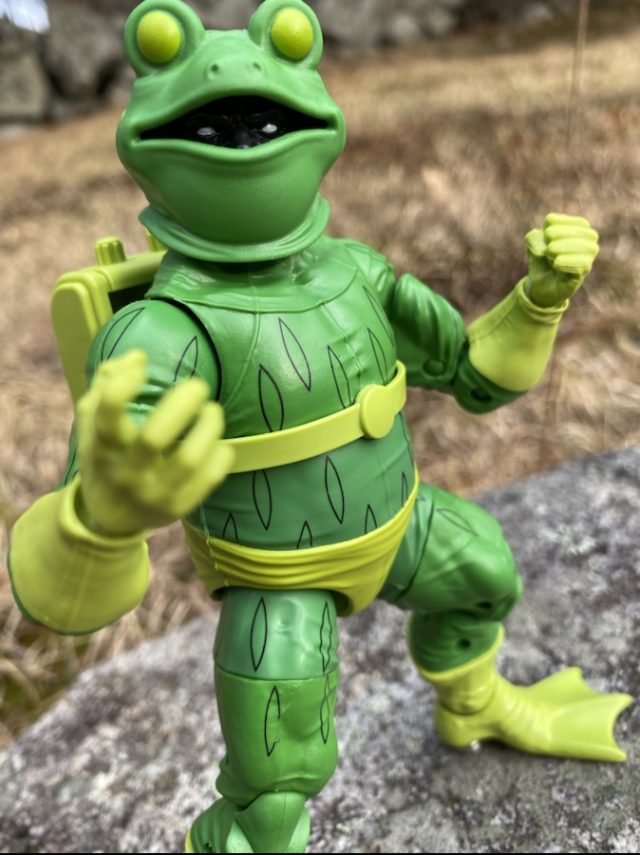 The diaper-looking undies on this figure are also a riot. The pointed oval designs all over the figure are also highly accurate to the source material, and add to the overall aesthetic of authenticity.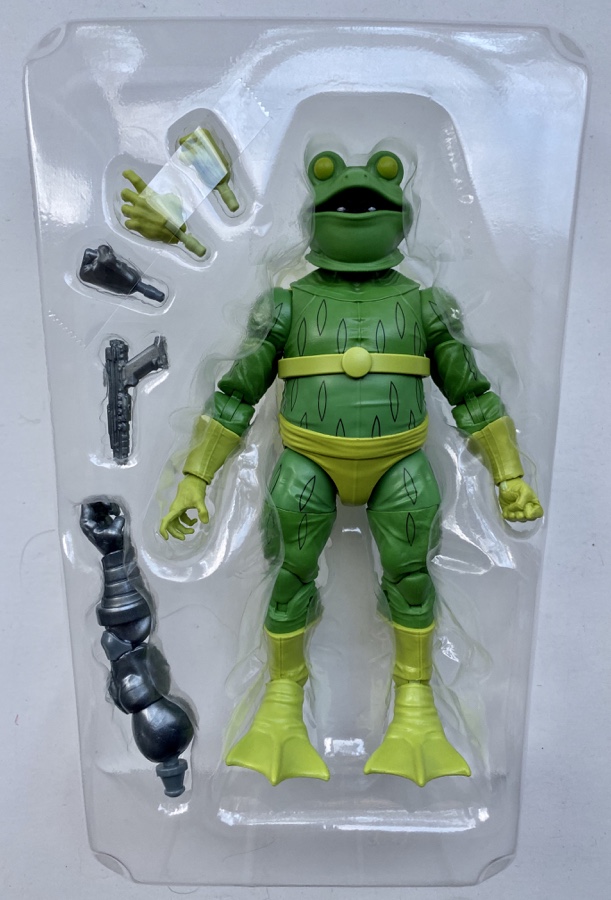 For those who want their Fabulous Frog-Man to not always be engaged in fisticuffs, a pair of interchangeable open hands is included (along with the Stilt-Man Build-A-Figure arm, gun and alternate hand). I don't know if I *needed* open hands, but I'll never complain about getting something extra and usable rather than nothing at all. Thumbs up.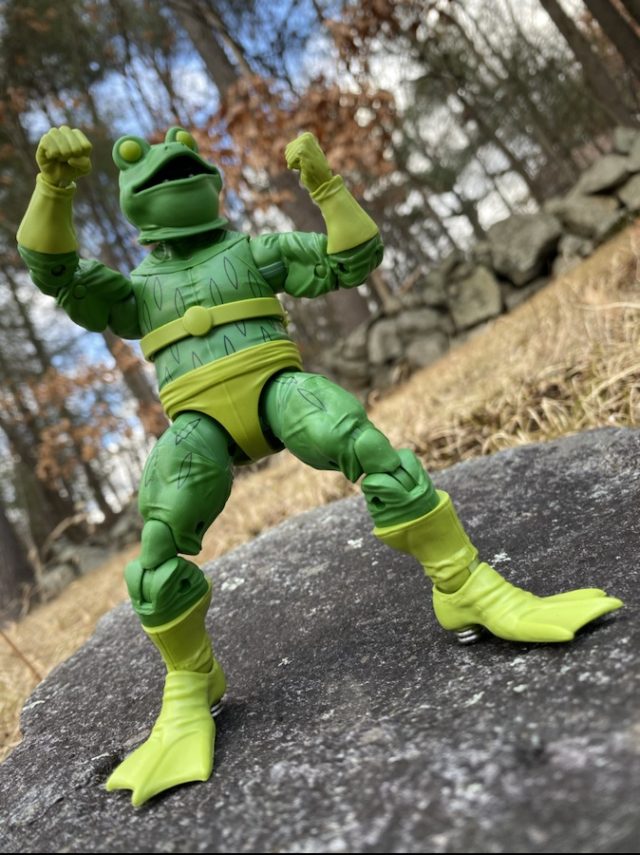 The only place I could see some folks saying the Frog-Man Legends figure falls short is the articulation department (when compared to the absolute most articulated figures in the line), but I think there's ample flexibility to achieve some silly, humorous poses with all the integrated joints. The articulation scheme includes:
Ball-Hinge Head and Shoulders
Ball-Jointed Upper Torso
Double-Hinged Elbows and Knees
Swivel Biceps, Thighs and Boots
Swivel-Hinge Wrists
Hinged Feet with Rockers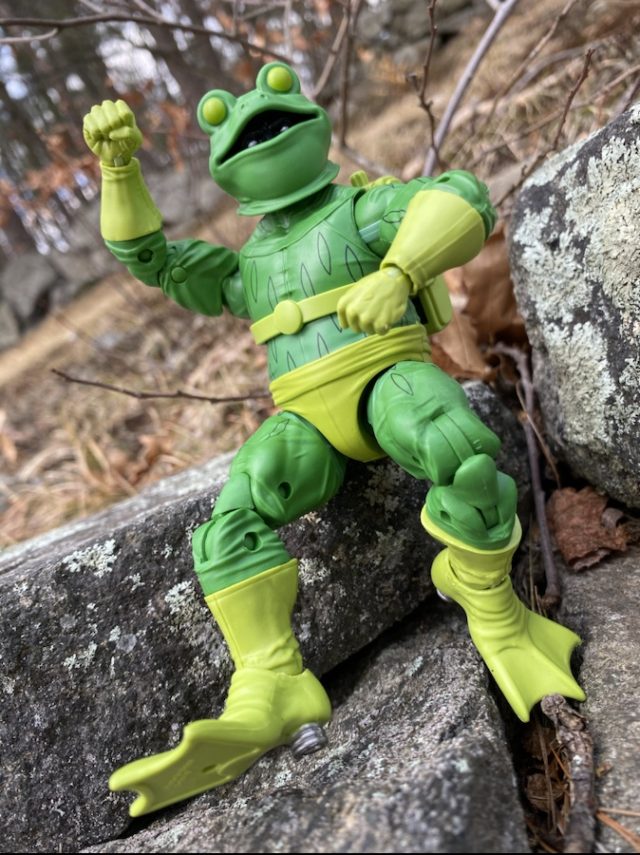 Overall: This Spider-Man Legends Frog-Man figure is an absolute work of love, and it shows. I don't know if this is necessarily going to be "Figure of the Year" material 11 months from now, but it is an incredible figure of a character that it seemed like a pipe dream we'd ever see in super-articulated form. A great start to the year for Hasbro, and easily the best damn action figure of a grown man wearing an anthropomorphic frog costume ever made. What a time to be alive and Marvel collecting!
GRADE: A
The post REVIEW: Marvel Legends 2021 Spider-Man Frog-Man Figure (Stilt-Man Series) appeared first on Marvel Toy News.