A new year is upon us in 2021, but even with the new year and the president, we can still rest assured that the consistency of a new round of Diamond Select Toys Marvel solicitations will come each and every month. And this month, while there's no Marvel Select figure news, there are new additions for fans of the rest of DST's lines: the Marvel Animated Gamora statue, Premier Collection Lizard statue and Marvel Gallery Wolverine PVC figure are all now up for order!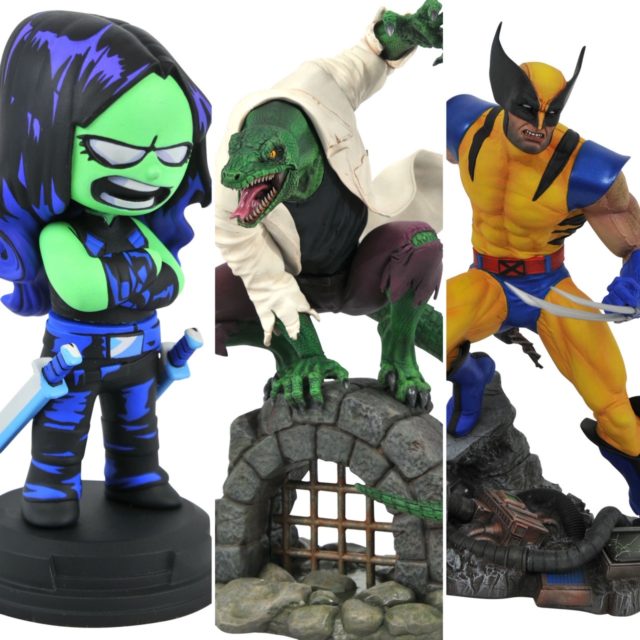 Apologies for my own inconsistent reporting lately, but busy life has gotten the better of me and I am regrettably way backlogged on news, reviews… and even just opening up the figures I bought toward the end of 2020.
But I'll be working toward catching up now, beginning with this latest batch of Marvel Diamond Select Toys January 2021 solicitations! I'll split the five new items they've solicited into two articles and cover the statues here and the busts later, so let's get down to business…
First up, the latest addition to the long-running Skottie Young Marvel Babies statue series: the Marvel Animated Gamora statue! This will be the fourth modern Guardians of the Galaxy team member to be released in the lineup, as we got Star-Lord and Rocket Raccoon & Groot from Gentle Giant Ltd. very early on in the line (a few years ago now).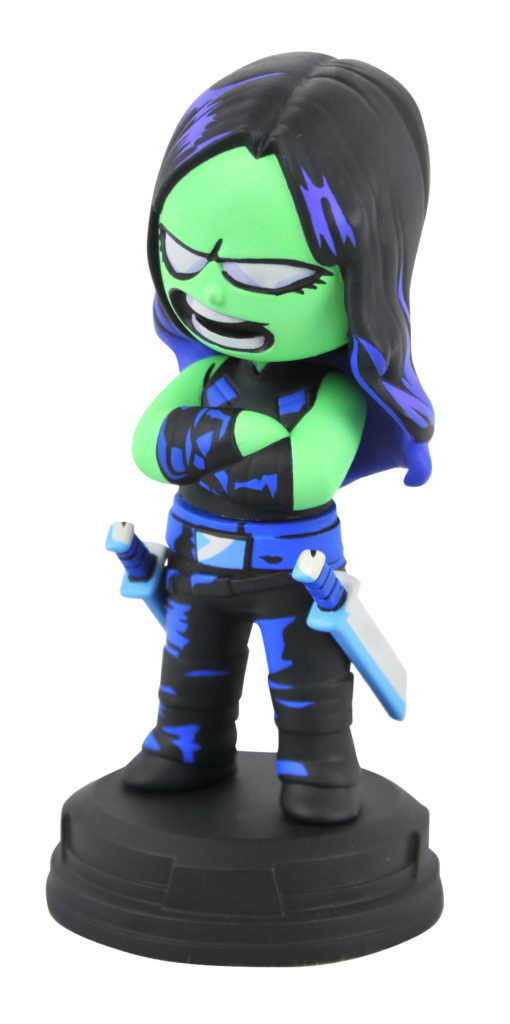 With her arms crossed, Gamora looks largely the same as the pin of her released as a SDCC 2019 Exclusive, rather than the sword-drawn version from NYCC 2015 (it is mind-blowing that that was over half a decade ago already). I think the blue highlights on her black costume do a wonderful job adding comic book depth, and I'll happily be adding this Skottie Young Gamora to my statues lineup. 
This point, I think it would be a little silly and disrespectful to Guardians of the Galaxy fans to not release an Animated Drax to complete the lineup, but Diamond Select Toys certainly wouldn't be the first statue company to withhold a Drax out of fear of poor sales.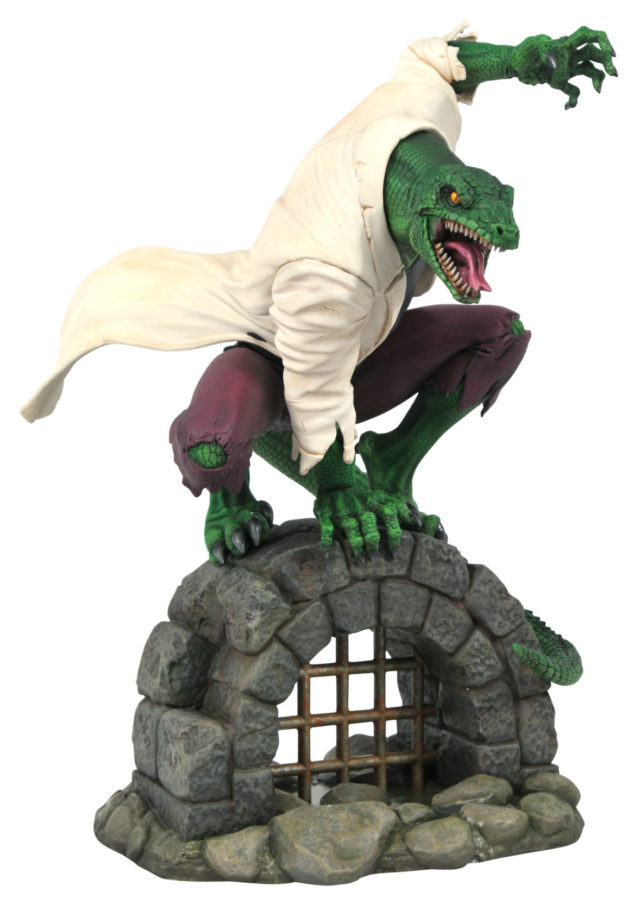 The second new Marvel statue in the January 2021 Diamond Select Toys solicitations is one that came as a total shock to me—in a very, very good way! For the first time since Bowen Designs released their Dr. Curt Conners statue over a decade ago, the Lizard is getting an affordably-priced statue released domestically! (Yes, I am aware of the nearly-unobtainable and super-expensive XM Studios Lizard, don't worry.)
Crouched on top of a sewer grate, the Lizard Marvel Premier Collection statue looks absolutely awesome. The Lizard always has a great look to him for toys and collectibles, so it's a real shame he has so little merch released (even his Hasbro Legends figures tend to be infrequent and hard to get). DST did a great job with this—one of my favorite Marvel Premier Collection statues in quite some time, and well worth the discounted $175 shipped price-tag at EE.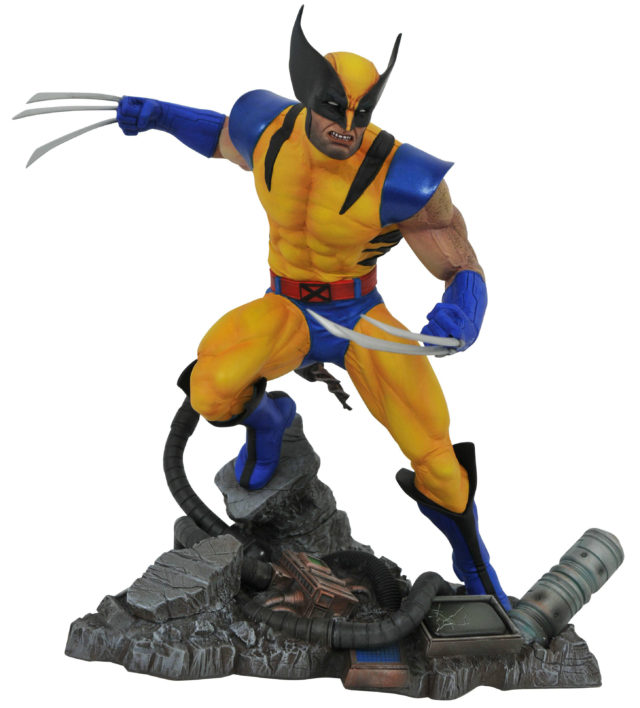 The last new release is a Tiger Stripe Wolverine Marvel Gallery PVC statue, which is the first time Logan has been captured in his most recognizable costume for the DST Gallery figure series.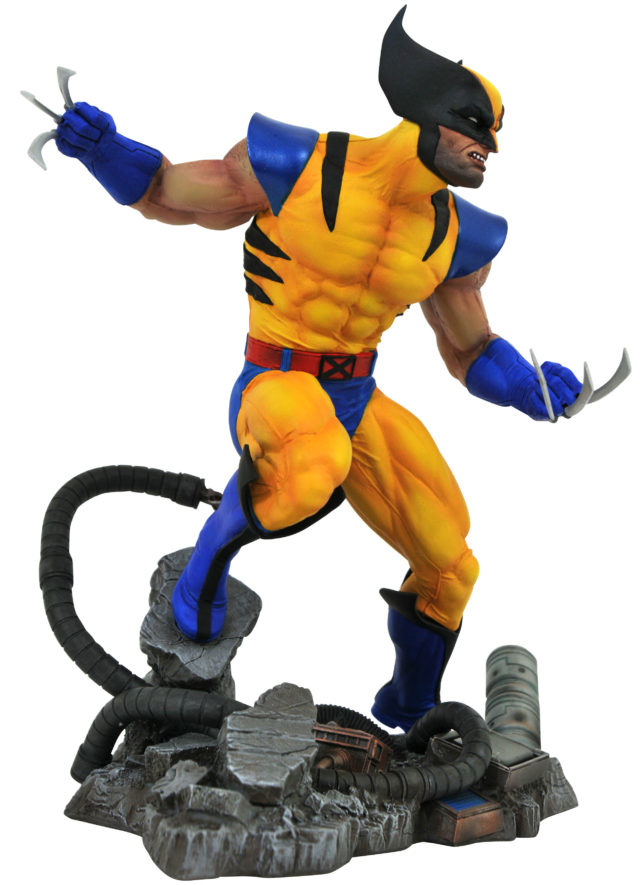 The 10" Wolverine PVC figure was sculpted by Jean St. Jean, and is part of the new Marvel Gallery VS. series lineup (which actually was unveiled at New York Toy Fair 2020, but ended up being badly delayed due to the ongoing pandemic). My favorite costume for Wolverine and a great sculpt and base make this an almost "for-sure" eventual buy for me.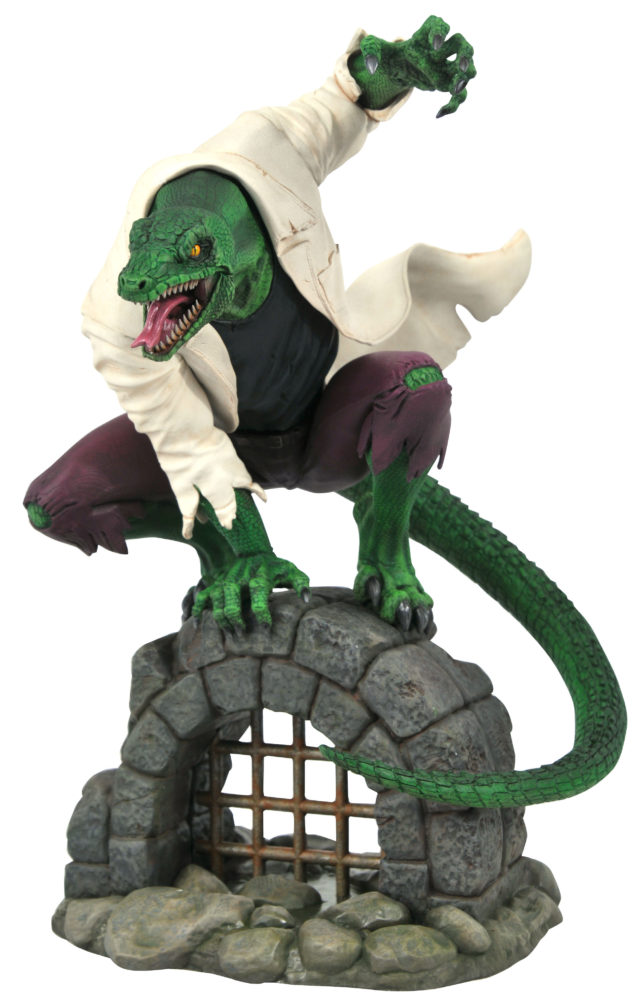 The DST Lizard, Tiger-Stripe Wolverine and Skottie Young Gamora statues are all up for order now, and are scheduled to be released in July 2021. All three of these items are hot stuff, in my opinion, and I've gone ahead and pre-ordered Lizard and Animated Gamora now since they're limited pieces. I suspect I'll end up with Wolverine as well, but he's a non-LE PVC, so I'm not in a rush to snap him up.
What are your thoughts on Diamond Select's first Marvel statues of the year? Are any of the items in this trio must-haves for your collection, and what other new additions would you like to DST spring on us as the year goes on?
The post DST Marvel Animated Gamora Premier Collection Lizard & Gallery Wolverine Statues! appeared first on Marvel Toy News.