While the big Hasbro launch today is unquestionably for the much-anticipated second wave of Marvel Legends Disney+ figures with Sylvie and the What If? Watcher Build-A-Figure, that's not all that Hasbro has ready to launch today! For those looking to scratch a classic Marvel Comics-based figure itch, there's an all-new Marvel Legends Tigra Retro figure up for order today! And for those who are especially hyped about the What If? series, you can take your Captain Peggy Carter to the next level by picking up the Deluxe Marvel Legends Hydra Stomper to complement it!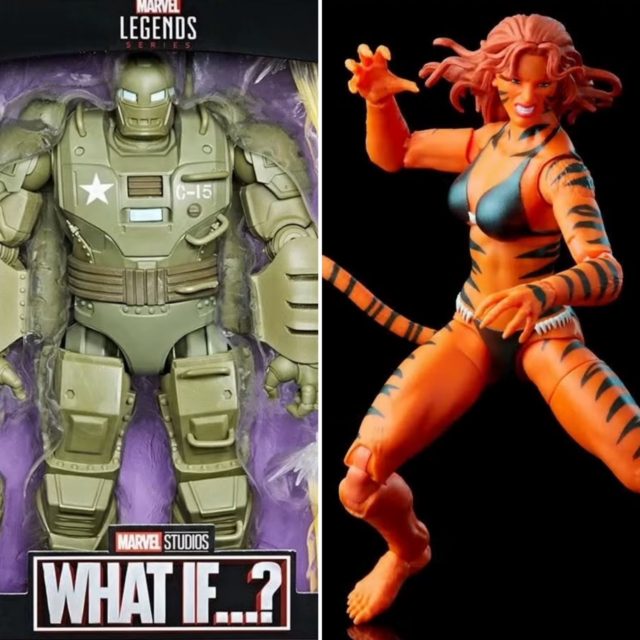 It might be hard to remember at this point, but Tigra has actually been released once before in super-articulated 6″ action figure form–in fact, she was released by Hasbro themselves in July 2009 as part of the Wal-Mart Exclusive Marvel Legends Nemesis (Holocaust) Build-A-Figure series.
That figure was a super tough grab for many fans at the time, and has escalated quite a bit on the aftermarket since those days. A packaged ML Nemesis BAF series Tigra will easily run fans $75-$100+ these days, which isn't exactly accessible to newer collectors wanting a non-used figure of Greer Grant for their collections.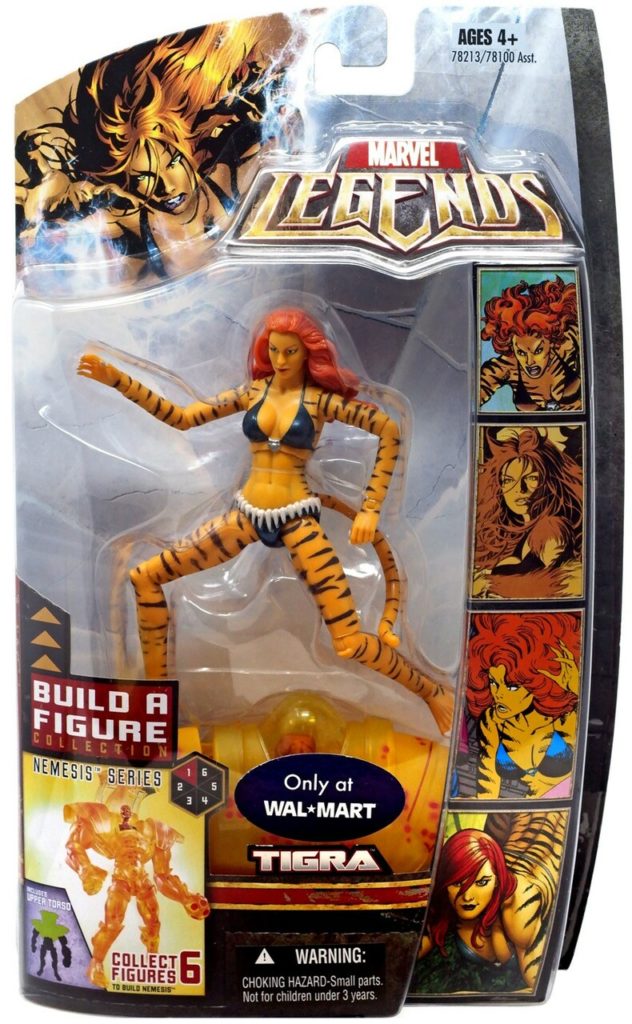 Luckily, there's been room for improvement in the last 12 years, and Hasbro is coming to the rescue with a 100% newly-sculpted Tigra Marvel Legends figure, featuring all of the advancements, bells and whistles of over a decades' worth of evolution of the action figure game can bring!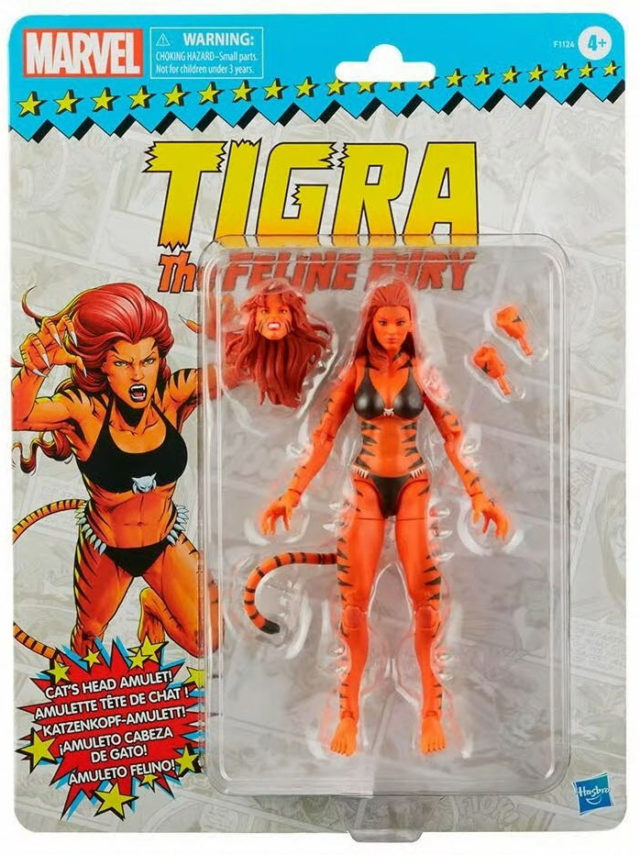 Following up on the launch of the Retro Hercules ML figure earlier this month, Hasbro is treating us to a Toybiz Vintage-styled packaging release of Tigra, another Avengers character who sadly never got the Toybiz treatment in six inch form. "Cat's Head Amulet!" gets the word balloon treatment, which is I guess as good an action feature to describe here as any (I might have preferred "Sexy scantily-clad cat girl!", but that would not have flown in the 90s or now).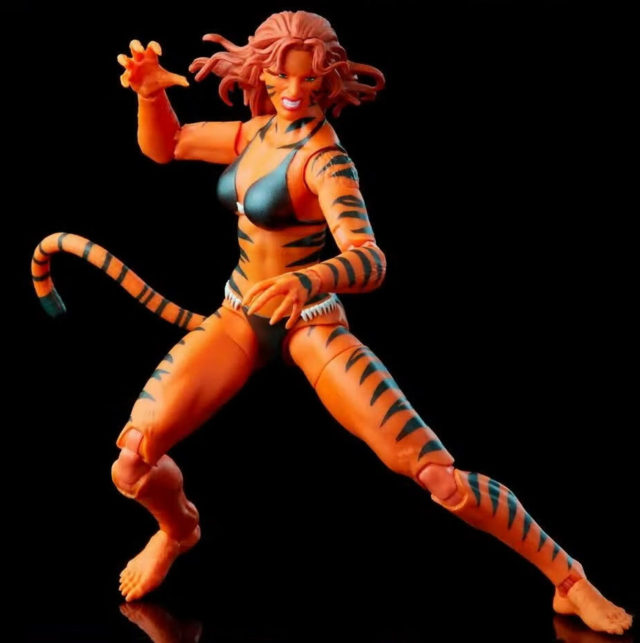 Whereas the original 6″ Marvel Legends Tigra action figure featured a pretty "meh" expressionless face that's almost friendly, Hasbro is giving us dual superior options with this new version. A neutral-faced look for Greer is still present for those who just want her standing around in a display and not looking like a psycho, but there's also an angry, gritted-teeth head sculpt with just the right amount of aggro for a dynamic action pose!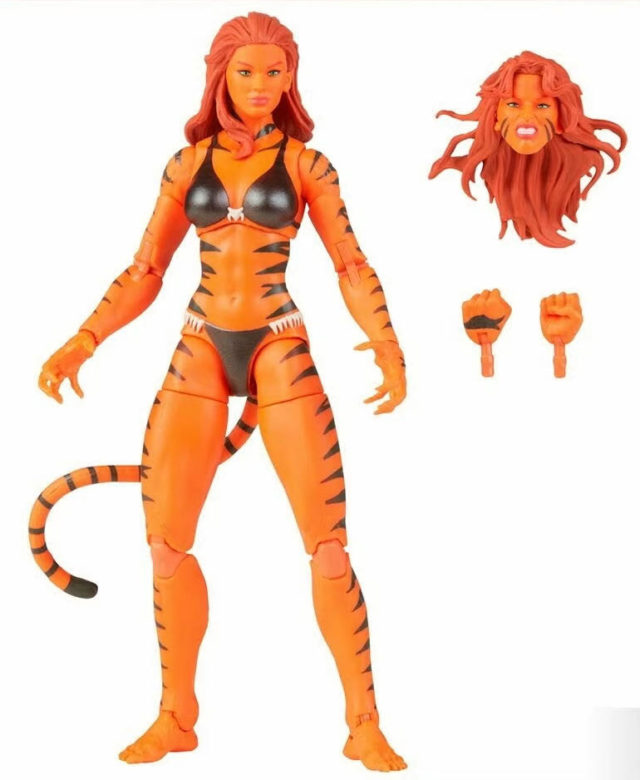 Along with the new and amazing double-jointed pinless arms and legs, Tigra also has an articulated tail, ankle rockers, and swappable fists and claw hands. There's plenty of posing potential here to make this the superior Tigra figure for all-time.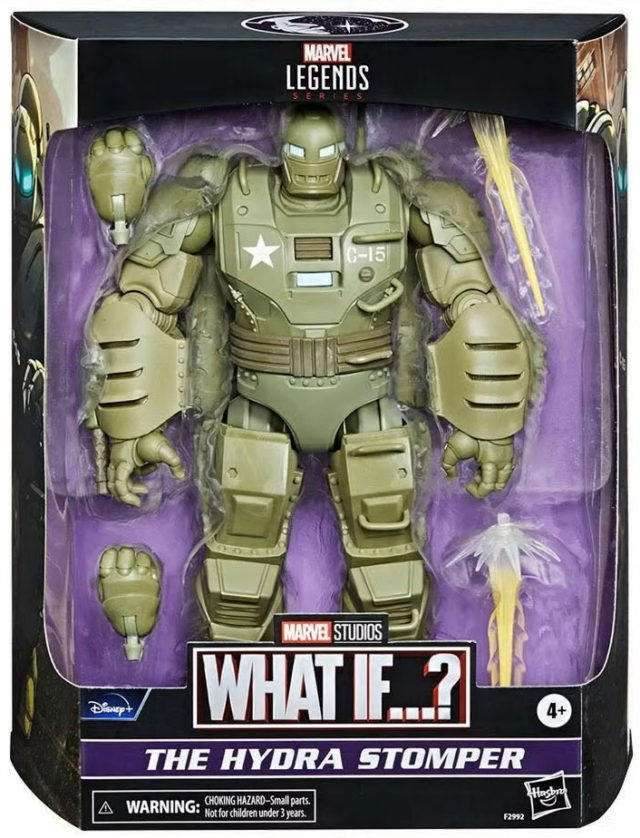 Alongside Hasbro, the Marvel Legends Deluxe Hydra Stomper from What If? is also getting the standalone release treatment today. This is certainly a pricy release for an armor that no one has actually seen in action in an actually released Marvel Studios show yet, but there's no denying the coolness factor and the loving detail Hasbro put into this World War II-inspired mech.
The Hydra Stomper armor features removable shoulder pads, rotating backpack thrusters with removable effects pieces and most importantly a handle on the backpack so that Captain America Peggy Carter can ride into battle on it!
Not to mention, the What If? Hydra Stomper is freaking huge! It's not at wide or bulky as the old Hulkbuster Build-A-Figure, but it's definitely still a pretty massive armor. And with 100% new tooling that will be very difficult to repurpose elsewhere, I can understand the high price on this alternate universe armor permutation.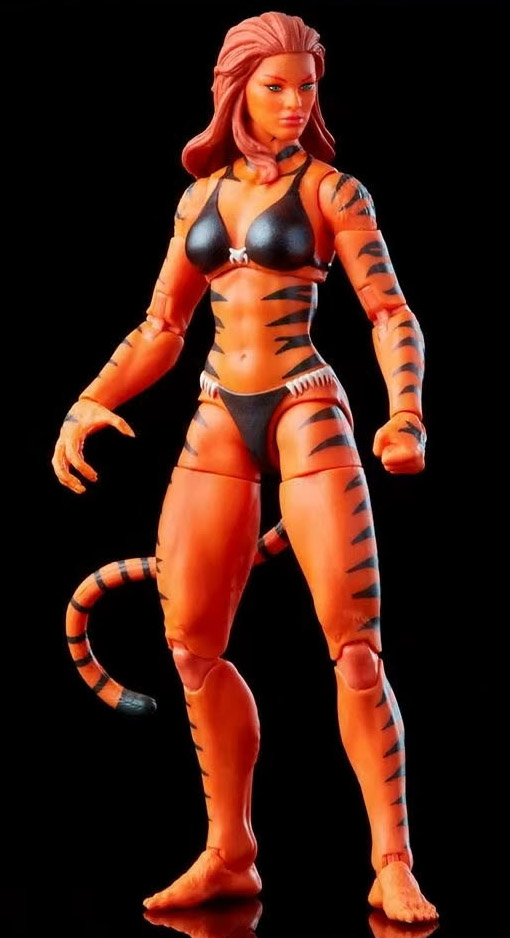 The Marvel Legends Tigra Retro and Hydra Stomper What If figures are now up for order, and are expected to be released in the winter. Tigra is a Fan Channel Exclusive figure that won't be at your traditional brick and mortar stores, and I expect that she is going to be an in-demand, hot seller. The Hydra Stomper's success is going to depend largely upon the reception that What If…? gets on Disney+–let's hope for great things from that series, though!
What are your thoughts on this newest pair of solo Marvel Legends 2021 figures, Marvel collectors? Are Tigra or the Hydra Stomper already on your must-have list? Do you think that this is the definitive Tigra that can never be surpassed, or can Hasbro still improve upon her again someday?
The post Marvel Legends Tigra Retro Figure & What If? Hydra Stomper Up for Order! appeared first on Marvel Toy News.