Given the sheer mass of Marvel toys and figures being released at retail the past few years, it's no surprise that a few items are going to slip through the cracks and fall totally off the radar. Such is the case with the latest wave of GamerVerse figure two-packs–the sole Hasbro Marvel Universe-scaled 3.75″ figures wave being released this year! Easily one of the most eclectic groupings of Marvel action figures ever, the GamerVerse wave containing Ryu, Mr. Negative, Black Widow, PS4 Spider-Man and more is now up for order online and also beginning to pop up in stores!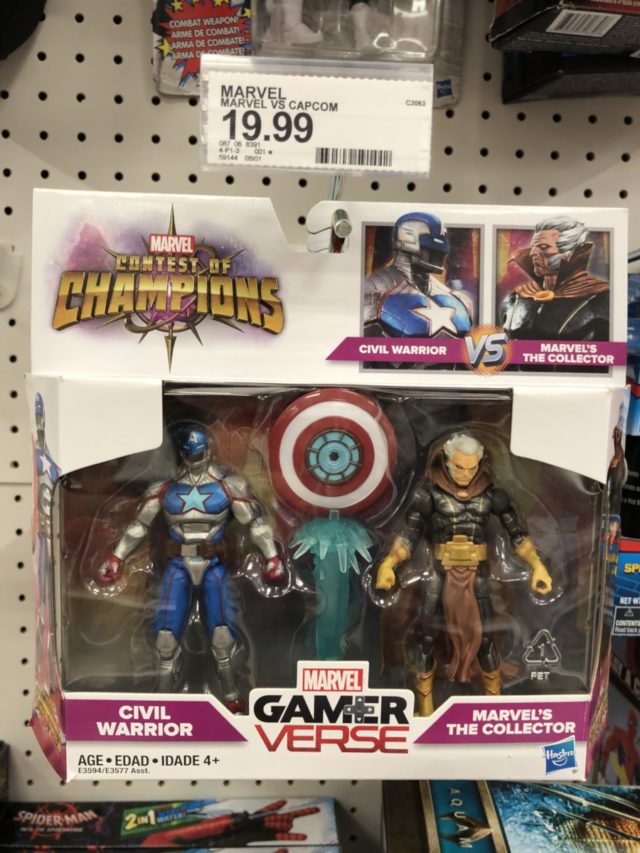 I was out this morning picking up some orange Halloween Oreos at Target (don't pretend you don't all buy them too), when I was taken aback to spot some Hasbro Marvel 3.75″ figures in the toy aisle that I'd never seen on the shelves before. I'd actually seen these figures way back at New York Toy Fair 2018 in February, but hadn't heard a peep about any of the packs (besides the PS4 Spider-Man vs. Mr. Negative pack) since.
A quick search online brought me the answers I was looking for: these new GamerVerse figures were officially released and allowed to be sold online today (October 1st, 2018)!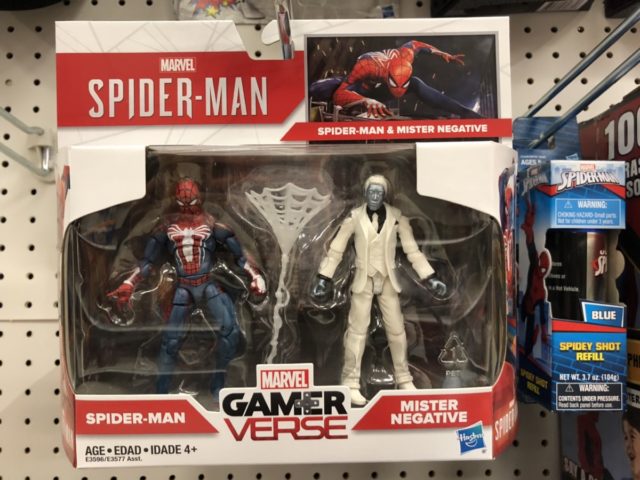 As we're getting exactly zero single-packed 4″ Marvel Legends/Universe figures released individually this year, these three two-packs and the Rainbow Deadpool 5-Pack released in the spring are basically it for MU collectors in 2018. Alas, how the mighty have fallen!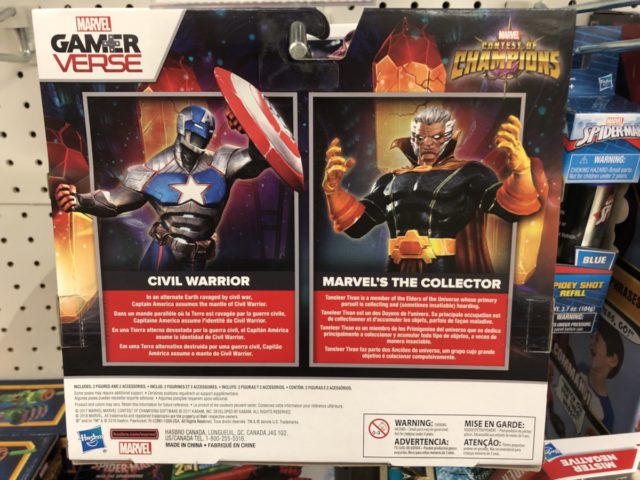 The wave consists of three 3.75″ two-packs, which span three different video games:
Spider-Man vs. Mr. Negative (PS4 Spider-Man)
Black Widow vs. Ryu (Marvel vs. Capcom Ultimate)
The Collector vs. Civil Warrior (Contest of Champions)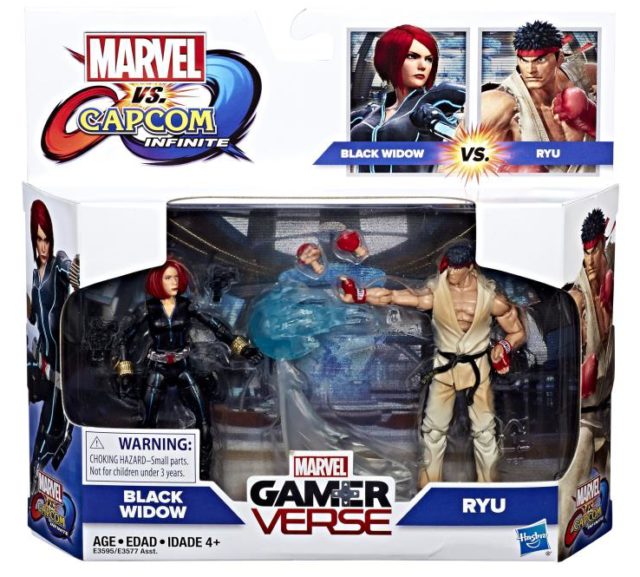 My Target was actually sold out of the Ryu vs. Black Widow twin pack from Marvel vs. Capcom already–exactly as you would expect given the craziness of Ryu in a Marvel action figure line–so I wasn't able to get any in-person packaged photos of that set. I suspect this set will be a hot one at retail–it's a pretty big deal when you can get Ryu of Street Fighter fame packaged alongside one of the Avengers, after all!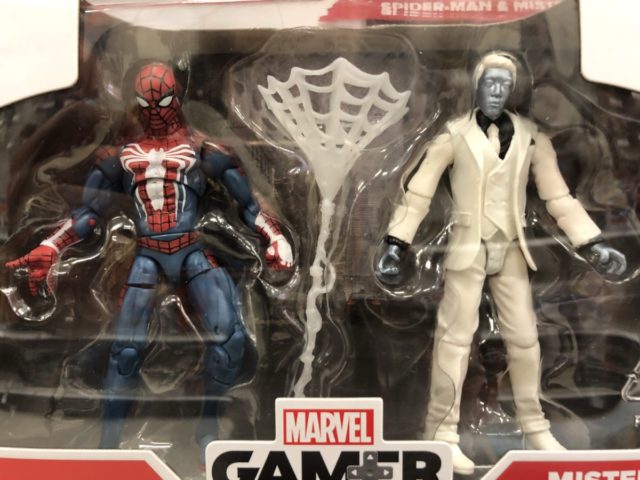 The Mr. Negative vs. PS4 Spider-Man figure is old news by now, since GameStop started taking orders for that set–alongside their totally exclusive 6″ Marvel Legends PS4 Spider-Man–during the summer.
Given the massive popularity of that particular Sony video game, I would expect to see Spidey and Mr. Negative selling briskly throughout the rest of this year.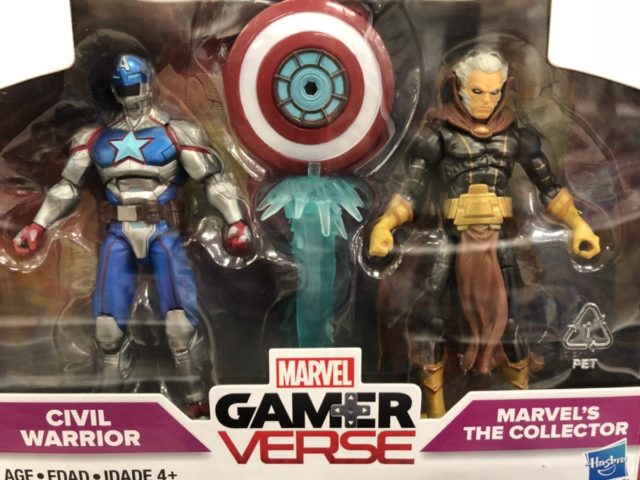 Finally, we've got the one set from the wave that seems like it might actually gather some dust on store shelves and perhaps even end up on an early clearance: Contest of Champions Civil Warrior vs. The Collector. While Contest of Champions definitely has its fair share of fans, the game is infinitely less well-known than PS4 Spider-Man and MvC, and both characters in this set are rather obscure.
If I didn't already have The Collector in this scale from the SDCC Exclusive set released a few years back, I probably would have snapped this pack up, but I do have that set–and I don't especially care about Civil Warrior–so this two-pack was a pass for me.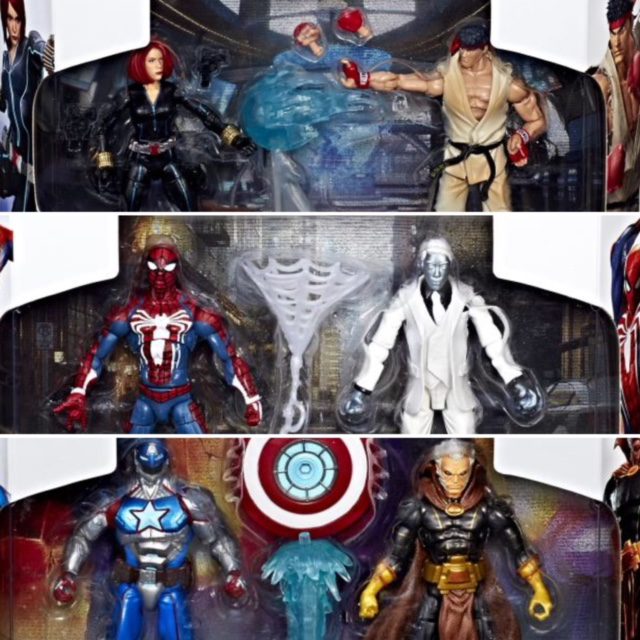 The Hasbro Marvel GamerVerse packs are now available for order as singles as a set via BBTS–and for those who don't want the whole set, there are singles available of Ryu vs. Black Widow and Spider-Man vs. Mr. Negative via EE. I haven't seen any online retailers selling the Civil Warrior vs. The Collector set individually just yet, but that seems like the odds-on most unpopular pack in this wave, so I can only assume we'll see that available by its lonesome before too long. And hey, if not online–there's always actual brick-and-mortar stores, right?
Having gone so long without new releases in the Marvel Universe scale of 3.75″ action figures, are you still interested in action figures in this size? Would you like to see the GamerVerse line of two-packs continue into 2019, or do you long for a return to the days of single-packed comic-based Marvel Legends 3.75″ figures?
The post Marvel GamerVerse 2-Packs Up for Order! Ryu! The Collector! appeared first on Marvel Toy News.