Like many lines of Marvel collectibles, it's been a slow start to 2020 for the long-running Marvel Select range of 7″ action figures. The only new figure shown in the first months of the year was a Black Widow movie Taskmaster Select in the spring. But in a surprise move this week, the second new release of the year was also revealed–and it's also Taskmaster (this time, comic book-styled)! The Disney Store Exclusive Marvel Select Taskmaster is now up for order–but he's carrying the highest price-point ever in the line! Let's take a look…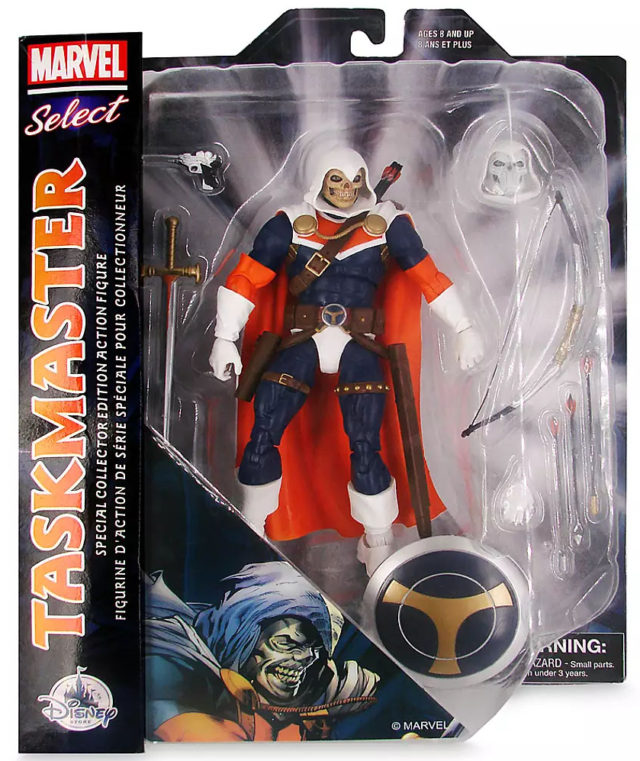 Much like characters such as Groot, Rocket Raccoon and Ant-Man in the past, appearing in the MCU is making Taskmaster's star rise in super-speedy fashion–and that means merch for a character who traditionally has not gotten all that much merchandising attention.
I would have never in a million years thought the only two new DST Marvel Select figures we'd see in the first half of 2020 would both be Taskmaster figures, but here we are! Has Diamond Select Toys made good use of Tasky's newfound popularity for this action figure?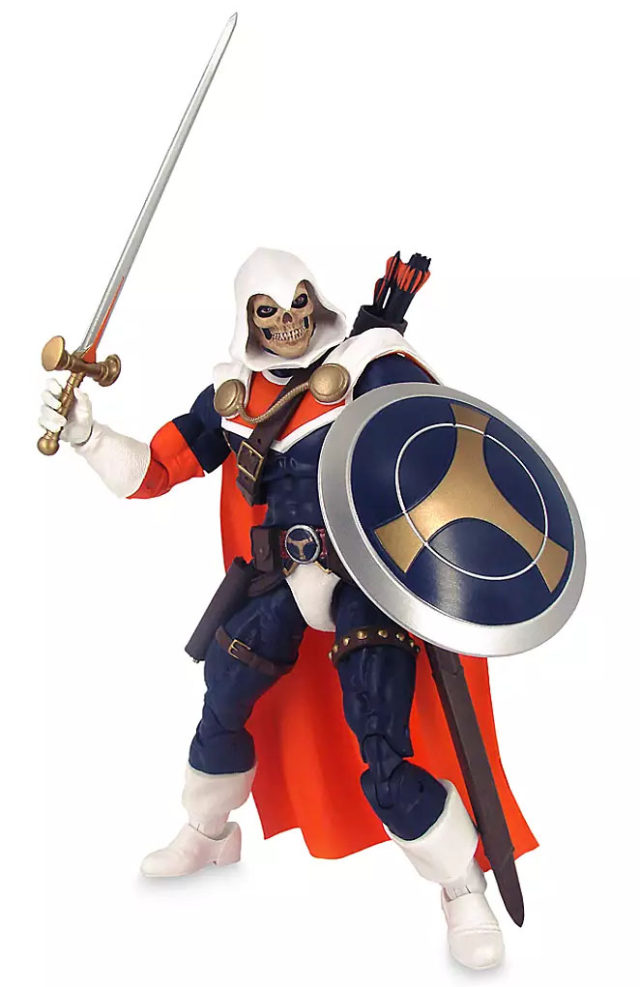 Well, let's begin with the big elephant in the room with this exclusive release: the price. $34.99 is supposedly going to be the new price-point going forward for Disney Store Exclusive Select figures (beginning with this one), which is a really tough pill for a lot of collectors to swallow.
I'm used to paying double (sometimes triple) that price for import figures of about this size, but many collectors may not be willing to make that jump in price for a 7″ action figure. Disney Store frequently offers free shipping codes and sometimes decent coupons across the site, but 35 bucks as the SRP is a price that will absolutely give many fans sticker shock.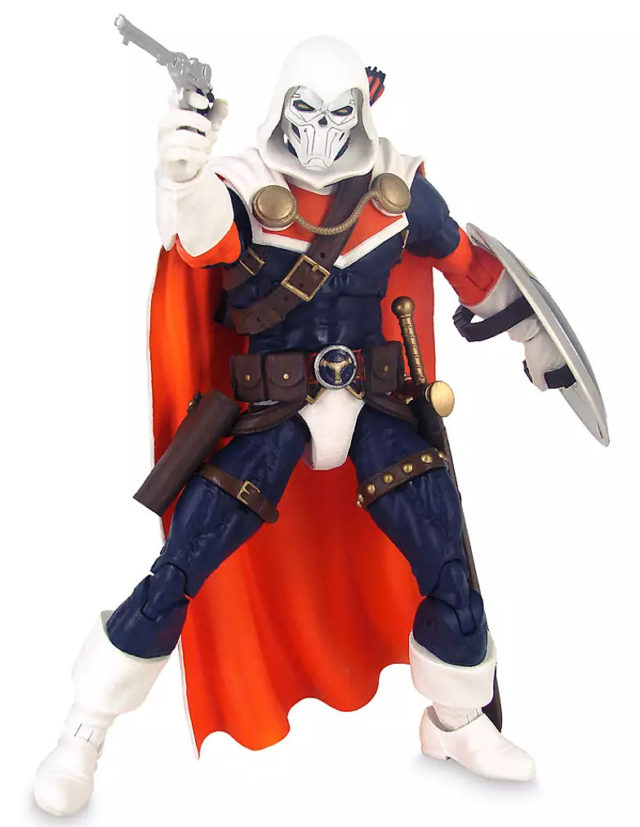 To warrant that kind of price-tag, I think many collectors would be expecting something absolutely outstanding from this 7″ Taskmaster figure. Unfortunately, I don't know that what we get is "absolutely outstanding"–but it is "pretty good".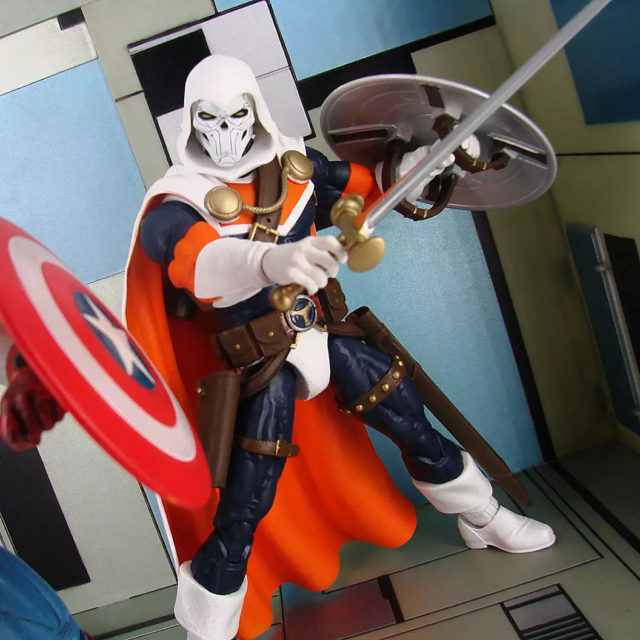 Proportions and paint on MS Taskmaster both look excellent, and I like that he comes with the battle mask/tactical mask/whatever-you-want-to-call-it mask interchangeable head for those who prefer a "modern" look.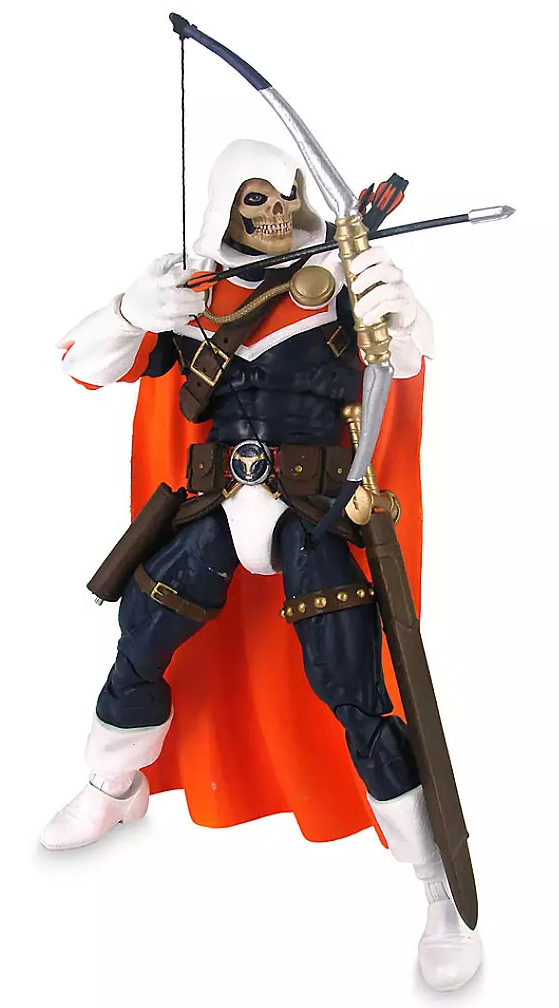 The cornucopia of accessories besides the extra portrait also somewhat makes up for the price, as you get arrows for the quiver, a shield, a sword, a pistol and a bow. The bow is pretty rockin', as it has an actual string that Taskmaster can pull back (at the risk of eventually breaking it, mind you–but cool beans nonetheless).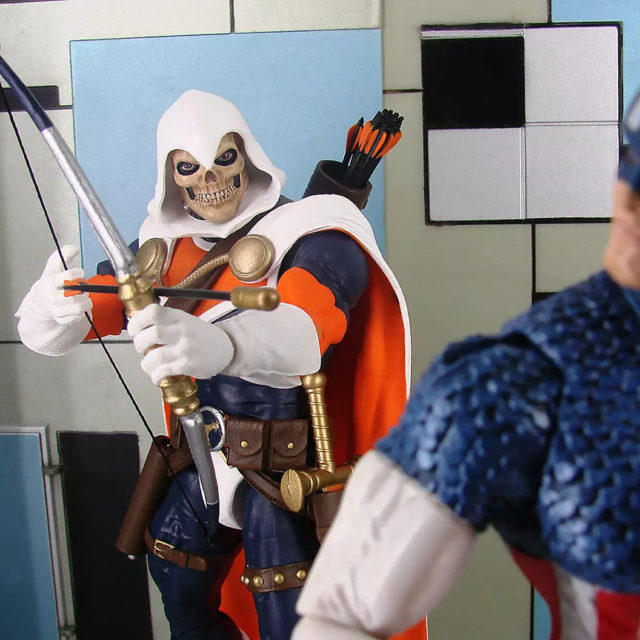 One big unexpected drawback to this figure is a missing point of articulation, however. For a character with so many handheld weapons to wield, it's a surprise that DST has forgone double-jointed elbows. The rest of articulation scheme looks well-done, however– but I've gotten very spoiled by Hasbro double-jointed elbows, so the lack of them here is a real bummer.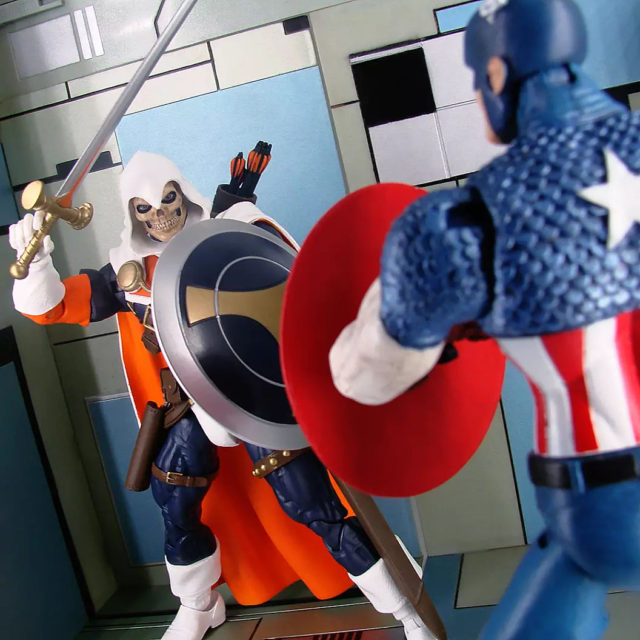 The Marvel Select Taskmaster Disney Store Exclusive Figure is now up for order, and is actually in-stock and ready to ship as we speak! Early reviews have been mostly positive, but at that MSRP, I can't see this being a figure that fans need to rush to before it sells out forever in a few weeks (although I have been wrong before… from time to time).
Any readers already receive their own Taskmaster Marvel Select figure? If so, what do you think? And for those who haven't–are you planning to? What do you think of this new $35 MSRP for Disney Store exclusives–will you keep collecting their releases at that price?
The post Disney Store Exclusive Marvel Select Taskmaster Figure Photos & Order Info! appeared first on Marvel Toy News.