We are almost at the halfway point of 2020, and up until now, Sideshow Collectibles has only launched pre-orders on a single 1/4 Marvel Premium Format Figure statue this entire year (a new version of Deadpool). But that changed this week, when a long-teased character was finally solicited. And this isn't a redo either—it's an all-new character for Sideshow (and a villain at that!): the Sideshow Exclusive Taskmaster Premium Format Figure went up for sale this week! Is this classic comics-based baddie worth buying for big bucks…?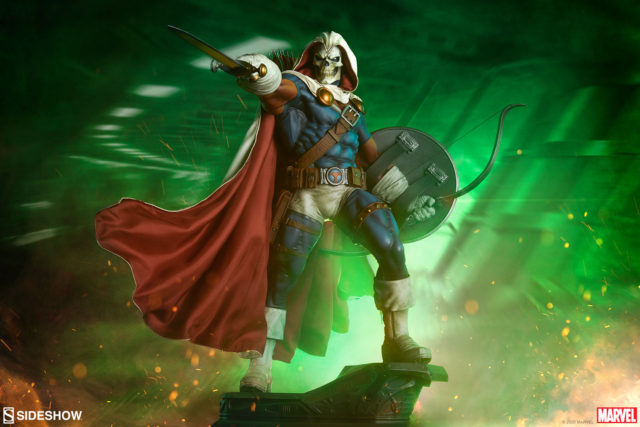 Make no mistake—chances are low that we would have ever, ever gotten a Premium Format Taskmaster statue from Sideshow Collectibles if ol' Tasky wasn't going to be the villain in what turned out to be this year's only MCU movie, Black Widow.
But hey—Taskmaster is absolutely fan-favorite villain with a cult following, and seeing his classic comic book design get a full-body resin statue released for only the second time ever (Bowen Designs did it first, of course) is a real treat for his diehard fans. It's all meaningless if the Taskmaster PF isn't any good, though. Is it?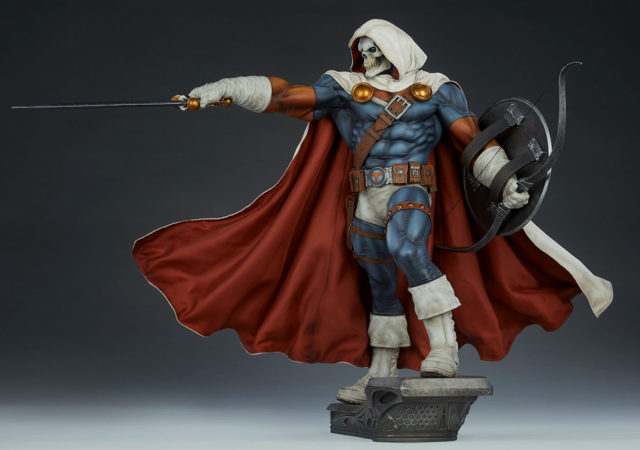 At first glance, I was utterly blown away by this Sideshow Taskmaster statue. To put it bluntly: this is one bad@$$ looking statue that really depicts a comics-inspired Taskmaster as a formidable threat.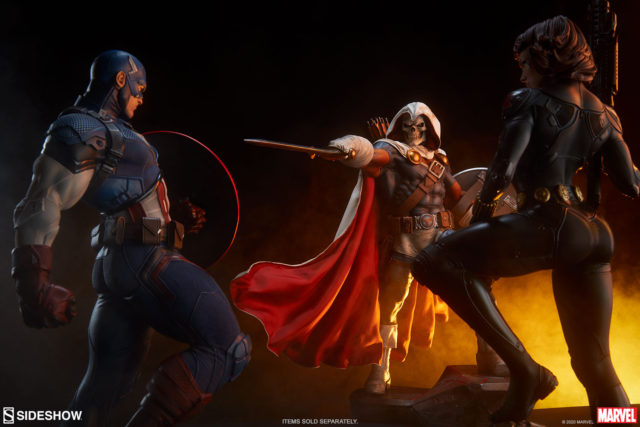 I think the design for this PFF really knocks it out of the park. People are used to seeing Taskmaster world a sword, shield and bow—and all those elements are present. He's also got a quiver full of arrows on his back and a holster on his thigh. This Taskmaster is fully loaded and ready to fight.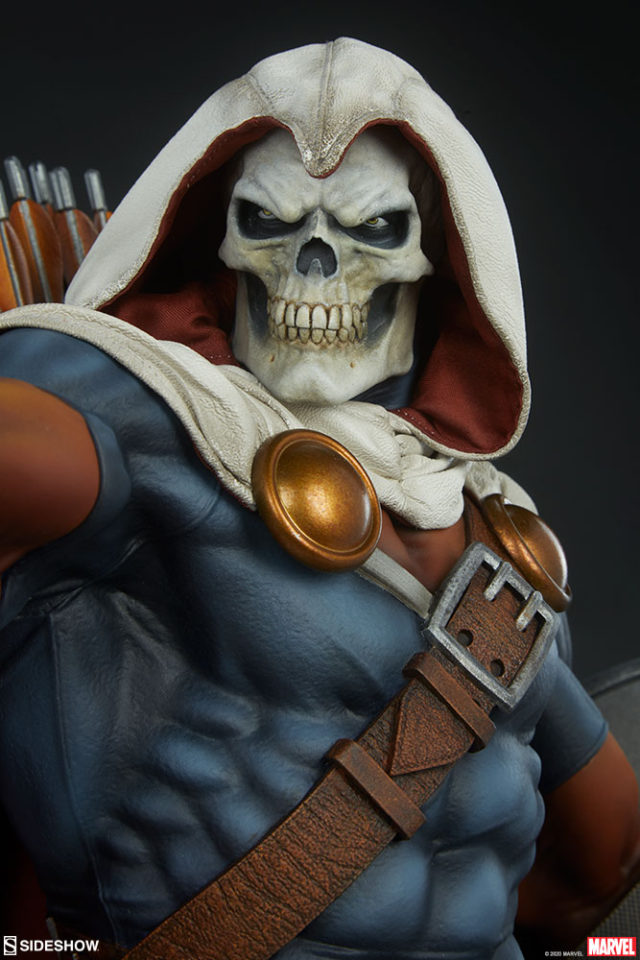 The Taskmaster skull face head can sometimes come off a little bit goody, but it thankfully looks malevolent and no-nonsense here. Love that Sideshow's sculptors made sure Tasky would come off as a serious threat here and not a joke.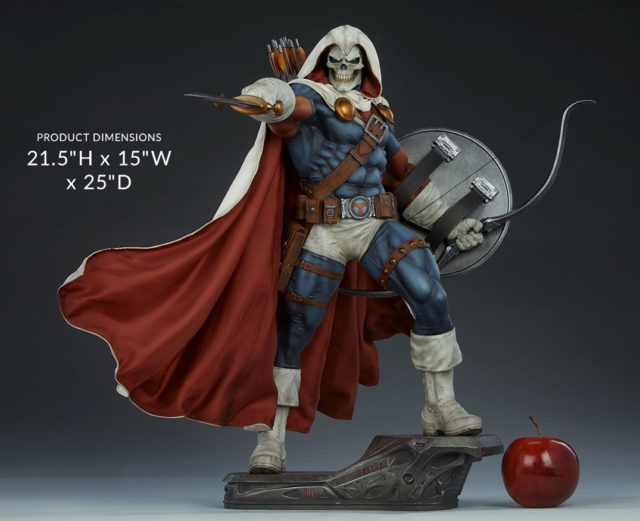 Pose-wise, Taskmaster looks dynamic and ready to duel. I dig the unorthodox pose with the sword fully-extended outward, which looks as though a challenge is being levied to Captain America or Black Widow (or whoever). The enormous 25" depth this pose causes may complicate display for some collectors, though.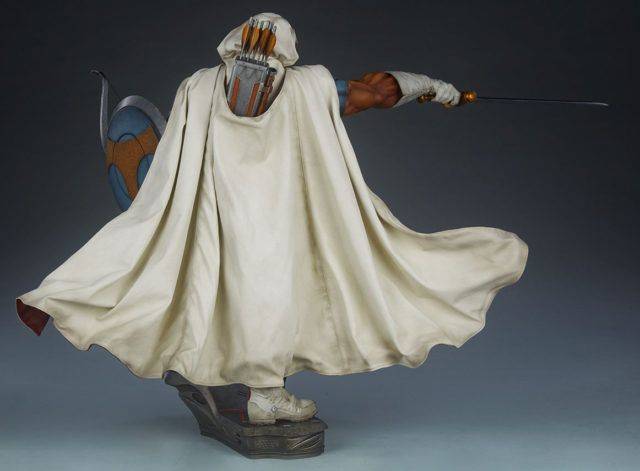 The one element of this statue that I think is going to be controversial for some collectors is the large soft goods cape. My preference is always—always—for fully-sculpted capes over fabric ones, so I am definitely biased in this regard. Fabric caps just feel too "Super Powers" for my taste, reminding me of the Kenner DC figures I had as a youngin'.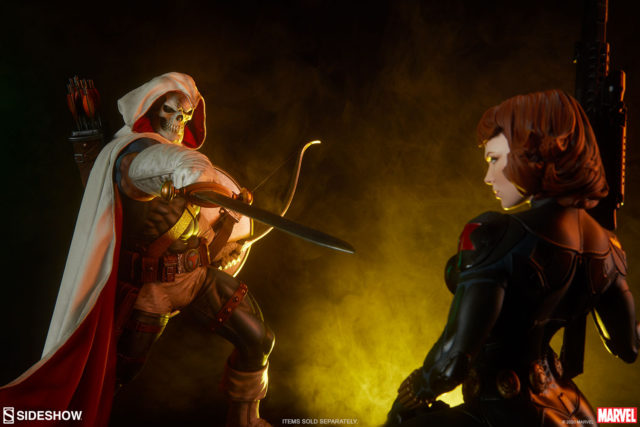 Even so, I have to say: the cape and hood here look real nice. I'm pessimistic regarding whether or not I could make the wired soft goods look that slick myself, but Sideshow definitely shows in the official product photos that the potential is there for something great.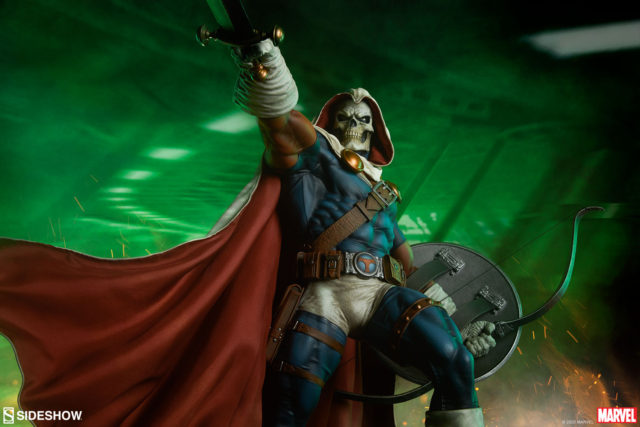 Detail-wise, this piece is a winner (as it should be for nearly $600). The texture on the white exterior of the cape looks quite classy, and the paint shading on the white portions of the costume adds a nice gritty feel. I'm also thrilled to see the iconic Taskmaster shield design intact on the front of the shield.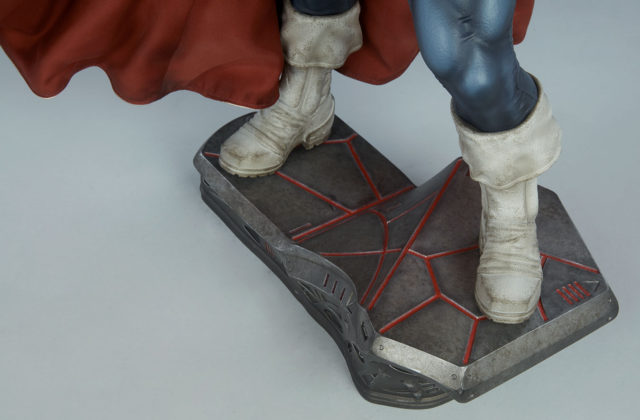 The base is simplistic, and that's A-OK with me. I've got no problem with a simple "training facility" base if it keeps prices down and doesn't distract away from the figure itself (which is the main event, after all).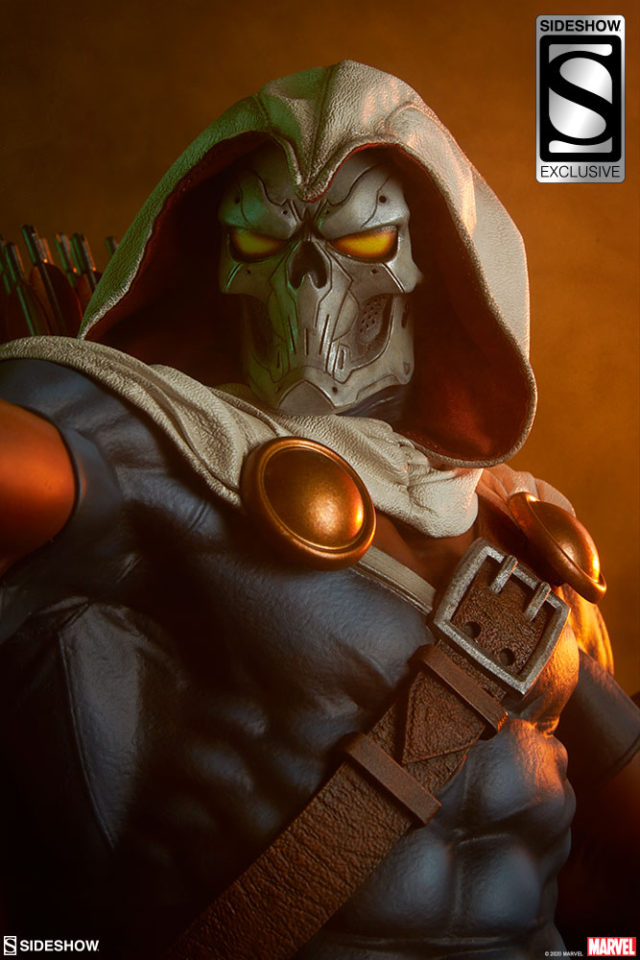 As is almost always the case, there's a Sideshow Exclusive Edition. And I think the Taskmaster EX bonus accessory is one many (but maybe not all) fans are going to find valuable: a switch-out "tactical mask" portrait. This is reminiscent of the popular Udon Taskmaster mask, and makes this statue feel a hair more modern and slightly (and I mean slightly) more in-line with the movie version.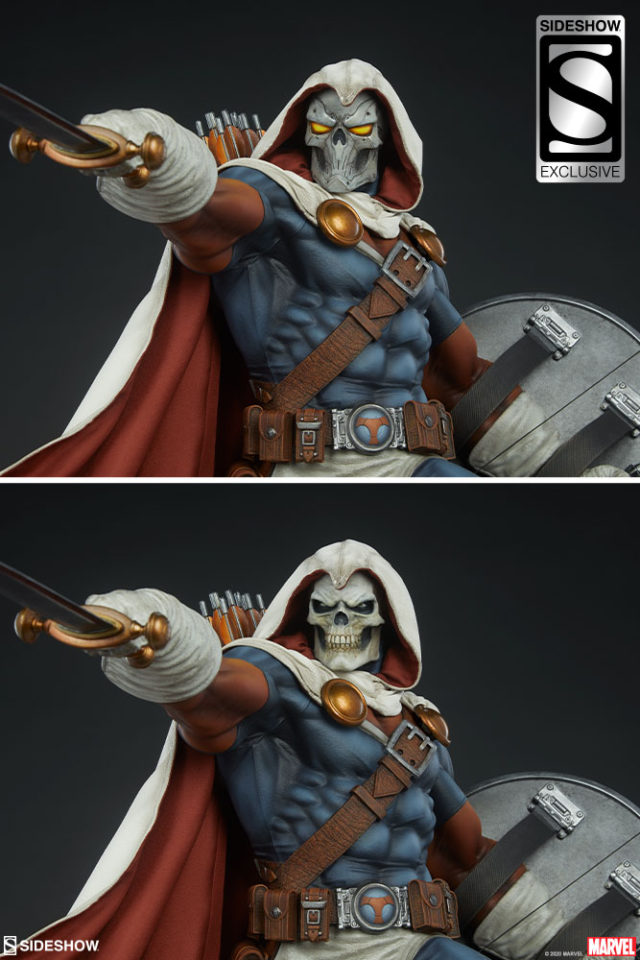 Generally, I thought I would always prefer a classic skull face Taskmaster to the Udon masked version. But oddly enough, Sideshow did such a bang-up job on the EX portrait that it's sort of a toss-up. Excellent job, SS!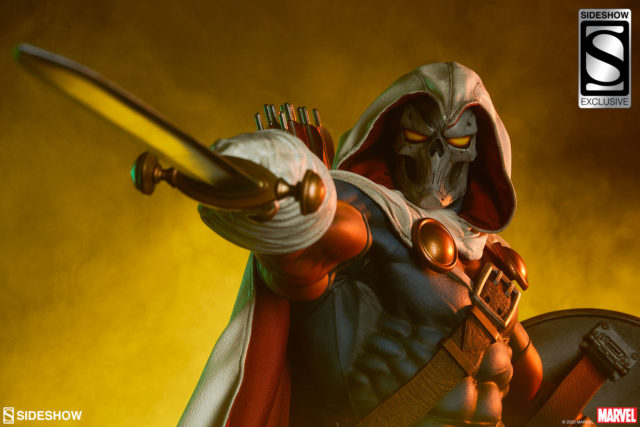 The Exclusive Taskmaster Sideshow Premium Format Figure is now up for order, and is scheduled to be released in mid-2021. Ordinarily I don't worry too too much about Sideshow exclusives selling out during the pre-order phase these days, but with the edition size likely to be set low by the time the Black Widow movie hits theaters, this could end up being a hot EX. Will be interesting to see how things pan out!
What do you think about Sideshow's surprising second choice for a Marvel 1/4 statue this year? Is this Taskmaster a winner all-around in your eyes, or are some aspects of it lacking to you? And when Sideshow eventually unveils a next Marvel Premium Format Figure (almost certainly for "Comic Con" next month), who are you hoping it will be?
The post Sideshow Exclusive Taskmaster Premium Format Figure Statue Pre-Order! appeared first on Marvel Toy News.