NEWS FROM THE FRONT
Just wrapped up our Christmas Catalog for 2018, which should start mailing sometime next week. Always enjoy working on our catalogs, but the Christmas Edition is my favorite.
Don't get our catalogs? Well, there are two ways to do it.
1. Place an order with us and you're automatically added to the mailing list. As long as you are a regular customer (order at least once every 6 months), you'll stay on the mailing list.
2. Get a paid subscription. This guarantees you 6 issues a year, regardless if you're a regular customer or not. To subscribe, click HERE.
Until next week.

BLAST FROM THE PAST
Vintage Action Man SAS Parachute Attack Set
C10 in C7 box. Black jump suit, boots, helmet with O2 mask and visor, black plastic parachute, canteen, bayonet and scabbard, M16 rifle, harnessess, directions.
Released in 1975 Palitoy/CPG Products Corp
BUY NOW

WEEKLY SPECIAL
US Veteran's Day Celebration Sale: 20% Off US & Allies Military Parts!
Shop These Category Displays:
WWII US and Allies Parts
Vietnam & Korea Parts
Modern Military Parts
US Civil War Parts
Click HERE for details.
Offer Expires: November 14th, 2018 at 6:00 pm (central). Cannot be combined with any other special or discounted pricing. Sorry – No Backorders or Rainchecks.
---
NEW PRODUCTS ANNOUNCED!
Xensation Toys The Advisor
DAM Toys US Navy SEAL: Decade (2003 – 2013) 2018 SHCC Exclusive
Phicen Limited Lady Bat 2018 SHCC Exclusive
Vicky Secret Toys Parkour Girl
Mini Times Toys CIA Armed Agent
Soldier Story Undercover Agent (Shanghai 1942)
Elite Brigade Christmas Mini Dress (Choice of Two)
Mister Toy Sadie Female Head Sculpt (Two Styles)
Hot Toys Star Wars: R2-D2 (Deluxe Version)
ZY Toys High Heel Shoes (2 Styles)
ZY Toys Ankle Boots (2 Styles)
ZY Toys Ankle Boots with Fur Trim
INCOMING!
Elite Brigade Pup Tent – Ripstop Nylon (Orange or Black)
Elite Brigade Rain Fly – Ripstop Nylon (Orange)
Firebase Ryan Tank Accessory Set
Firebase Ryan Large Deluxe Camo Netting
Firebase Ryan Mortar Pit Accessory Set
Firebase Ryan Machine Gun Outpost Accessory Set
Firebase Ryan Water Drum Set (OD or Tan)
3rd Son Books Turtleneck Sweater
3rd Son Books Mummy Jewels (Choice of 3)
3rd Son Books Mummy Pick
3rd Son Books Mummy Shovel
3rd Son Books Pith Helmet
3rd Son Books Pencil for Clipboard
3rd Son Books ATV Tie Down Racks (Pair)
Triad Toys Dead Cell: Abigail Van Helsing
Triad Toys Evo Caucasian Figure
Triad Toys Riza Myamoto
Pangaea Toys Greek Helmet
---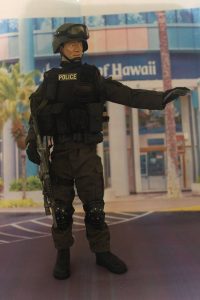 CUSTOM FIGURE OF THE WEEK
Honolulu Police Headquarters Emergency Action Team by Vito Carlucci
Click HERE for larger image.
---