Boglins – the outrageous creatures that come alive in your hands are back at Toynk.com! And they have two fun chances for you to win big. Originally part of the 1980's creature craze Boglins has been spotted crawling out of the swampy bog, and back into our hearts.
Fans of the original Boglins will be excited to learn more about these lovable uglies and their bog kingdoms. These kooky retro-collectibles are sure to reignite the nostalgia of the 80's toy craze.
The newly released Boglins from TriAction Toys are based on the three original Boglins Drool, Dwork, and Vlobb. They have now become kings and will provide the complete story of the seven blog kingdoms.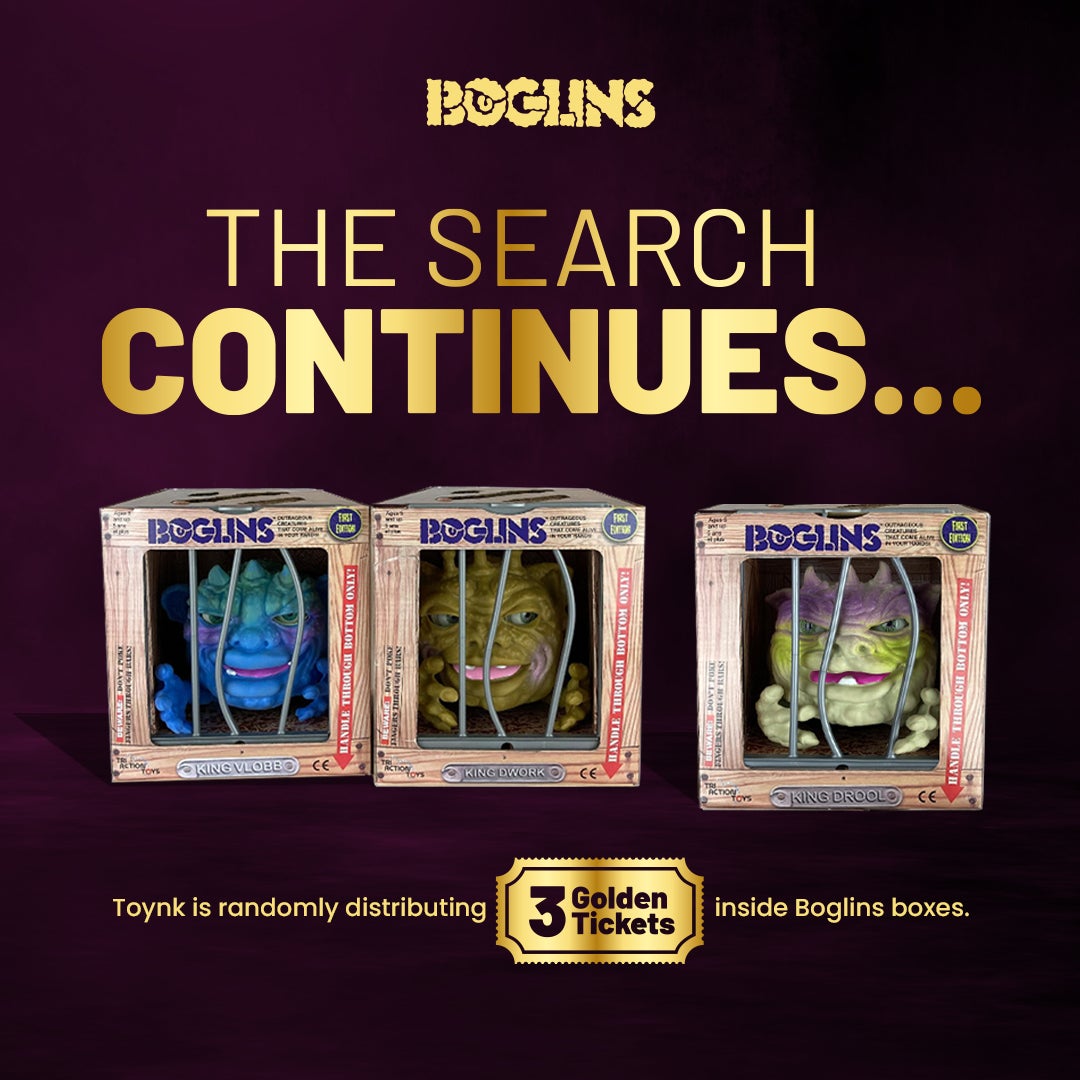 The Golden Tickets
The naughty Boglins have hidden Golden Tickets inside their cages at the Toynk warehouse. Only twenty golden tickets exist worldwide, and Toynk has three of them! Each Golden Ticket holder will win a One-of-A-Kind Boglin created just for them by Boglins Creator Tim Clarke.
Winners will receive:
30-minute Zoom Call with Boglins creator Tim Clarke
Customized paint design
A One-of-A-Kind Boglin signed by Tim Clarke
Golden Tickets will be distributed randomly. The contest ends when all of the golden tickets have been found. So now's the time to cross your fingers and start shopping!
Lights, Camera, Boglins Social Media Contest
Make a Video Featuring Boglins and You Could Win $500!
Here's How To Enter:
1) Make a short (1 minute or less) video starring Boglins: those lovely, outrageous creatures that come alive in your hands.
2) Post your video to FB, the 'Gram, or TikTok with the Hashtag #VLOGLINS
3) Your entry must be tagged no later than 11:59 PM (EST) on July 5th, 2021. Enter as many times as you want.
4) At the end of the month, we'll round up the top five entries for you, the fans, to vote on. The winner of the fan vote gets a US $500 VISA Card.
Ready to film, but you don't have a Boglin yet? No worries, order one HERE.
---