Hasbro and Kaiyodo have been playing a little game of one-upmanship with the X-Men over the last year, with both companies releasing competing 6" Psylocke and yellow Wolverine figures in rapid succession to each other. And now, that trend is continuing with a release that I think may put all of the previous Revoltech Marvel figures to shame. Hot on the heels of the Hasbro Marvel Legends Gambit being announced, the Kaiyodo Revoltech Gambit is now up for order—and it just may be the single coolest piece of Gambit merch ever!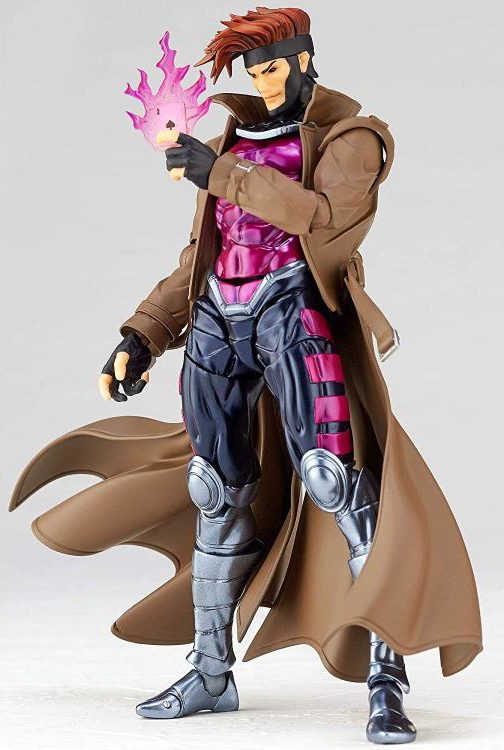 I wasn't really an X-Men groupie until the 1992 X-Men animated series hit, and consequently, until I saw that cartoon Gambit wasn't even on my radar. But one episode in? It was hero-worship-love-at-first-sight for me. Gambit's charm, charisma, and all-around badassery were unlike anyone else on the X-Men at that time (and maybe to this day).
So even though Gambit has come and gone from the core X-Men team countless times (literally) in the last two and a half decades, he remains a perpetual favorite of 90s fans. And now, after a collectibles absence of far too long, we're finally seeing a solid amount of new toys and collectibles for the Ragin' Cajun announced this year!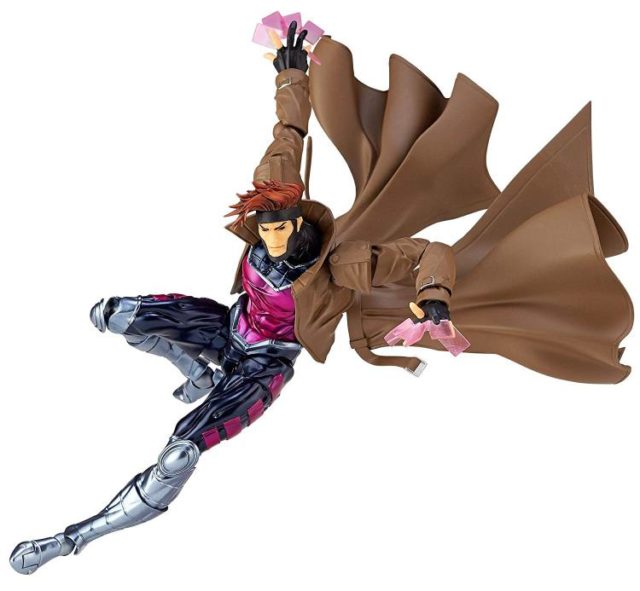 I ordinarily don't splurge on an XM Studios Statue, but I've already got the XM Gambit locked up. Kotobukiya X-Men 92 two-pack with Rogue? Pre-ordered. The Marvel Legends 2019 Caliban Series version will be purchased the minute it's available. And this Gambit Revoltech…? I bought it before I ever started writing this article. Just in case!
While I think Hasbro did a very nice job with the upcoming Gambit Legends figure, this Kaiyodo Revoltech figure absolutely obliterates the ML version in my eyes. Gambit is a stylish character, and this action figure is practically exploding with style. LOVE IT.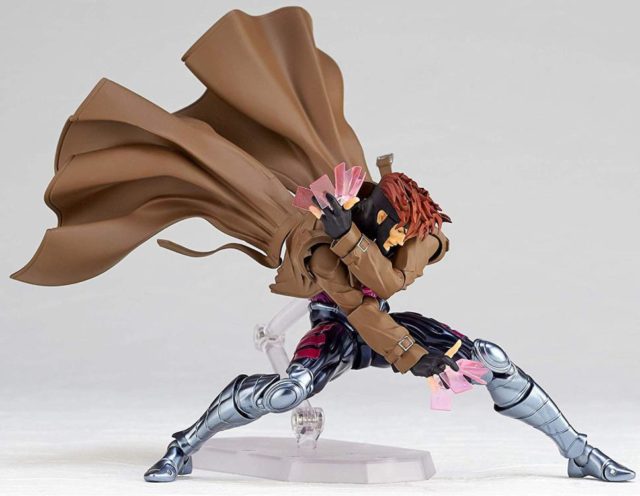 Gambit has both a charming side and a fierce side to his personality, and Kaiyodo is wisely giving us interchangeable face plates to represent both. I'll be opting almost 100% of the time for the sly grin look myself, but the aggro expression will look great in certain poses too.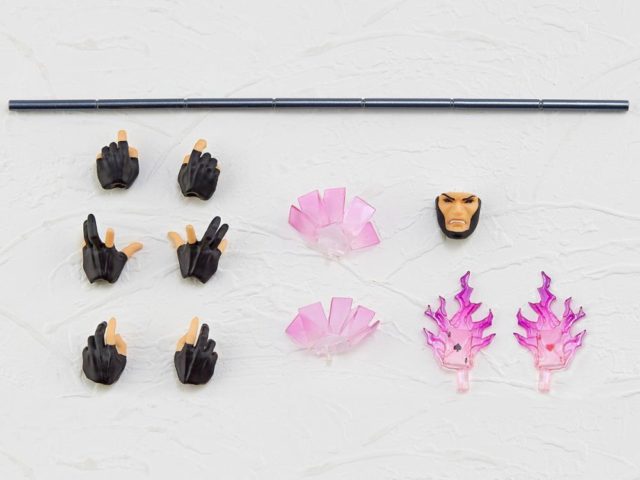 You can't have a Jim Lee Gambit without trademark bo staff and charged playing cards, and Kaiyodo has us covered in that department. In fact, we've getting four different effects pieces: two individual "flaming" cards and two quarters of charged cards ready to be thrown!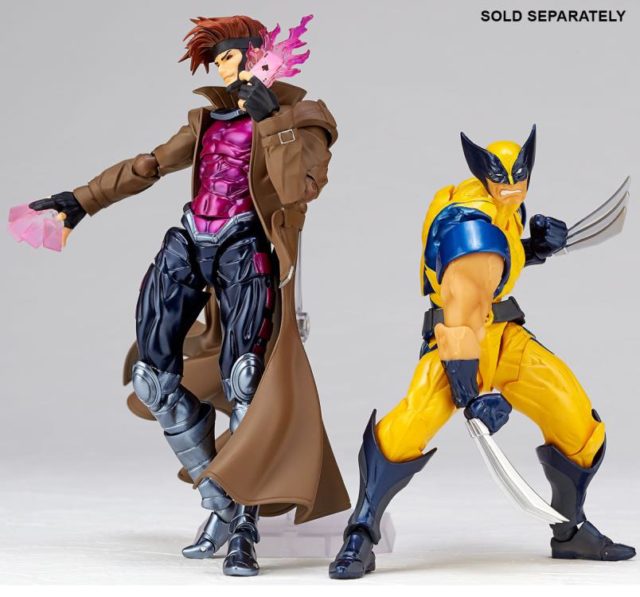 The various charged cards accessories really bring this figure to life and give it a flair I've never seen before on a Gambit toy. Honestly, I think Kaiyodo has handled the cards better than any high-end Statue company has!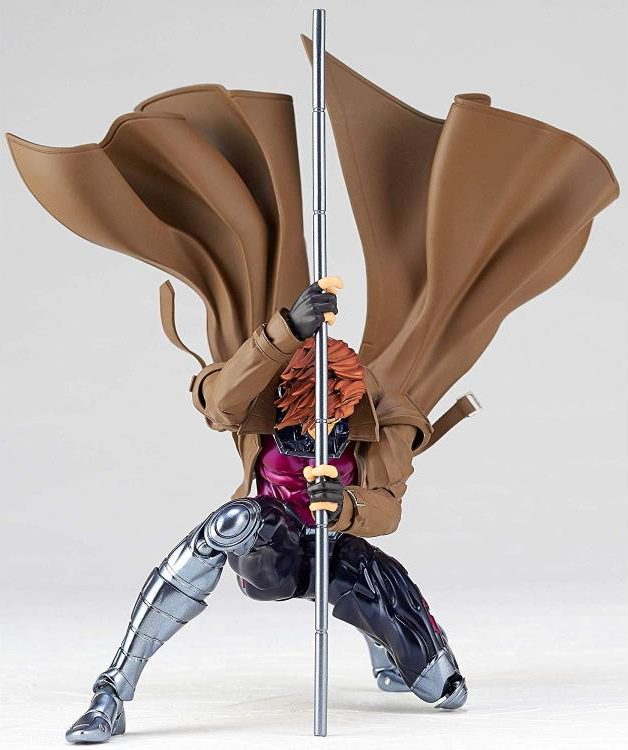 But Kaiyodo has one other trick up their sleeve with their Gambit action figure–and it's an articulated jacket! I'm usually sort of ho-hum about articulating capes and jackets and things, as sometimes they don't look quite right to me. But holy geez–based off of the official images, I am totally enthralled with this articulated coat.
It looks downright tremendous, and the dynamic nature of the matte jacket even draws my eyes more to the metallic paint on the boots, translucence of the playing cards and glossy paint of the costume. The articulated coat brings the whole package together so beautifully–this has to be my early front-runner for "Best 6″ Figure of 2019". Good luck topping this, Hasbro!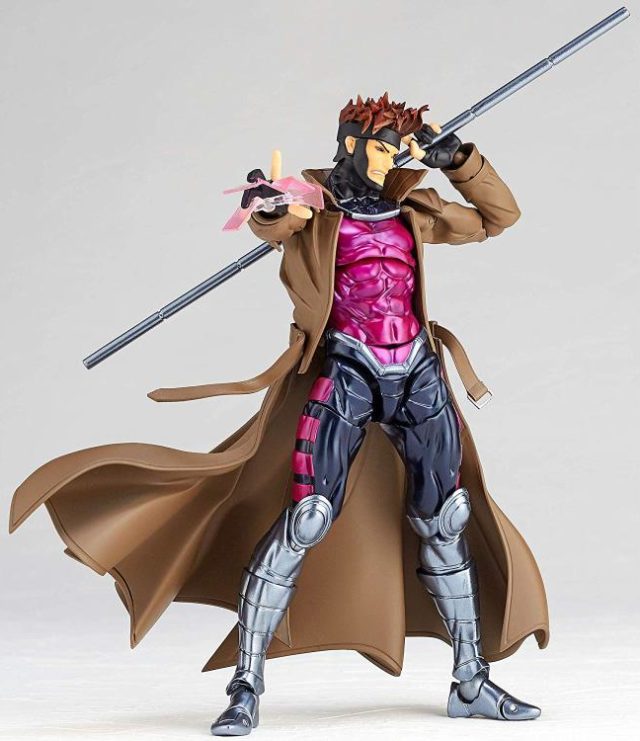 The Kaiyodo Gambit Revoltech is now available for PO online, and is scheduled to ship out in March 2019. Kaiyodo has had to go back and reissue several of their Revoltech Marvel figures now because of total sell-outs, and I think it's almost a certainty that Gambit is destined to join that club with an expedient sell-through of his first production run. This would be a good figure to reserve if you don't want to wait for an eventual re-release.
Remy Lebeau fans, sound off! Now that you've seen Kaiyodo's take on Remy, which is the 6" Gambit in the land that you're most hyped about in 2019? Does the Hasbro Marvel Legends Gambit reign supreme, or does the upstart Revoltech Gambit win the battle for you?
The post Revoltech Gambit Figure Photos & Up for Order! (Kaiyodo X-Men) appeared first on Marvel Toy News.