–Review and photos by Scott Rubin.
Thirteen years after its debut the Ben 10 franchise keeps going strong, and with new episodes of the show on Cartoon Network Playmates Toys has kids and collectors covered with fun new toys. Every version of the show features the same basic plot: the young Ben Tennyson comes into possession of an extremely powerful technological device, the Omnitrix, that allows him to transform into various alien lifeforms to fight bad guys.
Traditionally with both the different incarnations of the series and the figures after the first season or two establishing the characters and aliens it gets a little bigger and weirder, and that's exactly what we're seeing now with Playmates' 2018 "Omni-Enhanced" line. Several of Ben's aliens are back with unique upgrades taking the form of armor, weapons, and accessories, not to mention splashes of additional color. In today's review we're going to take a look at the new Omni-Enhanced Heatblast and Four Arms, plus the Diamondhead Power Tank!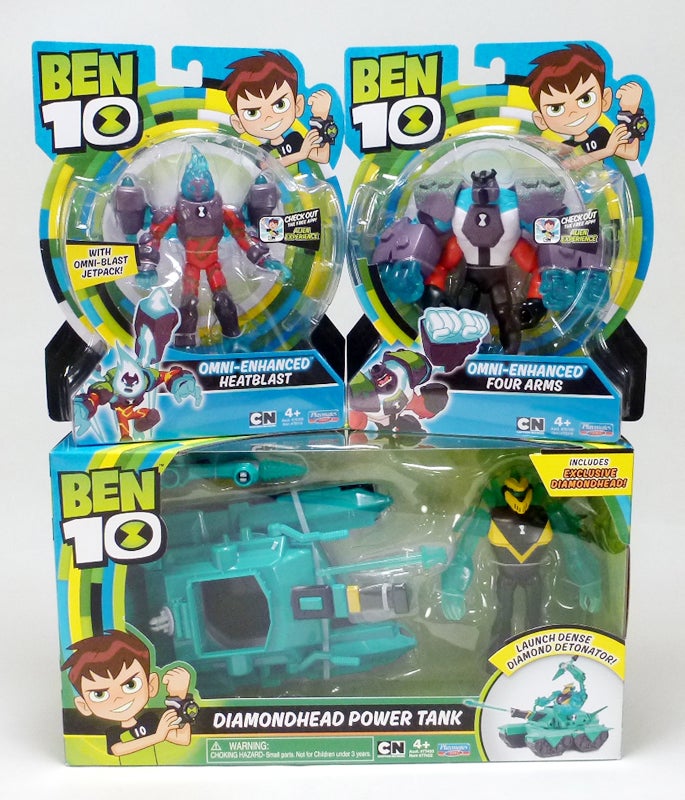 For the new Omni-Enhanced figures, Playmates took last year's Ben 10 packaging and updated with some cool new graphics and info boxes. Both Four Arms and Heatblast are packaged on traditional J-hook cards, with the figures held securely in a round plastic module in front of a super cool Omnitrix art effect. Tennyson shows up in the top-right corner while the specific character's name is at the bottom. The Omni-Enhanced effects include light blue effects, and there's a call out to Heatblast's accessory via a sticker.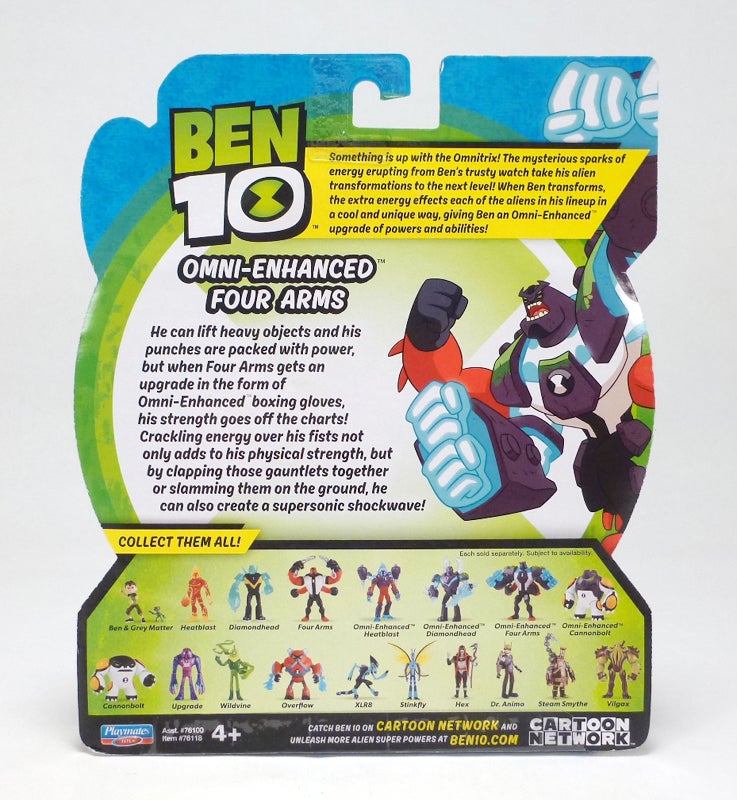 The back of the toys' cards is jam-packed with info, with a description of the current Omni-Enhanced situation at the top and a bio of the individual alien and what its new abilities are. And, of course, at the bottom is a "Collect Them All" section showing off other figures you can purchase. Meanwhile, the Diamondhead Power Tank deluxe vehicle comes packaged in a wide window box that repeats a lot of the artwork seen on the small cards with specific photography and artwork of the toy, its included figure, and all of its fun gimmicks.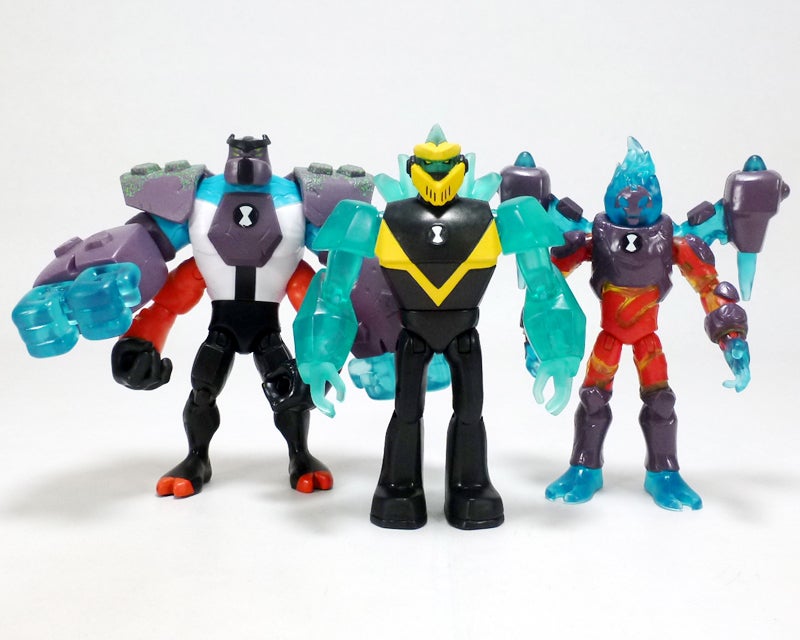 The roughly 5 inch scale standard Ben 10 figures from Playmates look great, and now the Omni-Enhanced versions take them to whole new worlds. As explained on the figures' cards, extra energy "sparks" from the Omnitrix are affecting Ben's aliens in different ways, basically providing an aesthetic boost along with a special power or ability. You can see then that Playmates has taken the first generation of figures as the base for Enhanced versions and given them newly sculpted parts and accessories.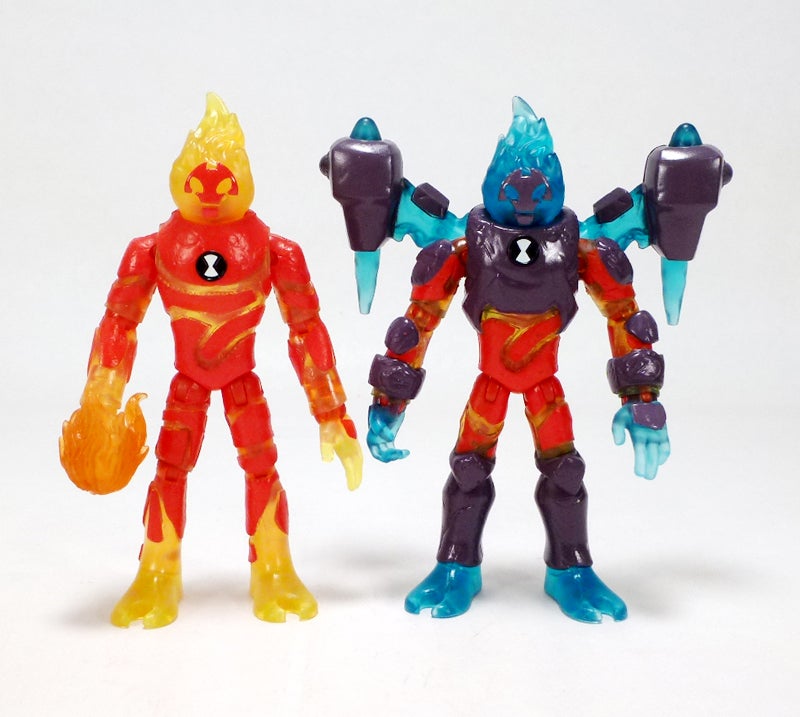 We reviewed the standard version of Heatblast last year, finding it to be a very cool (or should I say hot?) 5 inch tall Pyronite featuring rocky crust-like parts, lava, and exposed flame. When Omni-Enhanced he got a pretty big upgrade. First off, chunky armor covers the figure with pads on his arms, lower leg greaves, and a heavy upper torso piece that wraps around his body and forms a collar. These new parts are a dark gray, contrasting nicely with the red and translucent yellow plastic of his core body.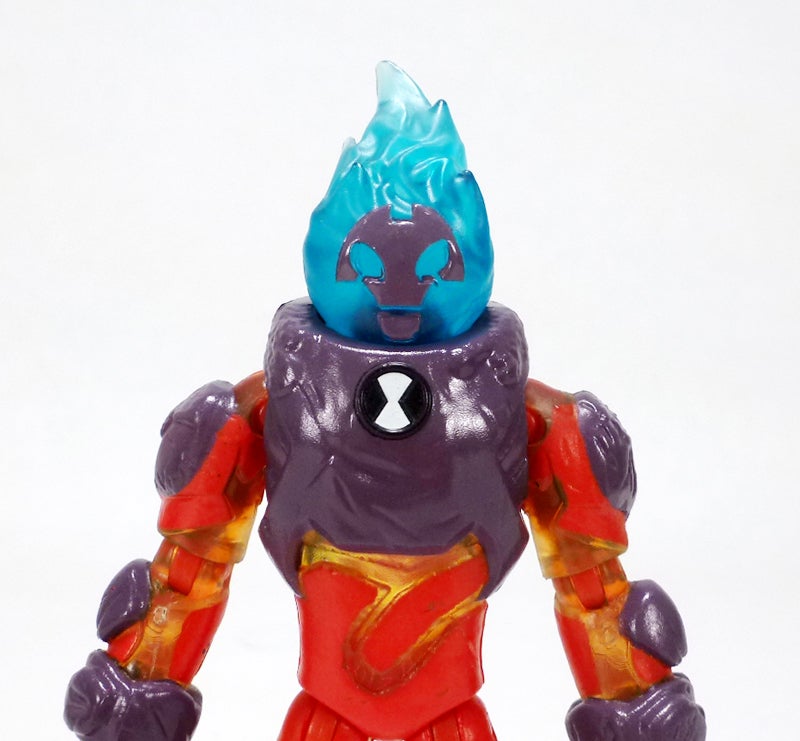 Then there's the new color additions, here taking the form of translucent blue on Heatblast's two-toed feet, his four-fingered hands (one in an open fist and the other sort of waving), and his fiery head. Oh, I should mention that while the regular version has a rocky red face in the flames this time it's a dark gray matching his new armor. Articulation is the same as on the original, with 11 joints that give it nice poseability.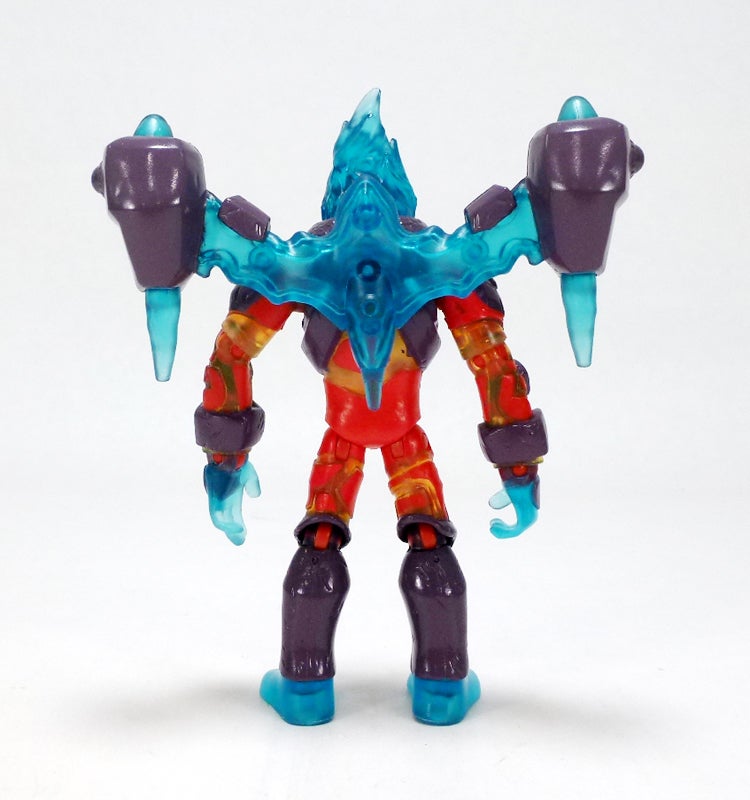 Now while the first Heatblast had two flame effect accessories you could attach to his arms, this time around he has an Omni-Enhanced jetpack in the same gray rock and translucent blue flame. It plugs into his back very securely and looks great, perfecting for zooming around in the air or displaying in a cool pose.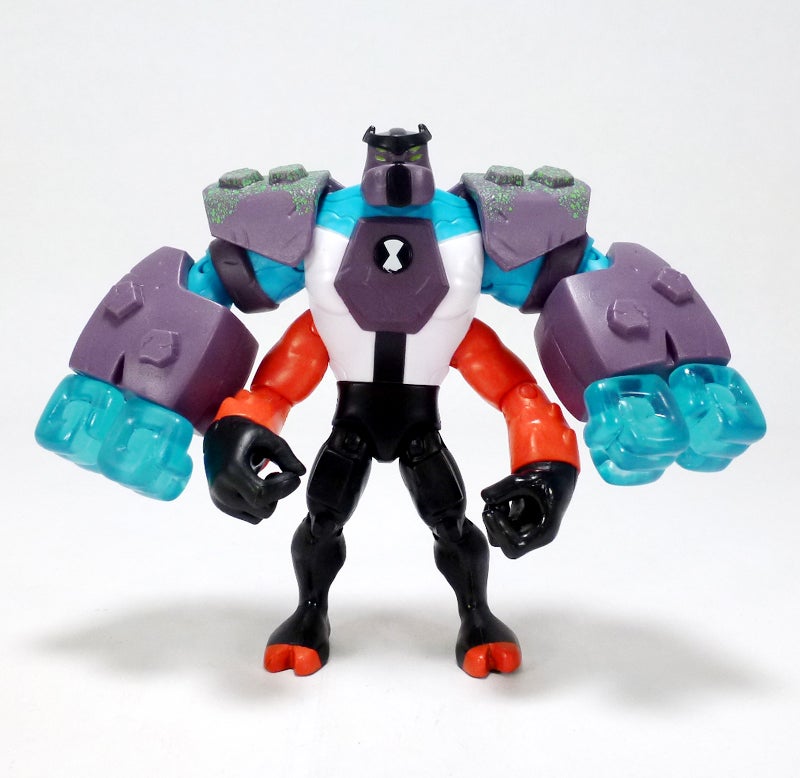 Last time around we coupled Heatblast with the big Cannonbolt, but today we're going even bigger with the massive Omni-Enhanced Four Arms! True to his name, this Tetramand alien hero has also been around since the very first version of Ben 10 and has always been one of Tennyson's favorites. And why not? He's big, he's strong, and he has four eyes and arms. The standard version of Four Arms has red skin and wears a black and white outfit with black gloves. Well, this new one is a pretty big departure.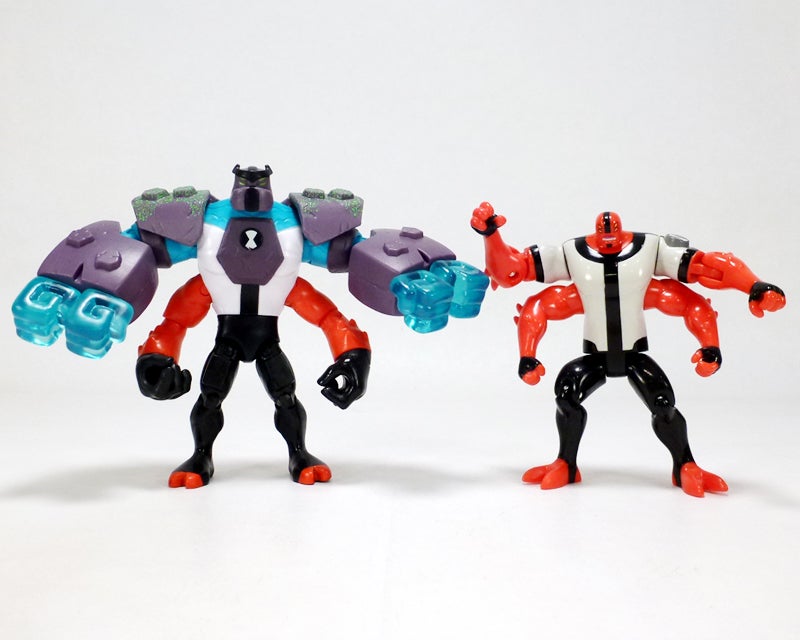 First off, there's a lot of Omni-Enhanced blue added in especially on his upper chest and running down into his top pair of arms. Four Arms got upgraded with a panel of chest armor, a matching hard head covering, big shoulder pads with green spark energy, and gigantic "boxing gloves" that sheath his top forearms and provide him with two sets of twin translucent blue energy fists!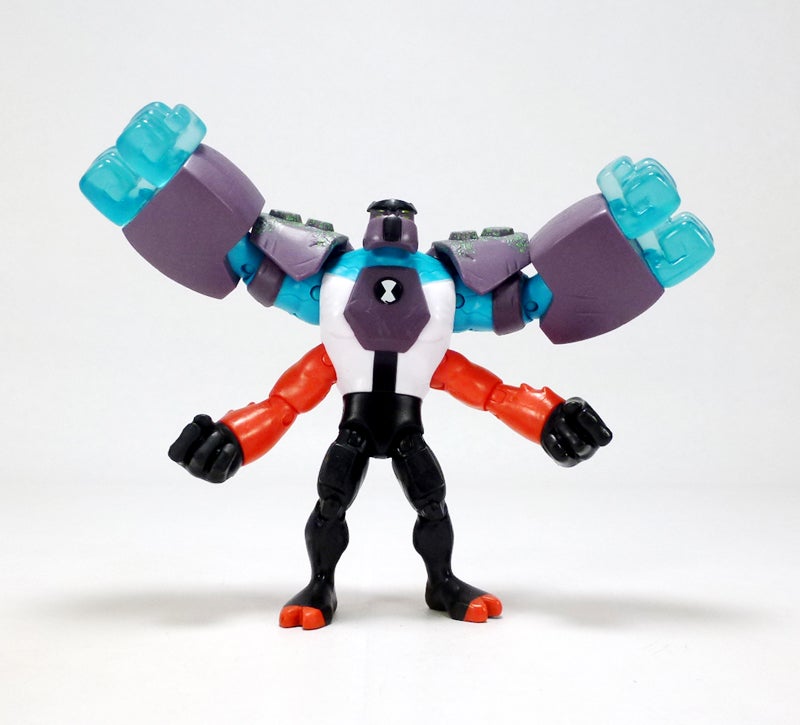 As you can imagine the figure is very top heavy, but even with relatively small legs he can stand up well on his own thanks to good articulation. Speaking of, Four Arms has more than 20 points of articulation including rotating fists, ball joints at the hips, shoulders, and elbows, and even hinged shoulder armor. If you're missing the big guy in your collection this is a fun and unique version of Four Arms that's fun to play with and pose.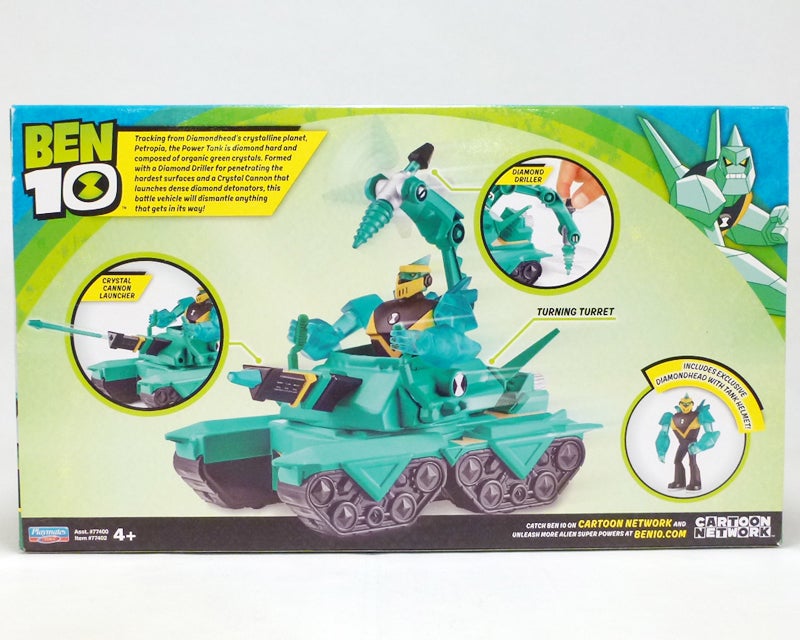 Each major wave of Ben 10 figures includes at least one deluxe vehicle, like last year's epic Rustbucket RV/Plumber base. This time around the Omni-Enhanced figures are accompanied by two new medium-sized vehicles, each including an exclusive action figure. Today we're taking a look at the Diamondhead Power Tank! It's color coordinated with its driver, it's angular and looks high-tech, and it's big and chunky for play with all of your figures. The tank comes in a wide window box with all of the standard Ben 10 graphics, and it's covered in photos of the toy showing off its various details.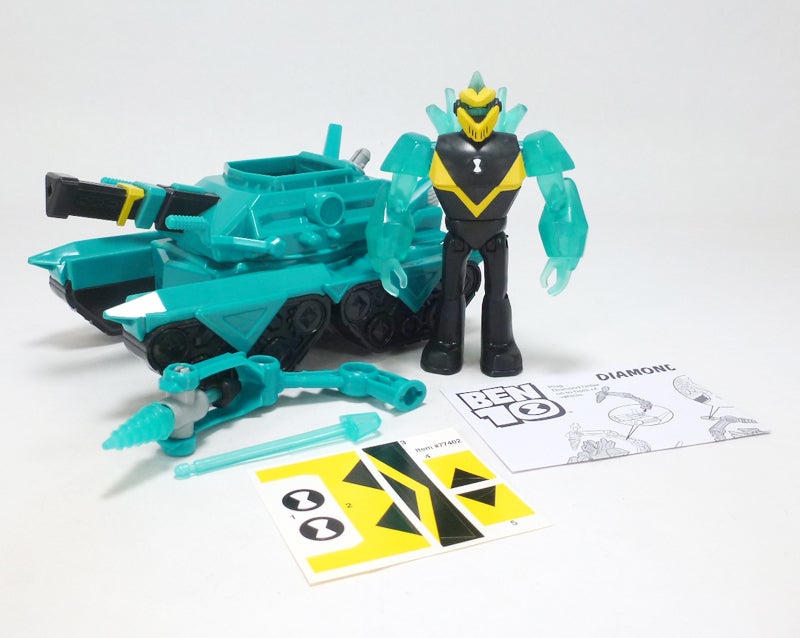 Inside you'll find the tank, the figure, a one-piece diamond driller arm, the crystal cannon projectile, an instruction sheet, and stickers. Thankfully there are only a few of the latter and they're easily applied, and assembly of the diamond driller is a snap (literally).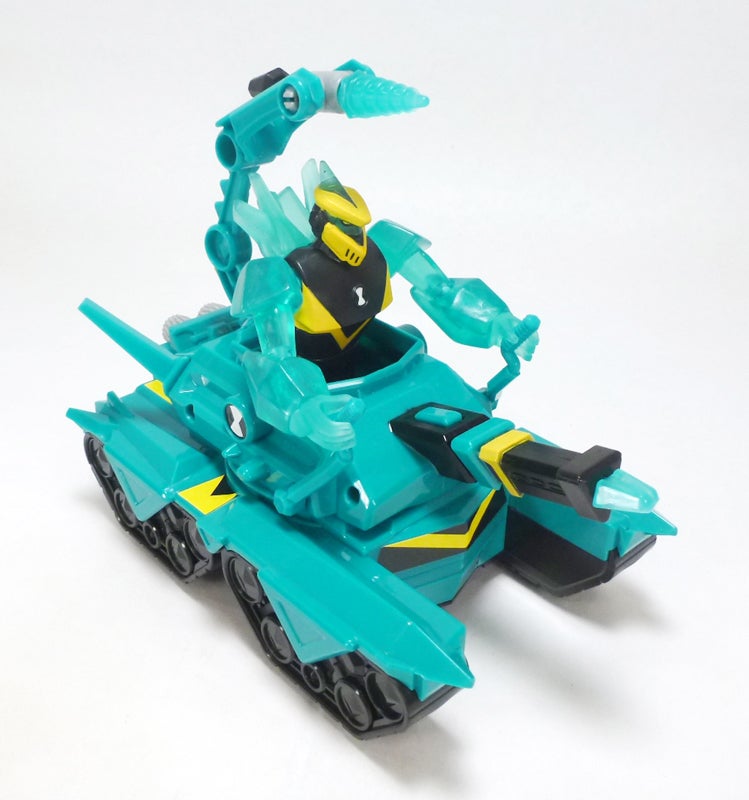 Once you've got everything put together and the stickers slapped on, the Diamondhead Power Tank is ready to roll. It consists of a lower body/chassis with four tracks (it rolls on separate wheels on the bottom) topped by a big rotating turret with an entry point in which a figure can stand. The turret can move 360 degrees and has a few features of its own. Its business end in the front is the crystal cannon launcher, there are two moveable control sticks, and at the back is the diamond driller arm. That piece can rotate around the tank to reach the ground on either side, and at the top is a poseable drill assembly with real spinning action.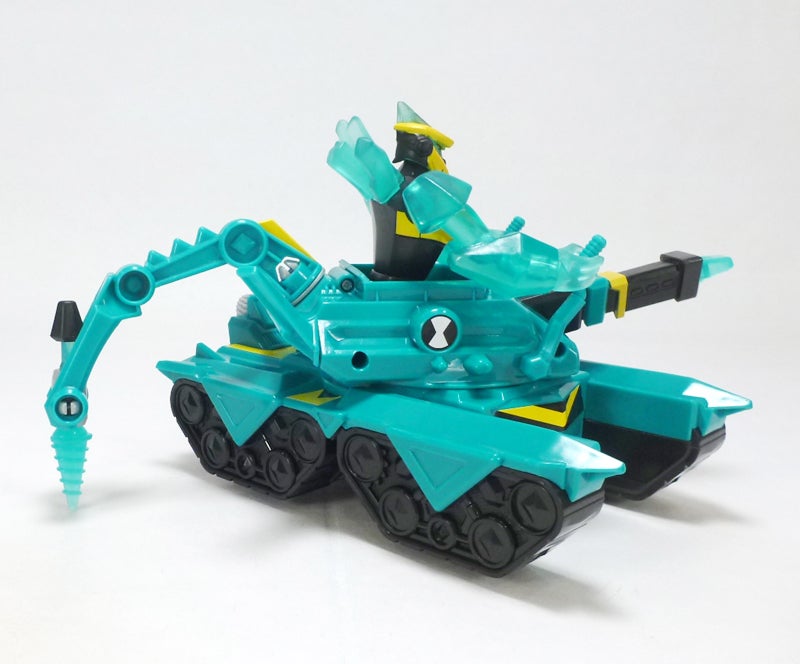 The tank is covered in cool tech details from the complex treads to the triangular cannon barrel, jet thrusters at the back, and much more. Overall it's a pleasing green that matches Diamondhead with some black, yellow, and gray accents; stickers add more yellow and black along with Omnitrix logos.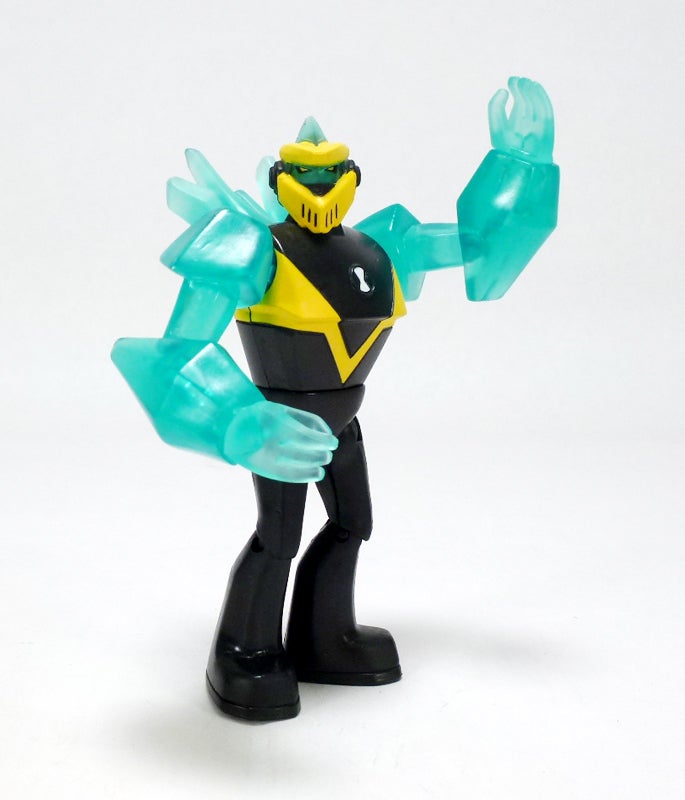 The exclusive Diamondhead figure is fun, a Petrosapien wearing what looks like a racing outfit and a reinforced helmet. The alien is often comprised of translucent blue/green plastic, and this Diamondhead has that on his crystalline arms, the growths erupting from his back, and the fin on top of his head. His suit is black except for a yellow "V" on his chest and the Omnitrix. Diamondhead's head is encased in a helmet that has hints of medieval armor with a thick protrusion covering his hefty jawline, an open visor section, and a brim over his eyes. It's mostly bright yellow with black around the back. Diamondhead has 12 points of articulation and two normal hands (often toys of this character have crystalline weapon arms), perfect for standing in the tank and holding onto its control sticks.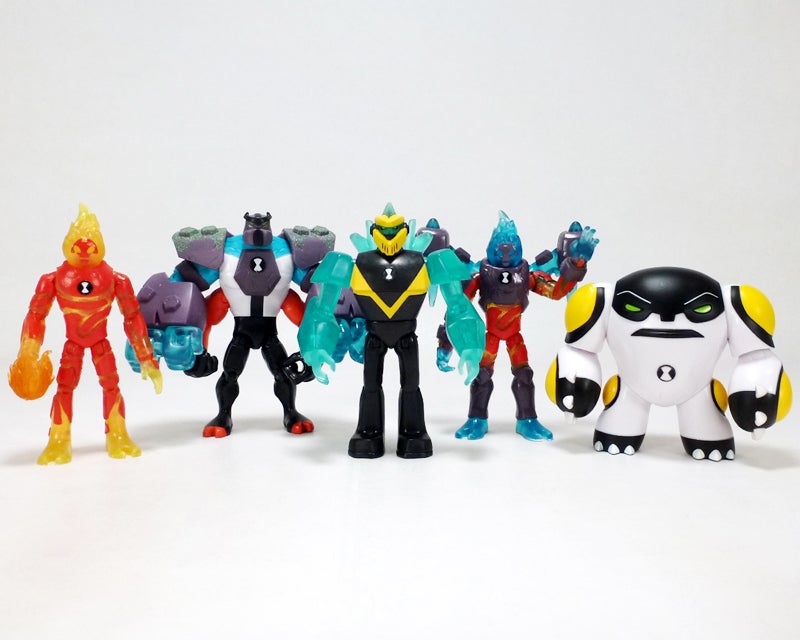 From my perspective as a longtime Ben 10 fan and collector of the toys, Playmates is doing a great job with the license and continues to expand the universe in innovative and fun ways. Even if you already have the basic versions, the Omni-Enhanced alien figures (MSRP $8.99) feel new and different, giving fun spins on old standbys. Four Arms is cool with his incredible bulk and huge arms, but I think Heatblast is my favorite with his sleek look, nifty jetpack, and excellent use of translucent plastic.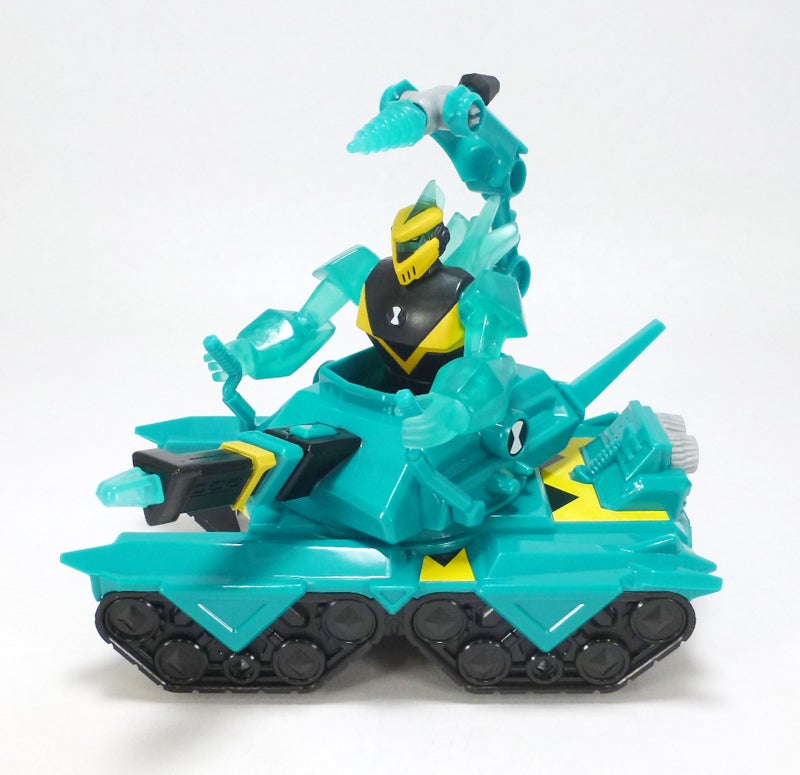 Meanwhile the Diamondhead Power Tank ($19.99) is sure to be a big hit with kids as it's a chunky, solid toy with nice interactive features. Look for these and other Omni-Enhanced figures plus new Omni-Launch Battle Figures and the Heatblast Rocket Flyer vehicle in stores now.
Review and photos by Scott Rubin.
Review samples courtesy of Playmates Toys.
[See image gallery at www.figures.com]