-Review and Photos by Andy Jones
Do you like your Ninja Turtle action figures, but found yourself longing for more? Well NECA has you covered. This Giant-Sized Teenage Mutant Ninja Turtle of Raphael is 15-inches tall – bigger than a Foot (Clan soldier, haha)! It's fully poseable, comes with multiple hands and faces, and some cool accessories. Let's open Raph up and see what's inside the box…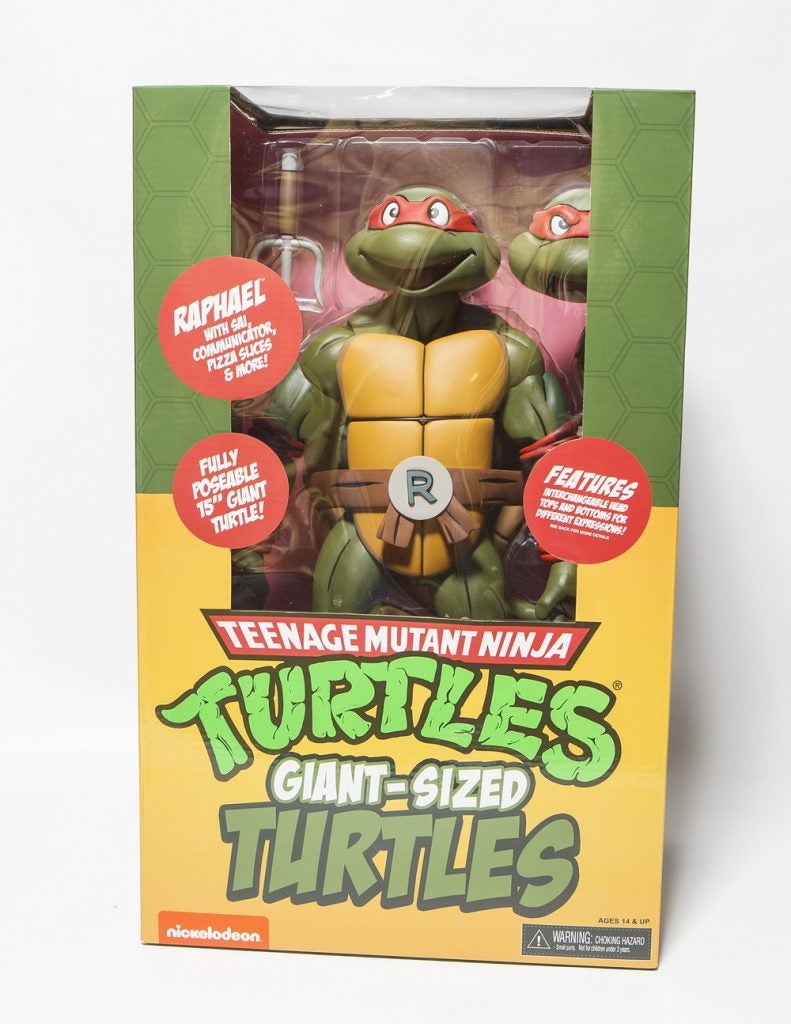 I like how the packaging shows you what you're buying, but still holds some surprises for when you actually open it up. Inside the tray (there are a ton of twist-ties and bands to get through) are a TON of accessories.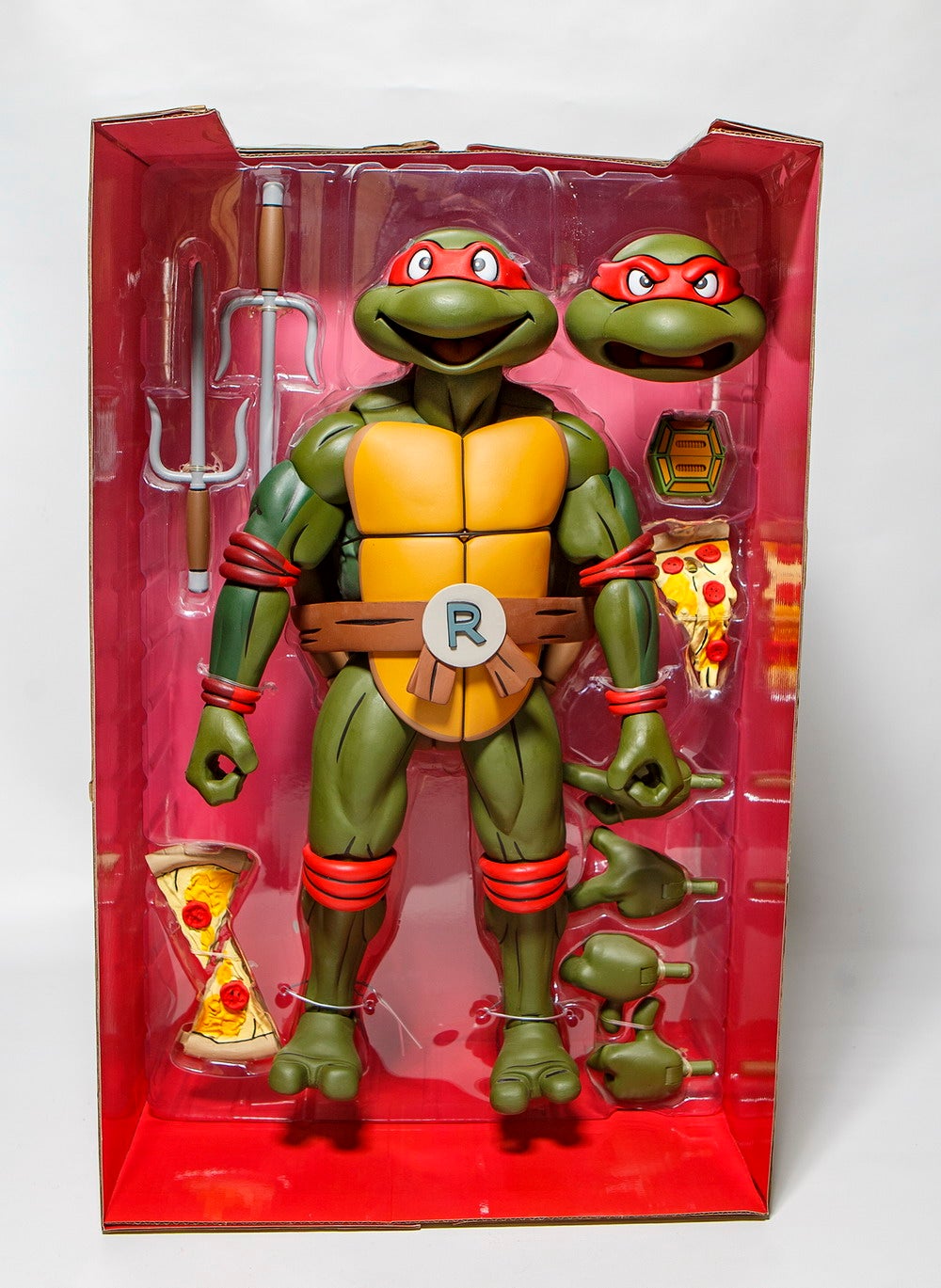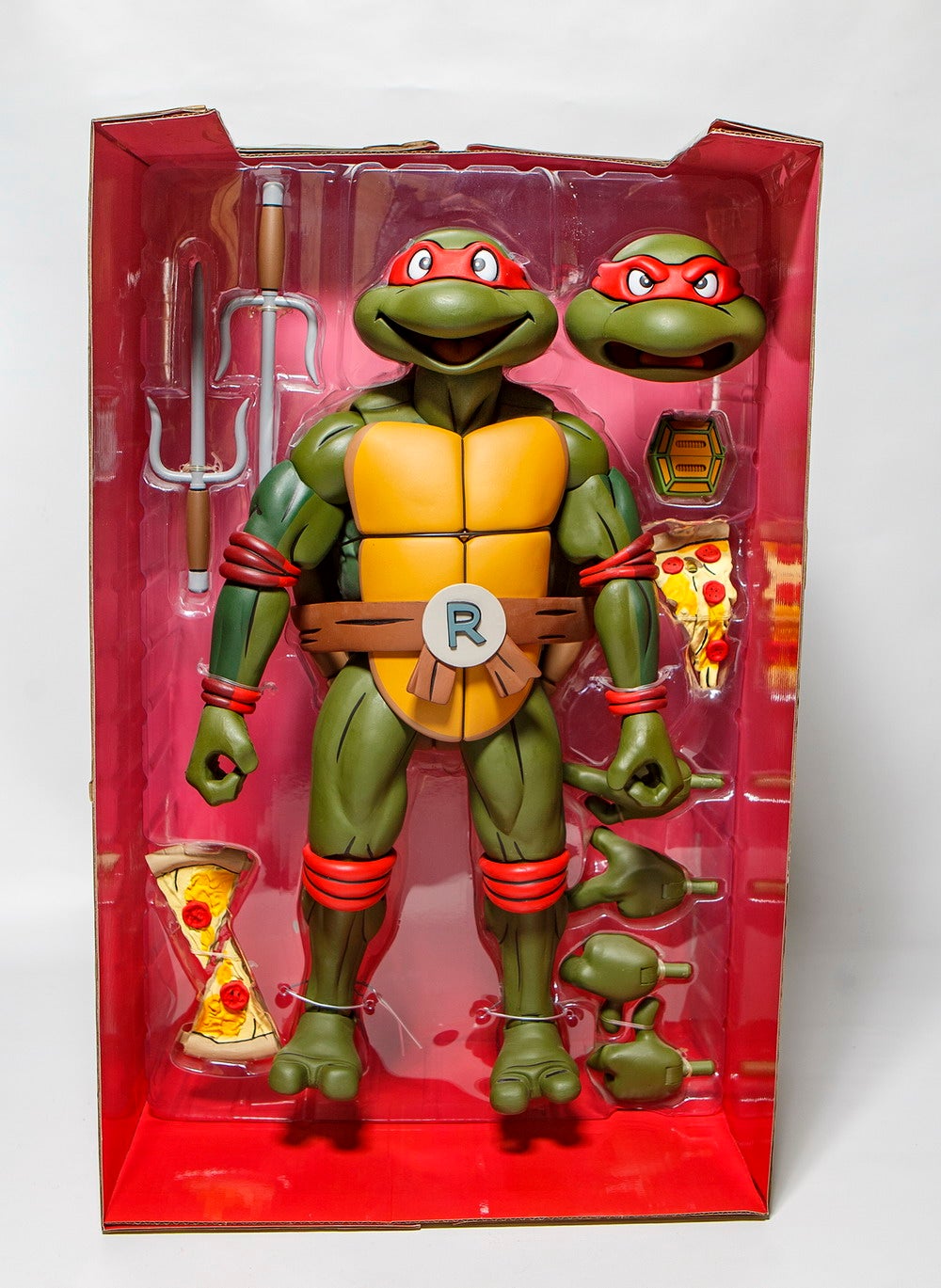 There are 3 pairs of hands, one for grasping, one giving thumbs-up, and one for pointing. But you can slide the sais into the pointy hand, for even more threatening gestures. You also get several pieces of pizza (yumm), his twin sais, and a folding Turtle Communicator!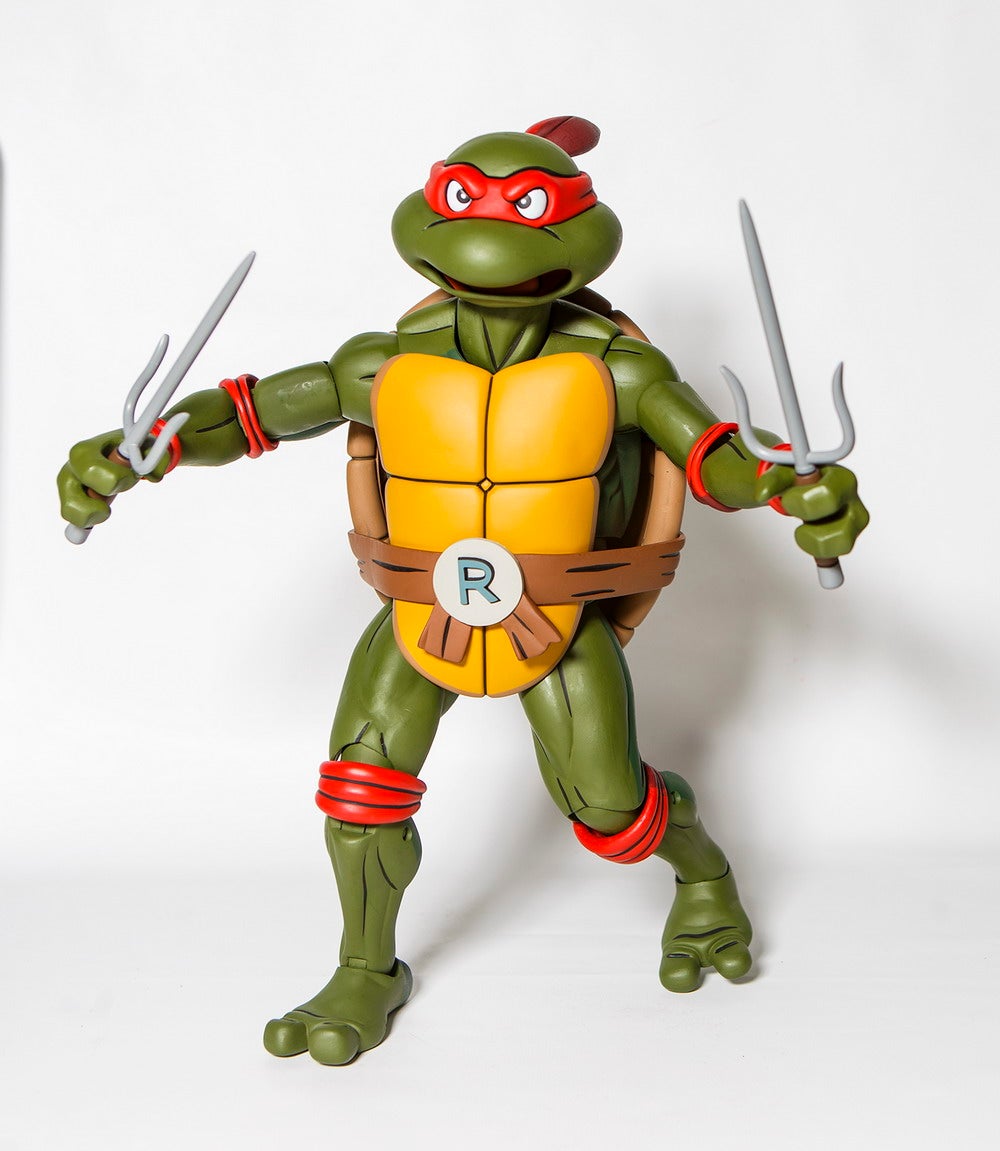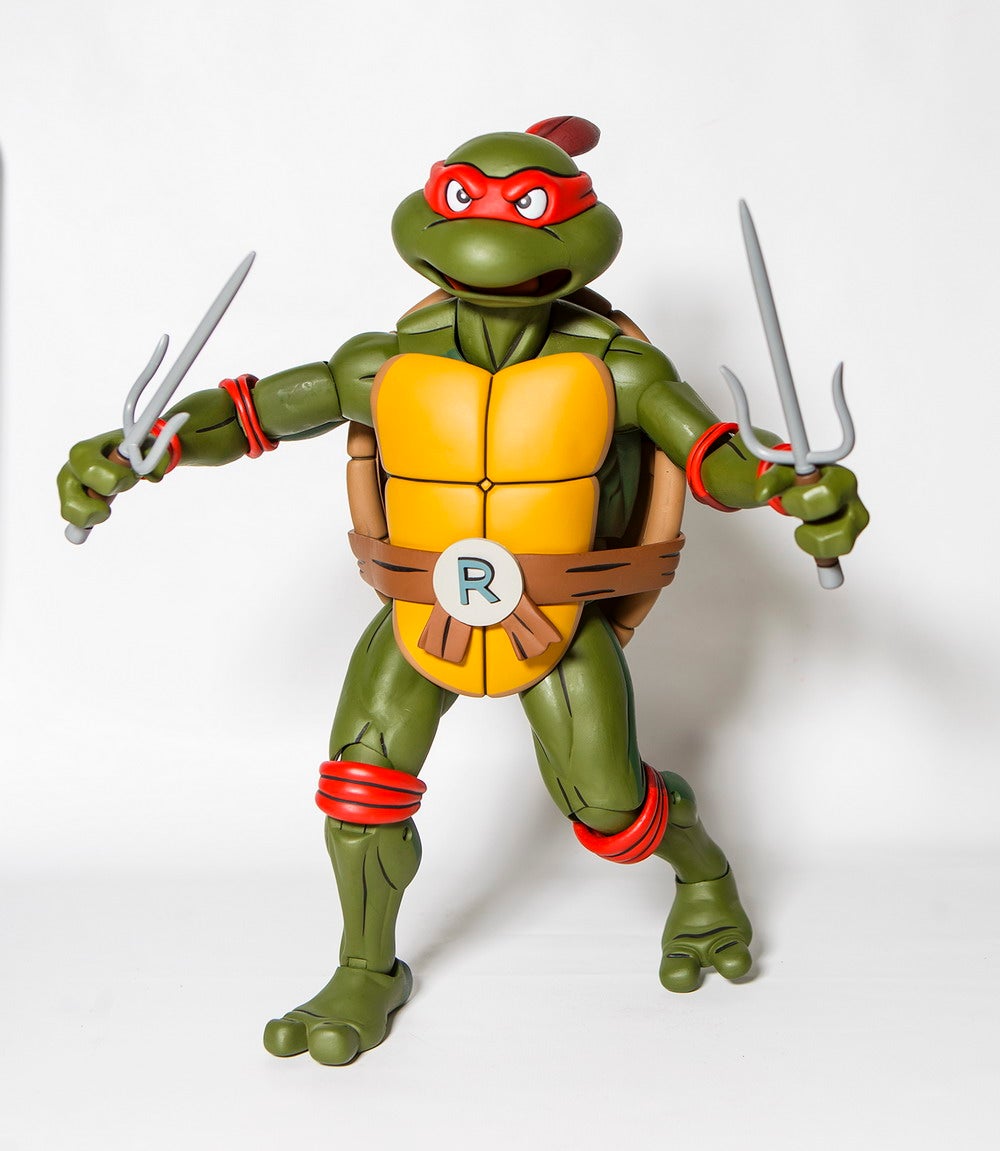 In addition to all those accessories, he comes with a second head. At first glance it looks like you get a happy face and an angry scowl, but low and behold, you can split the heads in half (the headband hides the seem) and mix the eyes and mouth. So you can make up to 4 different expressions, happy/smile, angry/smile, happy/scowl, angry/scowl. I feel like for Raphael however, he'll display with the angry/smile. He is cool, but rude if I recall.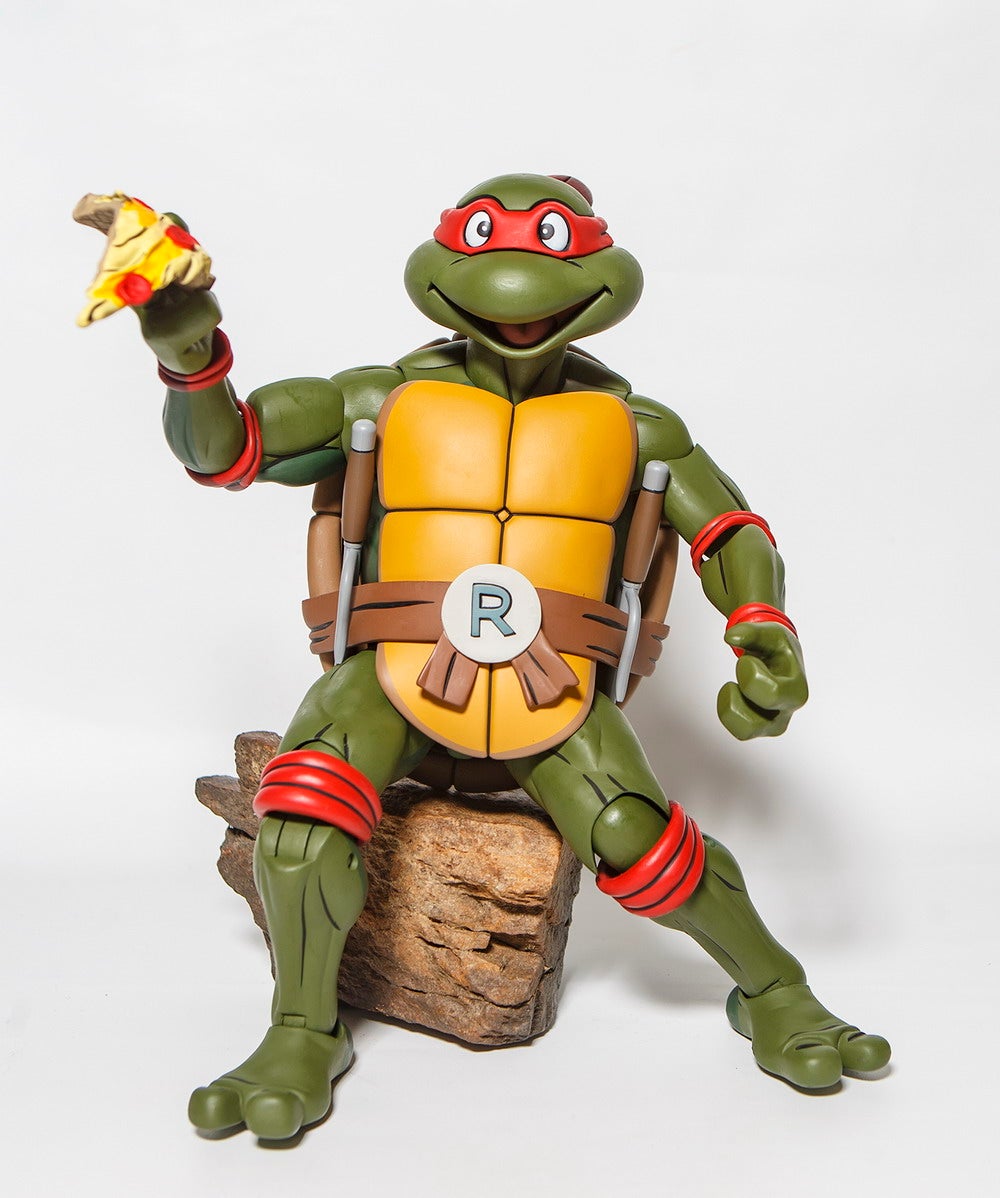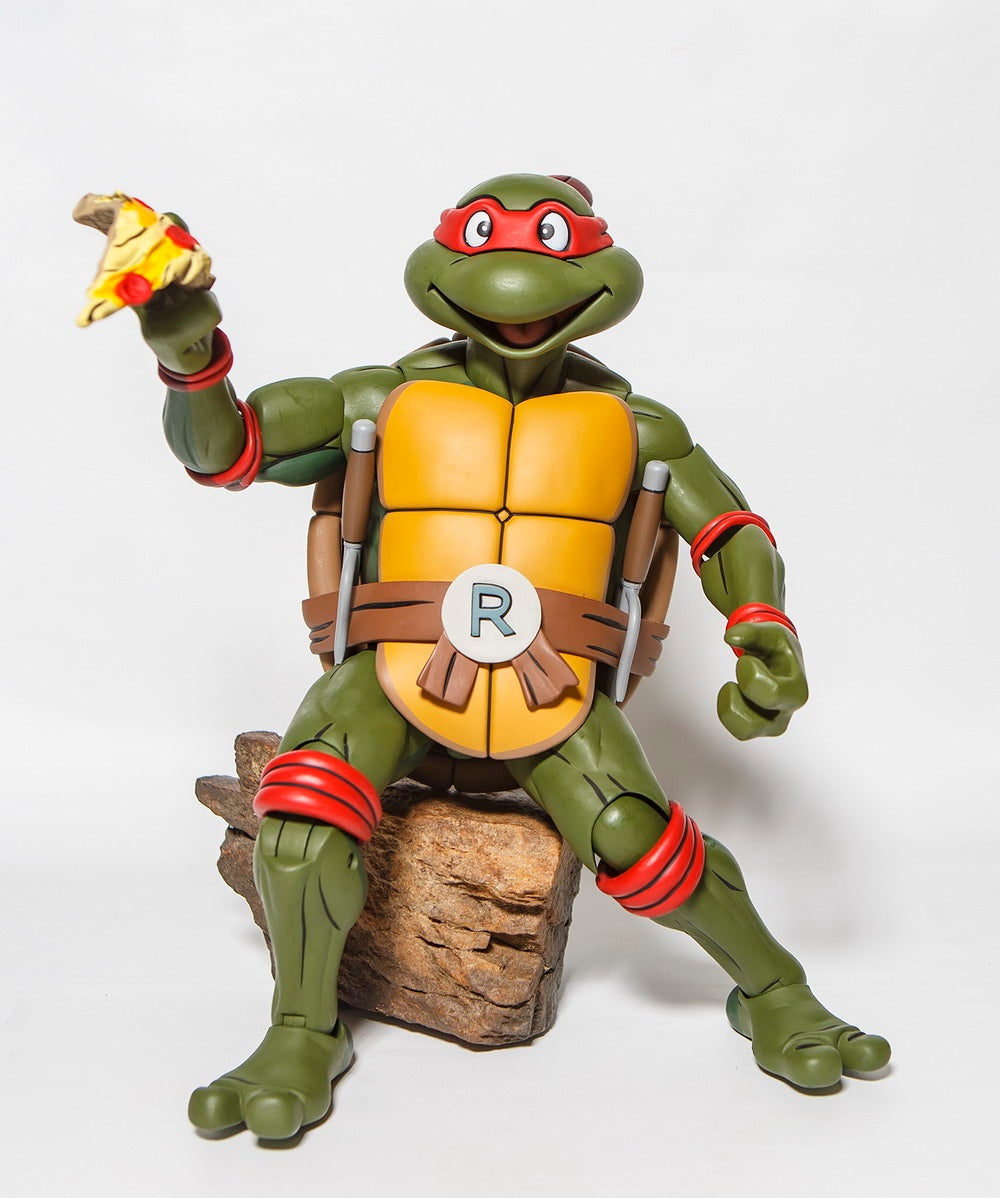 The articulation is pretty substantial (there's even a hinge in this bandana ties). The hips are ratcheted so they hold pretty well. I was able to get movement in the knees and ankles for some dynamic stances. I found Raph would stand pretty well. He is heavy, so don't get too crazy on your shelf, but I didn't find the size or weight to be a huge limitation. Also, the lower half of the front shell is flexible enough rubber so he can sit.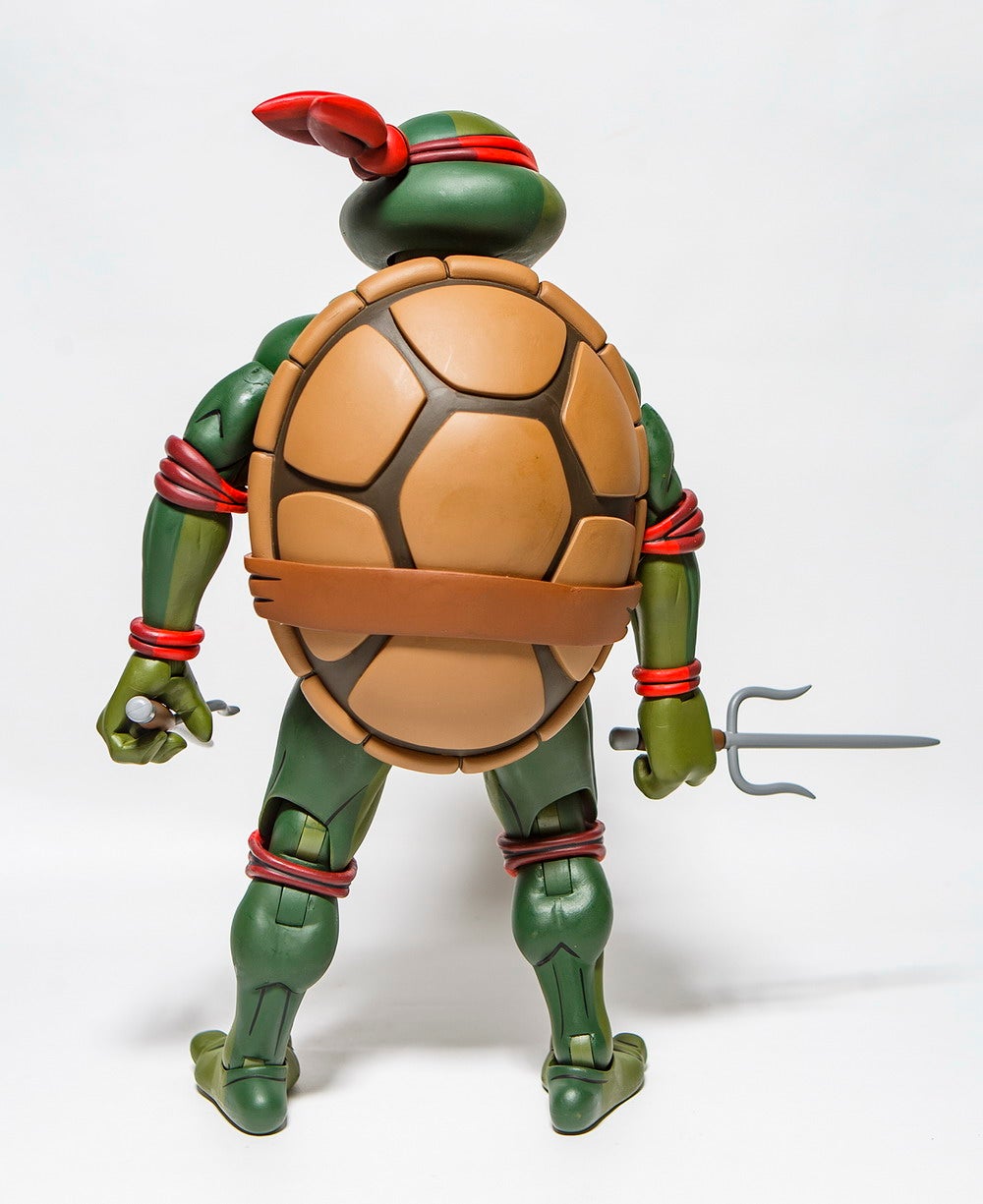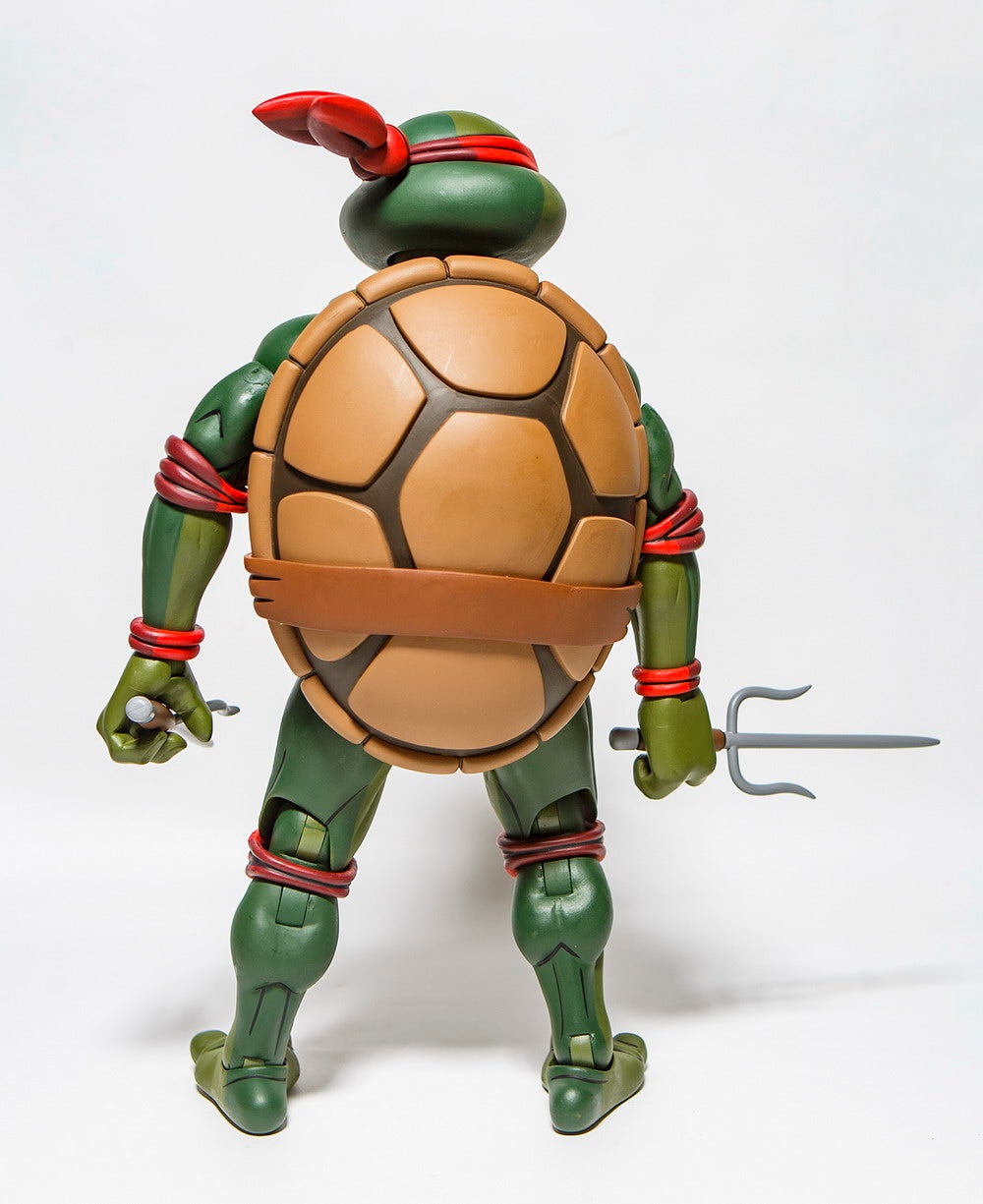 I also really admire the cartoon colors and paint apps. The shell colors are spot on, and the black linework accents make this figure look straight from the TV show, and less like my original action figures from the '80s. The articulation, the accessories, and the paint make this a very modern figure, and NECA nailed the source material.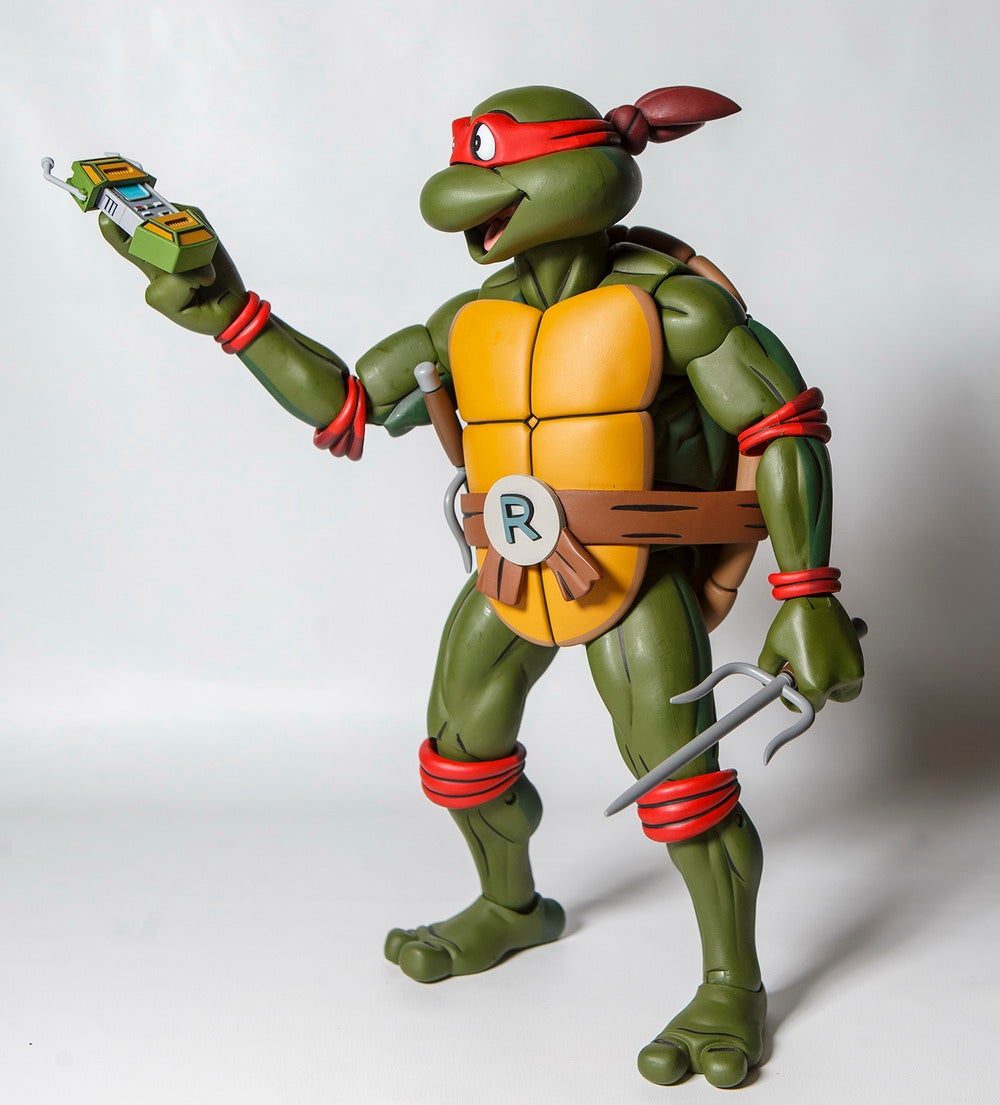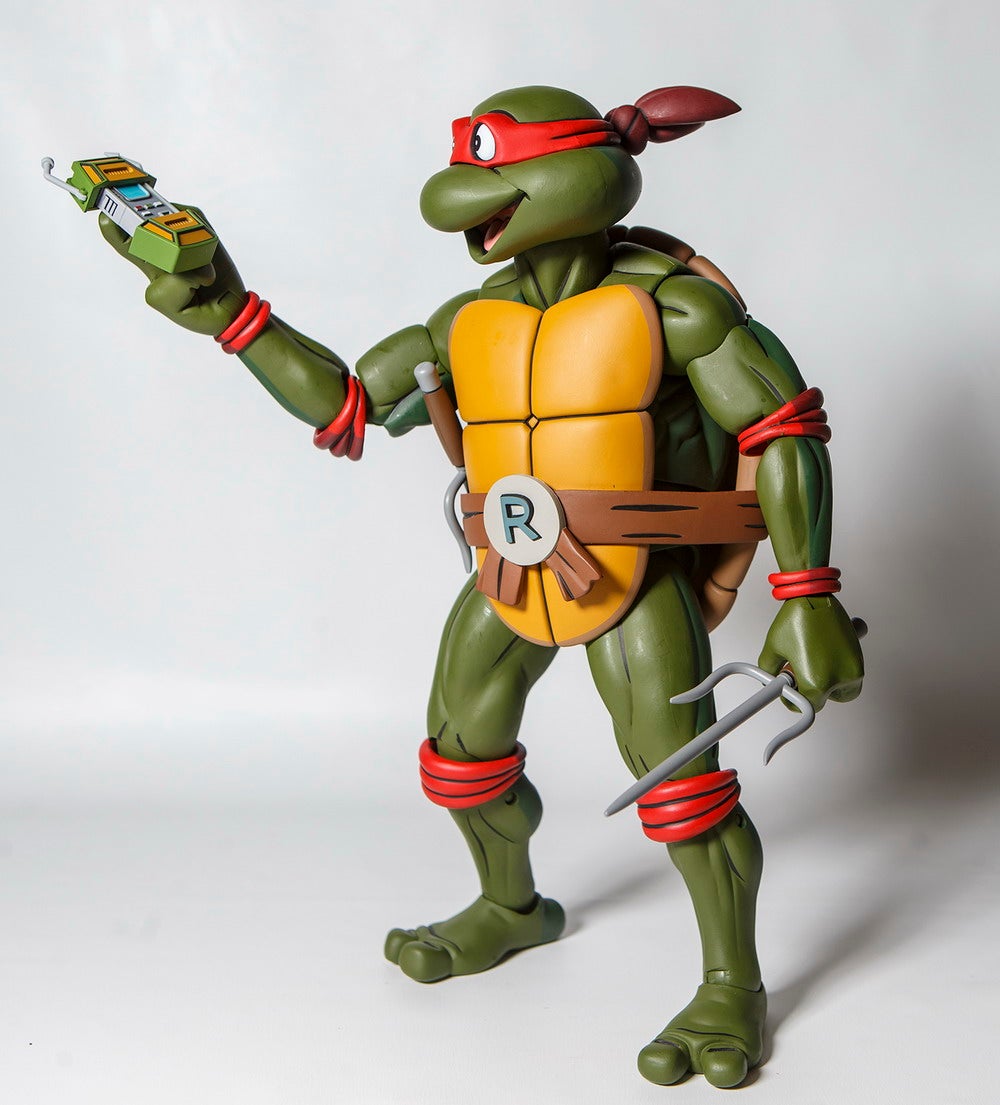 I actually had a bit more fun photographing this figure than I expected. I was a die-hard TMNT head when I was young, and I have carried a torch for the turtles for decades. I wasn't especially excited about the new designs of the recent cartoon (they have TWO toes on their feet, not three) and I didn't care for the Micheal Bay movies. This one grabbed me though; the attention to detail and original '80s cartoon styling really got me excited.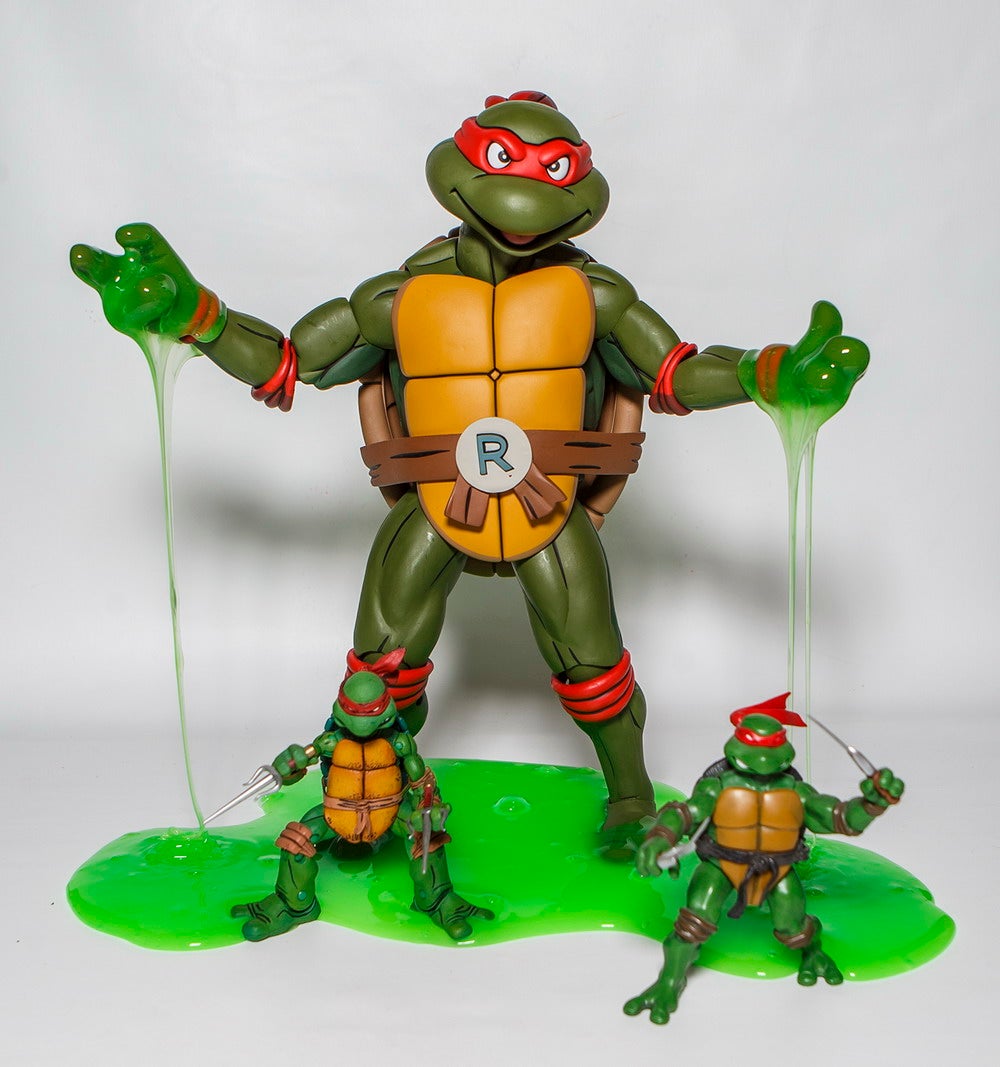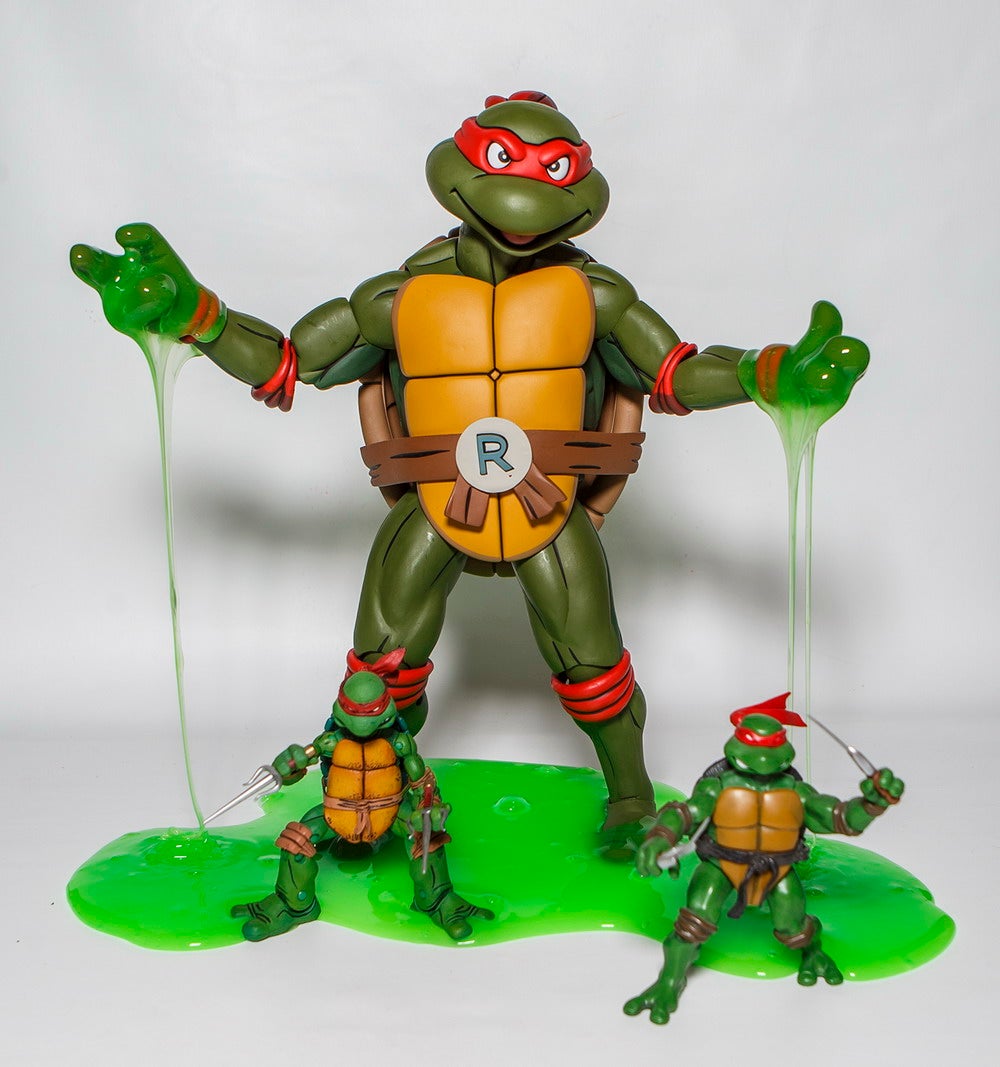 Not only is Raphael fun to play with and display, but I had to get him outside and get some cool on-location shots (see top photo). His larger size played really well with real-world settings. The posability and interchangeable hands and heads made it great to get what I was looking for in a photo. He's a lot of fun, but also really packs a punch. You gotta open him, PLEASE don't leave him in the box. Unwrap the Raph!
The first run of NECA's Giant-Sized Raphael quickly sold out… but fear not TMNT fan! EntertainmentEarth.com has pre-orders open for a NEW BATCH due out this August! Raphael is priced at $119.99 with FREE shipping!
Review and Photos by Andy Jones
Review Sample Courtesy of NECA
We are committed to finding, researching, and recommending the best action figures and collectibles. We earn commissions from purchases you make using the retail links in our product reviews. Learn more about how this works.
[See image gallery at www.figures.com]
---