New York Toy Fair 2020 is just a short 10 days away—but before I get to NYC to photograph and preview a plethora of upcoming Hasbro Marvel Legends 2020 figures, I've got some catching up to do talking about some recently-released ones! And this time out, I knew the figure I wanted to review first—because he's a cagey old codger who refuses to wait: the 2020 Marvel Legends Vulture figure headlining the Spider-Man Demogoblin Series is now available! After over a decade since the last 6" classic Vulture, has Hasbro perfected the old-timer?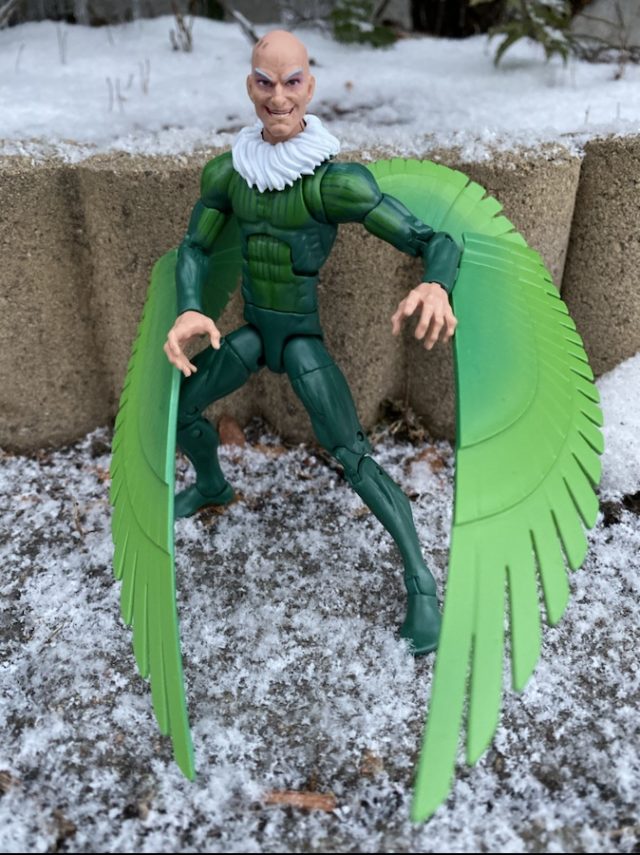 When Michael Keaton as The Vulture was featured as the villain in the Spider-Man Homecoming movie in 2017, we all thought the writing was on the wall that Hasbro would put on a much-needed upgrade of the old Toybiz Vulture in some manner that year.
But, well… 2017, 2018, and even 2019 all came and went without Adrian Toomes appearing in his most recognizable costume (although we did get Ultimate and MCU movie versions). We found out at SDCC 2019 that the long wait would finally come to an end this winter, and a new Vulture Legends figure has now flown in!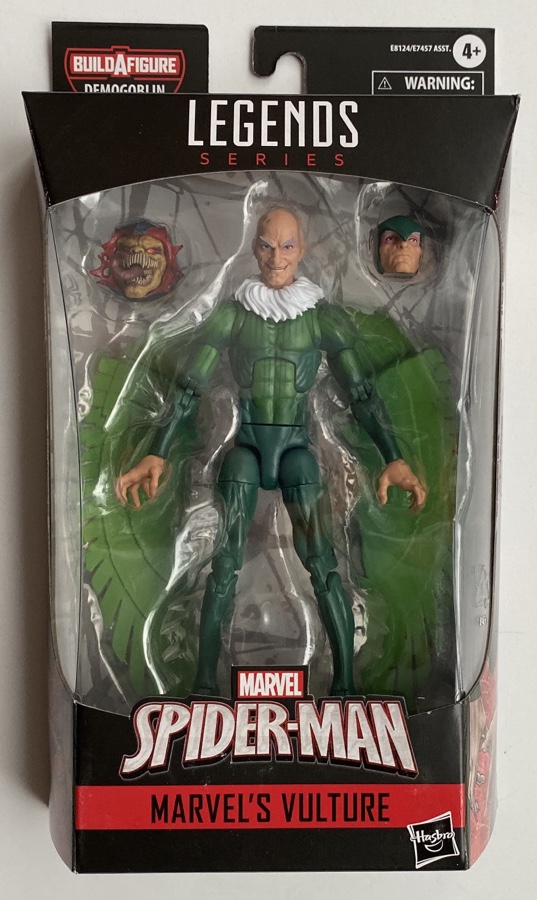 This six inch figure is packed at just one per case, which is a rather worrisome number to me. I personally wouldn't have picked this incredibly well-known supervillain to short-pack in favor of two PS4 GamerVerse Spider-Man variants, but it is what it is. Competition at retail will be fierce for this wily old man—is he worth it?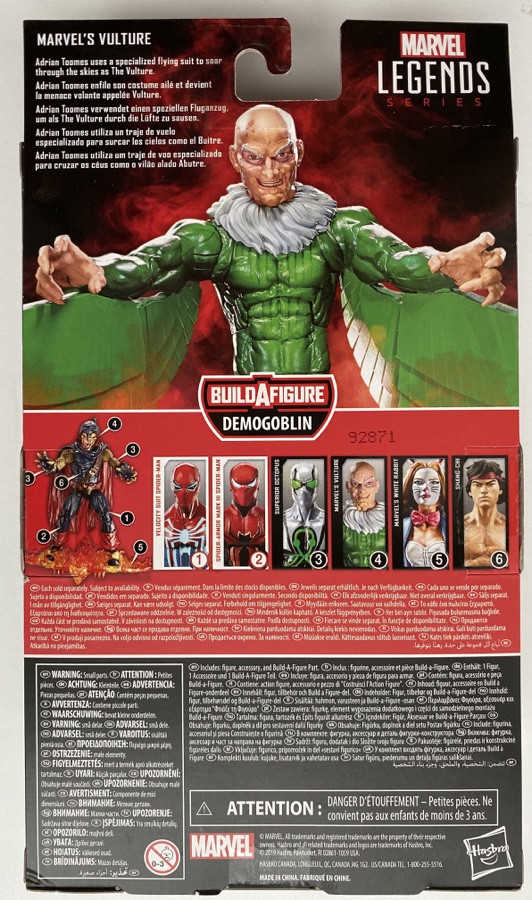 As is usually the case with Hasbro's modern upgrades to older action figures, that is a definitely "Yep". I might be playing my hand a bit early here before the rest of the review, but this is a 10 out of 10 figure.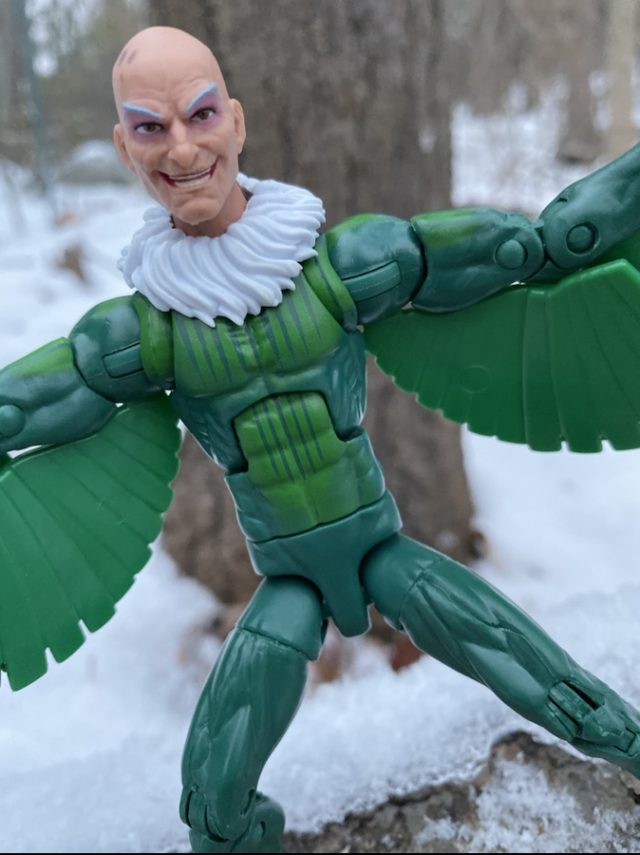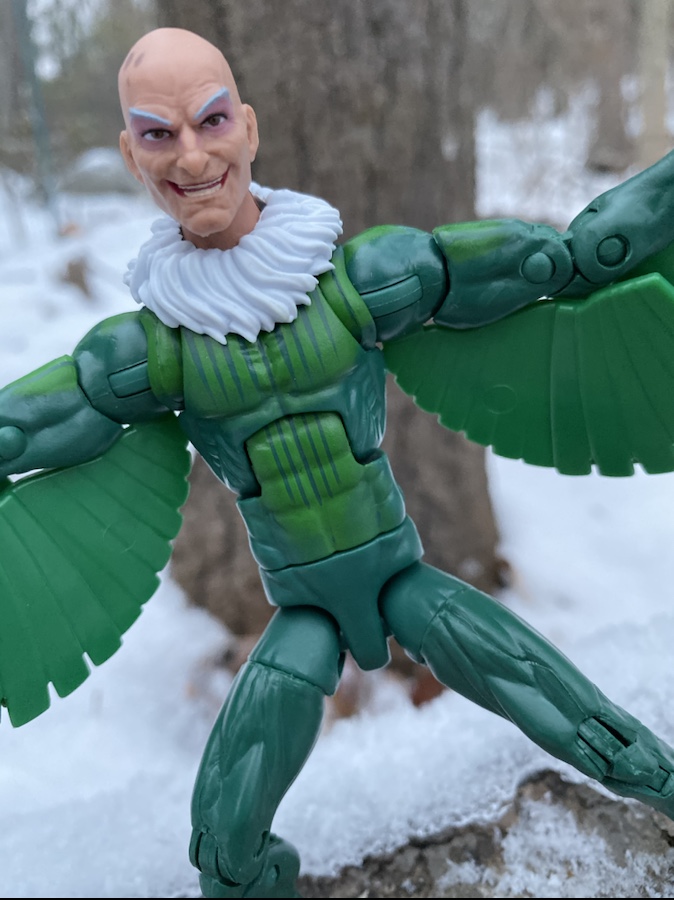 The main head for this figure is straight-up awesome. We don't see elderly action figures from Hasbro often, but this is one evil-looking old man. His sinister smile, huge grey eyebrows and liver spots on his bald head all make this one of the most unique and visually-compelling faces we've seen in a long time. And his piercing eyes also look downright alive!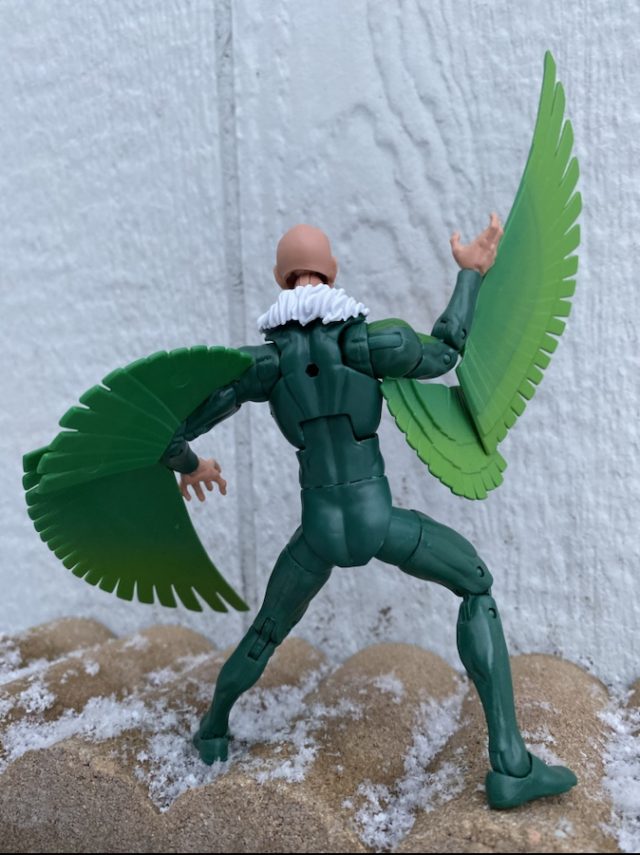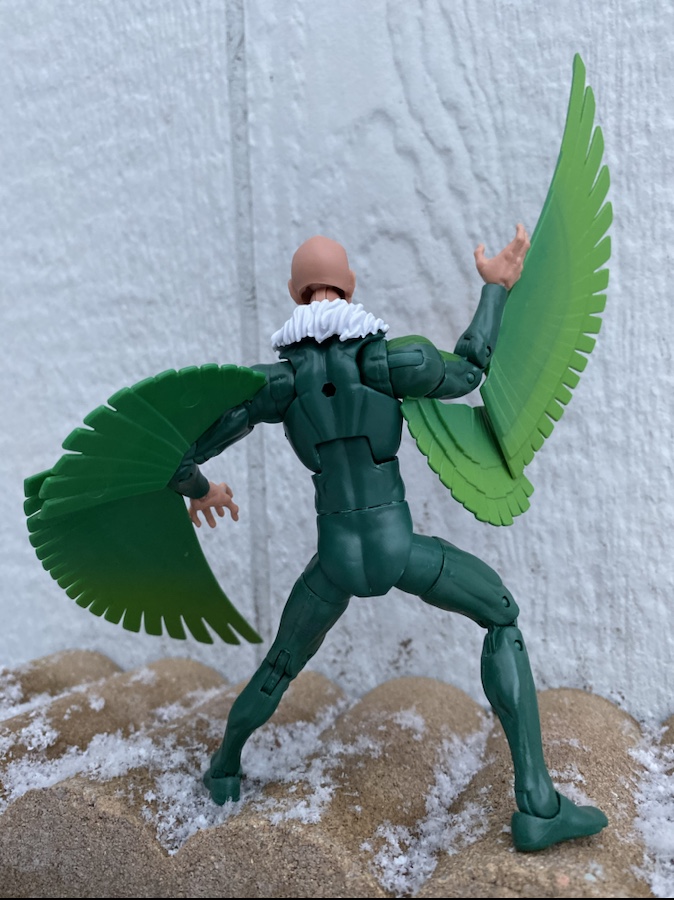 There's a fluffy white collar piece around Vulture's neck that fits well and doesn't flop around at all, while the rest of the body utilized the terrific extra-thin mold with butterfly swivels. Adrian Toomes is an emaciated old man, and this mold was the ideal pick for illustrating that.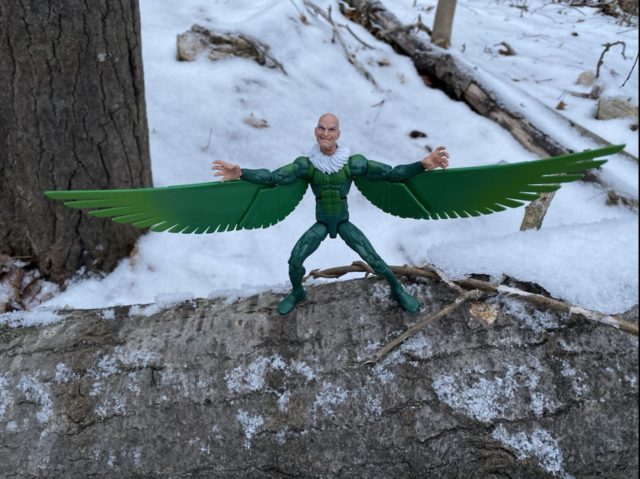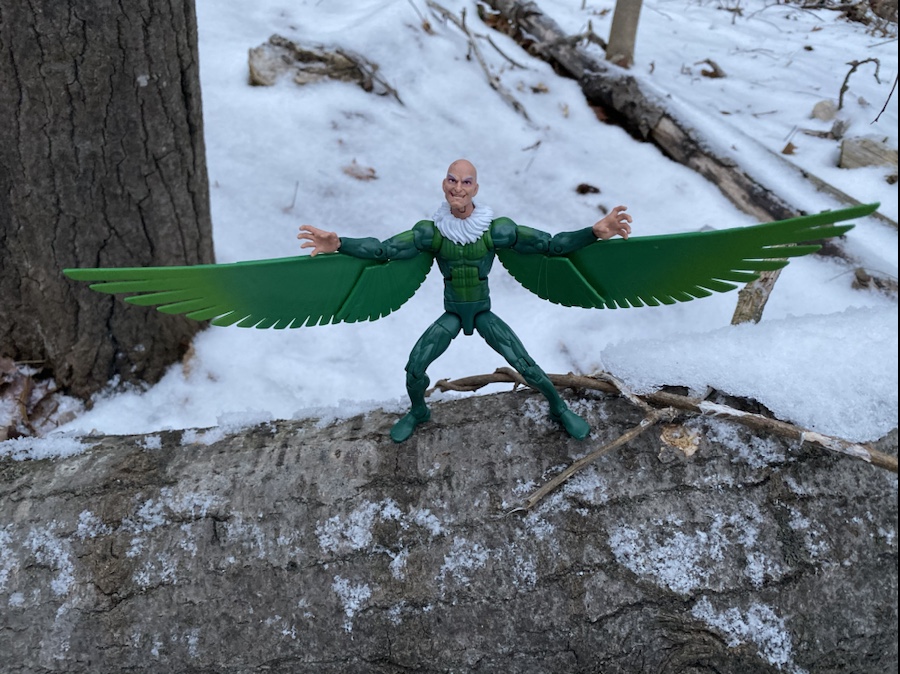 There are lines of paint detailing on the arms and chest to complete the costume, and I think they blend in and look great. This is a simplistic costume, but Hasbro has made it work. I dig the menacingly posed fingers on the hands as well.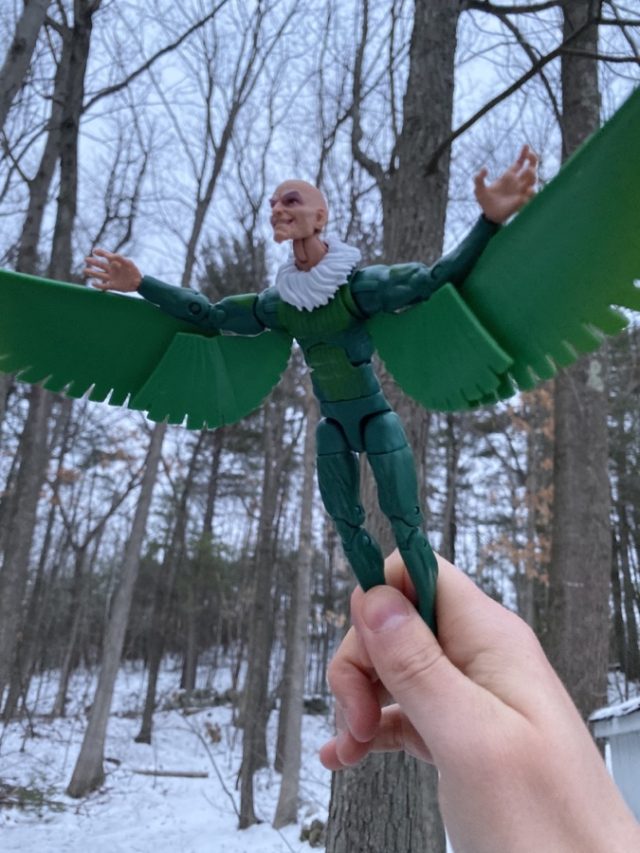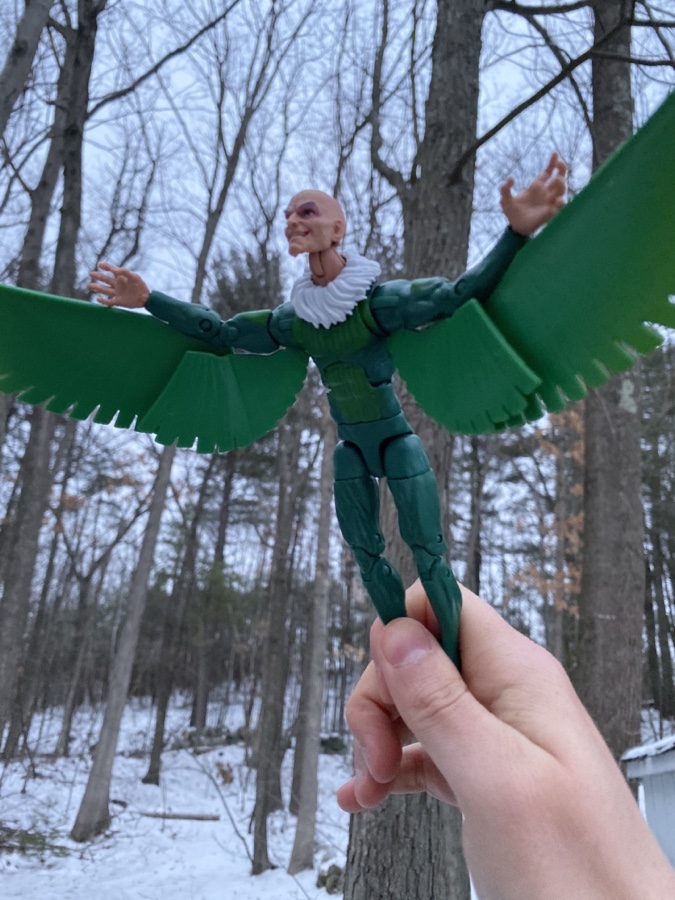 Oh, but wait—!! I knew I was forgetting something: the wings. The two wings each come as a pair of parts, with the larger part slotting into Vulture's forearms and the smaller part in his biceps. I was initially surprised to see the wings split like this, but having each wing in two pieces allows for fun and easy posing.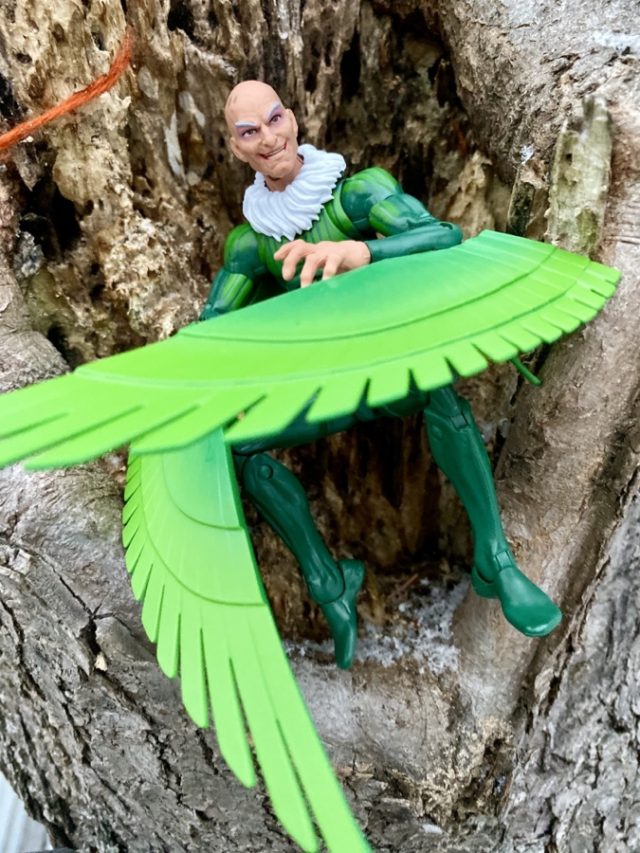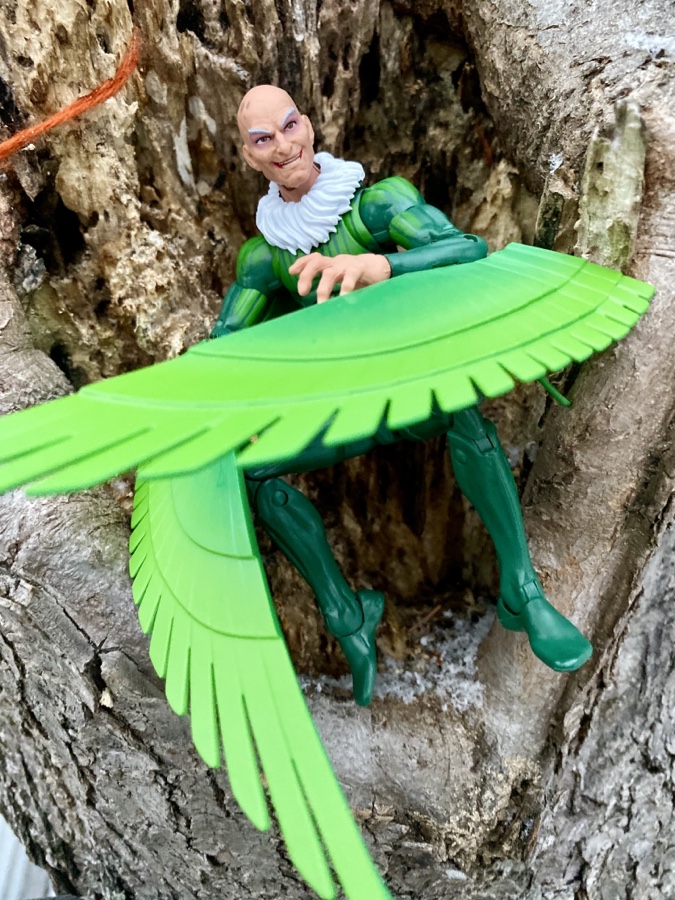 The wings peg into the arm slots tightly, and I've had zero issues with them coming loose while playing with him. They also feature a neat color gradient effect on them, which I think really adds a bit of aesthetic flair to this ML Vulture.
Accessories-wise, we get two heads in addition to the four wing pieces: one head for the Demogoblin Build-A-Figure I'll review soon, and one interchangeable helmeted Vulture head for this toy.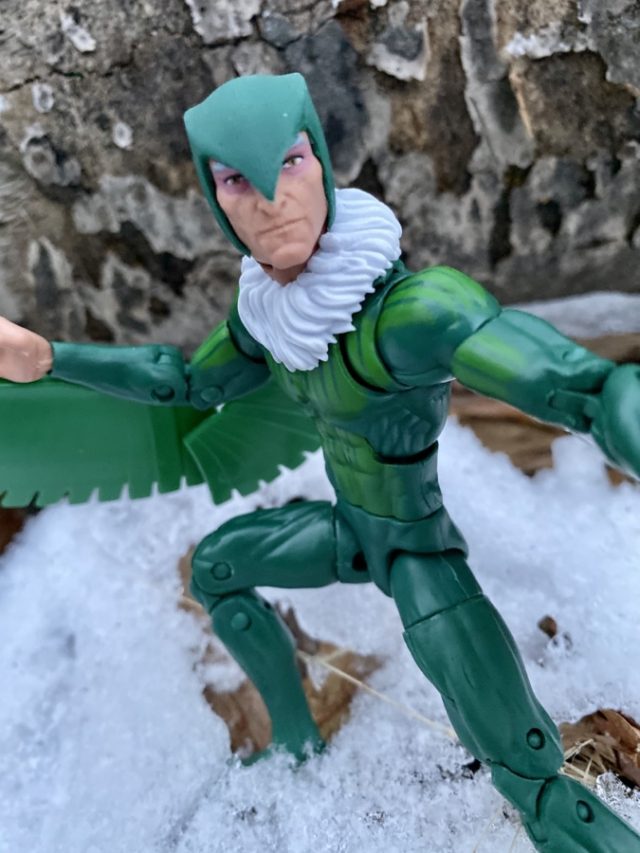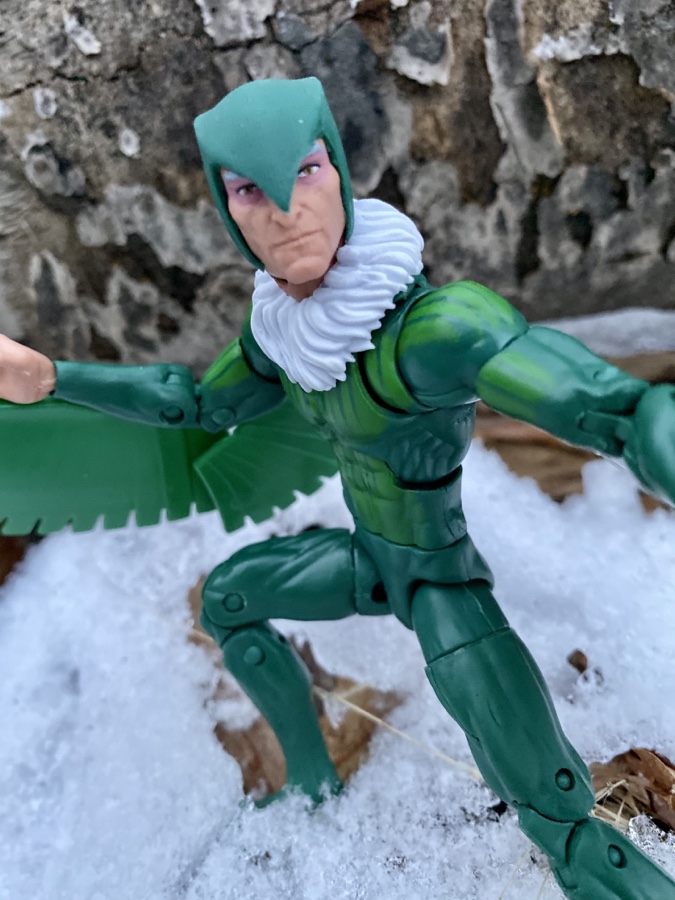 I'm not sure that this is a character that necessarily needed an alternate head (unlike the poor Squirrel Girl figure I have on deck for a review), but I do appreciate having the option. The helmeted portrait is nice enough, though I anticipate relatively few collectors will ever opt to display that head sculpt. Can't fault Hasbro for delivering extra, though!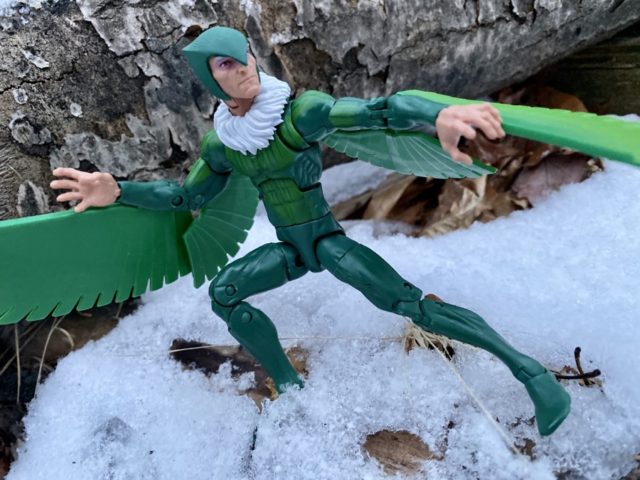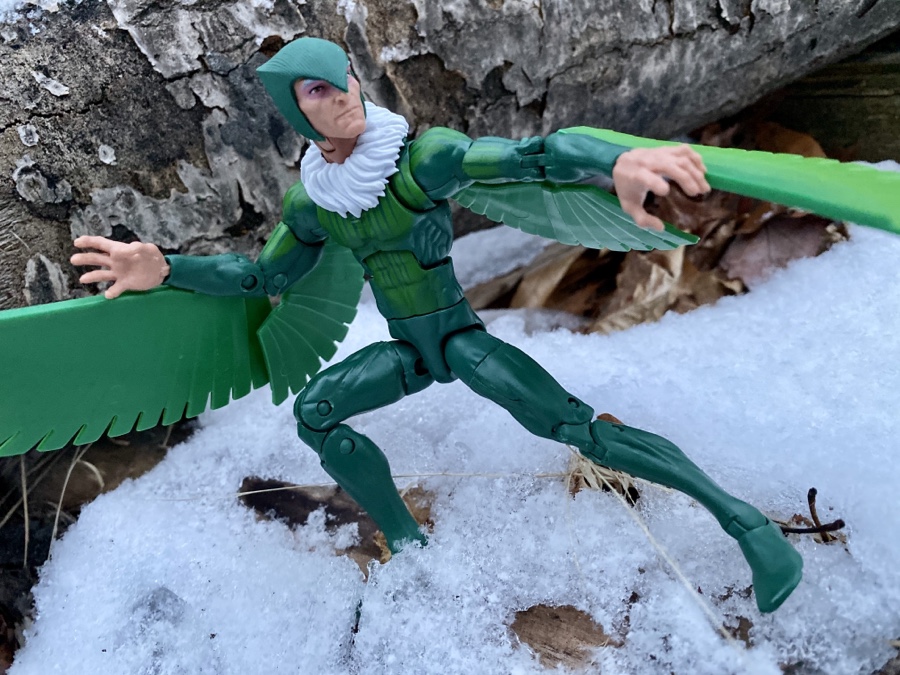 And the articulation is top-notch and then some, highlighted by much-needed butterfly swivel shoulders. The complete articulation scheme consists of:
Ball-Hinge Neck
Ball-Hinge Shoulders with Butterfly Swivel
Upper Torso Ab Crunch
Double-Hinge Elbows and Knees
Swivel-Hinge Wrists
Swivel Biceps, Waist and Thighs
Hinged Feet with Rocker Swivel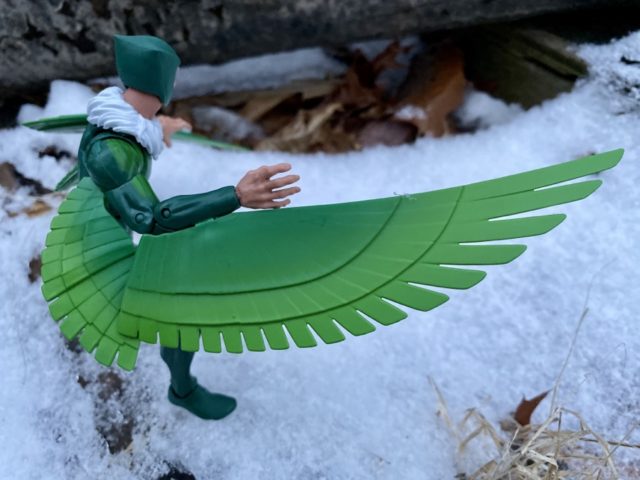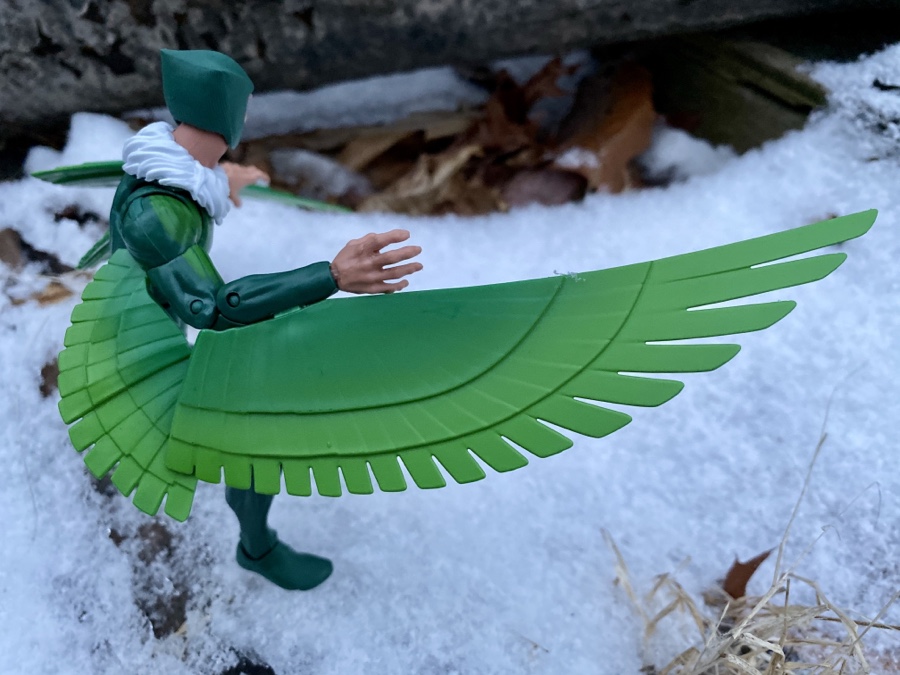 All of the articulation works well, and I had no issues whatsoever with the ranges of motion. I am 100% satisfied with the poseability of this figure.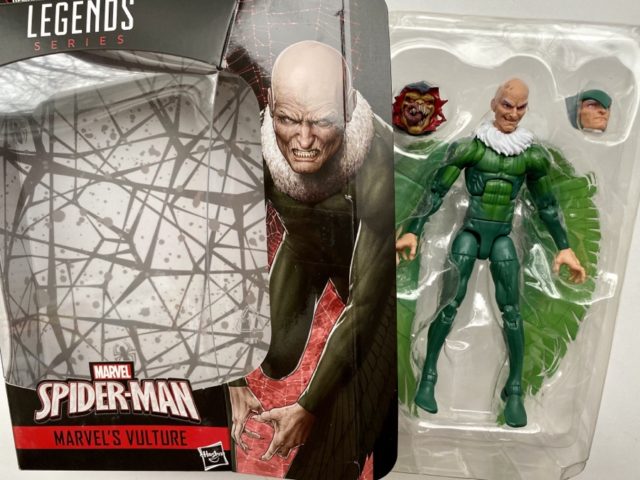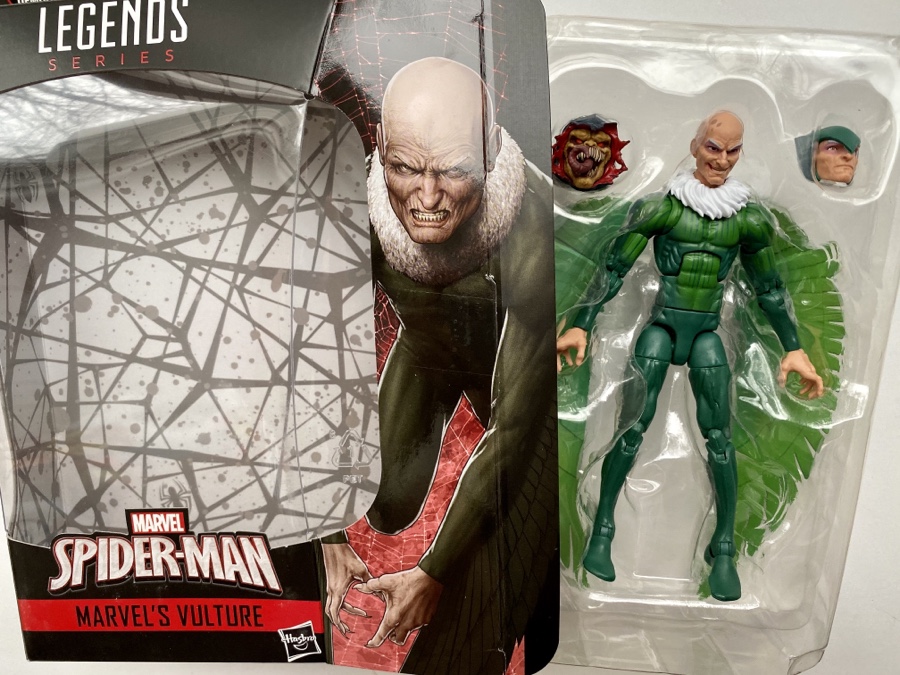 Overall: For collectors who have been waiting on a definitive version of Adrian Toomes in his iconic costume, look no further. Hasbro has hit this Spider-Man Legends Vulture figure out of the ballpark, and I genuinely don't think we'll ever see a better toy made of this character.
From the ideal articulation scheme (with butterfly swivel shoulders!) to the two-part wings with color gradient to the fluffy collar and dead-on portrait, this is everything I ever wanted from a Marvel Legends Vulture action figure. This is virtually guaranteed to cost a fortune on the aftermarket a year or more from now, so might as well scavenge ML Vulture while it's still cheap if you want it.
GRADE: A+
The post REVIEW: Marvel Legends Vulture Figure (2020 Spider-Man Demogoblin Series) appeared first on Marvel Toy News.