Spider-Man Far From Home is now less than a week away from hitting theaters, so the time is right to discuss the final Marvel Cinematic Universe movie of Phase 3 (and 2019)! Rather than going the predictable route and kicking things off with Mysterio, instead I want to review a figure that's gotten a bum rap up until now. The Marvel Legends Molten Man Build-A-Figure is selling surprisingly low on eBay as far as ML BAFs go, but is he high-quality enough to melt my cold heart in-hand?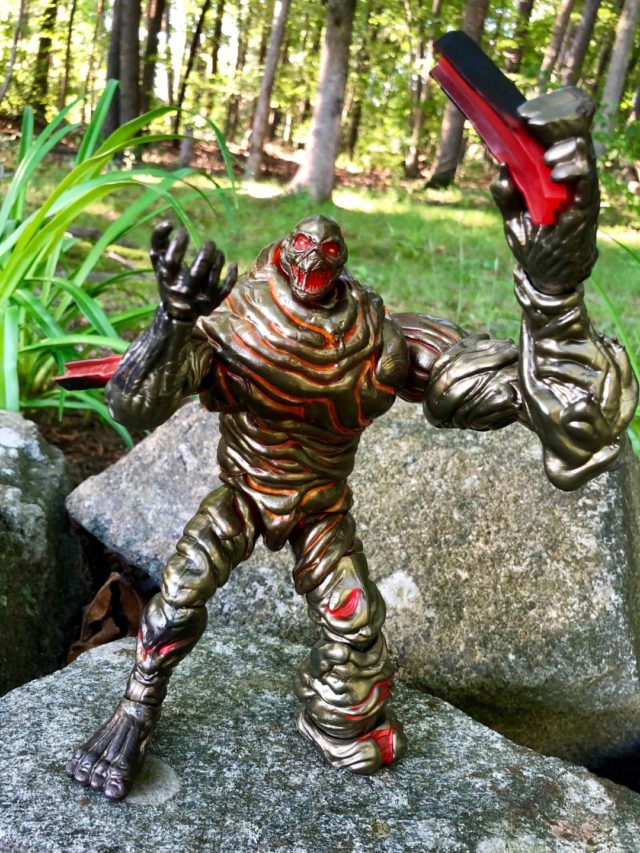 Confession time! My first impressions upon seeing Hasbro's images of this Spider-Man: Far From Home Molten Man Marvel Legends Build-A-Figure for the first time were… well, not exactly positive. At all. I might have even muttered something aloud about him looking like a gold pile of sh*t.
So when my fresh case of Spider-Man Far From Home Marvel Legends figures came in the mail, I wasn't exactly racing to bust open all the figures so that I could assemble the MCU Molten Man BAF.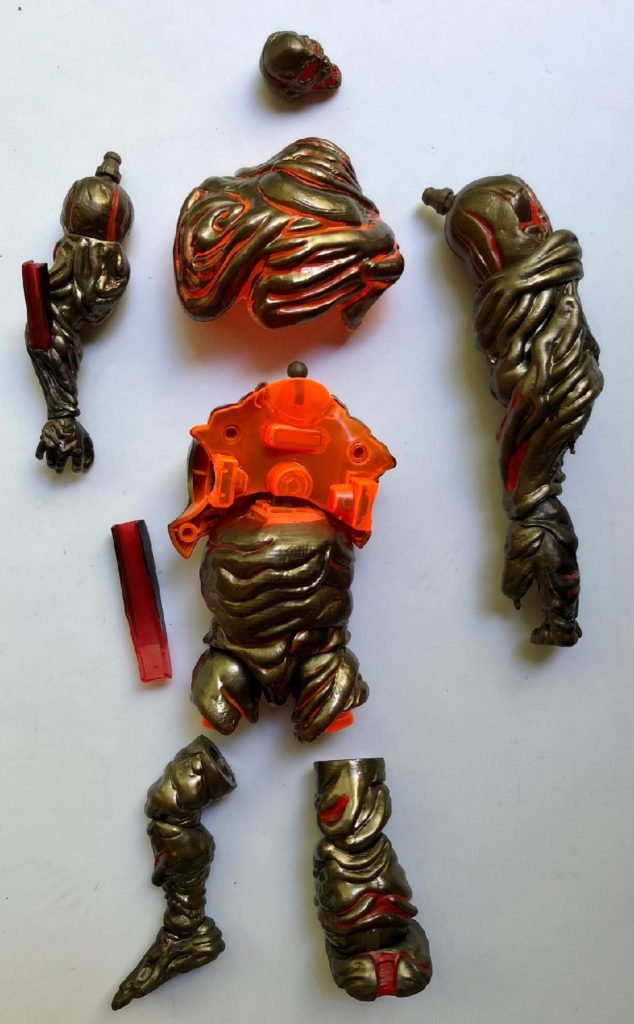 But a funny thing happened as I was unboxing the various figures in the wave: the sheer size of the pieces of Molten Man caught my attention, and as I piled up more pieces next to each other, I started to appreciate how very hideous and distinctive the various parts of this monster's body were.
And when it came time to actually fully assemble this behemoth? You guessed it—I fell in love. At least, as much as one can fall in love with a grotesque, gold Clayface-looking creature with a melting skeletal head.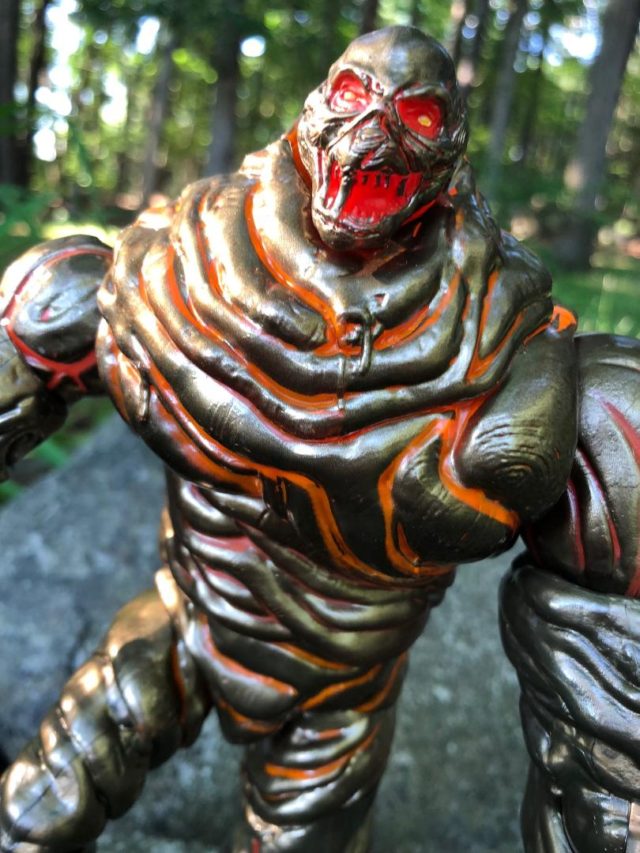 This Far From Home Molten Man Build-A-Figure is, quite frankly, one of the most freakish and repulsive Marvel Legends we've ever seen, with a lumpy misshapen appearance and a garish color scheme like nothing else in our collections. But Molten Man ain't here to win a beauty pageant—he's here to cause wanton destruction in a monstrous way. And for that, this figure is just plain perfect.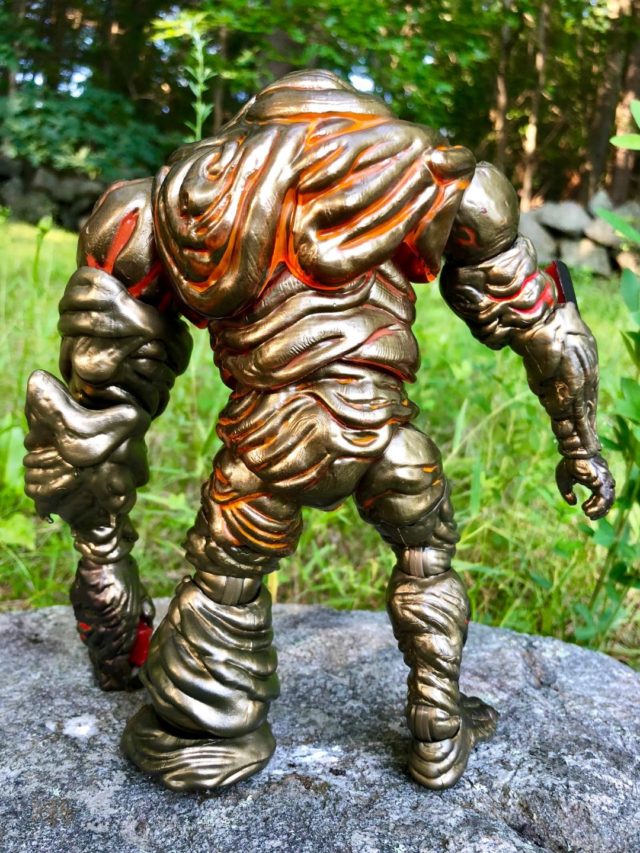 In his glossy gold paint with neon orange highlights between "layers", Molten Man successfully evokes the feeling of an inhuman monster and not just another supervillain. I actually think this guy would look right at home as a generic evil creature in a Four Horsemen Mythic Legions collection.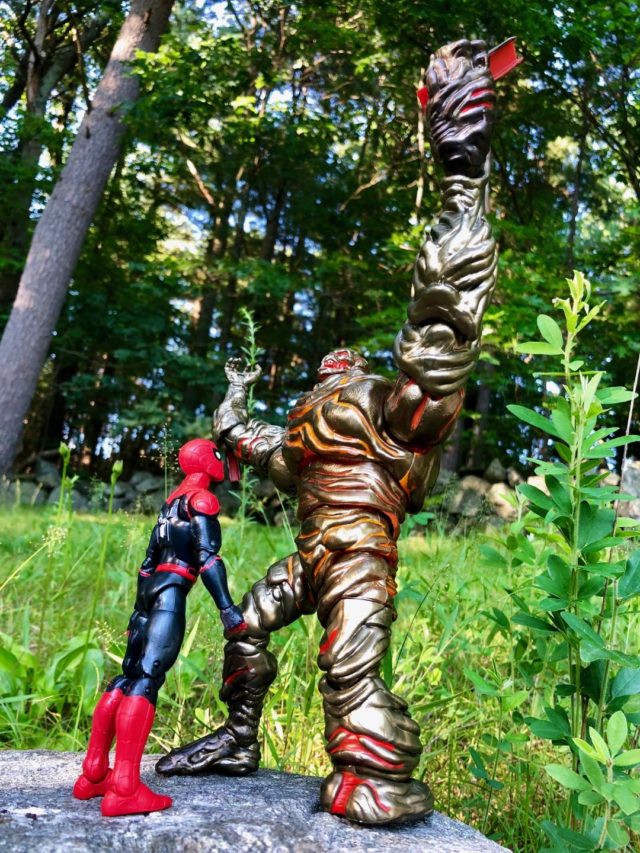 As a Hasbro Build-A-Figure, he's easily big enough and heavy enough to warrant the BAF label, as his left arm alone is bigger than some standard Legends figures and he weighs over a pound all by his lonesome.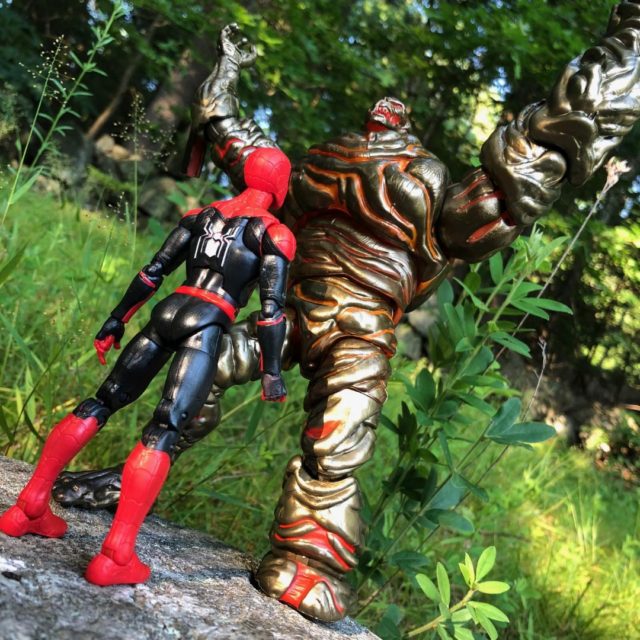 Over 8" fall from his foot to his head—and over 12" fall from his foot to a fully extended left arm—this is one big frickin' boy. I'm really interested in seeing how the Molten Man is portrayed in the movie, because this action figure looks deadly enough to kick the crap out of Thanos and Hulk without breaking a sweat.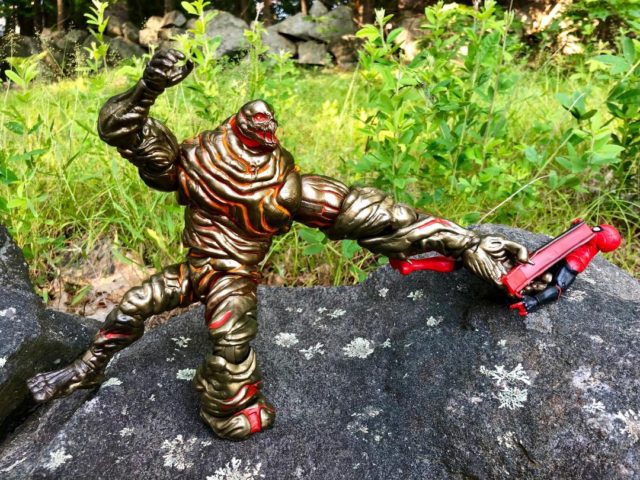 There's a steel beam sculpted coming out of his right forearm, and also a full steel beam accessory he can wield in his left hand. Given the tremendous reach of that left arm, that's definitely something for heroic action figures to fear!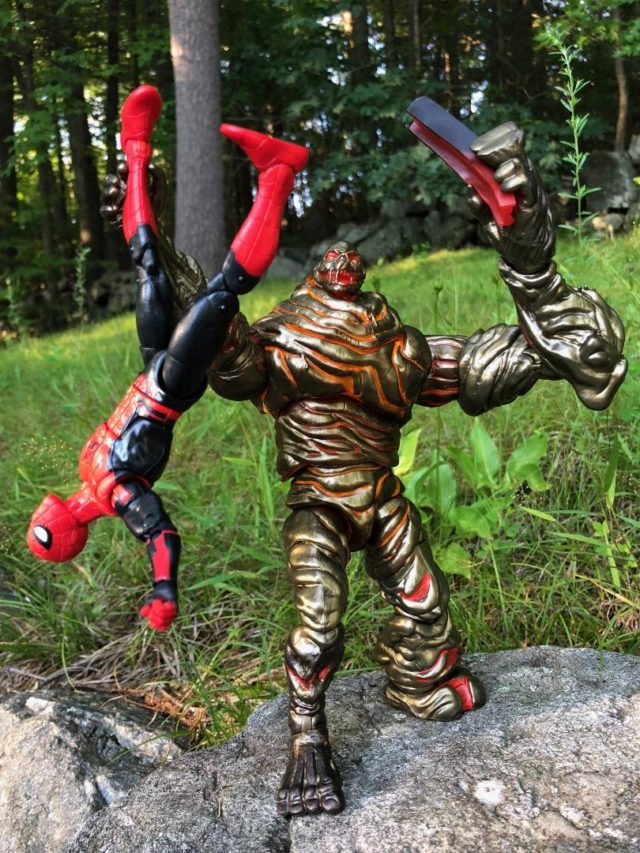 Given his bizarro proportions, I was afraid the Molten Man Legends action figure would just crumple over, but his joints are all quite solid. He stands up without a fuss and can even hold a Spider-Man figure aloft while remaining totally stable!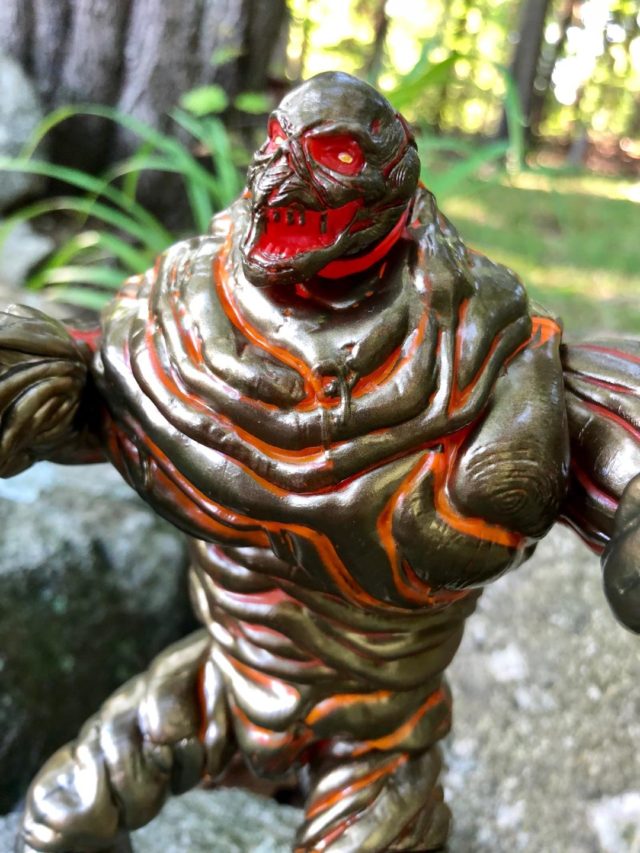 Perhaps the most terrifying aspect of the whole figure is the head, which is a horrifying gold skeleton head with dripping gold coming down from his upper lip and glowing yellow eyes piercing out from inside his orange magma innards. Freaky—yet satisfying!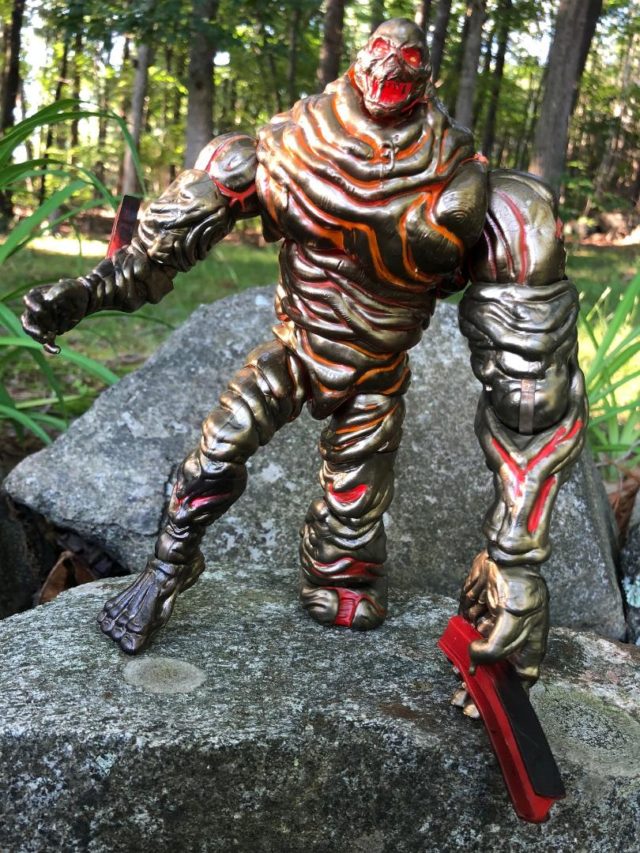 As you might expect, this figure articulation scheme is sort of weird, but he's actually quite flexible. The full rundown on articulation is:
Ball-Hinge Head
Ball-Jointed Upper Torso
Ball-Jointed Waist
Ball-Hinge Shoulders
Swivel Biceps
Single Hinged Elbows
Swivel-Hinge Wrists
Ball-Jointed Hips
Single Hinged Knees
Swivel Thighs and Calves
Hinged Feet with Ankle Rockers
That… is a lot more articulation than I had anticipated in a lumpy looking figure like this! Molten Man can shamble around like you'd expect, but you can also get him into a shocking number of dynamic poses. This articulation scheme is a really nice surprise!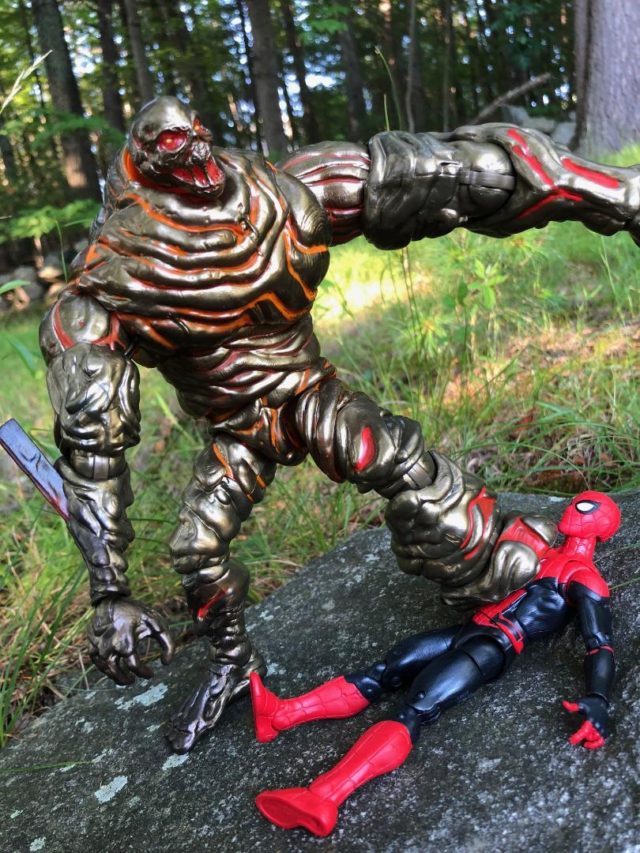 Overall: My expectations were dirt-low for this Marvel Legends Molten Man figure based off the promotional pics, but once I saw the parts in person and started assembling them, Hasbro had me hook, line and sinker. This ML Molten Man BAF is a 100% unique mold with a deco unlike anything we've ever seen before in the line, a ton of heft to it (not to mention sculpting details), a stunning amount of articulation and a wickedly badass design.
While fans have been disgruntled about how ugly this character is based off the merchandise for him (hence the comparatively cheap eBay prices for him thus far), I could see this becoming a lava hot figure on the aftermarket if Molten Man ends up being awesome in Spider-Man FFH. If you purchased a set of this series and were planning to recoup some of the costs by reselling this figure, beware–you may just end up wanting to keep him for yourself.
GRADE: A-
The post REVIEW: Marvel Legends Molten Man Build-A-Figure (Far From Home) appeared first on Marvel Toy News.