–Review and photos by Scott Rubin
Jada Toys continues to impress with their DC Bombshells Die Cast Hollywood Rides line, as we've been checking out lately with Supergirl, Wonder Woman, and Catwoman… and of course their incredible 1:24 scale vehicles. These are the latest in Jada's big lineup of heavy metal figures in various sizes from licenses like DC and Marvel comics and films, Disney, Harry Potter, WWE, and more. There are even fan-favorite vehicles in their die cast metal replica lines like Transformers from the movies, Ghostbusters, and more. Today we're going to look at a unique character with a very interesting vehicle partner in the DC Comics Bombshells Harley Quinn & 1951 Mercury set!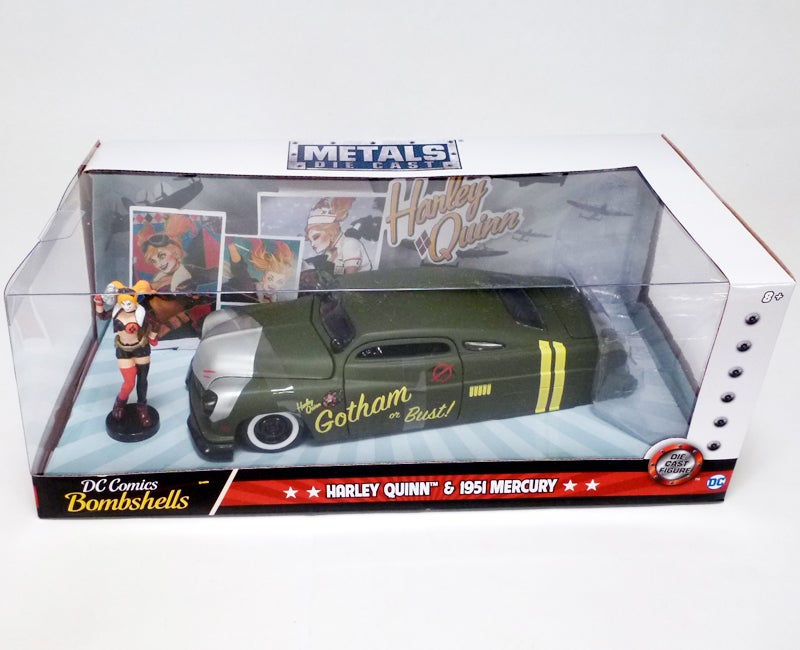 You've seen our previous reviews, but if you're still a little behind on the whole Bombshells thing here's what you need to know. The DC Comics Bombshells come from a retro, 1940s inspired world created by artist Ant Lucia. After its inception in artwork in 2011 the Bombshells have exploded into collectibles, comic books, game pieces, and beyond with unique and fun reinterpretations of classic characters, often in surprising ways. A charm school dropout, young Harley Quinn in this world got mixed up with the gangster known as the Joker until his delving into the occult became too much for her. Quinn later became a psychologist working with the criminally insane, but rumors of the Joker's return brought out her more flamboyant personality and she joined up with the heroic Bombshells in Europe.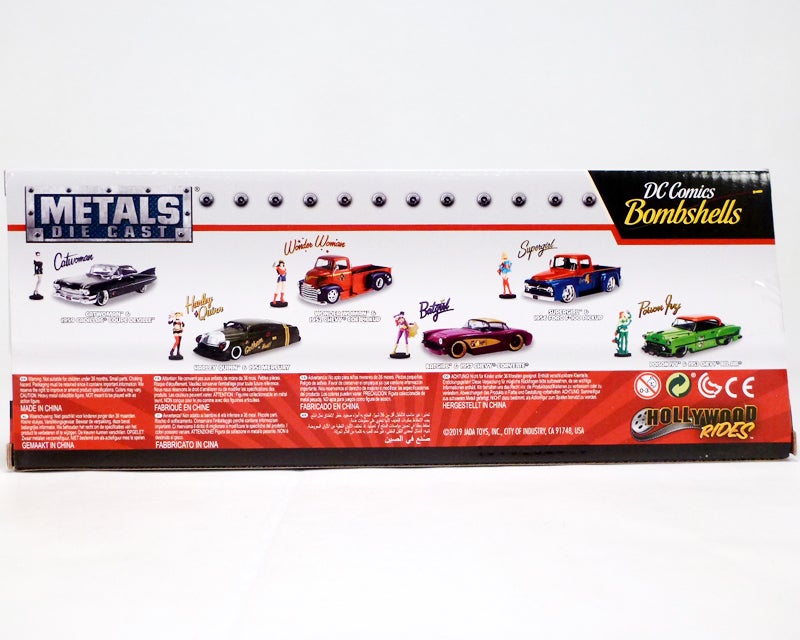 As we've seen in the previous reviews the packaging is the same for this wave of DC Comics Bombshells, and so Harley Quinn's goes right along with the rest. The same wide box is dominated by a very large plastic window that gives you views from several angles of both the figure and the vehicle, while all around it are branding logos for the various companies involved and the character. There are also the cool "billboards" in the back of the diorama with cool art of Bombshells Harley, further making this box display worthy. And, of course, the back of the box is a "collect them all" lineup of the other sets in this series so you can keep track of which ones you have and which ones you need.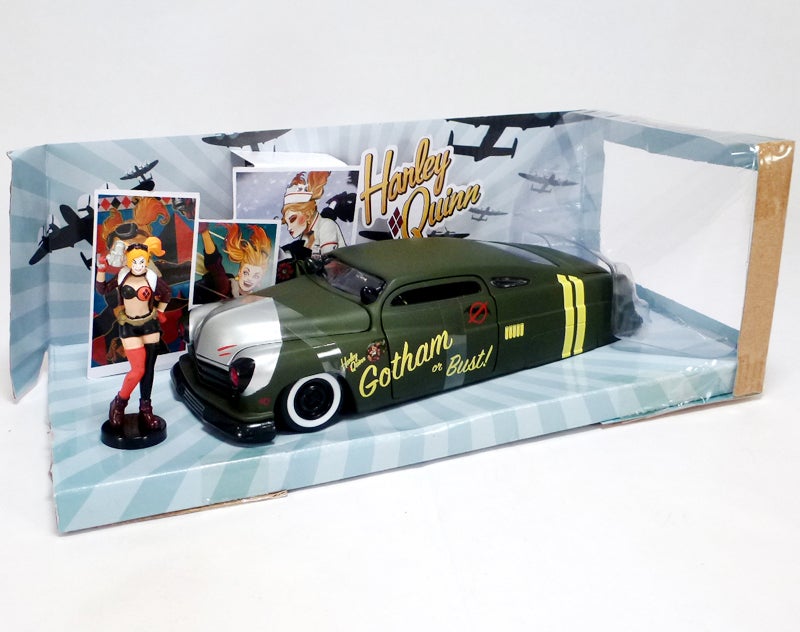 One of the coolest things about this series is that the range of vehicles used mirrors that of the characters. Just as Wonder Woman is so very different from Catwoman and Harley Quinn, so too is the COE Pickup vastly different from the Coupe de Ville. And then there's the 1951 Mercury. As I've noted in previous reviews, I'm no car guy, and so my first reaction when seeing this machine in person was "whoa." Looking at this beast of a car I couldn't imagine many of these things on the road so I did a little classic car research, and boy is there a lot on the subject. As far as I can tell the late 40s/early 50s was a revolution in people customizing their cars, and a lot specifically with the Mercury Eight (1939-1951). Harley's version is a "lead sled" with several popular modifications, like the famous "Hirohata Merc" created by George and Sam Barris, and is chopped (lowered roof), sectioned (reduced beltline), frenched (recessed lights), shaved (external parts like door handles, emblems, etc. removed or replaced), and fitted with grille modifications and skits. I'm sure there's more, too.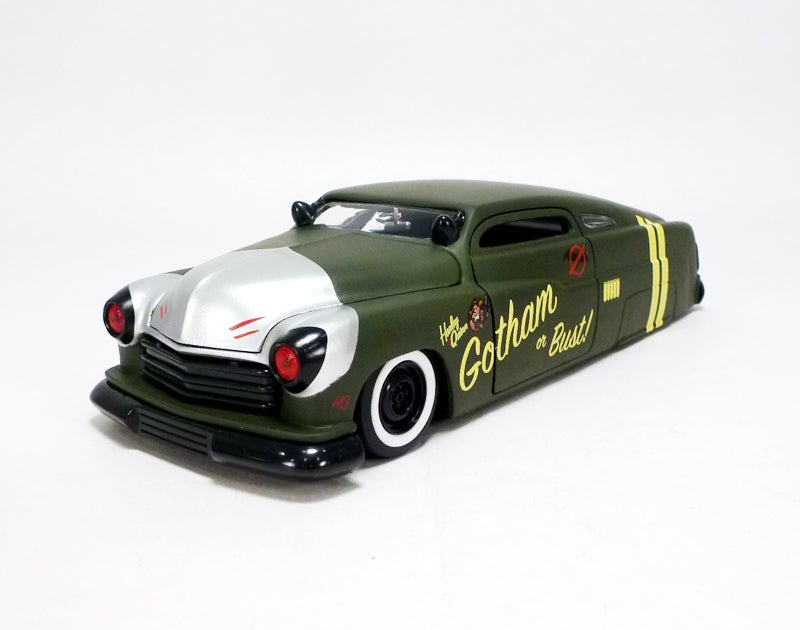 What remains is a tank-like super car that looks incredibly aggressive, if not downright angry. The Mercury's roof is lowered to a crazy degree, so that the windshields and windows are miniscule. Its long roof slopes downward to the rear, where additional body mods cover up the rear wheels and enhance the strong appearance. The front of the car is just crazy, with a big hood, recessed lights, and a thick grille above a matching bumper.
Of course, the olive green color enhances the military look though it's offset with a lot of eye-catching silver – nowhere as intensely as on the car's "face" along with the red lights and stripes on the hood. White walled front tires offer more splashes of color, as do the nosecone/pinup style artwork of Harley Quinn along with graffiti-like instances of "HQ," "Gotham or Bust!" an anti-Batman symbol, and more along the sides. There are also vertical yellow stripes toward the rear, clear taillights, and a Bombshells themed rear license plate.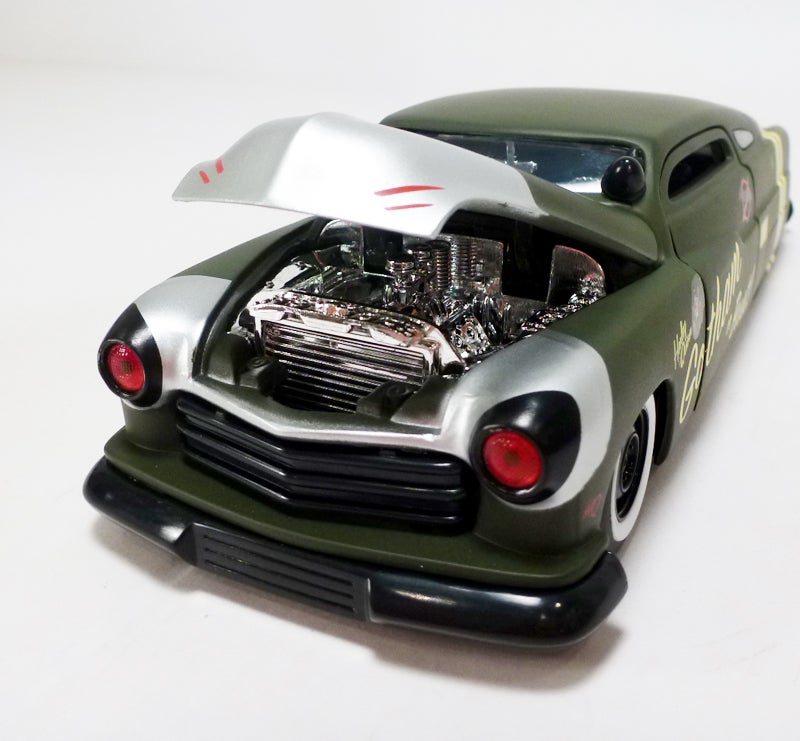 The car features fast-spinning wheels so you can play with it when it's not on display, and the hood, trunk, and both doors open. There's a ton of detail packed into the interior of the car with a full dashboard, seats, and chrome pedals and steering wheel, though the trunk is just a smooth interior space. What's really cool is the highly detailed engine positively resplendent in chrome. You'd have to ask someone better versed in automobiles to find out if the sculpt is based on a real engine, though I wouldn't be surprised if it was.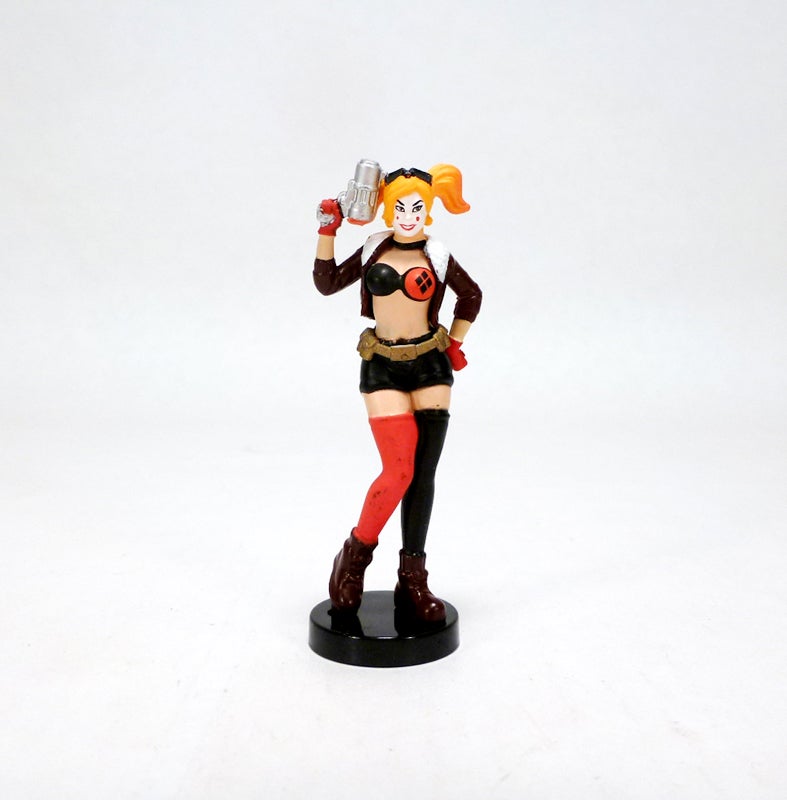 Last, but certainly not least, is the lady of the hour herself: Harley Quinn. The former psychologist looks great in this heavy metal figure, rocking her unique Bombshells look and plenty of that familiar style. She stands in a cute pose with one knee bent and a foot kicked out, the opposite side fist at her waist while the other hand holds up a comically oversized pistol. In the Bombshells world Harley retains the alternating black and red costume color scheme with thigh high stockings and bra (one side with her familiar diamond pattern), while she also wears big brown boots, a matching bomber jacket with white fur trim, black short shorts, a utility belt, and red gloves. She also has black sunglasses pushed up into her flame-colored hair, yellow at the scalp and getting darker into orange at the tips of her twin tails. Harley's face is covered in white makeup and adorned with red lipstick and dots on her cheeks. Her smiling facial expression is really well applied and looks great, especially the eyes.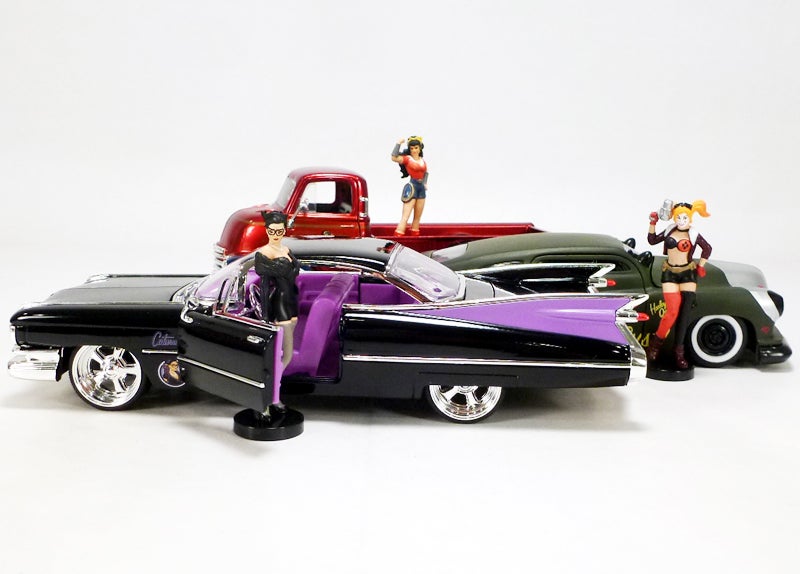 That wraps up our look at the DC Bombshells figure and vehicle packs from Jada Toys. I really like the Harley Quinn and 1951 Mercury set, with solid entries in both the little lady and her stunning beast of a car. This duo is surely a must-have for fans of Harley Quinn and will go great in DC collections and 1:24 scale car displays. Get yours wherever you buy collectibles, for about $25 retail.
Review and photos by Scott Rubin
Review sample courtesy of Jada Toys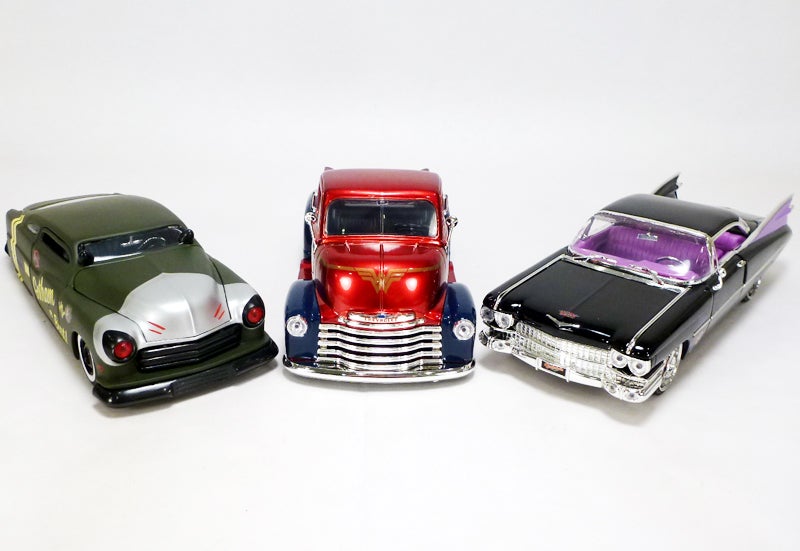 [See image gallery at www.figures.com]
---
Keep up with all the latest toy news by following Figures.com on Facebook and Twitter!
To buy action figures, take a look at Hobby Link Japan, BigBadToyStore.com, TheToySource.com, Toynk.com, and BriansToys.com.