When it comes to Cyclops costumes, I'm a Jim Lee guy all the way. So even though it was inevitable that we'd get a variant of him from Mezco Toyz, they were going to have to really do something special to get another purchase from me. And dangit—I think they've done just that! Basically everything I wanted that was missing from the Jim Lee Version is all present and accounted for with the new PX Exclusive ONE:12 Collective Classic Cyclops figure that's now up for PO!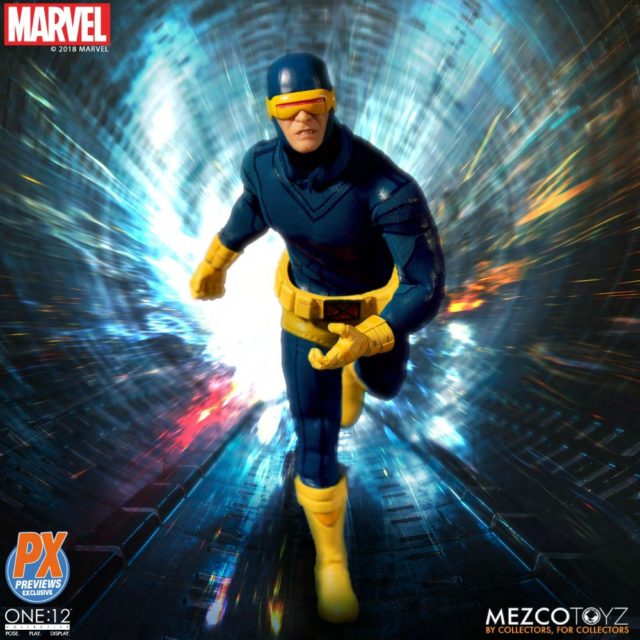 When I saw the Mezco ONE:12 Collective Cyclops premiered at New York Toy Fair 2018, I was instantly pretty hot for it because of the various accessories I'd been dreaming of all my life, including a mega optic blast effects piece and even a smoking visor.
But as slick as that figure is—and Jim Lee Cyclops is most definitely my jam—I was a little disappointed that we weren't getting an Unmasked Head for Cyke, and that his ever-popular yellow tights were missing. I should have known Mezco Toyz wouldn't leave us hanging, though—the Previews Exclusive variant is packing both those things… and more!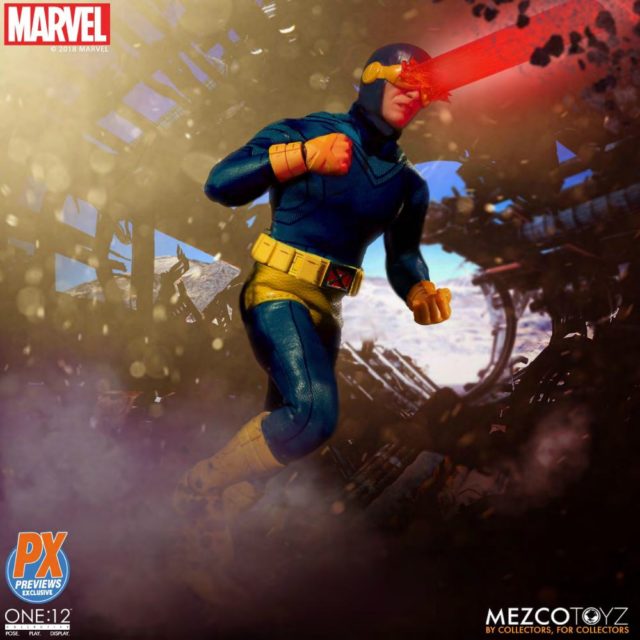 Not everyone is a 90s guy, so it makes complete sense to do a classic Cyclops Mezco variant figure. And hey, this skullcap blue and yellow costume is the one Scott Summers was rocking in the X-Men arcade game, so that's a definite point in its favor!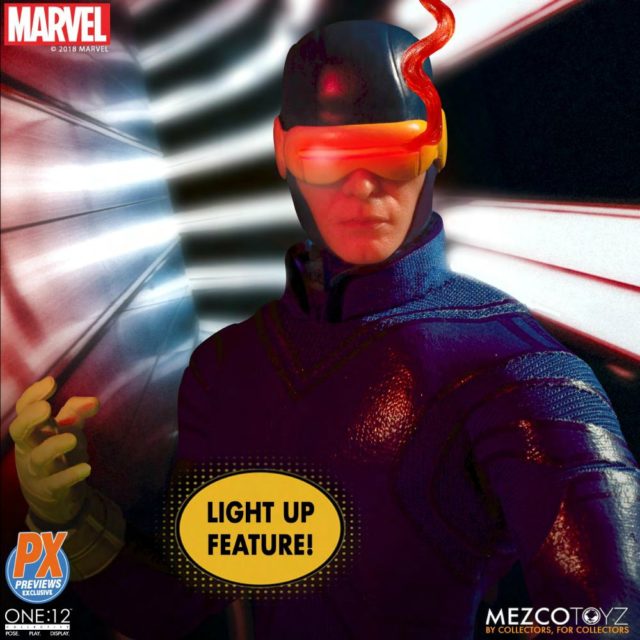 The real high points of this figure for me are the fact that it comes with not only the yellow underoos missing from the first version of Cyclops, but also three all-new heads!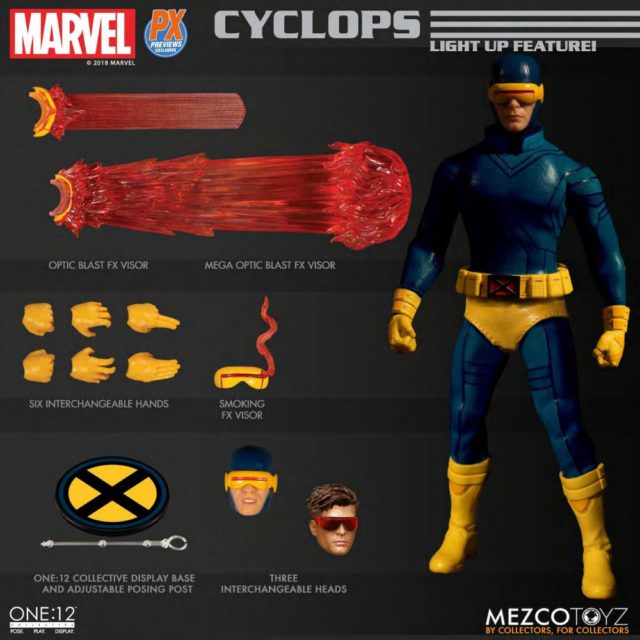 We get a fully-Unmasked Scott Summers head—something I don't believe has ever been done outside of DST Minimates—as well as two different skullcap Cyclops heads (one aggro with gritted teeth, and one with trademark stone-faced expression)! For a PX Exclusive, Mezco has really gone all out for us.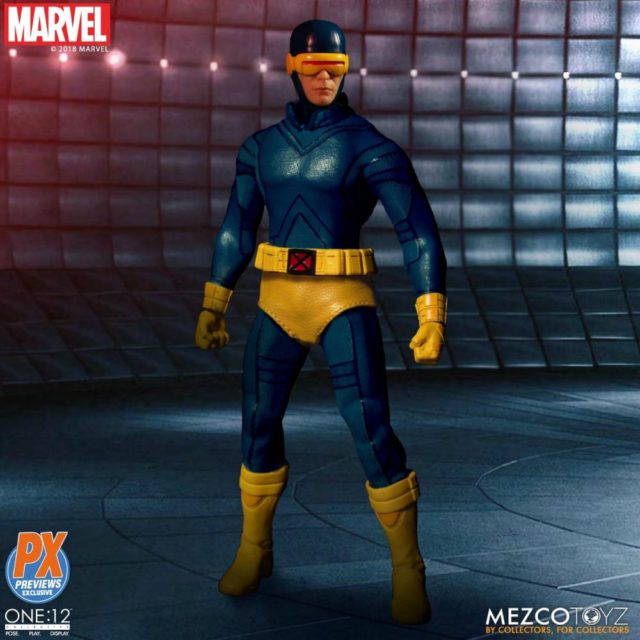 That said, I would stop well short of calling this figure "perfect", as I think the Classic Cyclops ONE:12 Collective exclusive figure has some drawbacks of its own. At a glance, the thick turtleneck collar was the first con I noticed, but there's a couple more as well.
Cyclops' belt should be red for this version of his costume, and making the belt yellow instead has really stripped away some of the vibrancy of the design. In addition, the yellow trunks seem a bit too puffy and the black lining on the costume is original to this figure and conflicts with how I envision Cyke in my head.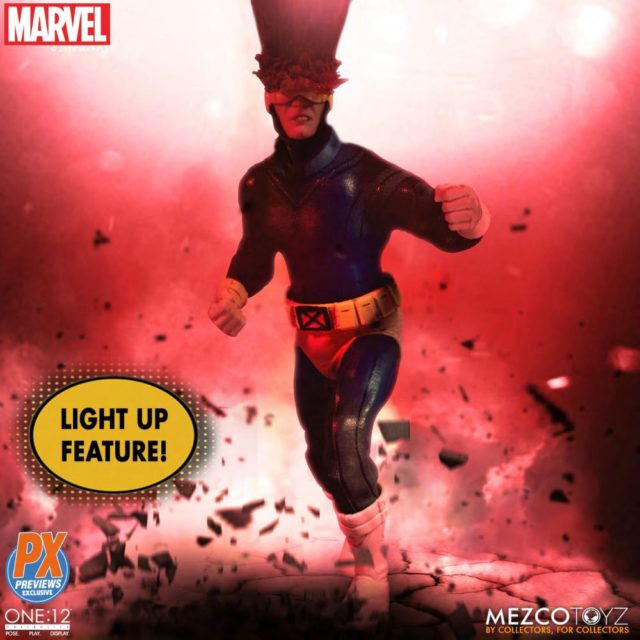 The ONE:12 Collective Classic Cyclops figure is now up for order online, and is scheduled to be released in summer 2019. This is a Previews Exclusive, so he'll be a bit more limited than your standard Mezco ONE:12 figure, but nowhere near as difficult to get as a convention exclusive (thank God).
The PX Exclusive has its pros and cons, but because of the multiple desirable exclusive items included here, he may be one of the few Marvel ONE:12 Collective figures I end up double-dipping on, as much as I hate to say it. What about you, 6" collectors? Are you opting for Classic or Jim Lee Cyclops, both… or neither?
The post ONE:12 Collective Classic Cyclops Exclusive Figure Up for Order! appeared first on Marvel Toy News.