NEWS FROM THE FRONT
We've been purchasing a lot of boxed and carded sets from private collections the past few months and have been adding them daily to our website. Most center right now on Dragon Models and Hot Toys. The Dragon Models' sets vary from WWII to Modern, but the Hot Toys stuff is almost all modern. Click on the links below to check them out.
Dragon Models Boxed/Carded Sets Page – Click HERE.
Hot Toys Boxed Sets Page – Click HERE.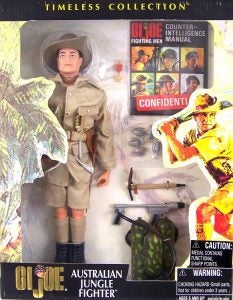 BLAST FROM THE PAST
Australian Jungle Fighter, Timeless Collection
Released in 2001. A Target Stores Exclusive. Includes: Foreign Head GI Joe, Tan shirt with pockets, brass buttons, and insignia, Tan shorts, Tan socks, Black boots, Belt with machette, scabbard, and trench knife, Tan bush hat, Flamethrower equipment, 6 Grenades, Shovel, Medal, and Booklet.
BUY NOW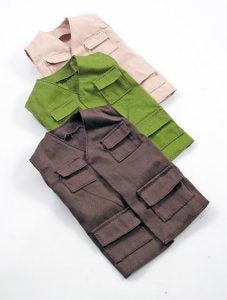 WEEKLY SPECIAL
Louco Por Bonecos Safari Vests (Tan, Brown, or Green)
On Sale for $12.59 Each
Click HERE for details.
Offer Expires: November 21st, 2018 at 6:00 pm (central). Cannot be combined with any other special or discounted pricing. Sorry – No Backorders or Rainchecks.
---
NEW PRODUCTS ANNOUNCED!
AC Play Lightning Warrior Armor Set with Head Sculpt
Mister Z Toys American Staffordshire Terrier (choice of walking or sitting)
Mister Z Toys Beagle Puppy (2 Styles)
Threezero The Walking Dead: Carl Grimes (Deluxe Version)
JIAOU Doll Female Seamless Bodies (3 Skin Tones)
Mezco One:12 Collective Freddy Kruger (1:12 Scale)
Huxter Industries Cybernetic Explorer Portable Tri-Copter (Stealth)
Elite Brigade Women's Red Robe (Fleece)
DID/3R Toys Adolf Hitler (1889 – 1945) Version A
INCOMING!
POP Toys Butterfly Warrior Female Figure Set (2 Versions)
LIM Toys Ismael/Aehab (The Phantom Legend) Deluxe Figure Set
SW Toys Croft 2.0 Figure Set
AC Play Queen Style Leather Outfit Set (2 Styles)
AC Play Mini Cheongsam Dresses (2 Styles)
TYS Toys Dynamic Figure Stand
Geyperman Repro Parts (Assorted Items)
Geyperman Repro Figure Sets (Assorted)
Geyperman Repro Motorcycles & Riders (Assorted)
Geyperman Repro Basic Figures with Flocked Hair (Assorted)
Geyperman Repro Bunk Bed on Card
Huxter Industries SWIFT (Swing Wing Individual Flight Transport) Stealth Version
Huxter Industries Cybernetic Explorer Portable Tri-Copter (Silver)
Elite Brigade The Inflictor Figure Set
Elite Brigade Bushlan Commando Uniform Set (Classic Collection Fit)
Elite Brigade Modern Infantryman Figure Set
Elite Brigade Desert Commando Uniform Set
Wild Toys Diorama Red Bricks (Set of 10)
Huxter Industries RACCS Tower Brackets (Pair)
ACI Toys Stone Pillar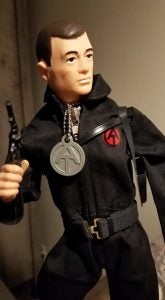 CUSTOM FIGURE OF THE WEEK
Man in Black by Ernie King
Click HERE for larger image.
---