Earlier this week, I reviewed a Marvel Legends Build-A-Figure that I thought was solid overall but just a little bit boring: the Deadpool Legends Sasquatch BAF. Today I'm going to the opposite extreme with a review of a Build-A-Figure that's anything but boring! The Marvel Legends Lizard BAF is the most expensive on the aftermarket of this year's Build-A-Figures thus far and is quite difficult to find all the pieces for at retail. Is this classic Spidey villain worth the hype (and secondary market prices)?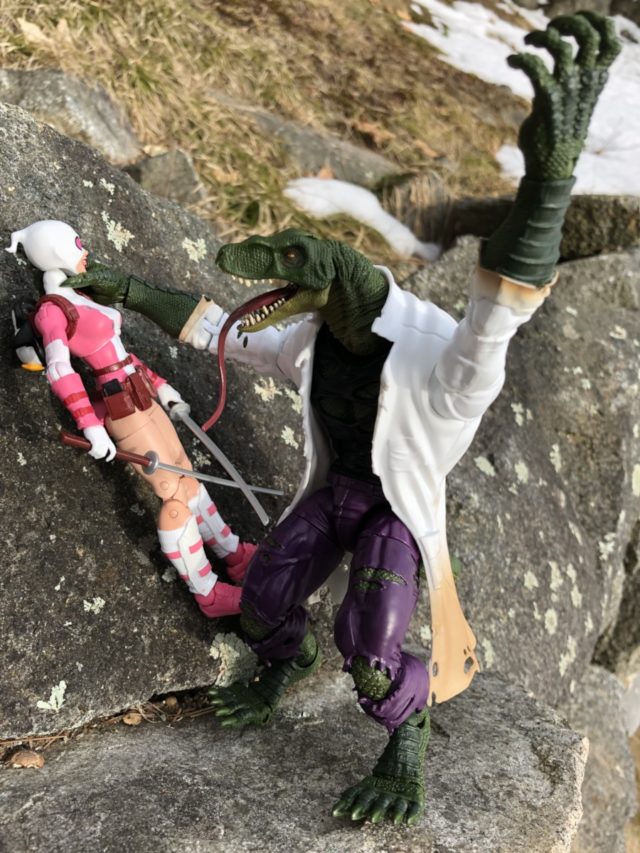 Crazy but true: despite hundreds of Marvel Legends figures being released over the last decade and a half, there's never been an officially-branded, single-carded "Marvel Legends" Lizard 6" scale comic-based figure before. "Spider-Man Classics", yes; "Marvel Legends", no. Weird, right?
But Hasbro is putting an end to that injustice this year, as they're finally rolling out a Lizard figure as part of their push to complete a Marvel Legends Sinister Six. However, this may not be the version of the Lizard that many fans are hoping for…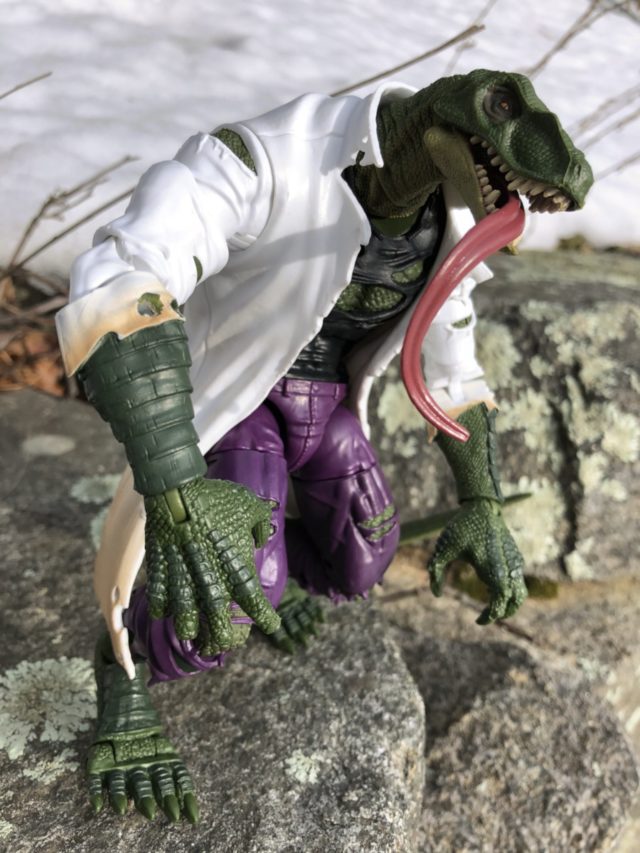 Rather than going for the "skinny" Lizard famous from the 90s Spider-Man Animated Series and classic Stan Lee Spidey comic books, Hasbro chose to go a different (and more controversial) route with a way more ripped and bulky Lizard design for this Build-A-Figure.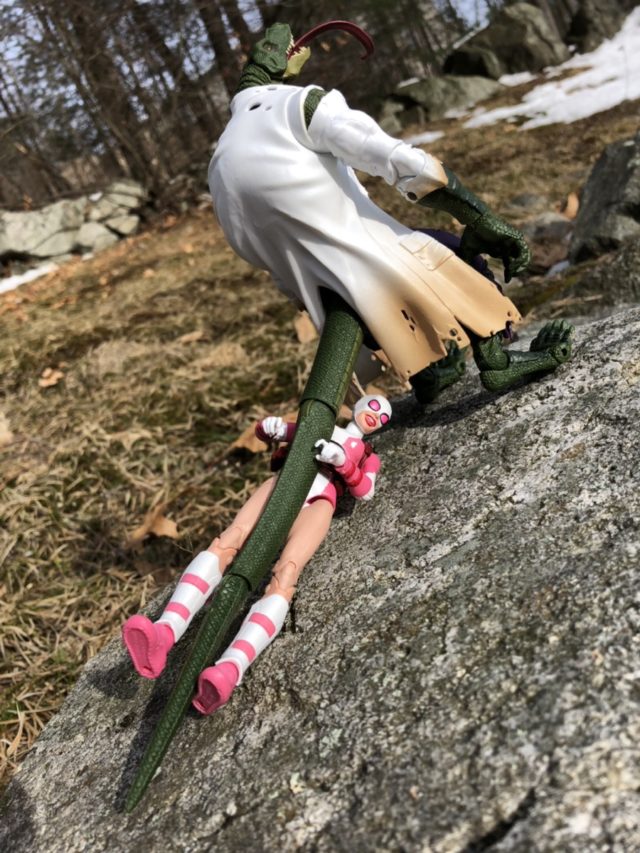 This choice is a divisive one, as modern comics readers tend to dig this dinosaur-looking iteration of the Lizard, whereas a lot of classic fans have a real hate-on for this velociraptor look.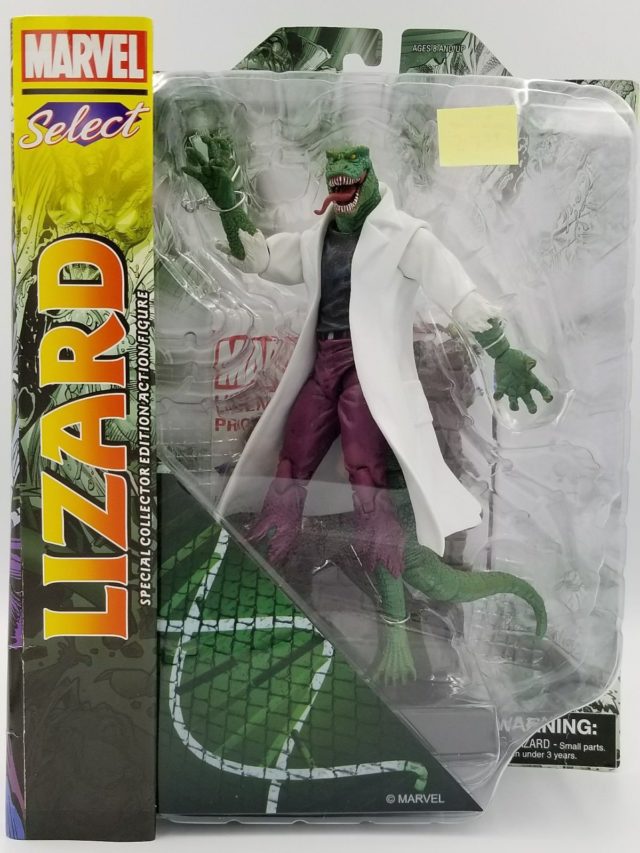 Personally, I'm okay with the Lizard BAF being a bulky one, as it makes it more believable for me that this is a genuine powerhouse that could give Spidey a run for his money—something that's harder to accept of the gangly Lizard. (Diamond Select Toys did an amazing Marvel Select Lizard for those who want a wholly classic version, BTW.)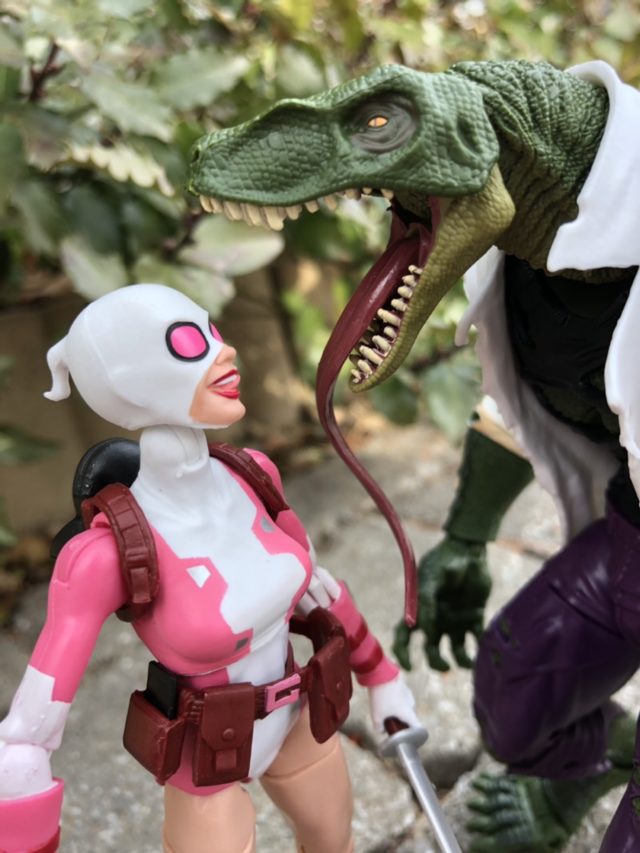 I do think that Hasbro could have probably come closer to appeasing all Curt Connors fans by including a more traditional alternate head, though. I love me some dinosaur head, but not everybody does.
The head articulation on the Lizard Build-A-Figure adds loads of personality, as there's an opening and closing jaw (with tongue!) in addition to the head and neck articulation. Love it or hate it, the head is probably the most fun part of this figure to pose.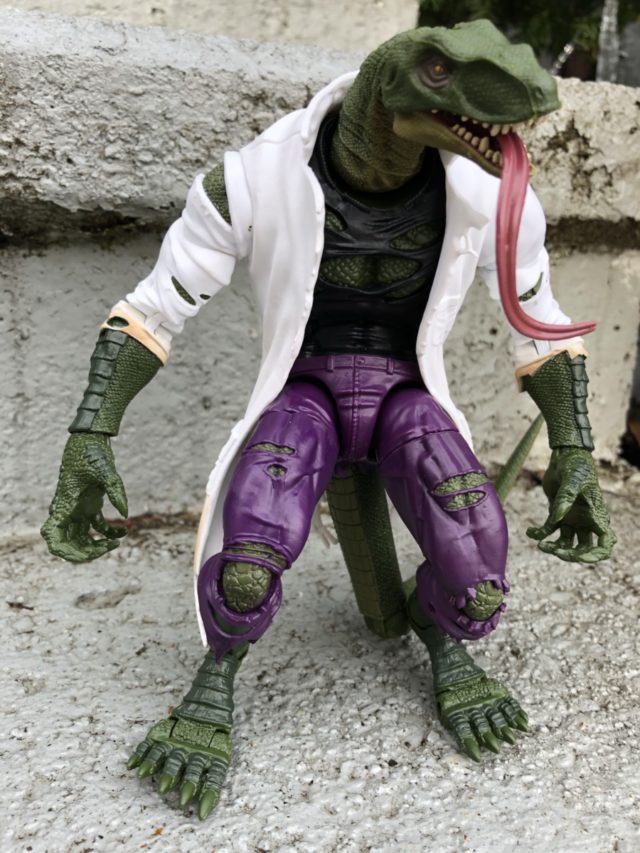 While on the articulation front, I might as well run down the surprisingly large list of flexibility this figure has:
Hinged Toes
Hinged Jaw
Hinged Ankles with Rockers
Double-Hinged Knees
Swivel Thighs
Ball-Jointed Hips
Ab Crunch
Hinged Head
Ball-Jointed Neck
Swivel Waist
Ball-Hinged Shoulders
Swivel Biceps
Double-Hinged Elbows
Swivel-Hinge Wrists
Ball-Jointed Tail with two Additional Ball-Hinged Points of Articulation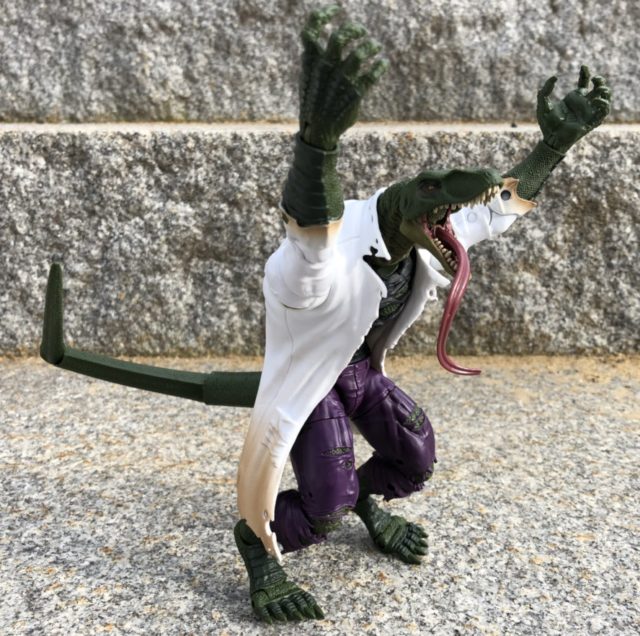 That's a lot of articulation, but the poseability of this figure still left me a little disappointed. Because of the way the pants and knees are sculpted, the Lizard's knee articulation is almost completely worthless. Not being able to make him stand up straight feel very awkward and clunky. The angular way that the tail poses also looks really bizarre and limiting.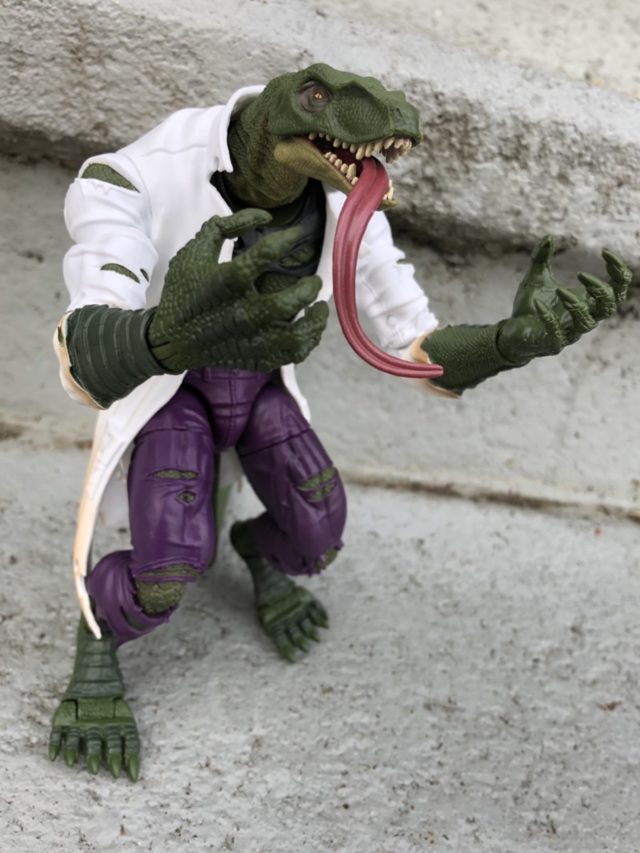 While his articulation isn't all it's cracked up to be, Lizard's sculpting is. The scales all over his body are beautifully textured, and I appreciate the effort put into the rips and tears on his shirt, coat and pants. The lab coat could probably stand to be a little more tattered, but what's present is still nice.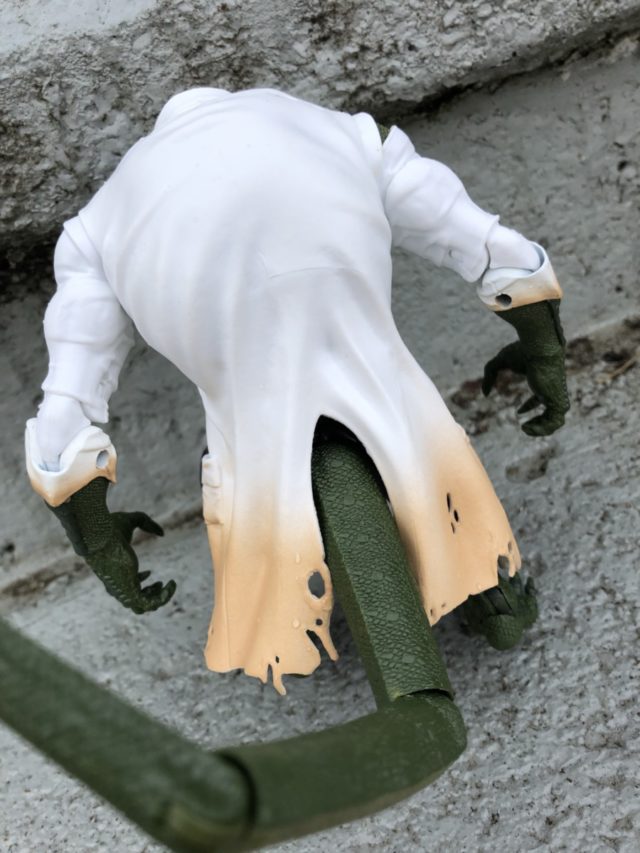 The paint deco on the Marvel Legends Lizard Build-A-Figure is solid, if not anything special. The staining on the lab coat looks nice, but I would have liked a dark wash on the pants and maybe even the scales.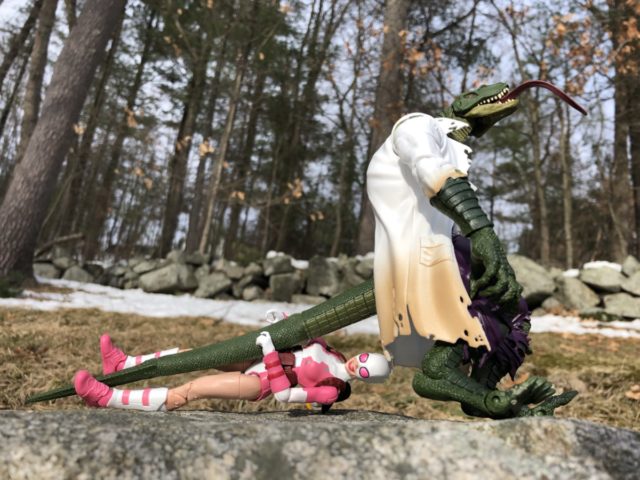 Overall: Hasbro made a lot of cool design choices with this Marvel Legends Lizard Build-A-Figure, but he falls just short of earning highest marks because of his awkward knee and tail articulation, average paint deco and the lack of a more classic alternate head to make him more appealing to non-modern fans.
That said, the articulation in the neck and jaw make posing this villainous reptilian a lot of fun. And while his bulky, dinosaur design may not be classic, it definitely make for a formidable-looking, impressive action figure nemesis for Spider-Man to combat.
GRADE: B+
The post Marvel Legends Lizard Build-A-Figure Review & Photos (Spider-Man) appeared first on Marvel Toy News.