Hasbro has been on a roll this year revisiting fan-favorite characters that haven't been done since the Toybiz days, and that trend continues with today's review. Marvel Legends Hydro-Man seemed like a shoe-in to be a quick sellout online with his unique design and appearance in Spider-Man Far From Home, but he's stuck around longer at MSRP longer than I would have predicted. Are people overlooking a hidden gem with this Hydro-Man Legends figure, or has Hasbro misfired with this release?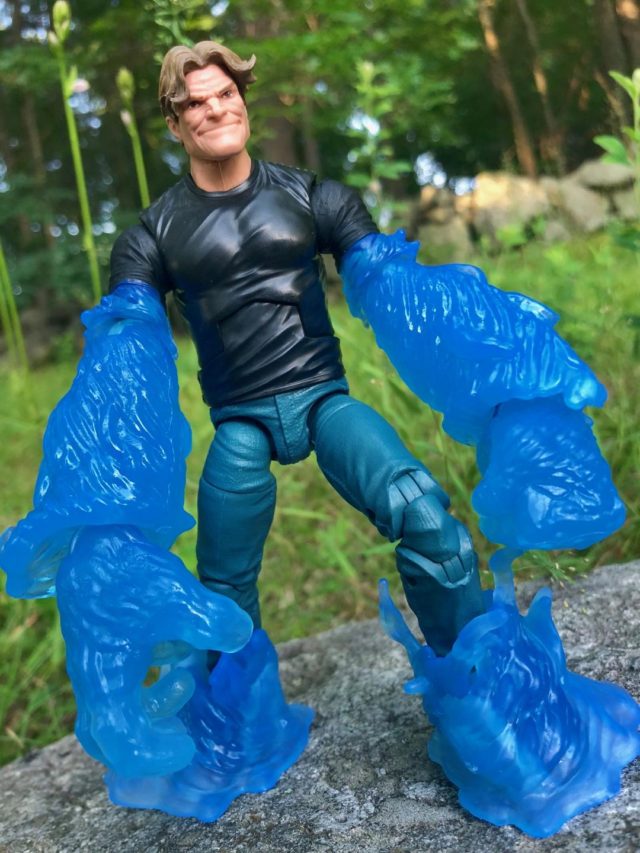 Ever since he overachieved as a villain in the 90s Spider-Man animated series, I've been a big fan of Hydro-Man. To this day, the 5" Toybiz Hydro-Man based off of that cartoon is one of my very favorite figures of the era.
Over two decades later, Hasbro has decided to upgrade that costumed version of Morrie Bench to modern standards as part of the Spider-Man Far From Home Marvel Legends Molten Man Series. I've been keenly anticipating this release since the first leaked rumors hit, and now he's finally mine. But is he all I dreamed of…?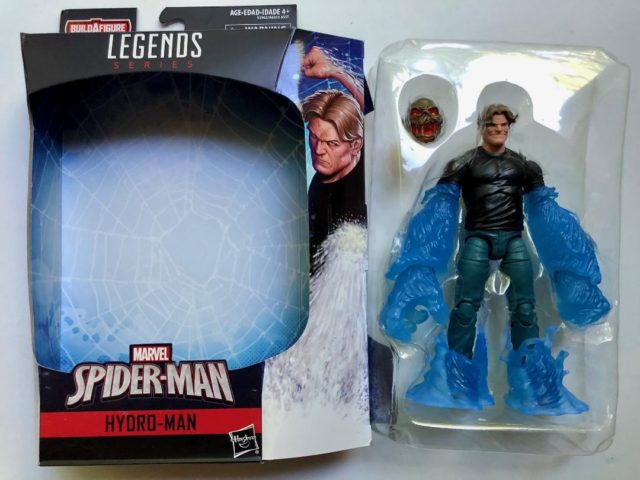 Unfortunately, no—he's really not. Hasbro very clearly put in a plethora of effort and new tooling for this figure, but he doesn't doesn't work out in the manner that I'd hoped.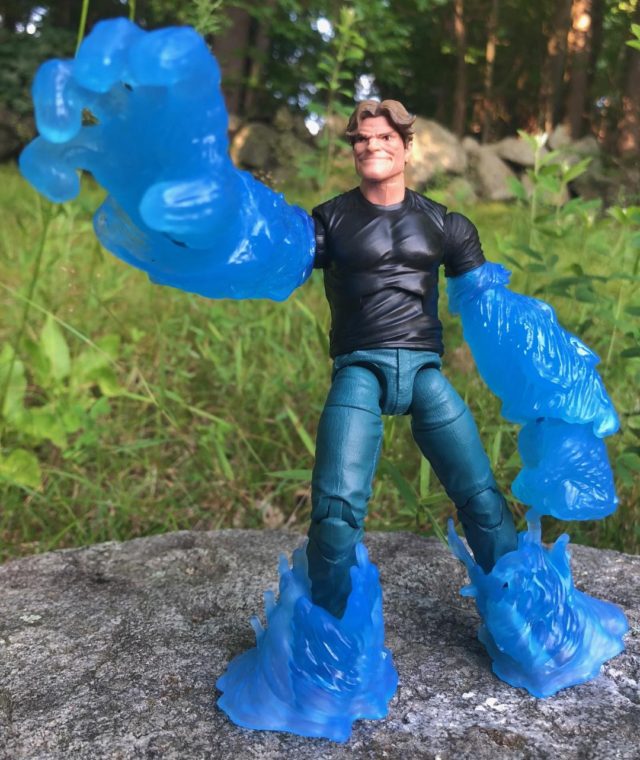 While Hasbro has successfully copied and updated the "giant water effects arms" that Toybiz used way back in 1996, the arms are super heavy and tip over the figure frequently. In addition, the articulation at the elbow is almost rendered completely meaningless by the fact that the joints can barely bend the tiniest degree because of the engineering of the effects.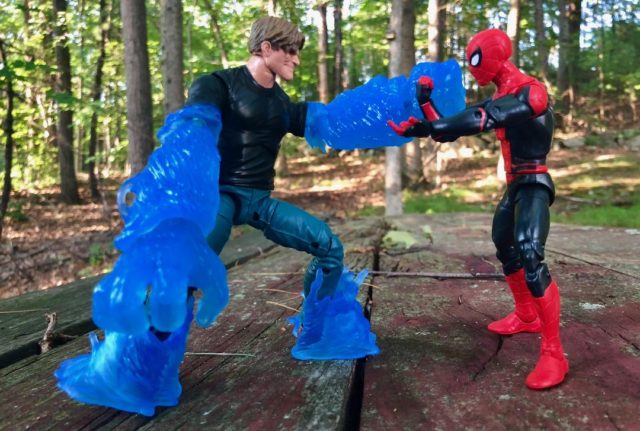 Some folks have been scandalized by the lack of swap-out "normal" arms for Hydro-Man, and I agree that that would have been a worthwhile feature if this had been a Build-A-Figure that could have come with even more parts. The translucent blue water hands look spectacular, but they really do limit display and play options for this action figure.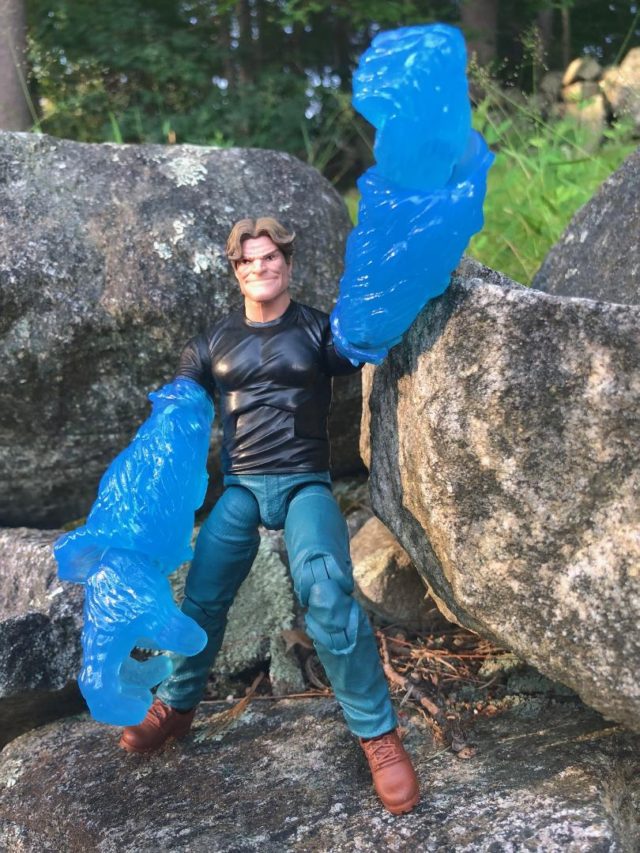 Whereas Toybiz gave the original Hydro Man toy a super-cool water base that fully supported the figure in a standing pose, Hasbro gives us some clip-on water pieces for the lower legs instead.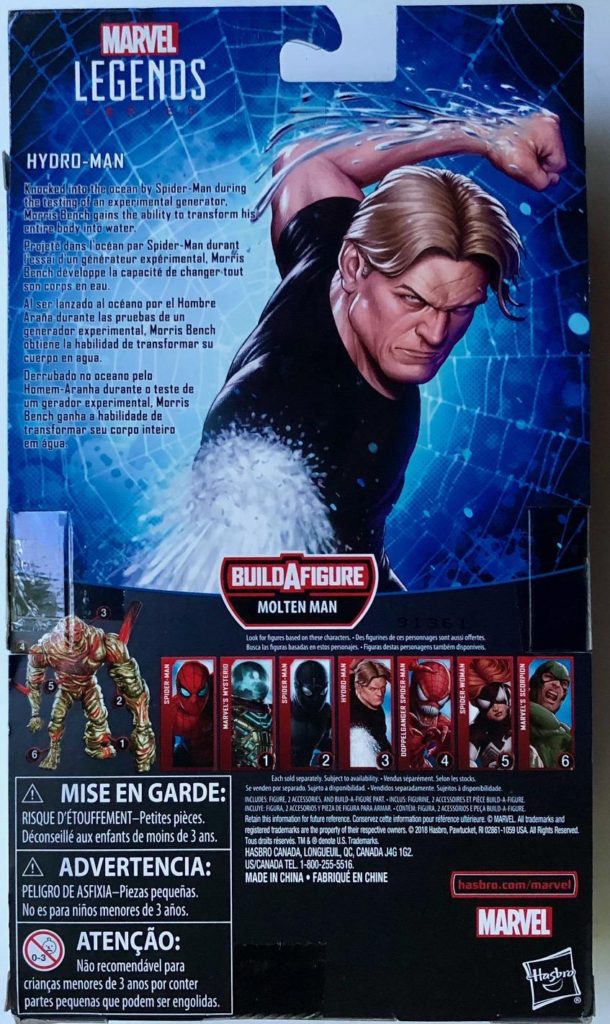 In theory these allow for more poseability, but since the pieces don't have flexibility for ankle rockers, they really restrict anything but the most basic poses.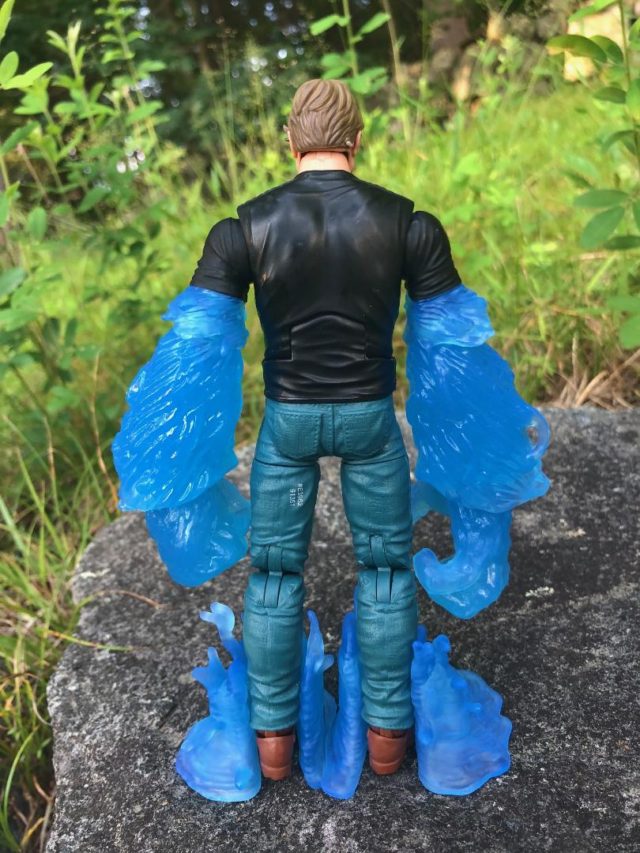 The clip-on parts also only cover the front of the legs, so they look ridiculous from a rear view. Personally, I much preferred how Toybiz executed the lower body effects 23 years ago. I'm not sure that Hasbro could have cost that in for a single-packed figure, but again—I think this character was better suited to BAF status.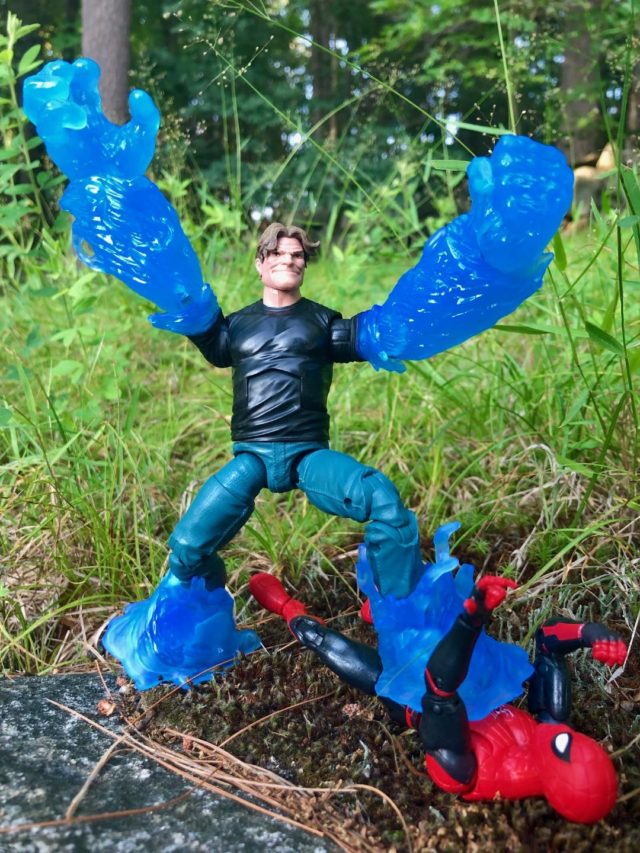 In totality, his articulation scheme includes an ab crunch (that's not strong enough to hold up the upper body, unfortunately), ball-hinge head, wrists, elbows and shoulders (although the shoulder and elbow hinges on mine are immensely restricted), swivel thighs and waist, ball-jointed hips, double-hinged knees and hinged ankles with rockers (that are rendered moot by the water parts). As you might have surmised, the articulation has some issues.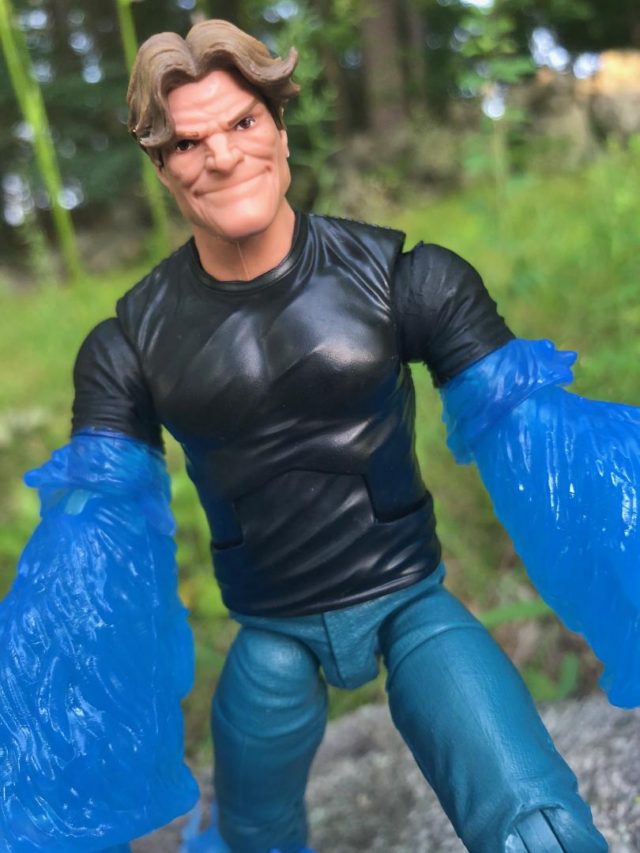 But wait, I'm not done griping yet: although this figure's head sculpt is all-new, I absolutely do not like it. At all. Morrie Bench's head looks far too stylized, and the goofy sh*t-eating grin expression on his face doesn't help matters. Poor Morrie looks like he's trying to force a smile for the camera rather than wreaking havoc as a notorious super-villain.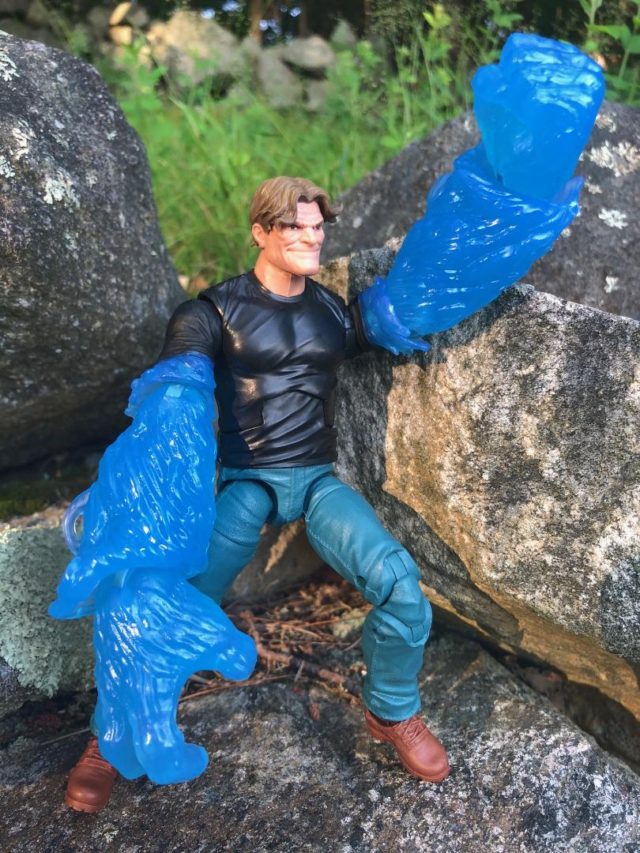 It's not all bad, mind you: this is a very unique, aesthetically pleasing figure on a shelf, and the churning translucent water effects truly do look fantastic. It can just be a little bit difficult working with him to get him into a fun pose that can be achieved and that's actually stable.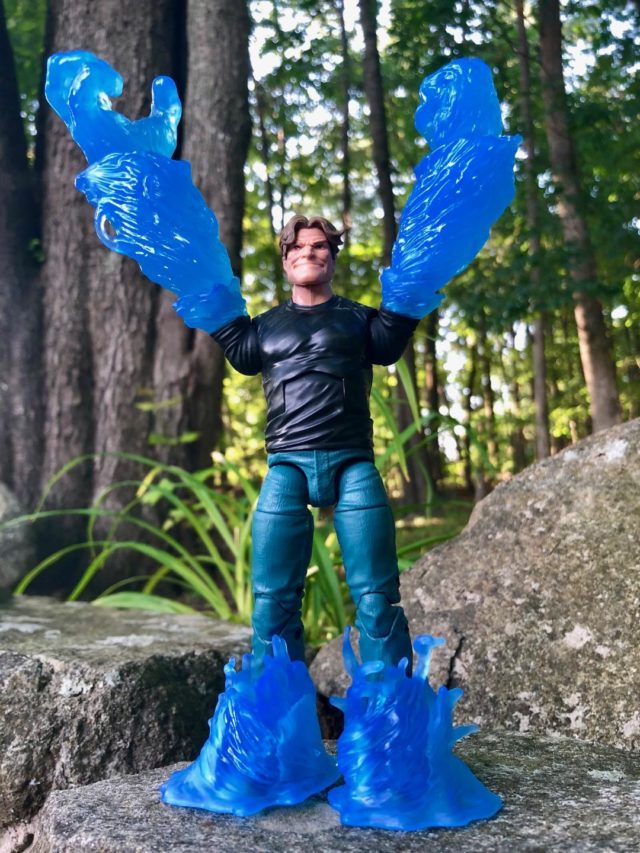 Overall: I feel kind of traitorous awarding a lower score to one of my favorite Spider-Man villains when Hasbro clearly put a lot of effort into this, but there's no way around it: this Spider-Man Legends Hydro-Man figure falls short of my expectations.
The goofy look on the Morrie Bench portrait, the instability issues when trying to pose him, and the articulation limitations caused by the water effects arms all add up to me having vastly less fun with this toy than I had hoped to.
I respect that Hasbro put tons of work into this release, but I think maybe Hydro Man would have been better served as a slightly larger and more elaborate Build-A-Figure. In my opinion, this is an immensely rare instance where the updated figure fails to surpass its (admittedly awesome) Toybiz predecessor.
GRADE: C+
The post Marvel Legends Hydro-Man Review (Spider-Man Far From Home Series) appeared first on Marvel Toy News.