Marvel Legends Infinity War Wave 2 is a pretty weird series, as the set is split three ways between characters from the comics and the Ant-Man and the Wasp and Avengers Infinity War movies. But not only is the Cull Obsidian Series an unusually eclectic mix—it's also been unusually hard to find in stores. And among the harder figures to come by is the one new comic book-based figures in the wave: Marvel Legends Black Knight…
The Right:
A little over a decade ago, Hasbro released the first-ever 6" Black Knight Marvel Legends figure as part of the Brood Series. That figure was, well… not so great, but many collectors have held onto him for the past 10+ years anyway, as it wasn't certain we'd ever see this classic Avengers member redone.
That changed when the Dreadknight figure appeared on the scene in 2016, bringing with it a new mailed body mold. Once that happened, it was just a matter of time until a new Black Knight appeared. And lo and behold, he finally arrived this spring!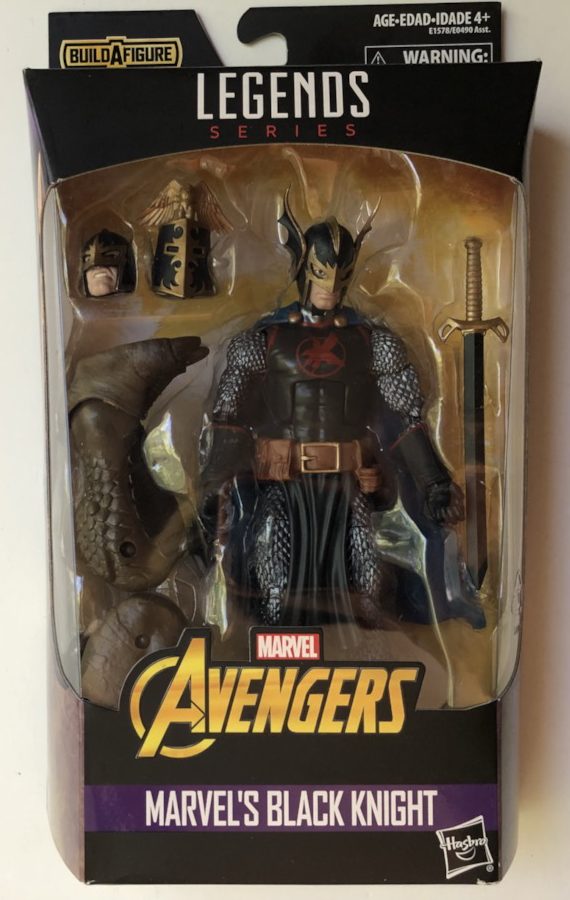 I was able to snag my first copy of this figure from Amazon for $19.99 over the weekend, although he's only being sporadically restocked by non-third party sellers with scalper prices. Is he worth the extra effort to procure?
Easy answer: "Yes!" This Black Knight figure straight-up demolishes the original one that Hasbro released many years back in pretty much every way. Let's dig in…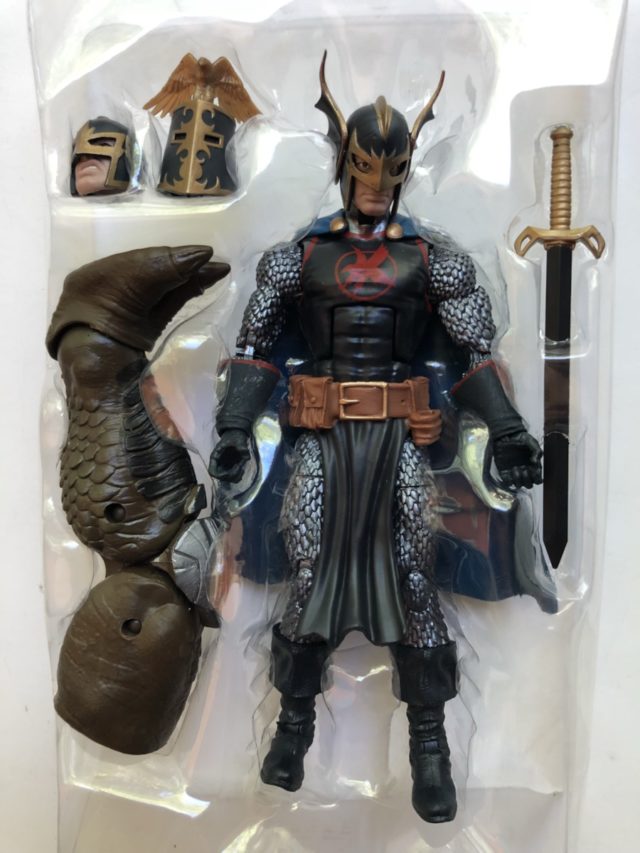 The biggest positive in this figure's favor in easily the inclusion of not one, not two, but three interchangeable heads. No only can the iconic Black Knight look be achieved with this figure, but you can create the original villainous Black Knight look and even the semi-obscured winged helmet look!
While I have the original Black Knight Bowen Designs mini-bust, I never thought I'd live to see a super-articulated action figure of the bucket-headed version of the character. Hasbro totally nailed this head sculpt, and it's my preferred head for this figure, believe it or not. It's just so unique and loads of fun!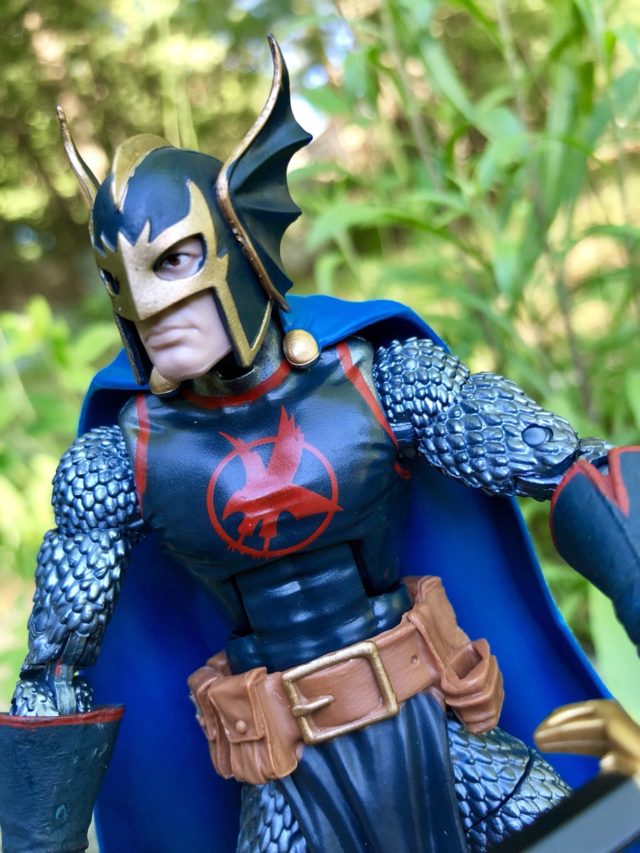 The winged helmet is going to appeal less folks than the other two heads, but I definitely still think there's an audience out there for it. I like that this head has a stoic, closed-mouth expression to differentiate it from the "regular" head. Not a lot to say about this head, beyond that it looks nice.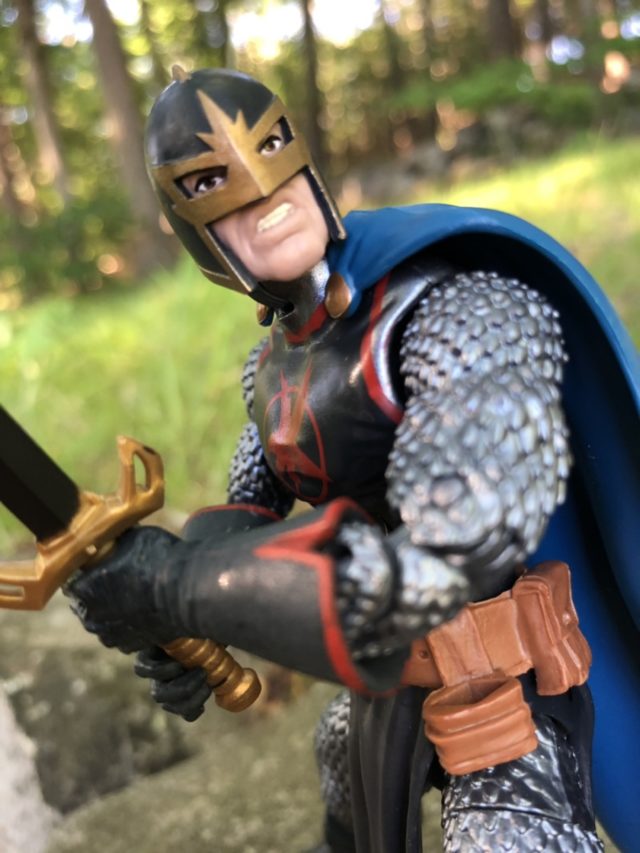 Gratefully, Hasbro didn't give the normal Dane Whitman head for this figure a zombie stare. Instead, he's got a ferocious, battle-ready expression with his teeth gritted. We don't get enough expressive heads like this for heroic characters, and I'm glad to see the personality Hasbro infused this Black Knight head with.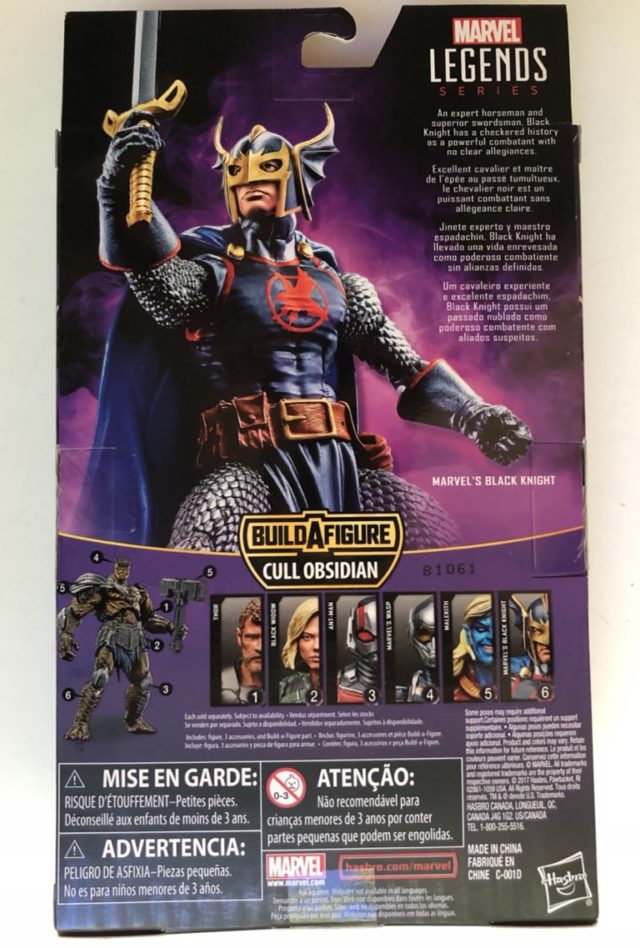 As I mentioned earlier, this figure utilizes the mailed body we saw debut for the Dreadknight and Hobgoblin figures in summer 2016. I loved the sculpted work on the chainmail then, and I still do now. It looks absolutely ideally designed and proportioned for Black Knight, even if it's been frequently used for other characters before.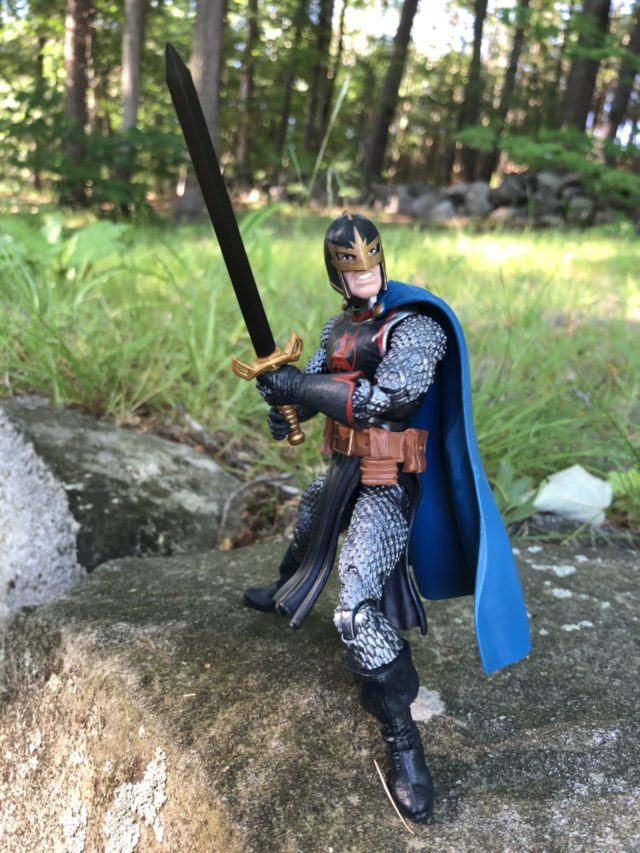 The belt/lower tunic add-on piece works marvelously on this figure. Unlike other figures whose belts flop around uncontrollably, Black Knight's is extra-tight and stays in place with no problems at all. I wish all costume add-ons on Marvel Legends figures would fit this well. I also appreciate the paint deco on the belt buckle.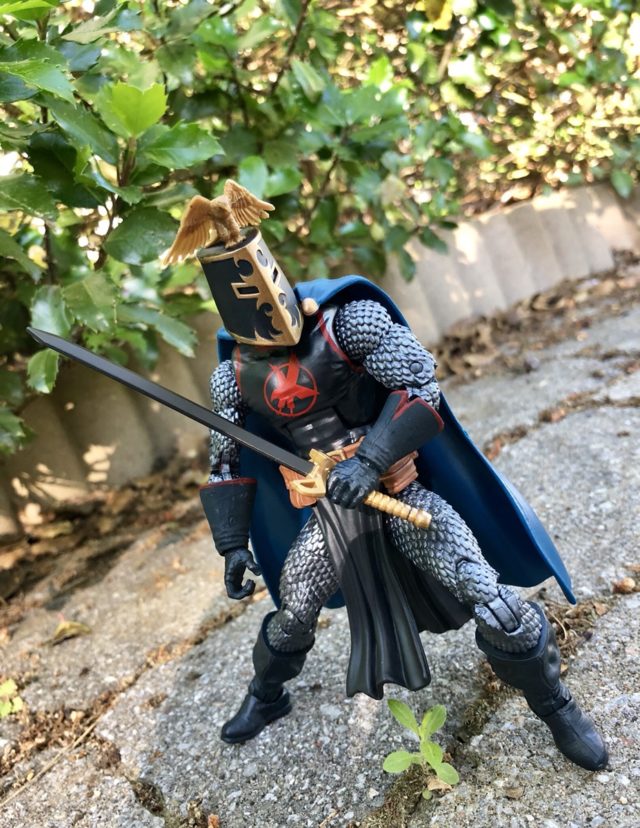 In the articulation department, Avengers Legends Black Knight is packing exactly the same super-articulation scheme we've come to expect:
Ball-Hinge Neck
Swivel Hinge Wrists (No forearms)
Double-Hinge Knees and Elbows
Ball-Hinge Shoulders
Ball Hips
Hinged Ankles with Rockers
Swivel Boots, Thighs, Biceps, a Waist
Ab Crunch
While it's a bit difficult to achieve two-handed sword-wielding posing without butterfly swivel shoulders, there was never really any chance of this mold being changed to accommodate that. It's a pity, but ML Black Knight can be posed doing plenty of other cool things nonetheless.
The Wrong:
As much as I've practically gushed about this figure up until now, there's several little things about it that really bug me. Design-wise, my big gripe is that there's no scabbard on the belt for Black Knight's Ebony Blade to be inserted into. While I'm sure there's artwork where Black Knight doesn't have a scabbard occasionally, he's almost always portrayed as having one.
As a result, having the sword just hanging off his belt unsheathed just looks weird. I understand a scabbard might have interfered with the articulation of the left leg, but dangit, it not being there interferes with how I picture the character in my mind.
In addition, I'm not at all wild about the dark blue paint used for the neck hinge joint on this figure. It looks totally out of place surrounded by silver on Black Knight's neck, and was a weird choice to go with for the joint. It just doesn't look good, unfortunately.
A couple of quality control issues are the final things hindering this figure. The hinge joints on the limbs of this figure feel very cheap and rubbery and loose to me, and I'm legit afraid of flexing them too hard and causing them to rip.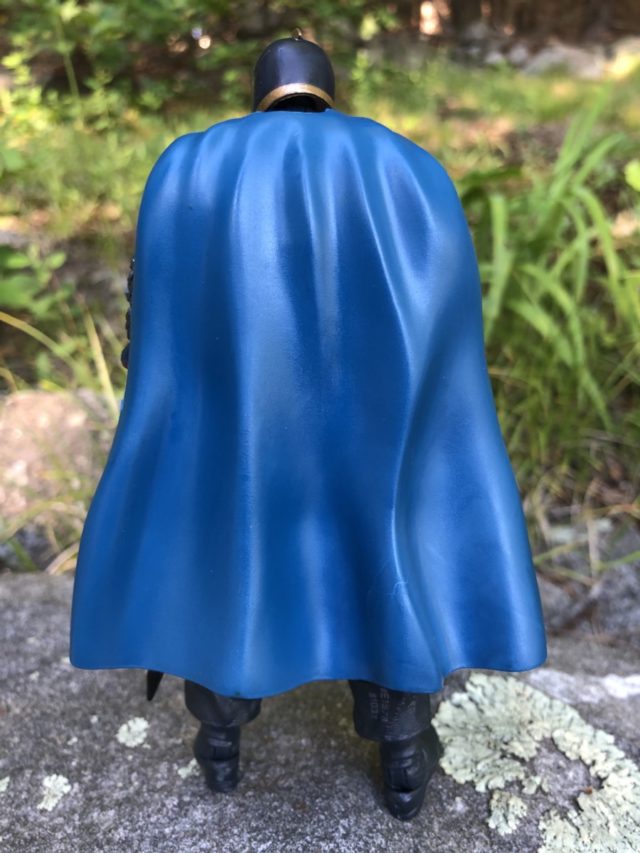 In addition, the neck hinge is more wobbly than I'd like (as is the cape). None of these are deal-breaking issues, but they are annoyances.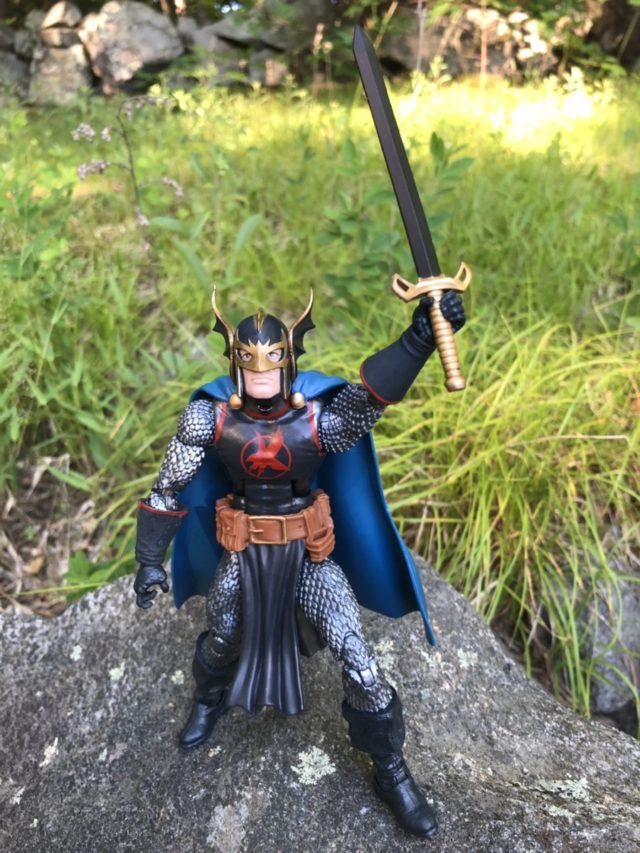 Overall: I kind of teetered on the edge of upgrading this Marvel Legends Black Knight figure to an 'A-' because I like the three heads included so much, but he's just not quite there. The overall sculpt and design of the figure are top-notch—and I do love the interchangeable heads—but the gummy plastic used on the joints, non-silver neck joint, lack of scabbard and slightly wobbly cape keep Black Knight from the promised land.
I think this ML Black Knight 6" figure is still a very solid pickup—especially if you can snag him for the few minutes every week he pops up on Amazon for MSRP—but he's not quite at the level of perfection we've seen from some other Hasbro Marvel Legends the last few years.
GRADE: B+
The post Marvel Legends Black Knight Figure Review (Cull Obsidian Series) appeared first on Marvel Toy News.