With the Spider-Man: Into the Spider-Verse movie hitting theaters in just a few weeks, it's no surprise that we're seeing toys of Miles Morales released from a variety of manufacturers, including ones who have never done the character before. One such company is Medicom, whose MAFEX Miles Morales Spider-Man figure is now up for order! But as it so happens, this is a version we've never seen before from any company: full-grown adult Miles?!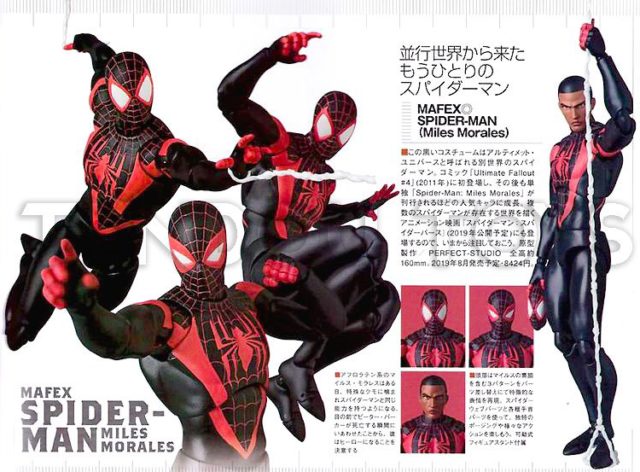 Okay, straight talk: While I read a couple dozen Marvel comics titles every month, I don't read every comic book that gets released (who can afford that?). And one of those comics that I don't typically read (or at least, didn't when it was being published), was Gwenpool. So when I saw the first images of this Miles Morales MAFEX Spider-Man figure, I was immediately ready to denounce it for being off-model.
Luckily, before I did so, I was informed that this action figure is in fact representative of the adult, alternate timeline Miles Morales briefly featured in the Unbelievable Gwenpool comic series. (Who knew, right?!)
This isn't exactly a shocking plot twist, given that the Marvel Comics MAFEX line has mostly centered on Gwenpool from its beginning, but it definitely feels weird having this very adult-proportioned version with Medicom having never done a proper, teenage Miles toy before.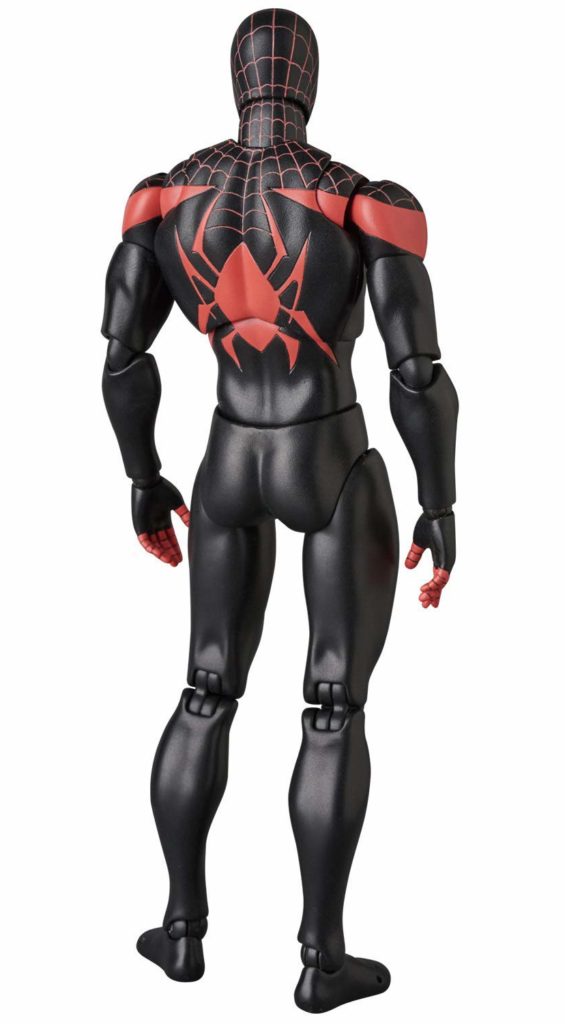 No doubt about it, this is a ripped, mature 6″ Miles Morales action figure he doesn't resemble his more usually-seen lanky teenage self much at all as far as proportions go.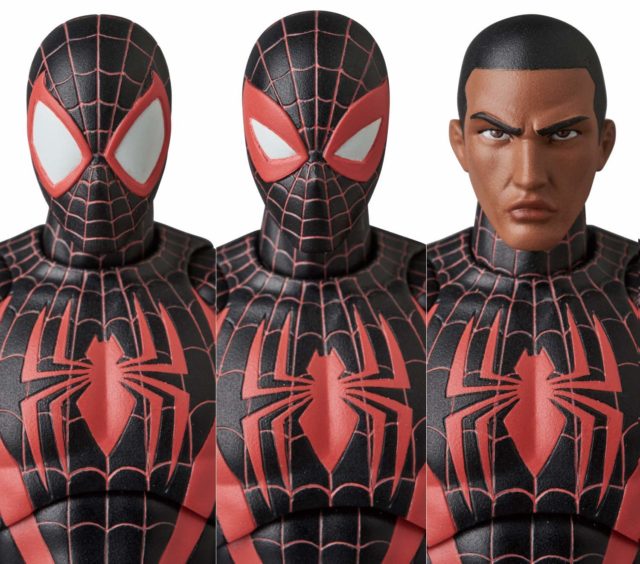 It's hard for me to reconcile this grizzled, adult Miles Morales with the dorky kid I know and love from the vast majority of his appearances, so this is MAFEX Marvel Comics figure is a rare no-go for me personally.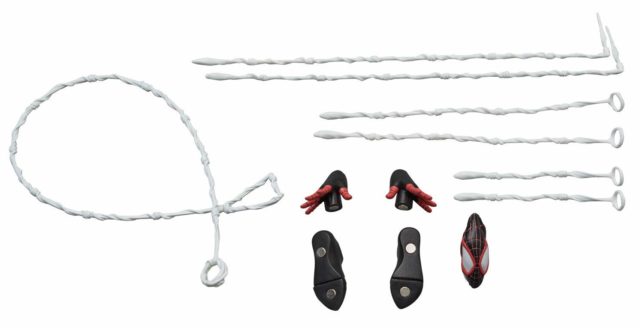 For those who can get past the fact that this isn't your usual version of Miles Morales, this looks like it's going to be another outstanding release from Medicom. The accessories selection is pure gold, including a multitude of neat stuff to display the 6.3″ figure with:
4 Pairs of interchangeable hands (Open hands, Gripping hands, Fists, Web slinging hands)
2 Masked Heads
Unmasked Head
Removed Mask
7 Web Effects/Web Lines
Optional Magnetic Feet
Optional Magnetic Hands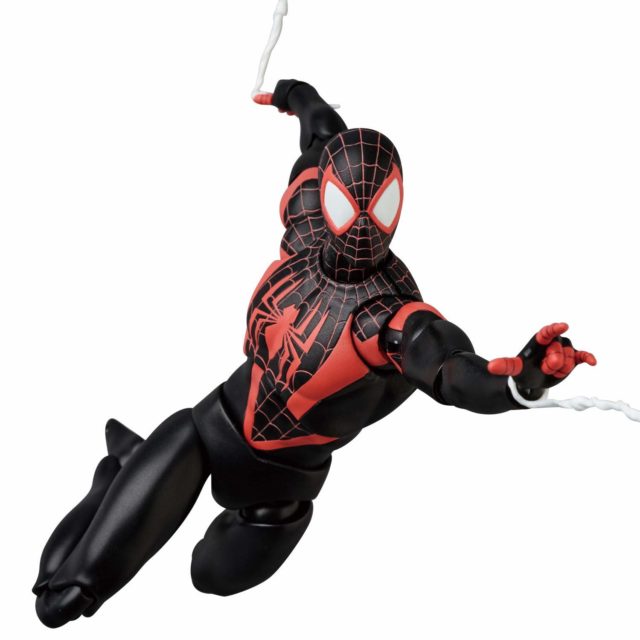 That's a pretty healthy bounty of accessories, and it's going to make this one seriously fun Spider-Man action figure to play with for those who dig it.
I especially think that the magnetic hands and feet are going to make for some awesome displays, as they'll allow Miles to be posed in wall-crawling and dynamic poses that just aren't possible with your everyday action figure. How many collectors that option is worth the premium price this import figure will cost to remains to be seen.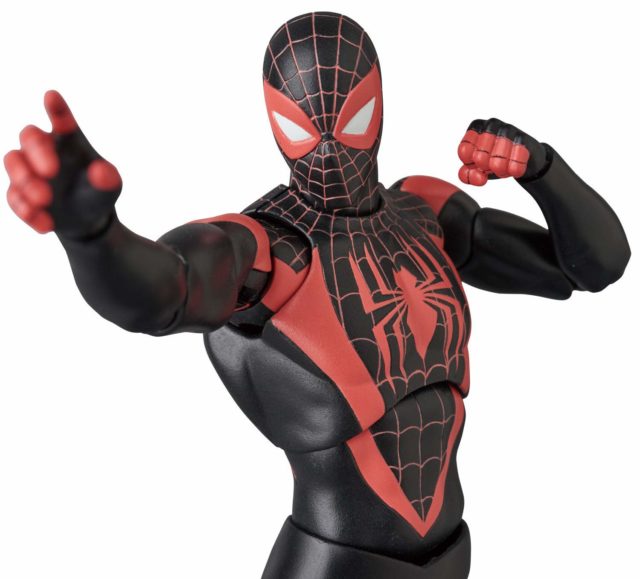 The Medicom Miles Morales Spider-Man MAFEX figure is now available for pre-order, and is scheduled to be released in August 2019. As is usually the case with these MAFEX figures, Medicom does not have a license to distribute them in North America, so you're stuck either importing from Asia directly or buying from a store like BBTS that pays the import fees themselves (and bundles those fees into their own retail price).
This is a pretty bizarre release, so I'm definitely intrigued to hear what you have to say about it, Marvel collectors! How many of you are familiar with the source material that this particular iteration of Miles Spidey comes from, and are you enamored with it enough to want an expensive import figure of this version of the character?
The post MAFEX Miles Morales Spider-Man Figure Photos & Up for Order! appeared first on Marvel Toy News.