Spider-Man Into the Spider-Verse was a rare surprise hit for the modern superhero movie genre, as ordinarily these days it's expected that most superhero movies have blockbuster potential. But Into the Spider-Verse came and conquered, and now collectibles companies are racing to catch up and claim their cut! Kotobukiya is next up at bat with the first in a series of 1:10 Scale statues from the film: the Kotobukiya Into the Spider-Verse Miles Morales ARTFX PVC figure is now up for order!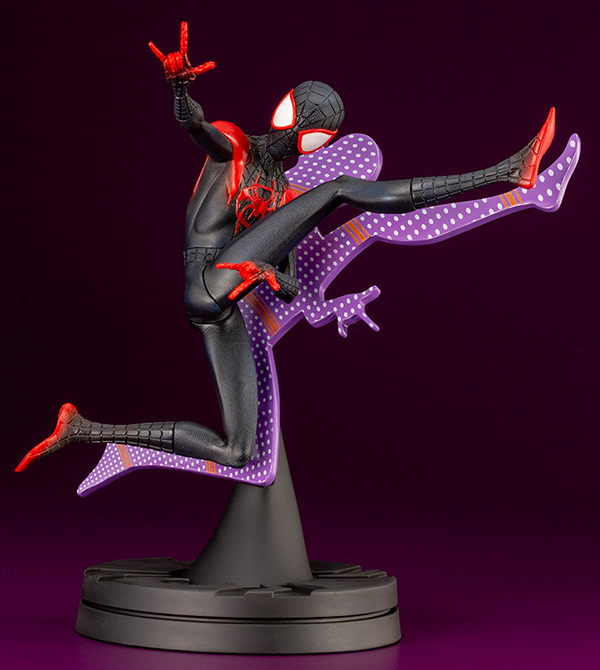 There was not a lot of manufacturer confidence behind Spider-Man: Into the Spider-Verse, and consequently, over half a year of crucial time for merchandising has been lost for most of the companies who hold the license.
Even so, many companies are readying their Spider-Verse lines for launch this winter, as we just saw with the MAFEX Miles Morales that went up for order last week. And now, Kotobukiya is another manufacturer entering the fray with a multi-figure series, beginning with Miles Morales himself in his heroic Spider-Man costume!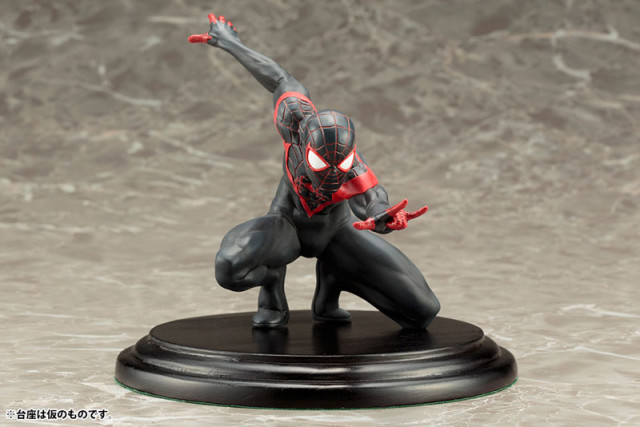 Now, this isn't the first time that Kotobukiya has taken a stab at a 1/10 Miles Morales Spider-Man figure—they actually released the first-ever statue of the character in their comic-based Spider-Man ARTFX+ series a few years back.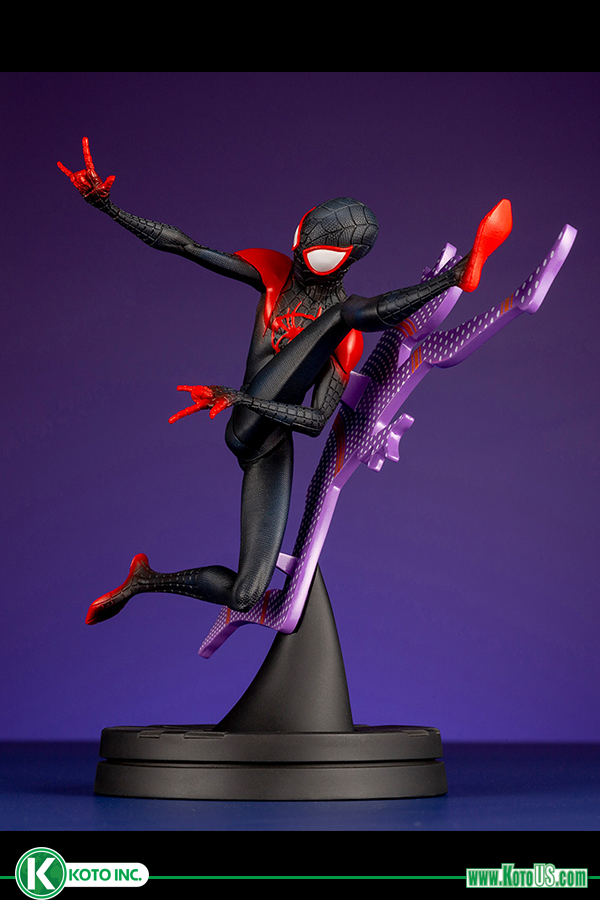 But whereas their original take on the character was posed rather boring and plainly, this new version is anything but! Koto has posed the 6.1" Miles PVC into a unique jumping pose that shows off his (impossibly) slim proportions and that feels refreshingly dynamic.
But the icing on the cake is a strange feature of this statue I haven't seen anyone else capture yet: the unique dotted style from the movie, adorning Miles' Shadow as a sort of silhouette "backdrop" to this figure! This is a really neat and clever idea Koto has had here, and it's easily my favorite aspect of the toy.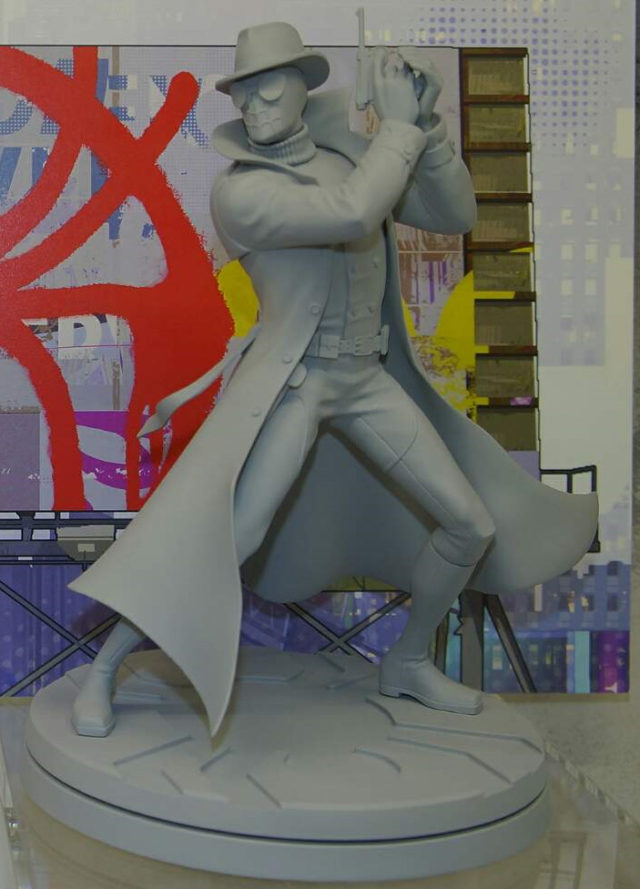 Koto seems to be committed to a full lineup for Into the Spider-Verse, as they also brought along a second (unpainted) entry for the series to San Diego Comic-Con 2019: Spider-Man Noir!
Although he's a popular iteration of Spidey, this is the first Spider-Man Noir Statue that I can ever remember seeing by any company. The flowing trenchcoat and stylish fedora look terrific, and I am really digging this figure a lot (more than Miles, honestly)! Hopefully Noir is ready to show off painted at New York Comic Con 2019 in a few months—if not sooner!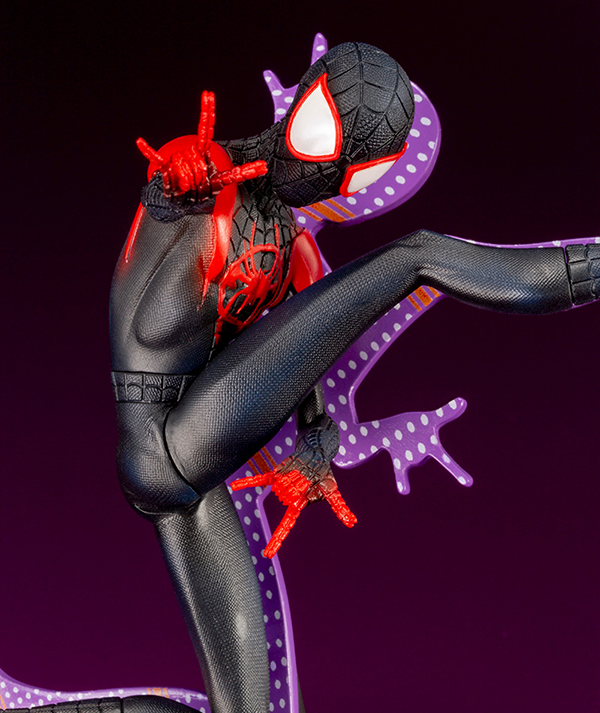 The Kotobukiya Spider-Man Into the Spider-Verse ARTFX Miles Morales Statue is now up for order, and is scheduled to be released at the end of 2019/beginning of 2020. He's retailing for $89.99, but you can find him for a couple bucks cheaper at BBTS or with free shipping from EE. That is by no means a "cheap" price for a 1/10 scale statue, but it is a price-point I think will be much more palatable to quasi-casual fans than the $150+ ARTFX Premier statues Koto has been putting out lately.
Are you still into the designs from Into the Spider-Verse over half a year later, Marvel collectors? What do you think of the aesthetic Koto is going for with their Miles Morales ARTFX figure, and do you think the stylistic flair makes him worth the nearly $90 asking price?
The post Kotobukiya Spider-Verse Miles Morales ARTFX Statue Pre-Order! appeared first on Marvel Toy News.