Kotobukiya's Marvel ARTFX+ line of 1/10th scale PVC statues used to rule the land, but in a changing market with increased prices and much more competition, Koto has definitely stumbled a bit in recent times. They unveiled their new high-end line of plastic 1:10 Marvel ARTFX Premier statues at New York Toy Fair, but collector response has been lukewarm thus far. Can today's solicitation of the 5th piece in the line buck the trend? The Kotobukiya She-Hulk ARTFX Premier Statue is now up for order!
Just about any time that a new piece of She-Hulk merch goes up for sale, I recount the fact that I am massively in love with Shulkie (she's pretty much the perfect woman).
So if anyone told me a new She-Hulk statue would be unveiled today and I'd be decrying it, I'd have been rather skeptical. But that's just what transpired, as Kotobukiya's new She-Hulk ARTFX+ Premier Statue has been revealed to an extremely chilly response from the collecting sphere.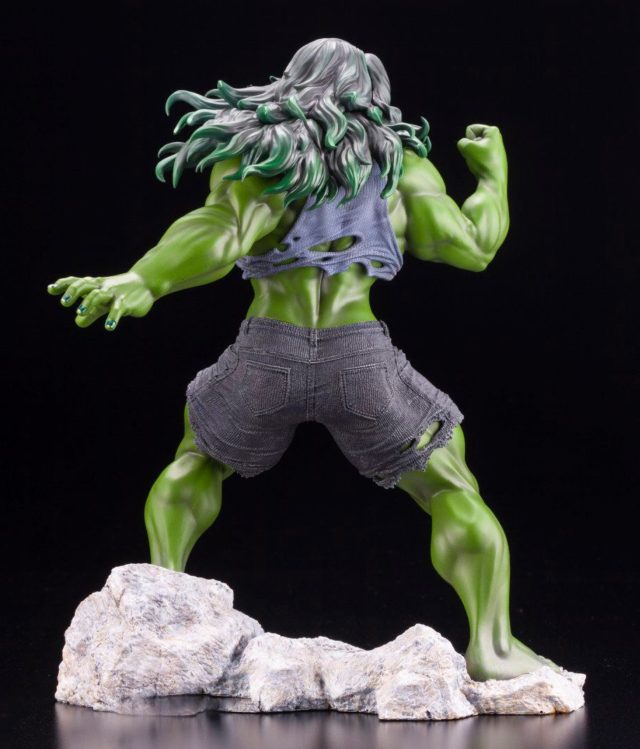 At a glance, anyone who's not a current comic book reader is probably going to do a double-take when they see the modern design of this Hulk statue. This is the beefy, muscle-bound Jennifer Walters currently being featured in Jason Aaron's Avengers ongoing series.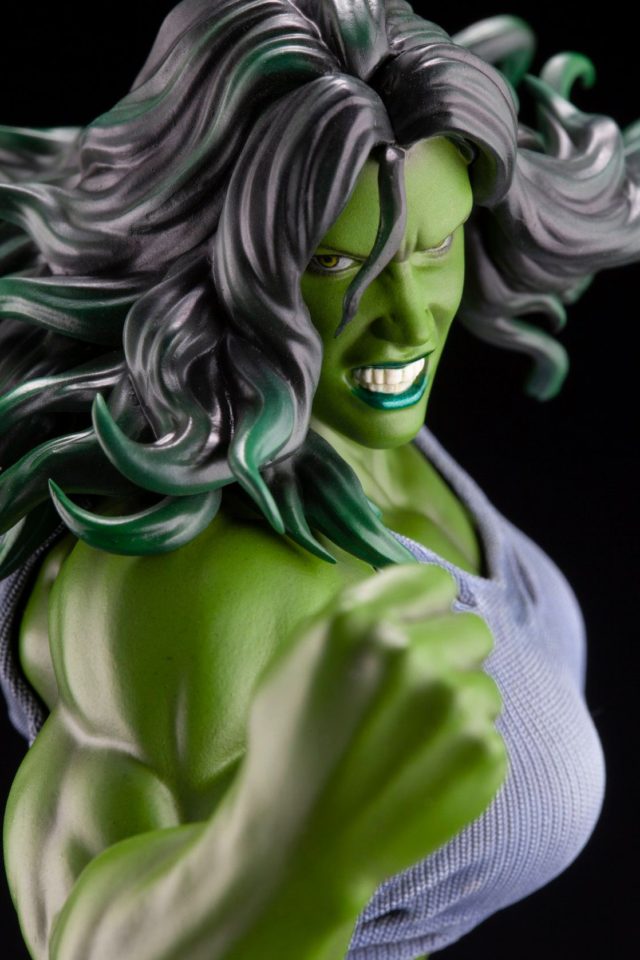 Now, I fully respect Kotobukiya for their consistency in making this modern She-Hulk statue to match the previous four characters they've done in the Premier lineup (Thor, Captain America, Iron Man and Hulk). Having to continue a modern line with a modern interpretation of a character that's not exactly a home run is a difficult position to be in.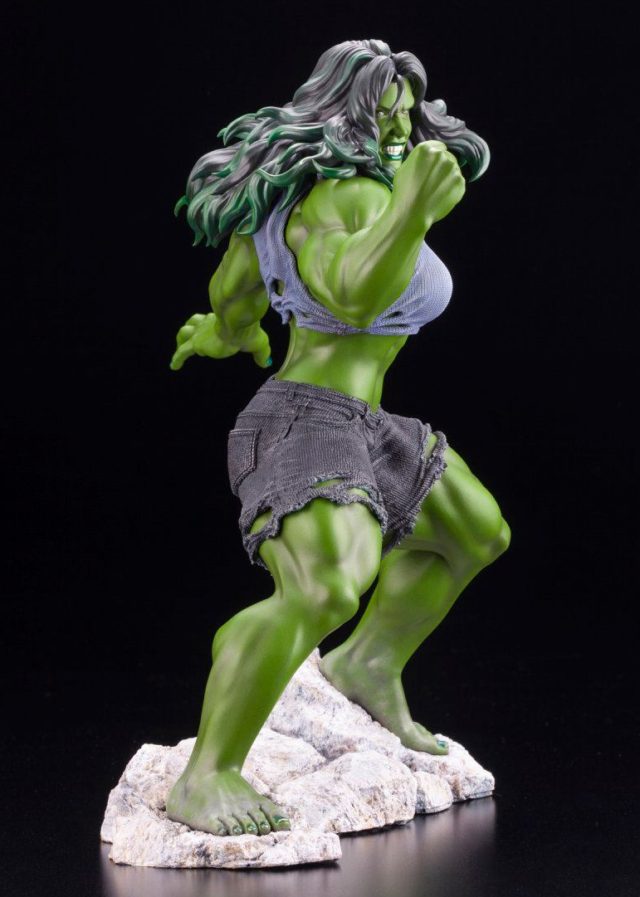 Likewise, props on the faithfulness to the Ed McGuinness style of this She-Hulk (and the nice textures on Jennifer's clothing). I know that there are definitely some people out there who dig this powerhouse design for She-Hulk–but this simply is not a Shulkie design that's going to appeal to a majority of fans (at all).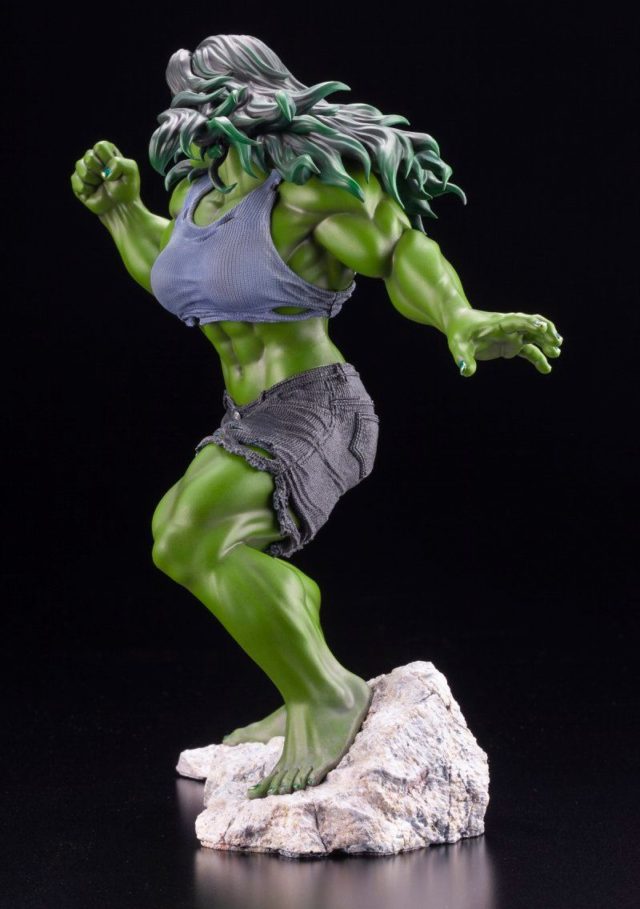 Just as troubling is the price-point for this 8.2" plastic figure: $189.99 MSRP. No, really. In a world where Iron Studios and Diamond Select Toys are releasing resin statues up to 13" tall with diorama bases for under 150 bucks, Koto is asking $190 for an 8" PVC with a base that's just some rocks. Crazy taters.
The pricing of this Premier ARTFX line in general is going to be a major issue, but I think it's going to be downright disastrous when it comes to this She-Hulk. The edition size is set to 3000, but I could easily see this piece only getting a few hundred orders. If they produce all 3000, this has "Amazon 70% off sale" written all over it.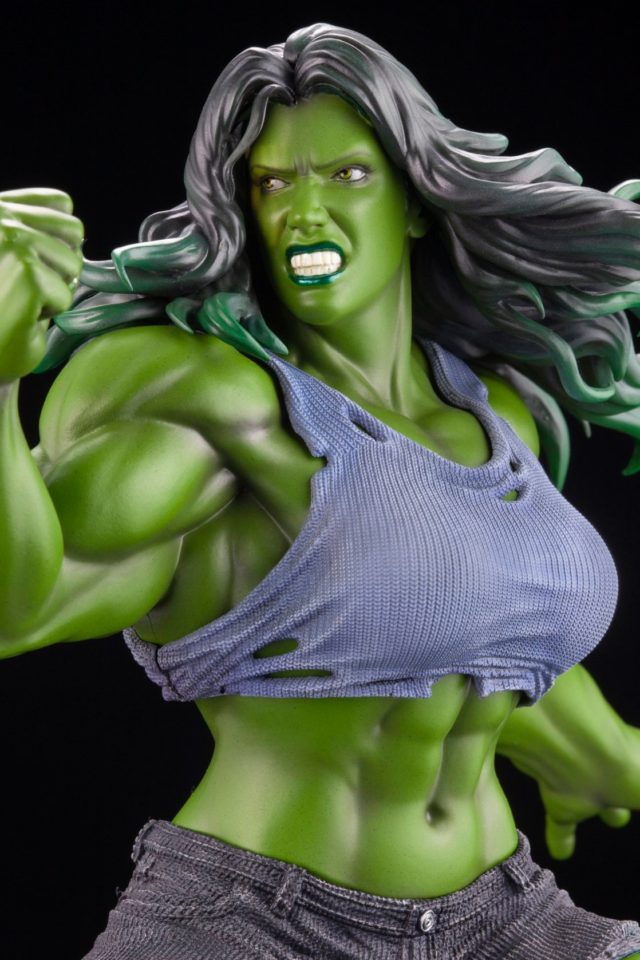 The Kotobukiya She-Hulk ARTFX Premier Statue is now up for order, and is scheduled for an estimated shipping date in November 2019. I don't think anyone necessarily needs to rush and order this one quickly in fear of it selling out, personally, but you can get 15 bucks off the MSRP if you place your PO with EE or BBTS.
Thoughts on the latest Koto Avengers Premier pre-order, Marvel collectors? Am I being too harsh on this piece (and its pricing)? Is anyone jumping for joy at this reveal and definitely planning to place an early pre-order?
The post Kotobukiya She-Hulk ARTFX Premier Statue Photos & Order Info! appeared first on Marvel Toy News.