"Spider-Man is the new Iron Man!" At least, that's what all the cool kid Hot Toys collectors are saying lately, as Hot Toys has put not one, not two, but three new 1/6 Spidey MMS figures up for order already this month. But hey, maybe the fourth time time will be the charm for those who haven't been seduced into picking up their own Spider-Man sixth scale figure yet: the Hot Toys Far From Home Upgraded Suit Spider-Man figure is now up for order! Is this the red-and-black costumed Spidey you've been waiting for?
Quick score-card of the various Spider-Man Movie Masterpiece Series (MMS) & Video Game Masterpiece series (VGM) figures up through now for those who haven't been following closely:
Homemade Suit (Homecoming)
Tech Suit (Homecoming) + Deluxe Ver.
Iron Spider (Infinity War)
Advanced Suit (PS4)
Spider-Punk (PS4)
Scarlet Spider (PS4)
Movie Promo Red-and-Blue (Far From Home)
Stealth Suit (Far From Home)
Upgraded Suit (Far From Home)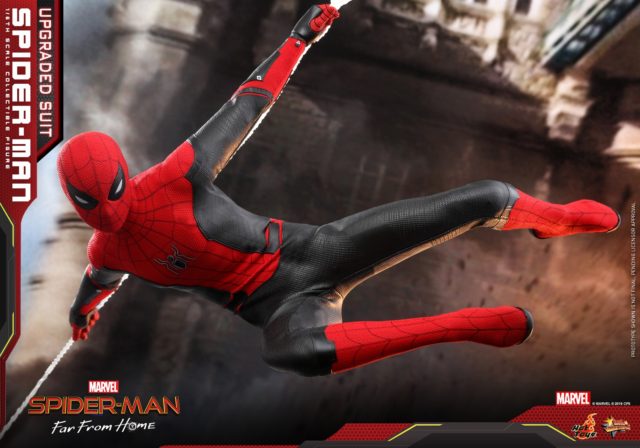 That's… a lot of Spideys in a pretty short span of time! But when a character appears in four blockbuster movies and the most critically-acclaimed superhero video game of all-time in just a two-year period, toy companies gotta represent, am I right?!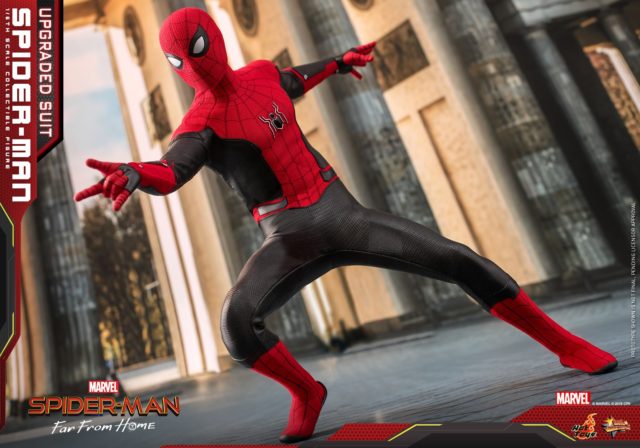 And so, for the ninth time since 2017, a new Hot Toys Spider-Man sixth scale figure is up for order! This time, it's the Upgrade Suit From Far From Home, which is the first time a red-and-black costume 1/6 Spidey figure has ever seen the light of day.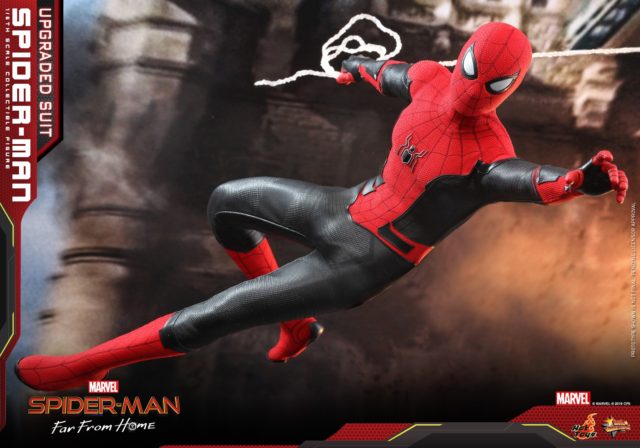 And, well… he looks pretty nifty. We've seen the traditional costume released twice now from Hot Toys, and this is pretty dang similar to that one besides the colors (as it should be). It feels a bit like a repaint of the Homecoming Tech Suit, but that's not a bad thing—that was an excellent figure.
There are many, many fans of Peter donning red and black instead of iconic red and blue, and as such I don't think there's any doubt this will be setting the collectibles world on fire sales-wise. This is a guaranteed hit for Hot Toys.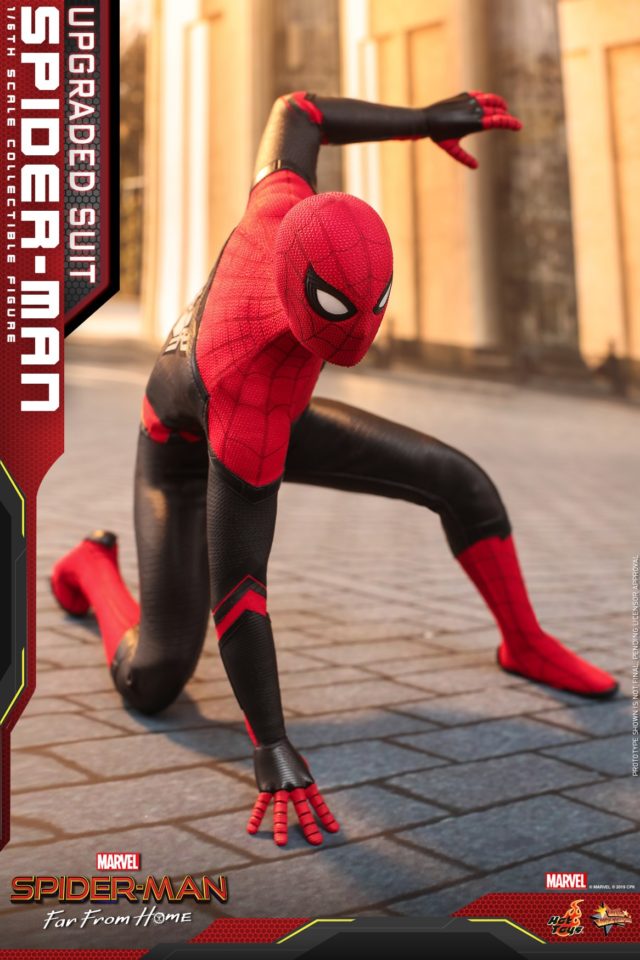 Many fans were hoping for a fully-sculpted masked head for this Upgraded Suit Spider-Man figure (a la the PS4 version), but this figure is definitely sporting a soft goods fabric mask. I think that's probably for the best, as a plastic-masked movie figure would likely be more jarring for a live-action based figure than it is for a video game-inspired one.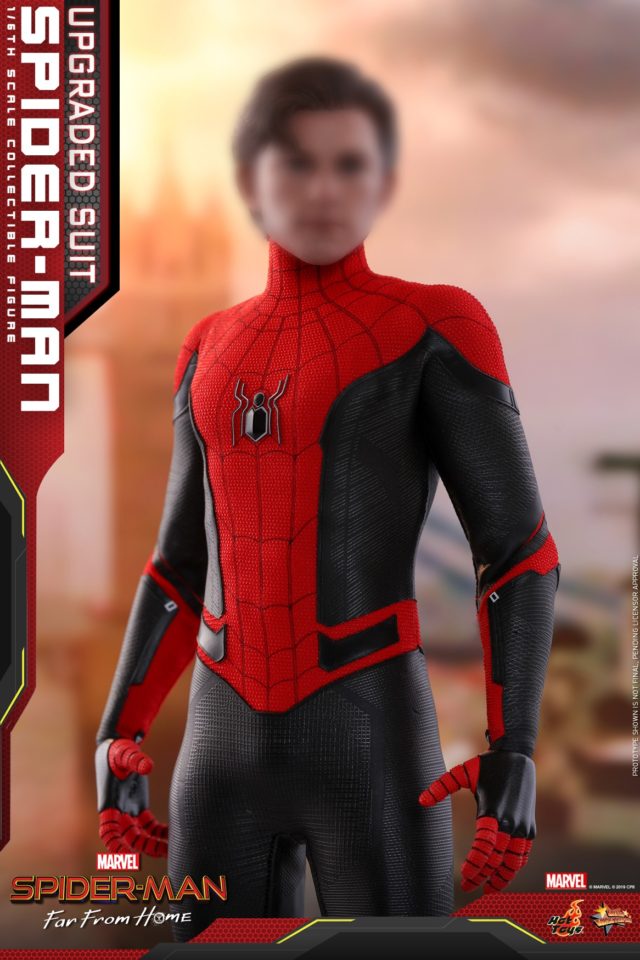 As expected, this is the FFH version of Spidey that will come packed with an interchangeable Tom Holland portrait Peter Parker head. The new sculpt is blurred out for now, but Hot Toys already knocked their previous Tom Holland head out of the ballpark, and I'm hoping the new version will be even better. Stay tuned for updates on that.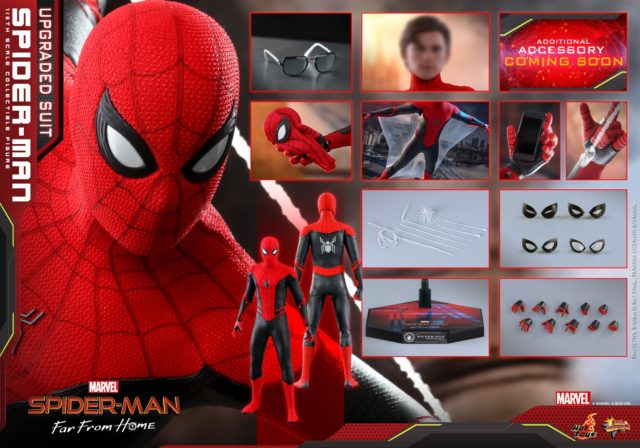 …And that's not the only accessory we can't see just yet! One "secret" accessory will also be included, but HT can't even confirm what it's going to be yet, so it must be pretty spoiler-iffic! Maybe a broken Mysterio helmet, maybe something else entirely. We'll have to wait and see!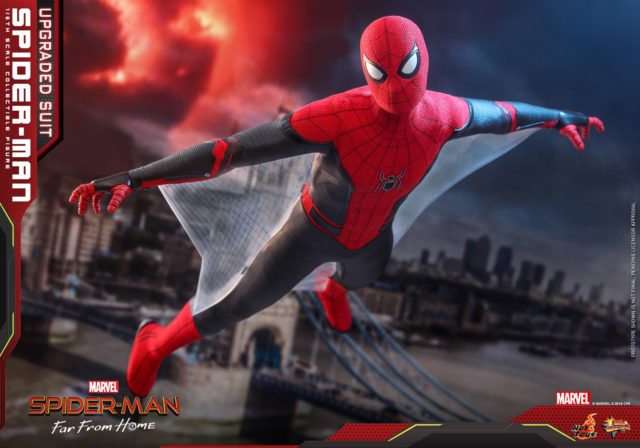 In addition, this figure will include a removed mask, sunglasses, multiple web lines, ten interchangeable hands, a smartphone, the web wings, a figure display stand and four sets on interchangeable eyes (although sadly no "Instant Kill" eyes yet again… sigh!).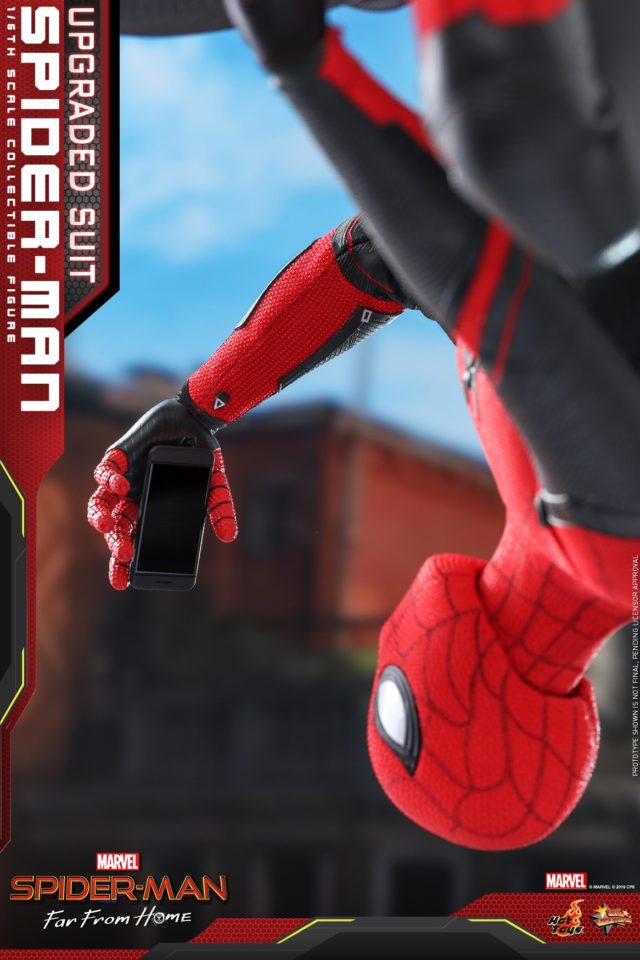 Plenty of accessories and interchangeable parts should make this a figure that's terrific for loads of display options. Even with quite a few different Spider-Man figures out there, he's such a dynamic character that you can really do something fresh with each one!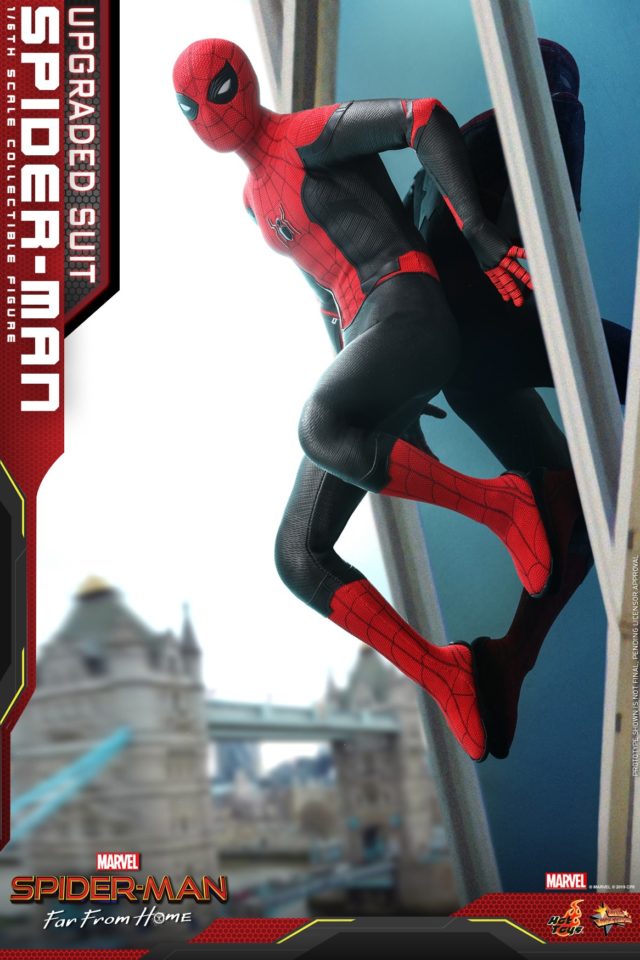 The Far From Home Hot Toys Spider-Man Upgraded Suit 1/6 figure is now up for order, and is scheduled to be released at the end of 2020. That's a long way away, which is a bit surprising since this doesn't appear to be a particularly complicated figure. Let's hope for the best and that this figure gets pushed forward in the release schedule, because I foresee a great many collectors ordering this piece.
This is likely to be the final new movie Spider-Man figure that Hot Toys does for quite a while—but is it a good one, Marvel collectors? Is this the best MMS Spidey to-date, and will you be opting to order this or any other 1/6 Spider-Man figure this year?
The post Hot Toys Upgraded Suit Spider-Man Far From Home Figure Up for Order! appeared first on Marvel Toy News.