Spider-Man is indeed the new Iron Man as far as Hot Toys is seemingly concerned. Hot Toys quickly created every suit from the first two MCU Spider-Man movies in sixth scale form, and now they've got something… bigger… on their minds! For the first time ever, Hot Toys is creating a non-Iron Man 1/4 character from the MCU: the Hot Toys Quarter-Scale Spider-Man figure is now up for order in deluxe and regular versions! He's bigger than ever—with a bigger than ever price as well…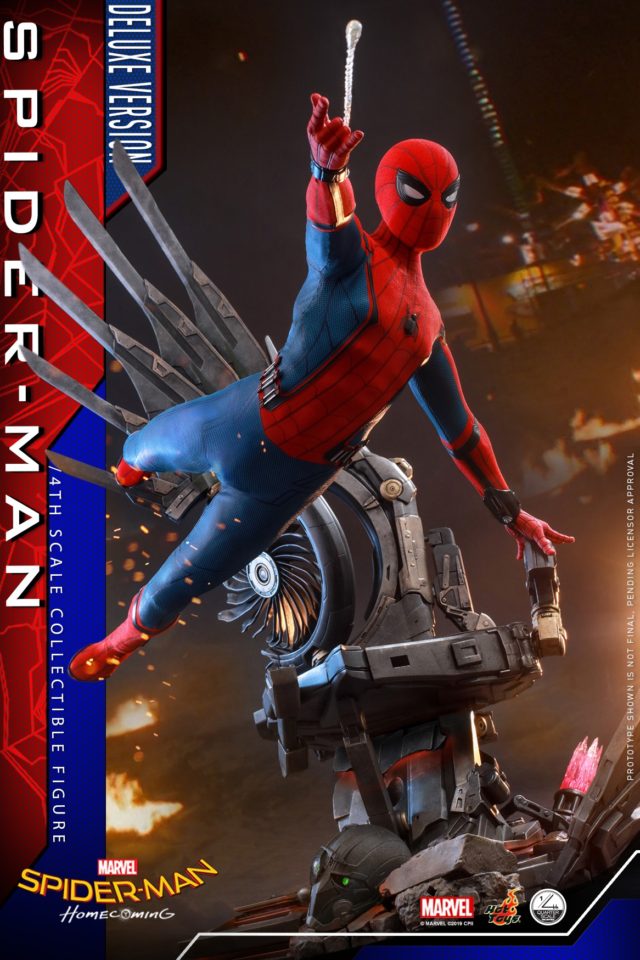 Iron Man's sun is setting in the Marvel Cinematic Universe, just as Spider-Man's star is rising. And so, Hot Toys has apparently chosen their next "heir apparent" to the throne, as they're making a Marvel 1/4 figure that's not Iron Man for the very first time ever.
This is kind of a big deal. Captain America didn't get a HT Quarter Scale figure. Thor didn't. Hulk didn't. Black Panther didn't. But just three years after making his first appearance in the Civil War movie, Spidey is! Is this momentous release worth getting hyped for?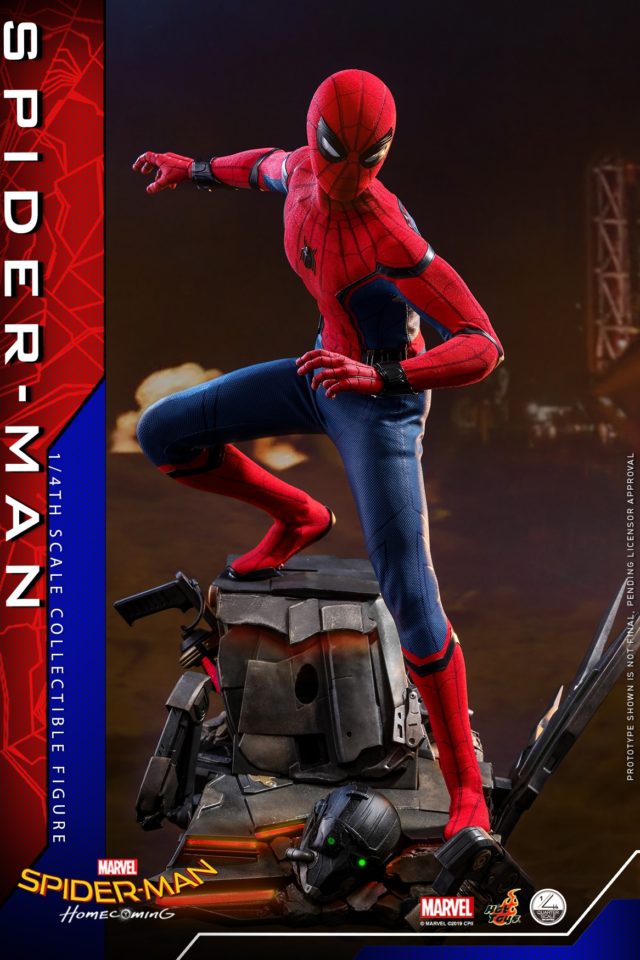 If you love the Stark Tech Suit Spider-Man MMS from Homecoming, well… sure! This is like that. But bigger! Basically, this looks nearly identical to the Homecoming red-and-blue costumed Spidey. The proportions seem relatively the same, and the super-articulation (31 points of articulation) is retained.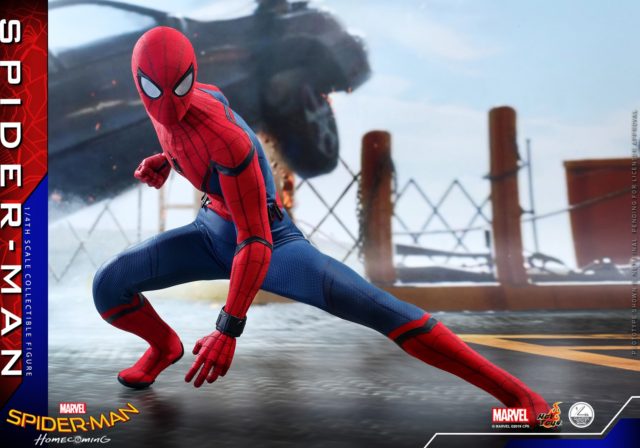 If you liked this figure in the 1:6 Scale size of 11" last year but wanted something more to-scale with your 1:4 statues, this 17" 1:4 Spider-Man may be for you.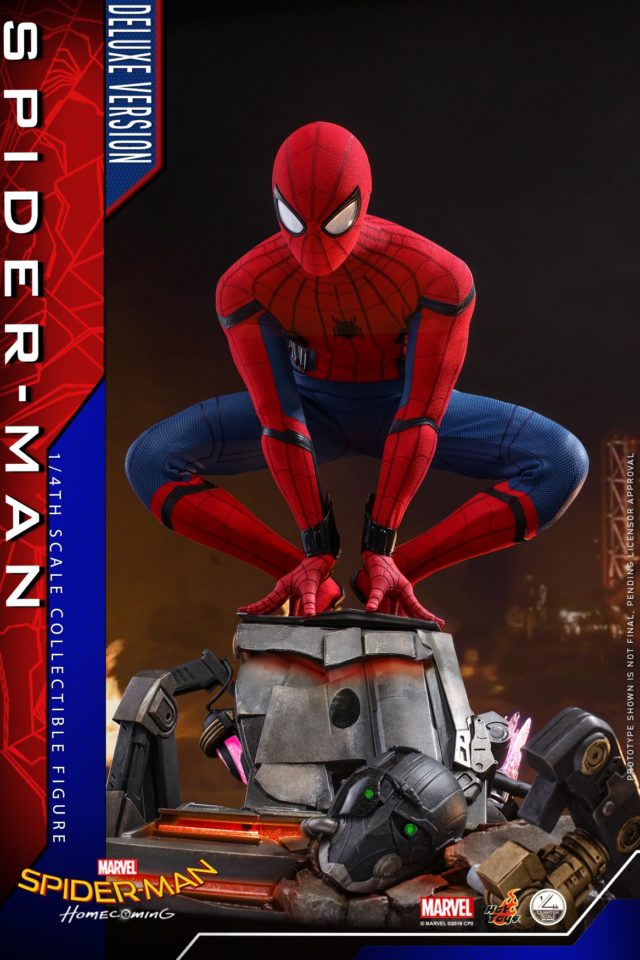 Of course, the figure isn't the only thing that's gotten bigger: so has the price—by leaps and bounds! Whereas every sixth scale Spidey Hot Toys has launched has been in the $200-$300 range, this Quarter Scale version is running a beefy $560-$622 depending on which version you want. That's more than doubling the price to add 50% in size, which will definitely throw many collectors for a loop.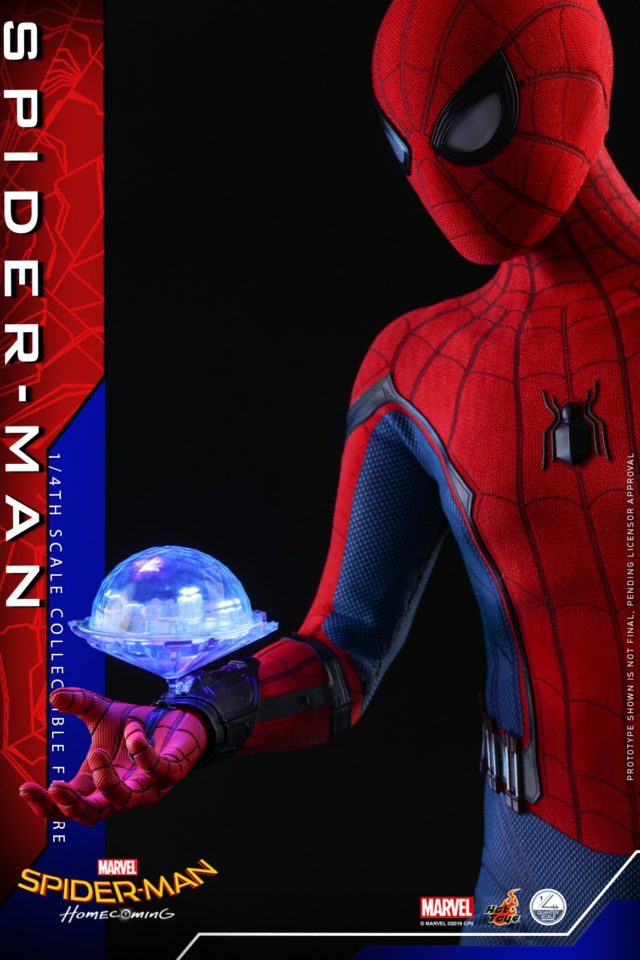 That said, when you consider that this is a brand new body for a super-articulated figure with elaborate base for the same price as a plain old quarter scale statue these days, the price sounds a whole lot more fair. Still feels high compared to what we're used to—but not outlandishly so.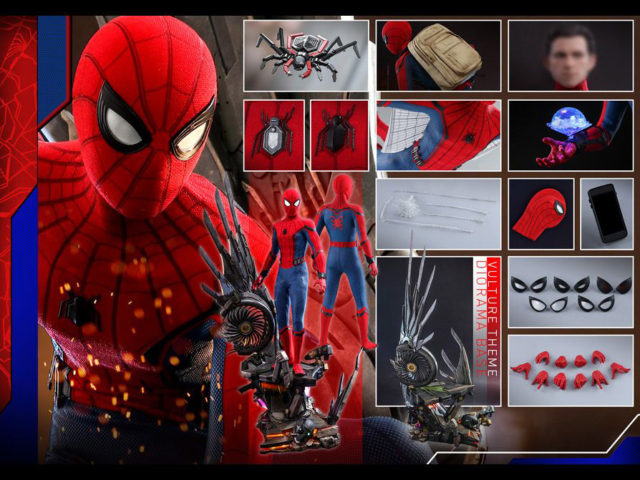 The sticker shock of the MSRP on this item is also soothed a little bit by the massive number of accessories that come with Spidey, which includes:
Alternate head
10 Pieces of interchangeable hands with black cobweb pattern

Pair of fists
Pair of relaxed hands
Pair of hands for cobweb shooting
Pair of hands for cobweb swinging
Pair of open hands

Newly developed red and blue colored Spider-Man suit embossed with grayish black trims, cobweb pattern and black spider emblem on chest
Pair of red-color boots embossed with grayish black cobweb pattern
Pair of black colored web shooter
Pair of magnetic web-wings
Spider Drone
GPS Projection mapping
Smart phone
Beige backpack
Spider-Man mask (not wearable on figure)
2 Pieces of Spider sense sticker
4 Strings of spider web in different shapes and lengths, attachable to the web-shooters
Open spider web effect accessory
Specially designed Spider-Man vs. Vulture fight inspired diorama dynamic figure base features 2 LED lighting modes including general light effect and breathing light effect (battery operated)
That is a generous helping of accessories, no doubt about it! I'd have liked a yellow academic decathalon blazer for Spidey to wear, but otherwise everything I'd be looking for is included with this figure. Nice work with plenty of display options.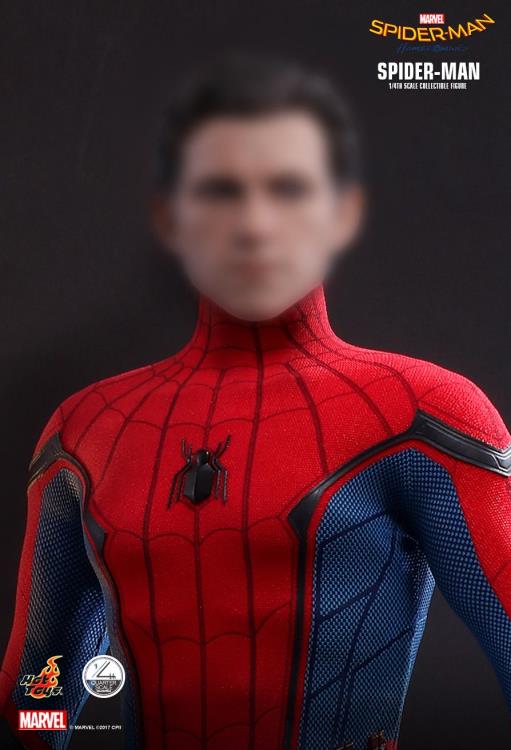 As you might have for from a $550+ action figure, there's an interchangeable Tom Holland portrait unmasked Peter Parker Head. The bad news is that we can't see it yet. HT's sculptors have nailed the Tom Holland likeness in the past, so I'm optimistic that this will eventually be another major success when we can see it (which is probably still a few months off).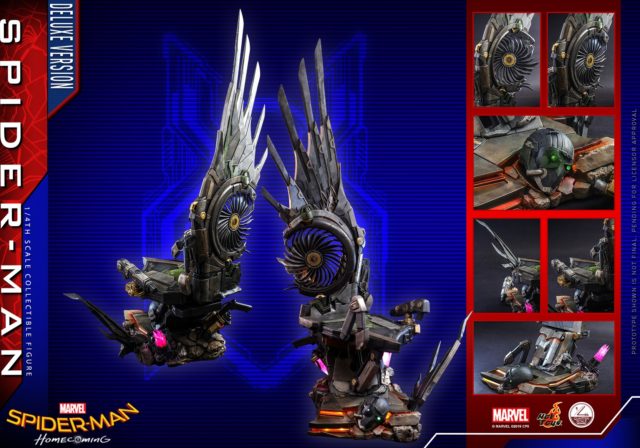 The "Deluxe" 1/4 Spider-Man figure comes with a few additional Vulture-related items that attach to the base for an extra $62.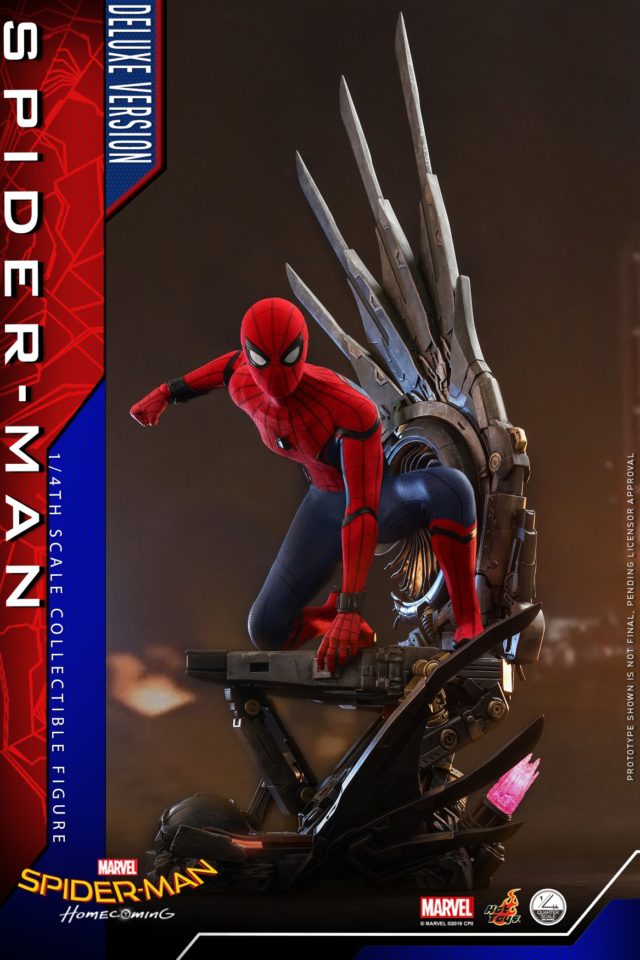 Ordinarily I would say that blowing 62 bucks on a couple of base add-ons is a waste of money, but since we're getting a full-on Hot Toys Vulture a week from never and Spidey does look pretty cool posed rocking out on the giant Vulture wing, I can see where some collectors are going to find this version well worth the surplus cash.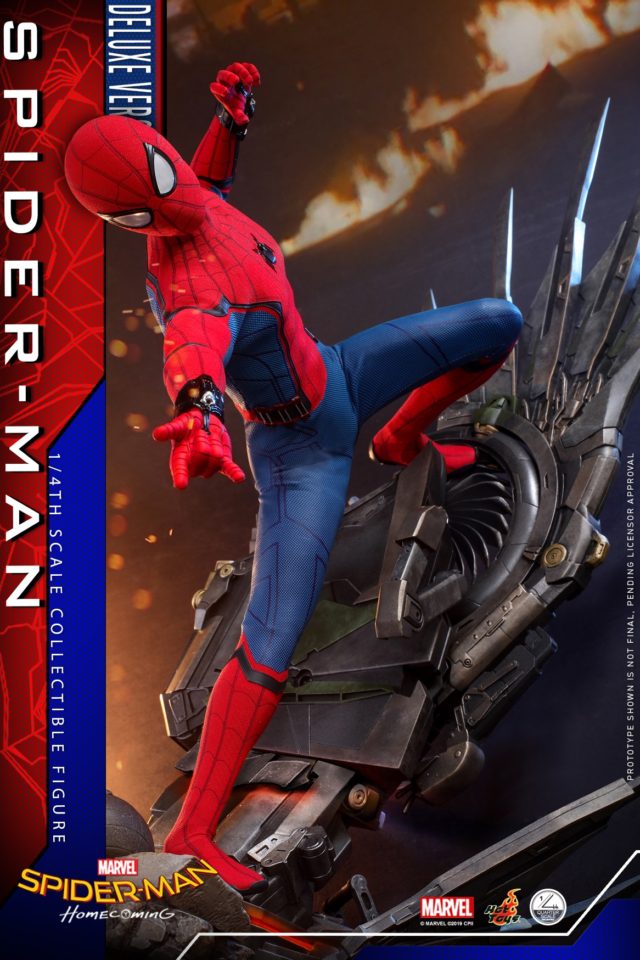 The Hot Toys Spider-Man Quarter Scale figure is now up for PO in regular and deluxe versions, and is set for release at the end of 2020. This gives plenty time of longer payment plans, which is a big plus given the $600+ price-point on the deluxe. This seems like a simple upsized figure, so I doubt it'll get delayed.
Hot Toys is confident enough in Spidey to launch him as their only non-Iron Man Marvel 1:4 figure ever—but are you confident enough in the quality and coolness of this figure to want to drop $560-$620 on it? Does this 1:4 Spidey look worth dropping mucho dinero on, or are you sticking with the 1:6 versions?
The post Hot Toys Quarter Scale Spider-Man Figure Up for Order! Deluxe Version! appeared first on Marvel Toy News.