She's back! Returning to the screen with an absolutely stunning look that originated in the comics, Natasha Romanoff in her snowsuit sets off on a dangerous mission in an arctic environment; reuniting with a group of spies from her past to stop a lethal force, who she knows before her working for S.H.I.E.L.D and The Avengers.
To get fans ready prior to Marvel's Black Widow theatrical release, Hot Toys presents a 1/6th scale Black Widow (Snow Suit Version) collectible figure, making a sharp contrast to her traditional all-black suit.
Beautifully crafted based on the screen appearance of Scarlett Johansson as Natasha Romanoff/Black Widow in the production of the same title, the figure features a newly developed head and hair sculpture with delicate workmanship, finely tailored white tactical uniform, highly-detailed weapons including a pair of standard batons and a pair of articulated batons with 3 types of interchangeable tips enable different battling styles, pistols, multiple pieces of interchangeable hands for signature poses, and a movie-themed figure stand.
Release date: Approximately Q3 – Q4, 2022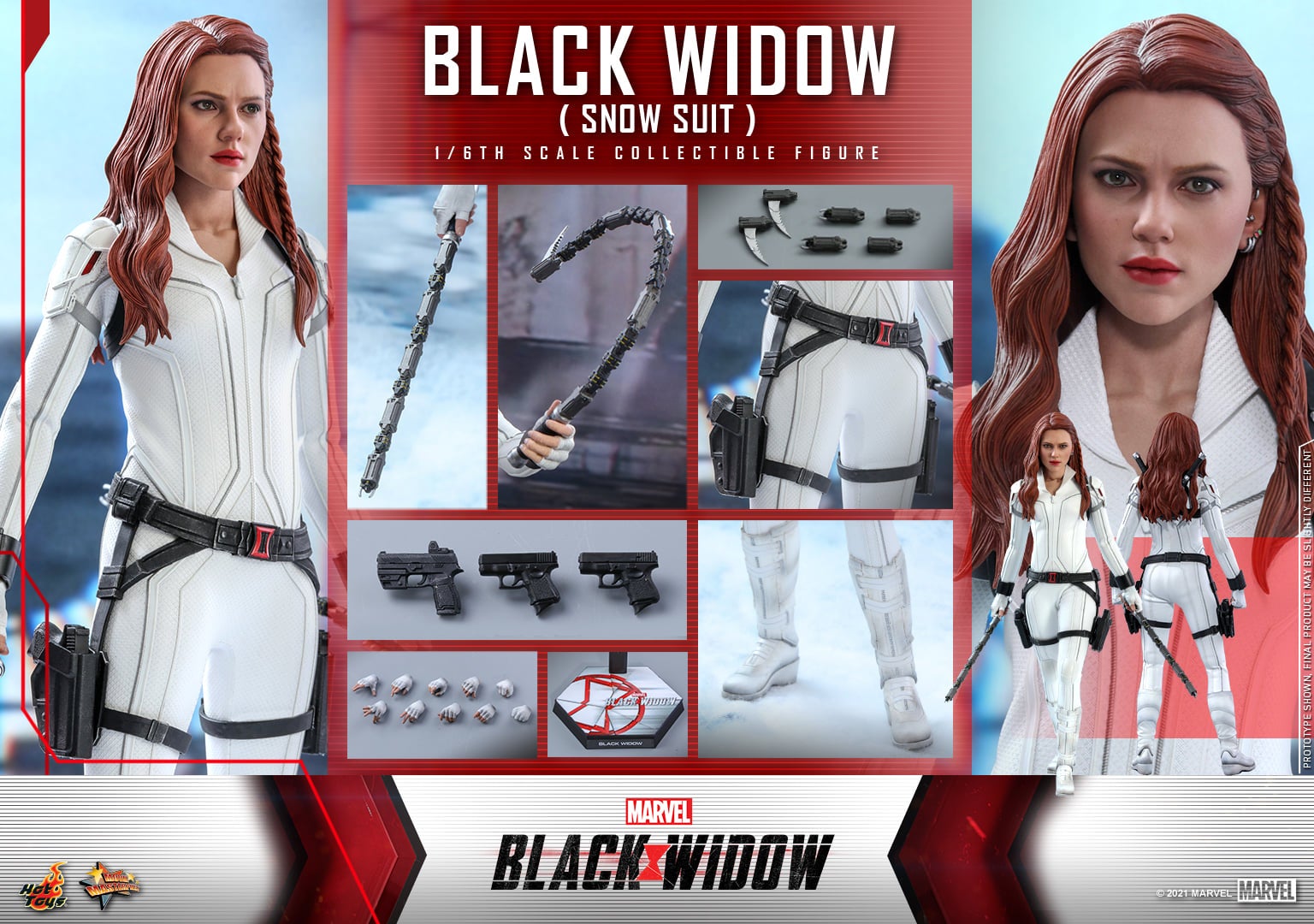 Hot Toys – [MMS601] – Black Widow – 1/6th scale Black Widow (Snow Suit) Collectible Figure
Newly developed head sculpt with authentic and detailed likeness of Scarlett Johansson as Black Widow in Black Widow
Movie-accurate facial expression and make-up
Highly detailed reddish-brown hair sculpture of Black Widow
Body with over 28 points of articulation
Approximately 28 cm tall
Ten (10) pieces of interchangeable hands including:
One (1) pair of fists
One (1) pair of baton holding hands
One (1) pair of pistol holding hands
Two (2) pairs of gesture hands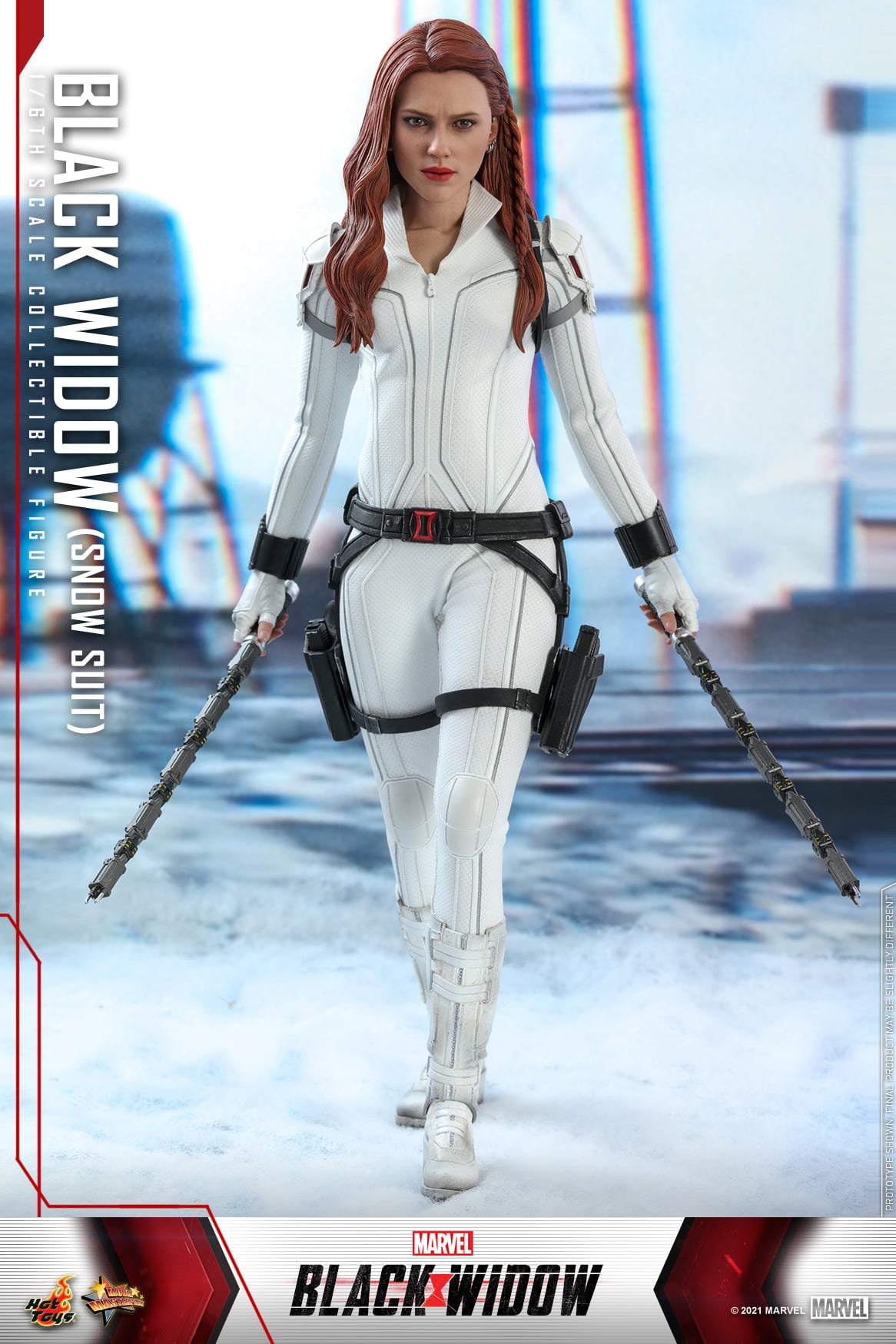 Costume:
One (1) newly developed white-colored one-piece jumpsuit with shoulder armor
One (1) pair of black-colored wrist guards
One (1) black-colored belt with pistol holsters on thighs
One (1) pair of white-colored platform boots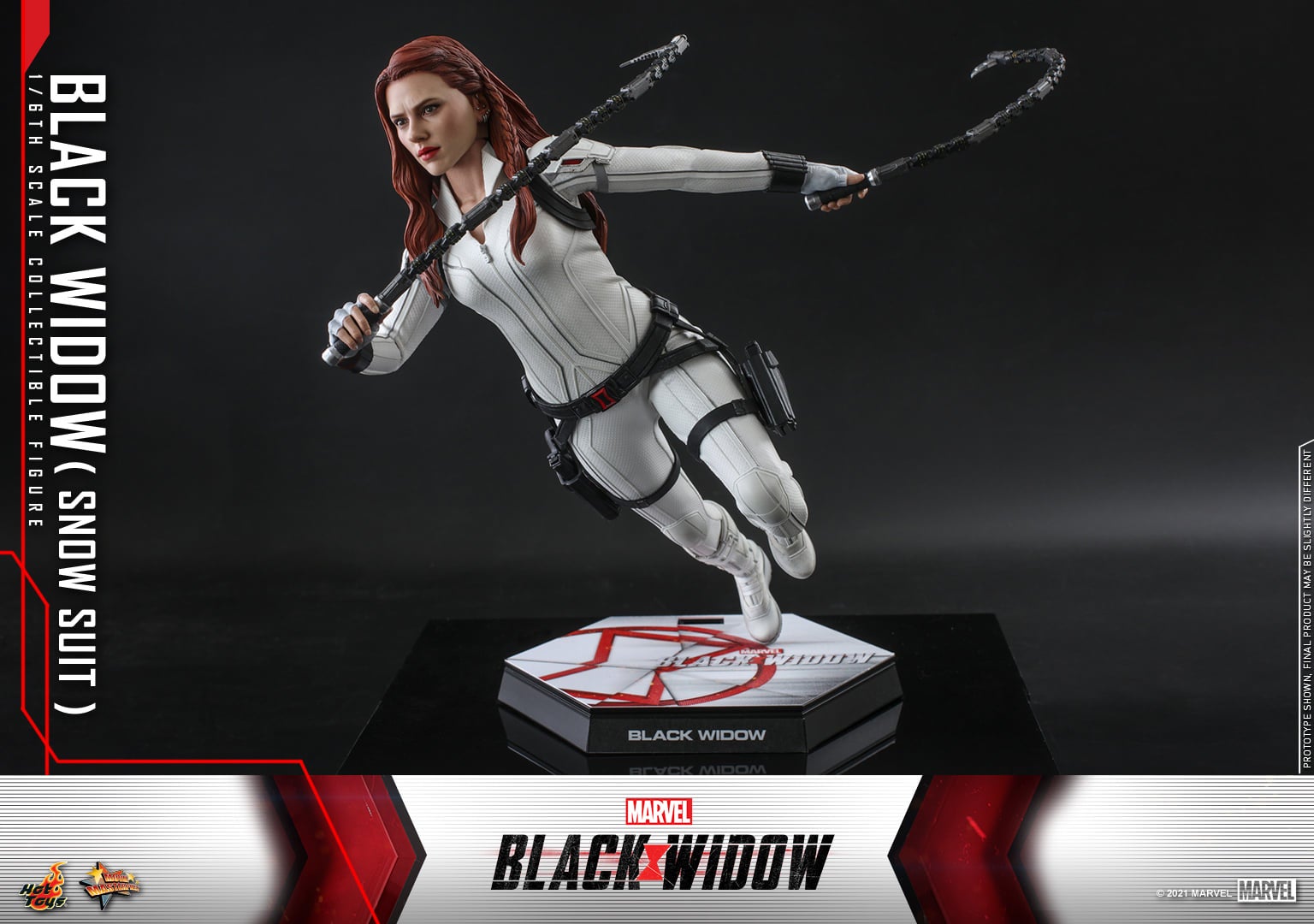 Weapons:
One (1) pair of batons
One (1) pair of articulated batons
Three (3) pairs of interchangeable baton tips in different styles (normal, stun batons, and ice picks)
Three (3) pistols
Accessories:
One (1) non-detachable baton backpack with two (2) removeable baton handles
A themed figure stand with movie logo and character name plate
*Prototype shown, final product may be slightly different
**Product details could be subjected to change without further notice
[See image gallery at www.figures.com]
---