When Hot Toys debuted their lineup of Guardians of the Galaxy Vol. 2 lineup of Movie Masterpiece Series sixth scale figures last year, many fans who missed out on the team from the first movie or who just wanted upgrades rejoiced. But over a year later, two of those prototypes had yet to be put up for sale. While it's still unclear when or if we'll get a new Drax, though, at least Zoe Saldana fans are finally being serviced: the new Hot Toys Gamora figure is now up for order!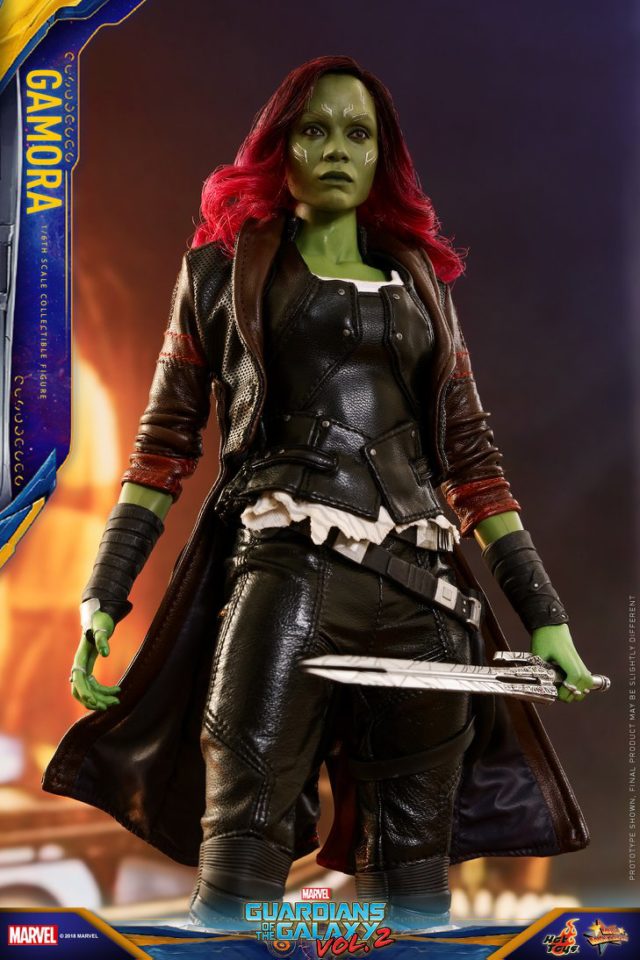 The inaugural Hot Toys Gamora 1/6 figure from the first Guardians of the Galaxy didn't exactly set the world on fire, as Gamora's role in that movie wasn't the greatest and the figure itself suffered with some real quality-control issues on the uncovered arms.
When we first saw Gamora's sleeved look as part of her new costume for GOTG Vol. 2, many collectors were ready for an "upgrade"—but it looked like that figure might not ever actually come out. Thankfully, Gamora has a vital part in Infinity War wearing the same costume, and now she's able to be an equally vital part of our collections for both movie lineups!
While at a glance you might not realize it, Hot Toys went all-out and created a brand new Zoe Saldana likeness Gamora head for this figure. I've seen some grumbles that the expression is too emotionless, but as Gamora is about THE least emotive major character in the whole MCU, I've got zero problems with the expression. I think Hot Toys nailed this one.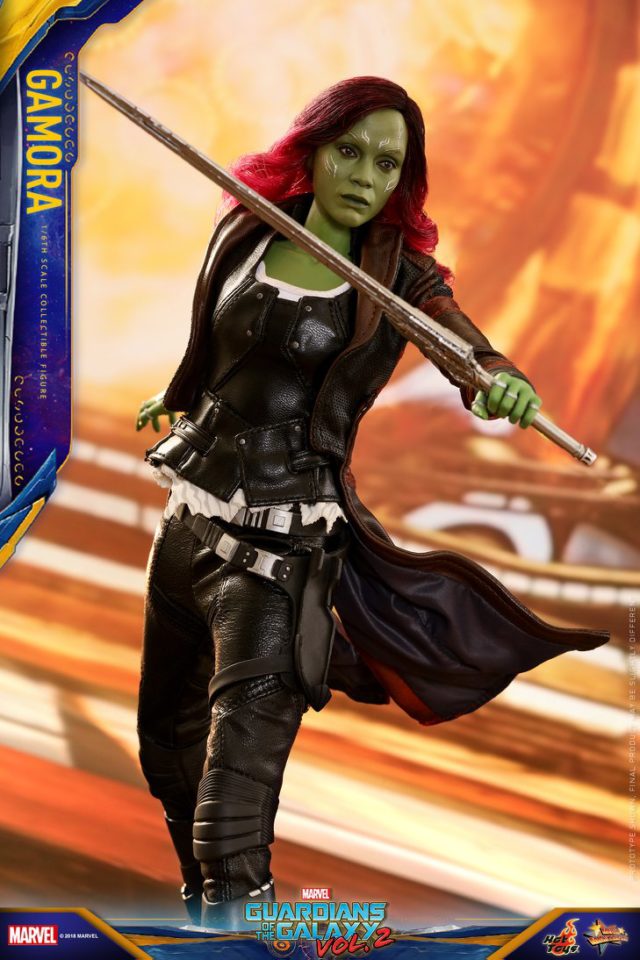 I always felt like Gamora was the weak link characterization-wise in the two Guardians of the Galaxy movies, but I really bonded with her for the first time in Avengers Infinity War, so I'm thrilled we're getting this figure of her that can reasonably be used for either of her two latest appearances.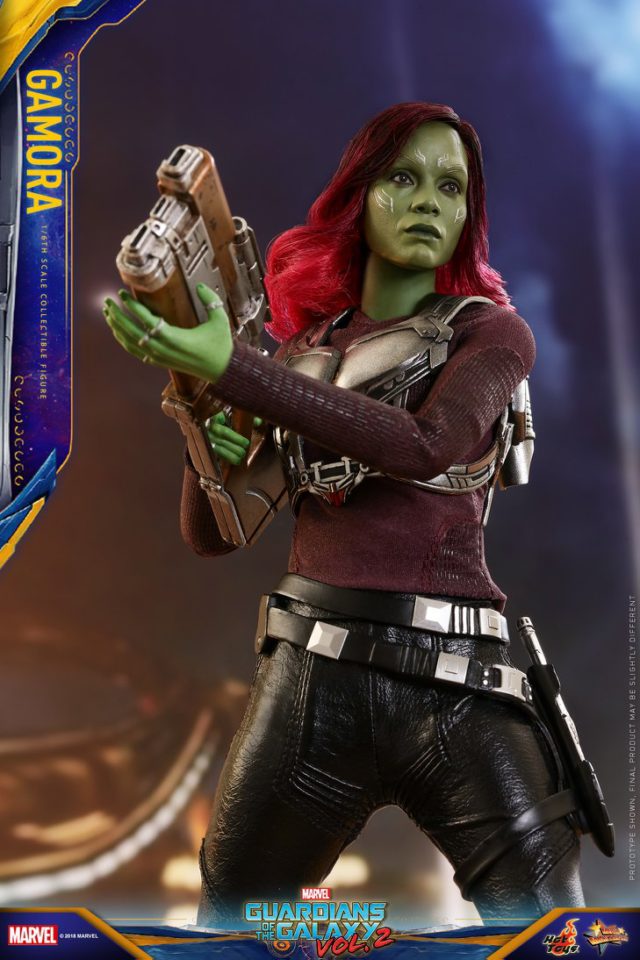 The jacketed look on Gamora looks absolutely fantastic, but if you're wanting to recreate her jetpack-wearing look instead, the parts are included to dress her up in the Aerorig as well. This isn't the mode I'll ever be displaying mine is, but kudos to Hot Toys for giving us the option!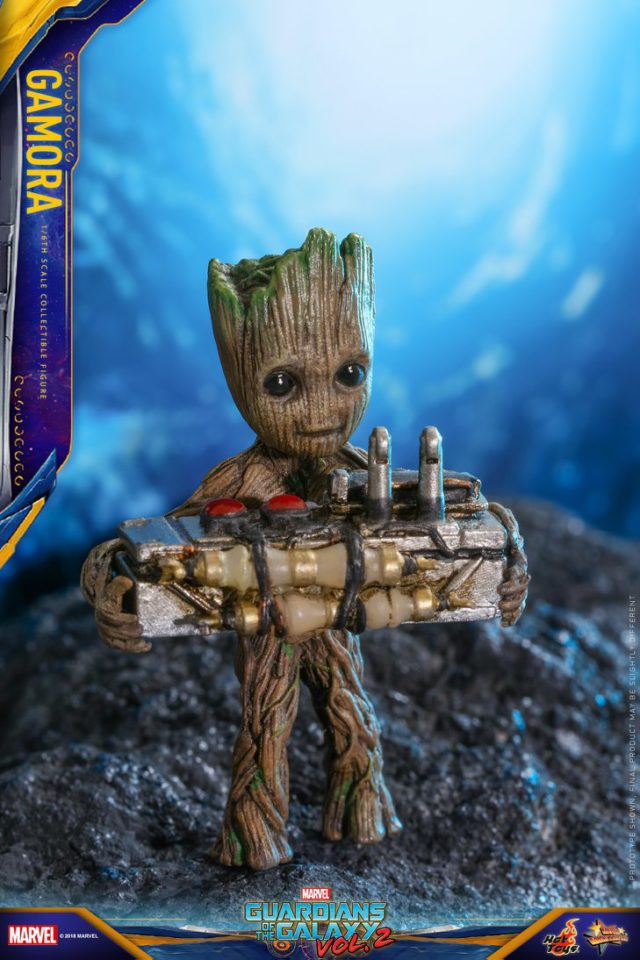 Like Rocket Raccoon and Star-Lord before her, Gamora won't be coming alone. She's packed with her own exclusive figurine of Baby Groot, who comes clutching the iconic bomb (with button!) this time out. I can't get enough of these little Groot figures, and I'm delighted to get such a notable one as a pack-in here. Good stuff!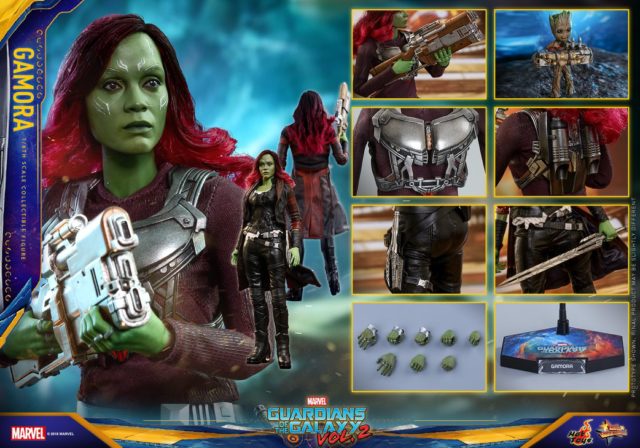 Along with Groot and the Aerorig jetpack, the 11″ Gamora figure will also include eight interchangeable hands, a folded-up sword, a fully-extended sword and a decent-sized blaster rifle.
I know that there's a couple other certain accessories that are Avengers Infinity War-specific that fans would like to have, but as this is specifically branded as being a Guardians of the Galaxy 2 MMS figure, I think we're going to have to make due without. Alas. (Maybe those accessories could come with a future Armored Thanos figure.)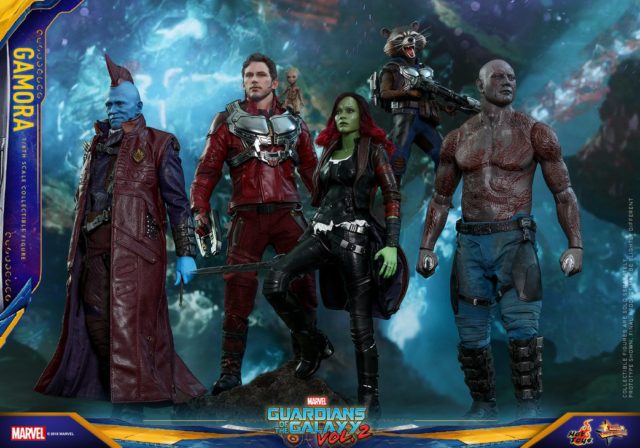 The Hot Toys Gamora Infinity War/GOTG Vol. 2 figure is now up for order, and is scheduled to be released in Q2 2019. Given Gamora's critical role in Avengers Infinity War and the number of people who skipped the first version of her, I think this may be a surprise hit for Hot Toys with much better sale numbers than they may be expecting.
It's taken her an extra year to reach the pre-order stage, but better late than never, right? Those of you who weren't planning on getting a 1/6 Gamora Hot Toys figure in this costume: Did Infinity War change your mind? And at this point, are you ready for Hot Toys to complete the team again with a new Drax, or are you satisfied with the original version?
The post Hot Toys Gamora Figure Up for Order! Infinity War/GOTG 2 appeared first on Marvel Toy News.