MORE THAN MEETS THE EYE
In 1984, Hasbro unleashed the TRANSFORMERS, robot toys that "transformed" into familiar items and vehicles, such as guns, cars and jets. My first Transformers action figure was Soundwave, a Generation One Decepticon that converted into a music cassette tape player. While the alt-mode technology for Transformers toys has changed over the years (or not, VW Bugs are still around), the fact remains that Transformers is now a household name. A pop culture phenomenon, Hasbro's Transformers is recognized on a global scale for it's blockbuster movies, numerous animated series, comics, apparel and much, much more. It really makes no difference if you own a Transformers toy or not; everyone and their mother's cousin's neighbor KNOWS the Transformers brand name.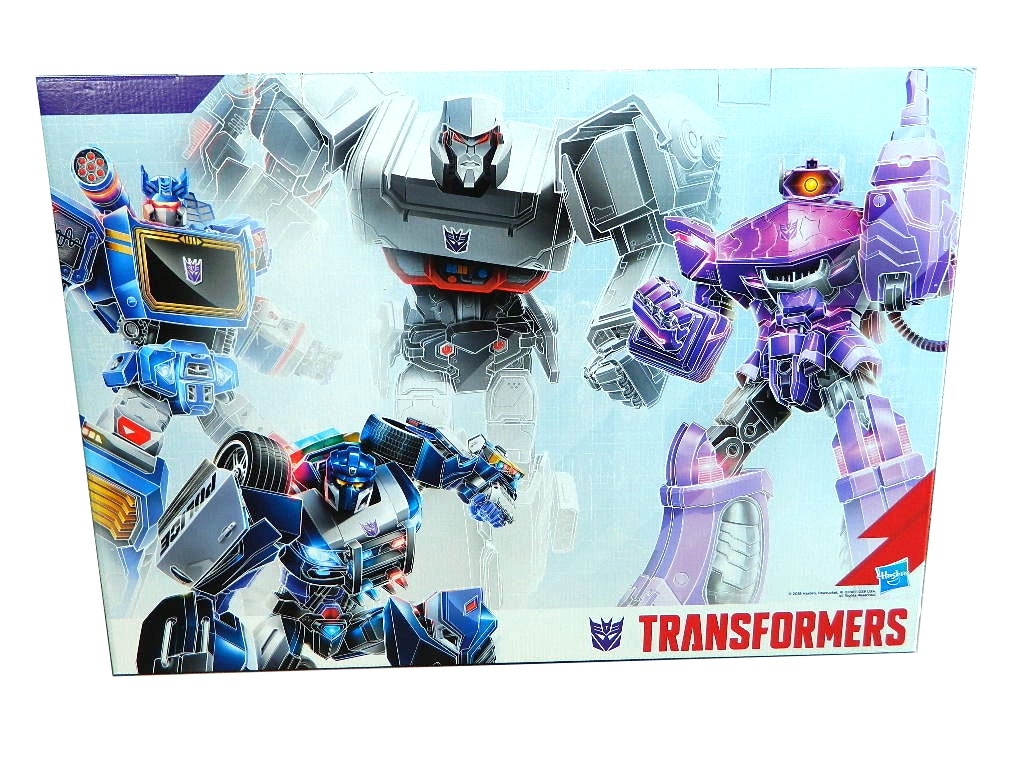 2019 marks the 35th anniversary of the Transformers franchise, and Hasbro is celebrating the endless battle between the Autobots and Decepticons with what they do best: Releasing new Transformers toys. With such a long, rich history now known by millions, Hasbro has their work cut out for them, not only in pleasing all age groups (kids love them some Bumblebee!), but also passionate long-time Transformers fans, including this original G1 Soundwave guy.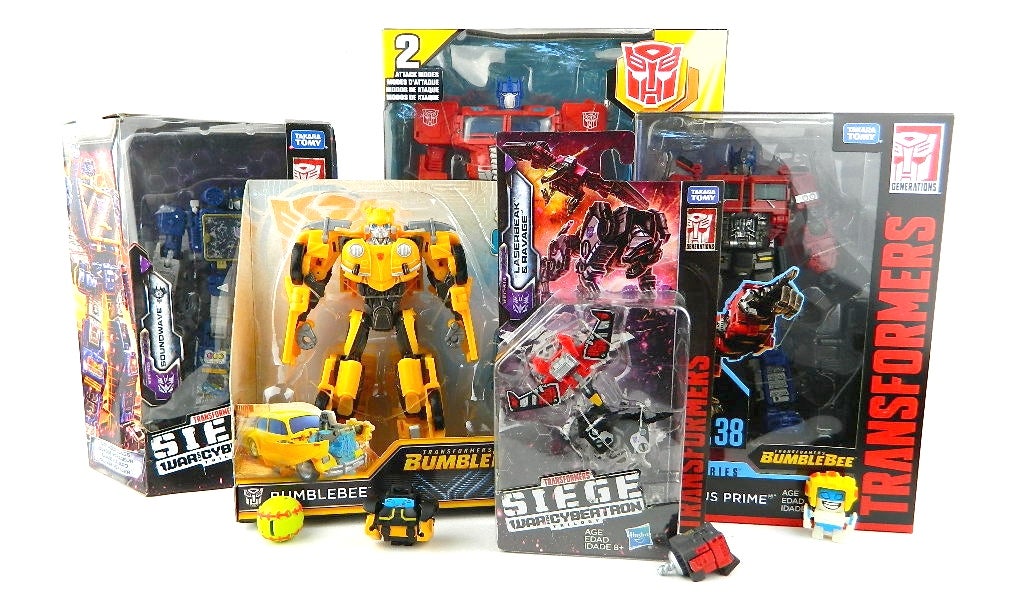 To help me share this milestone in Transformers' history, Hasbro was kind enough to send over a HUGE sampling of their new 2019 Transformers toys, all packed in an equally huge Transformers box awesomely decorated with Autobot and Decepticon art (A huge shout out to the design team behind the pack- great job!). Here's what was inside and how fans can join the Transformers 35th anniversary celebration…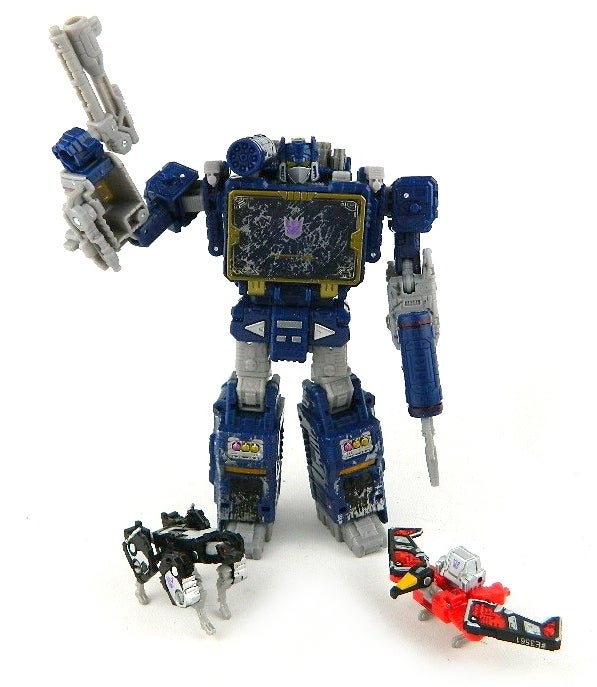 SIEGE: WAR FOR CYBERTRON
The main thrust of Hasbro's 2019 Transformers toy line is a focus on the simple theme that started it all: Autobots (good) versus Decepticons (bad). Branded Siege: War For Cybertron, the toy line stars all your favorite Transformers characters featuring familiar, yet modernized Generation One appearances… that are battle damaged. War between these feuding robot tribes is the name of the game after all, and Hasbro hammers that point across with brutal, bruised and battered deco.
The Soundwave sample I received (THANK YOU Hasbro!) is pure awesomeness. Being old school, I'm not crazy about his alternate space cruiser mode, but it certainly makes sense in the modern scheme of things. Certainly more so than an analog cassette tape player(and don't get me started on that fugly Soundwave MP3 player version).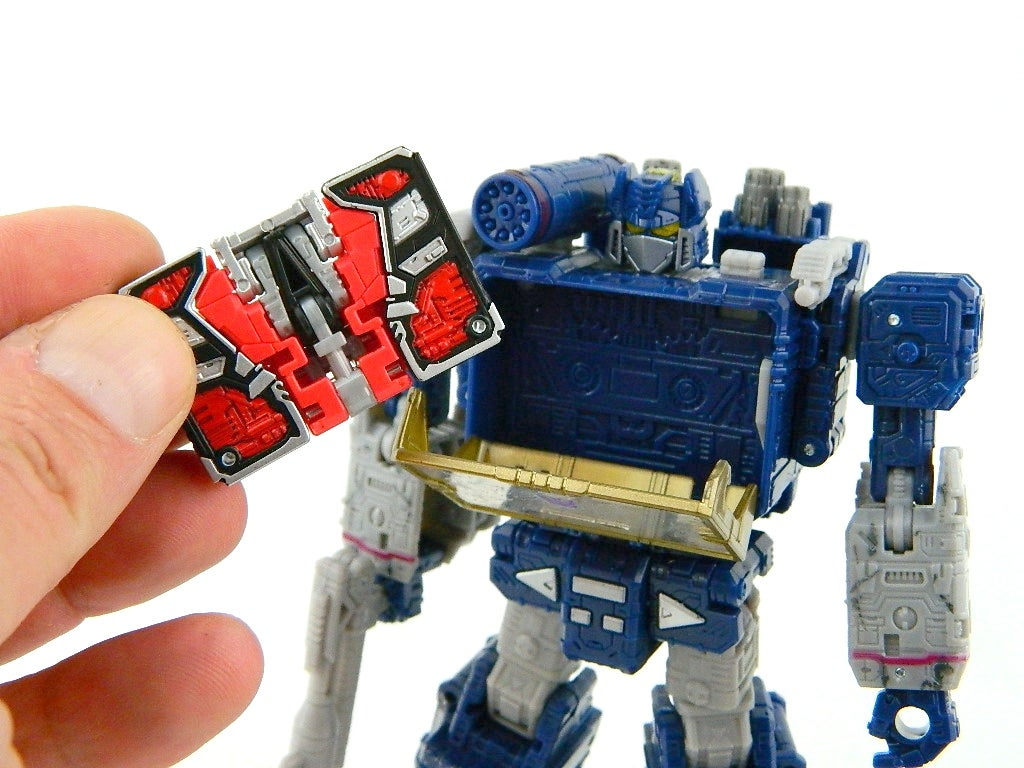 What's extra cool about the new Siege: War For Cybertron figures is that they can evolve – where smaller Transformers figures (sold separately, of course) can be used or combined with other figures in the series. These include Battle Master and Micromaster packs which can be used to create new accessories and weapons. For example, the Ravage and Laserbeak 2-pack I was provided with can convert into, err, Cybertronian cassette tapes? Regardless, collectors can actually insert the converted Ravage and Laserbeak into Soundwave's chest – providing newbies the exciting play feature that long-time Transformers fans have loved for decades. It's a win-win for Transformers fans young and old.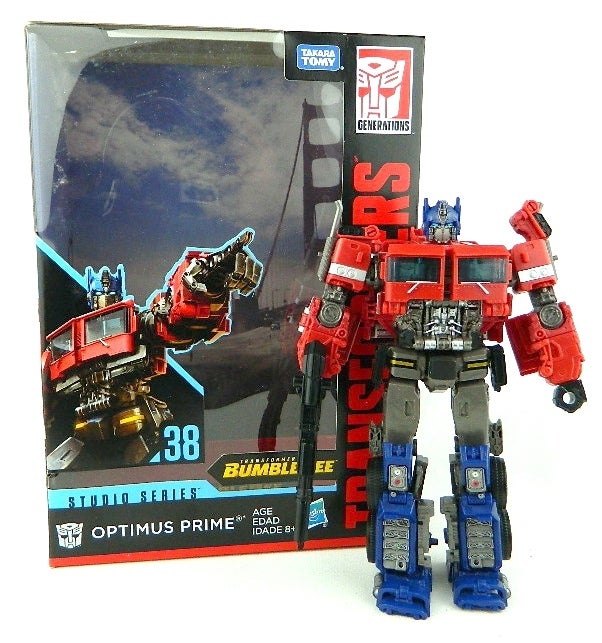 MOVIE MAYHEM
Movies are another strong focal point for Hasbro's Transformers line and have been since the first Michael Bay film exploded into theaters back in 2007. With SIX movies now under their belt, including last year's runaway hit Bumblebee, Hasbro is embracing the film franchise with the Transformers Studio Series. Starring characters pulled from the entire Transformers movie catalog, the Studio Series features figures that are not only highly movie-accurate in sculpt, but also extremely complex to convert.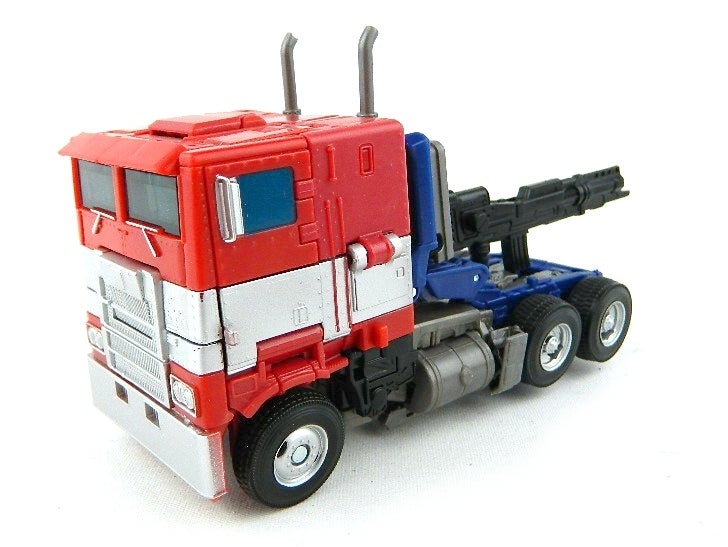 I was quite impressed with the Voyager Class Optimus Prime I received. The engineering that went into his semi-truck conversion seriously challenged me, even with instructions. G1 Optimus Prime this is not. More like Rubik's Optimus Prime.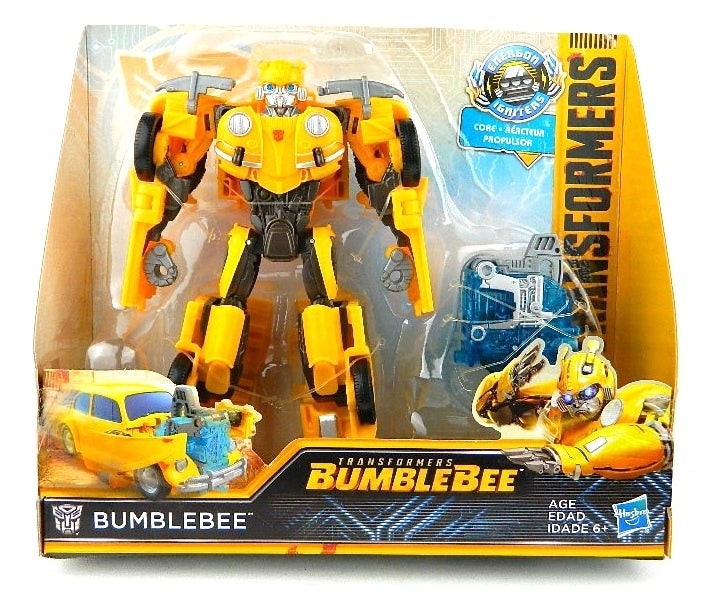 On the flip side, the "Energon Igniter" Nitro Series Bumblebee I received proved to be a much easier build, although it is still no slouch. Banking on the success of the Bumblebee movie, the figure is aimed at a younger audience, featuring a fun action gimmick in the form of a Energon-powered engine that kid's can place in the hood.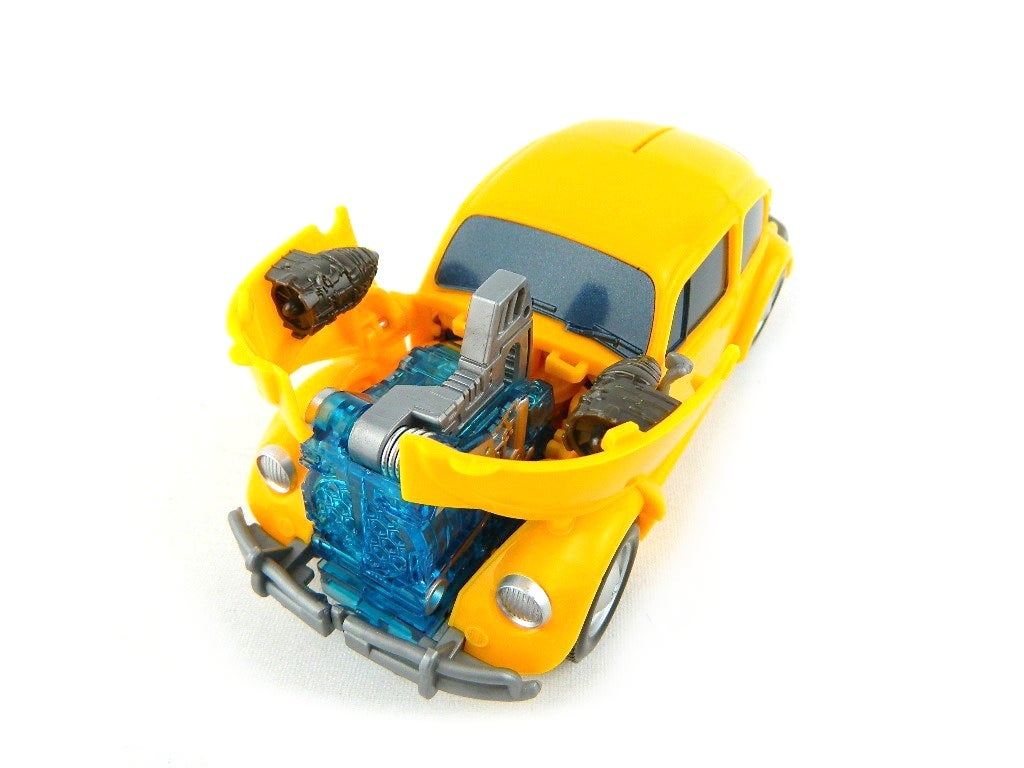 Push down on the lever for high-octane racing action! Autobots, roll out!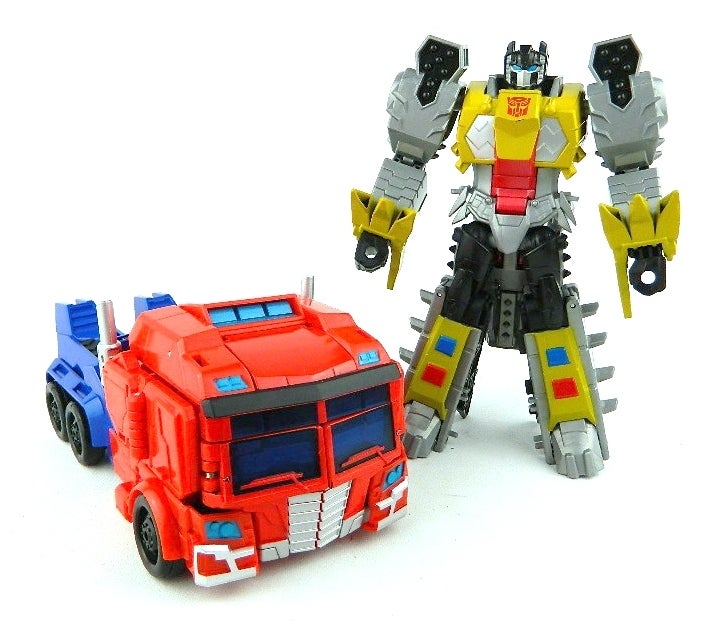 CARTOON CRAZY
Hasbro also hasn't forgotten the Transformers' roots as an animated series. Tapping the newest CGI installment – Transformers: Cyberverse – Hasbro's toy line leans heavy on stylized good cartoon looks and a relatively simple conversion process that activates an action gimmick.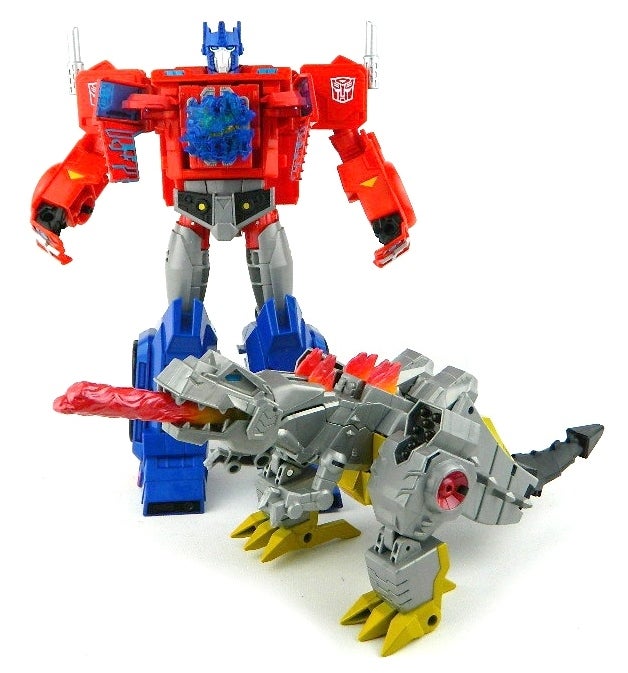 The collector in me appreciated the 'toon-accurate appearance of the Optimus Prime and Grimlock samples I received. And while I found their action gimmicks awkward (read: triggering without warning), I can totally see kids getting excited over Prime's "Matrix Mega Shot" and Grimlock's "Rocket Roar".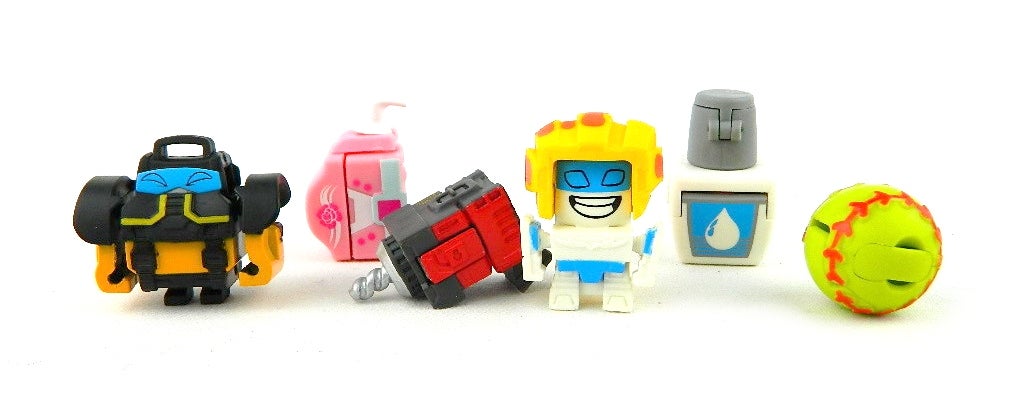 BOTBOTS
Not to be overlooked, Hasbro packed in some Transformers BotBots to remind you about their awesome new mystery minifigures. To find out all about this fun series, check out my Transformers BotBots Series 1 review HERE and my Transformers BotBots Series 2 review HERE!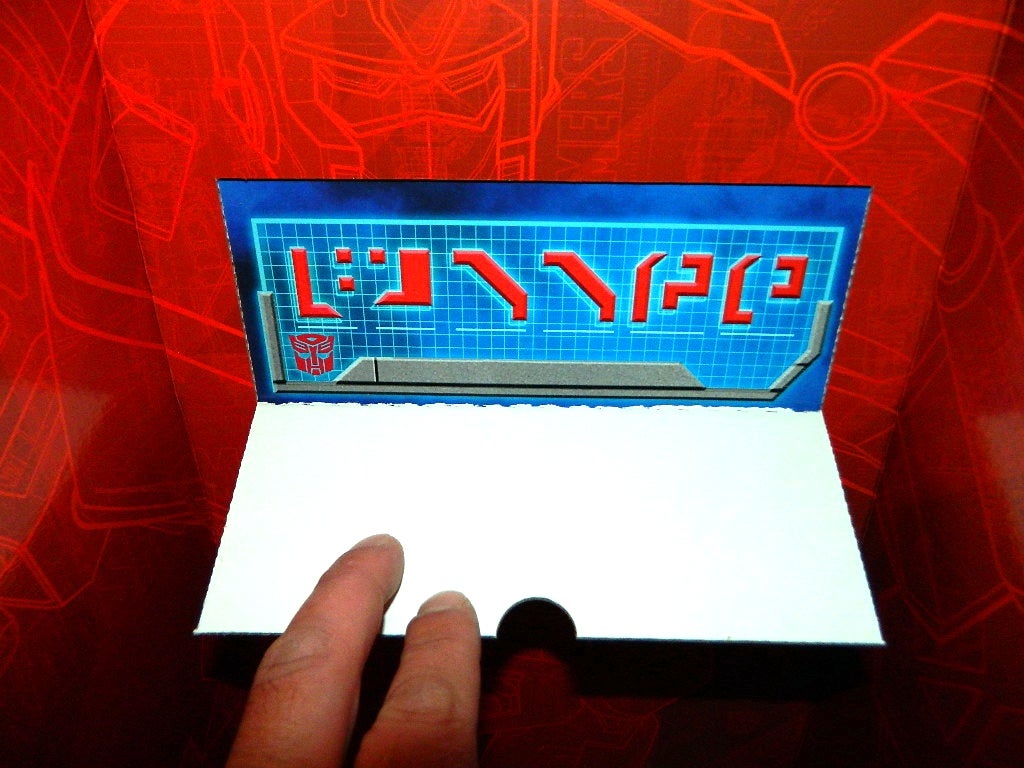 A BOLD NEW ERA
Wrapping up our overview of Hasbro's Transformers 35th anniversary care package is the box itself. Tucked behind all the samples was a hidden flap that revealed a secret Cybertronian message. Hasbro provided a website to decode the message, which revealed (*drum roll*)…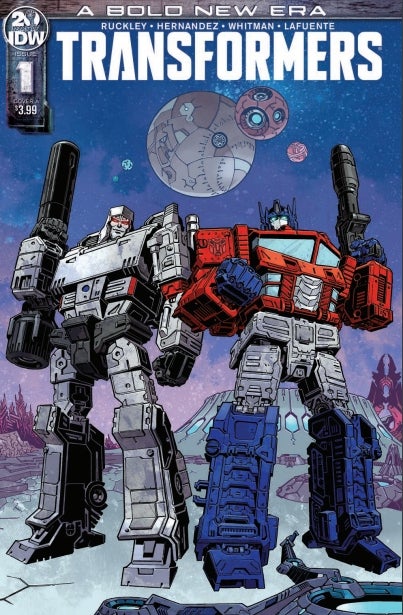 A PDF file of the first issue of IDW's new Transformers comic! Check it out HERE. Enjoy!
Scroll on for more images!
Review and Photos by Jeff Saylor
Review Samples Courtesy of Hasbro
[See image gallery at www.figures.com]
---
Keep up with all the latest toy news by following Figures.com on Facebook and Twitter!
To buy action figures, take a look at Hobby Link Japan, BigBadToyStore.com, TheToySource.com, Toynk.com, and BriansToys.com.