Just like you should never underestimate a droid, you should never underestimate Funko. When Funko launched their inaugural series of Venomized POP Vinyls in summer 2018 featuring characters like Venom Hulk and Venom Captain America, I thought the series would find a niche audience and then fizzle out. Instead, two years later, they're kicking off 2020 with a third wave of the best-selling line: the Funko POP Venomized Punisher, Ultron, Miles, Baby Groot and more are now up for order! And oh yeah—there's a Hot Topic Exclusive Green Goblin Venom up for PO as well…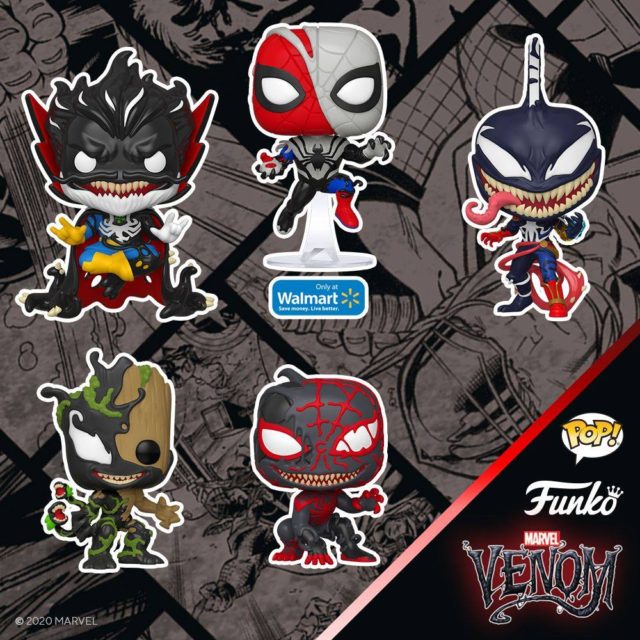 I like to think I've got my finger fairly on the pulse of what Marvel collectors will think is hot (or not), but I severely underestimated how popular the Venomized POP Vinyls series featuring Venom-like symbiote versions of icons like Iron Man, Loki and Black Panther was going to be.
And so, just around a year and a half since the first wave was revealed, Funko has now announced their most ambitious lineup of Venomized Marvel POPs (and more!) yet! Let's take a look…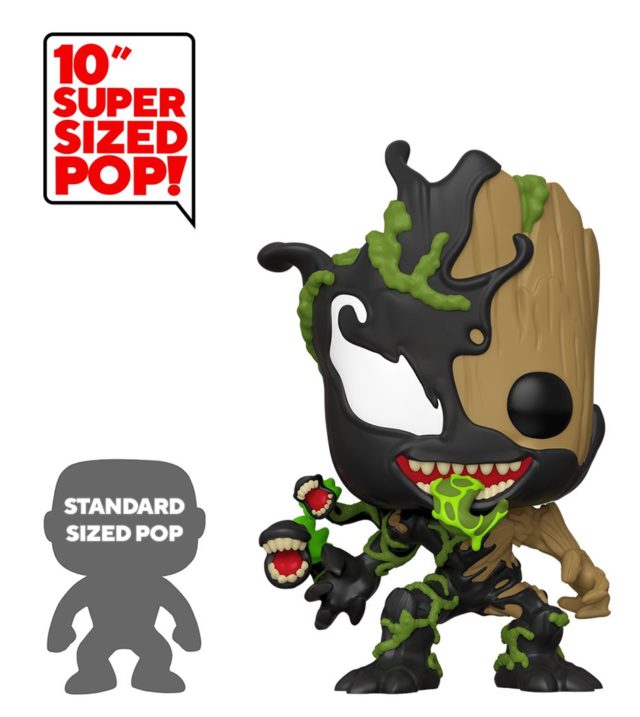 The most horrific (and badass) figure in the wave is definitely the movie-styled Baby Groot, which has a happy tongue-dripping smile that's a crazy mix of wickedness and adorableness. He comes in both normal and Super-Sized versions. Baby Groot from GOTG Vol. 2 is the only Super-Sized POP that I've kept in my collection, but I'm going to have to make space for his creepily cute Super-Sized Venomized version.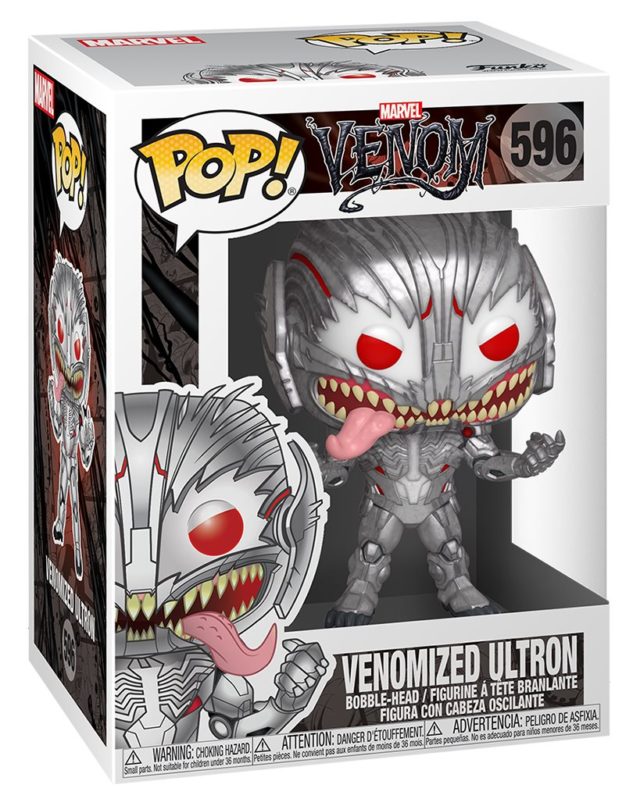 Ultron has got to be one of the most surprising choices for this wave, as a symbiote bonding with a robot is, well… kinda illogical.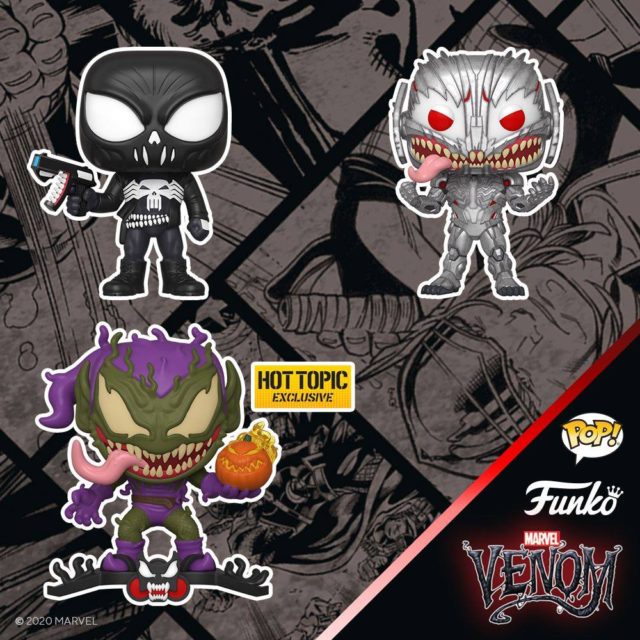 That said, the teethy grin is more emotion than I've ever seen on an Ultron toy, and this actually looks really compelling. Cool choice!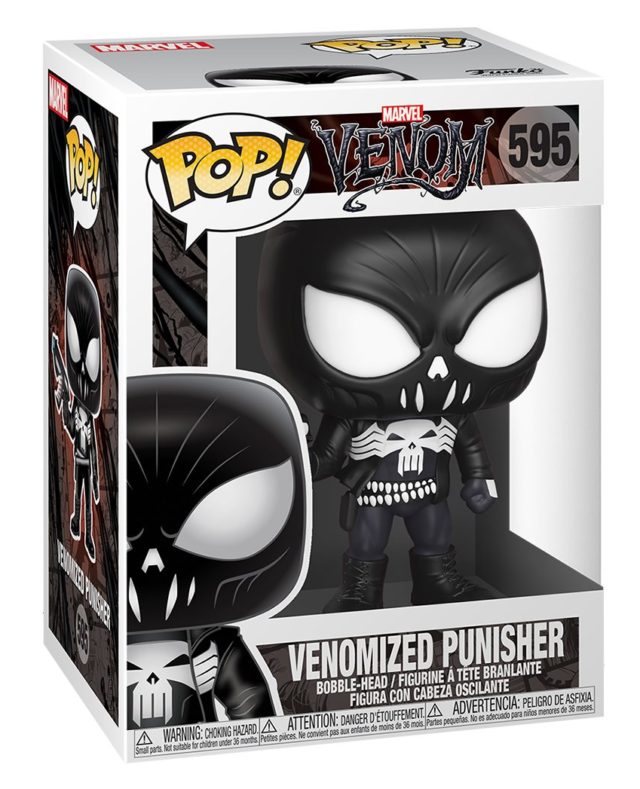 It took me a minute to realize that the Venomized Punisher POP wasn't just an Agent Venom, but the piece does have a few cool standout design details such as the teeth that make up the ammo belt and handle of the gun. Still not my favorite in the wave, but Punisher fans may like it.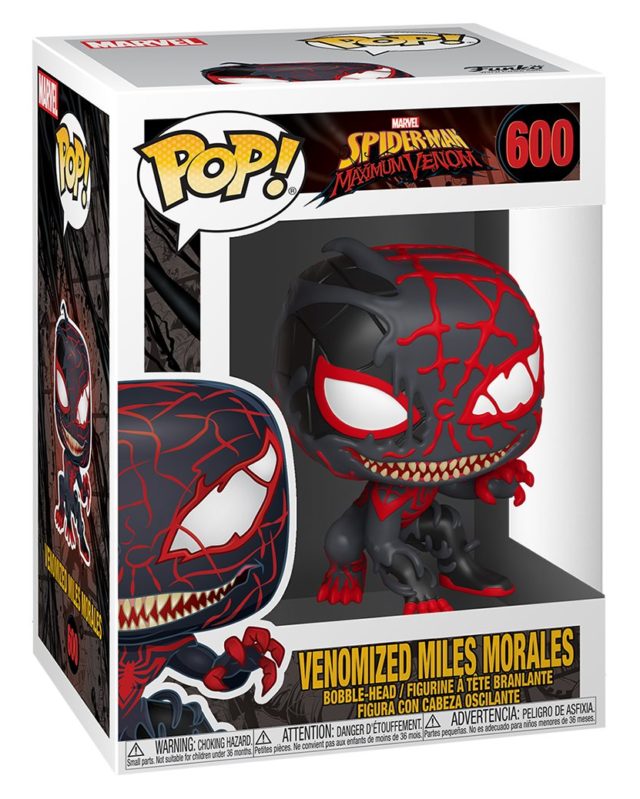 Meanwhile, the Miles Morales Venom is creepy as eff with a crouched pose and a sick smile, along with the red lining of his costume looking like it's etched in drippy blood. This is a close second to Groot for my favorite in the wave. So much fun.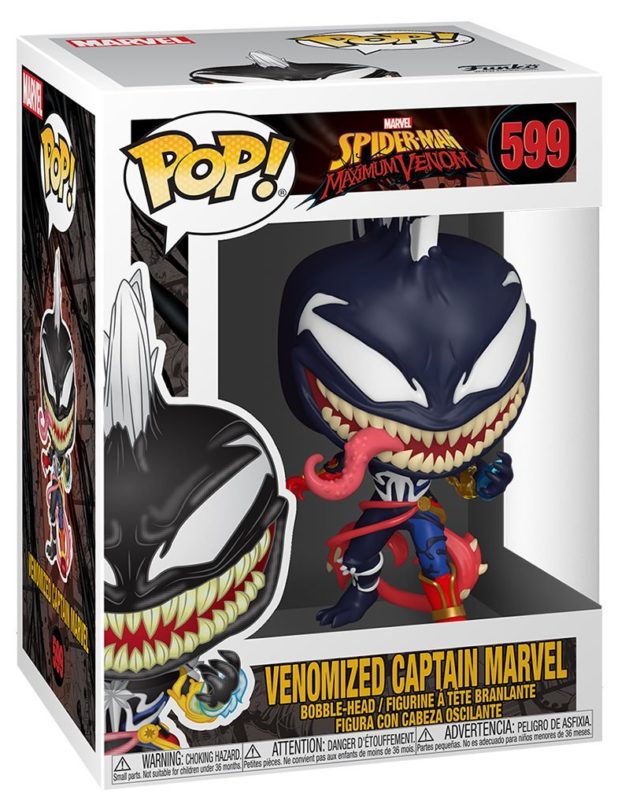 Captain Marvel is almost unrecognizable while covered with her symbiote. I think this looks okay, but Carol's design doesn't really lend itself very well to this sort of thing, in my opinion.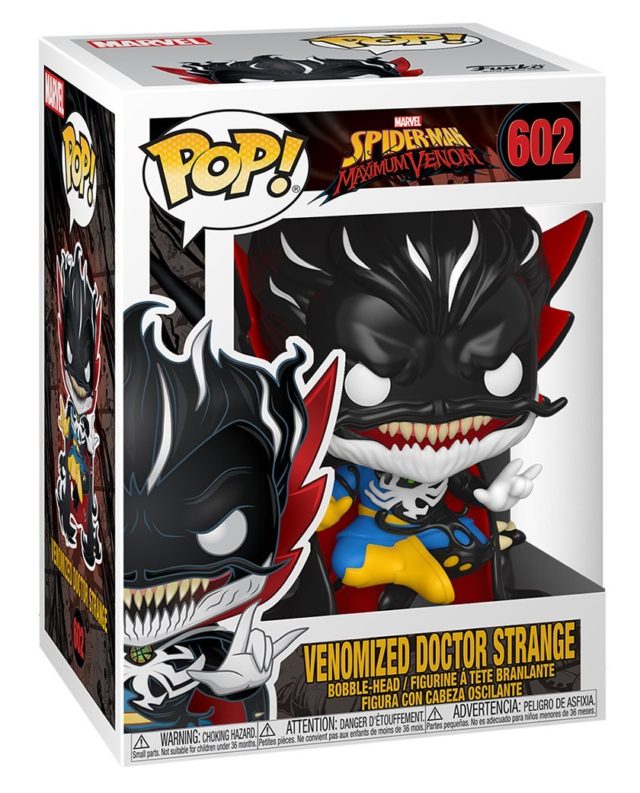 Doctor Strange, however, looks like he was born to be merged with a sinister symbiote. The white tones in his hair, the teeth on the fringes of his cape… Funko's designers must have had a total blast with this.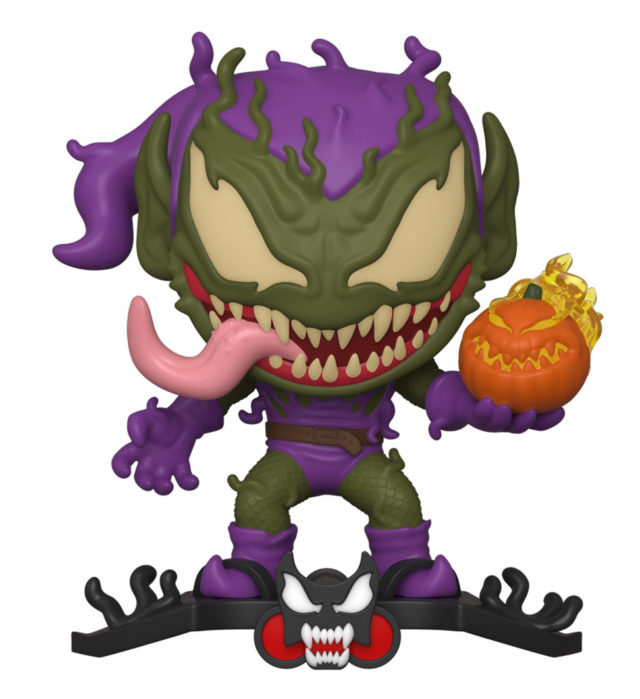 Two stores will be getting exclusive Venomized POPs this time: Spider-Man at Walmart and Green Goblin at Hot Topic. Hot Topic already opened pre-orders for the Venom Green Goblin, and I secured mine right away—Red Goblin would have made more sense, but the sinister style of the figure they're actually making is undeniable. This might legit be my favorite Green Goblin collectible ever!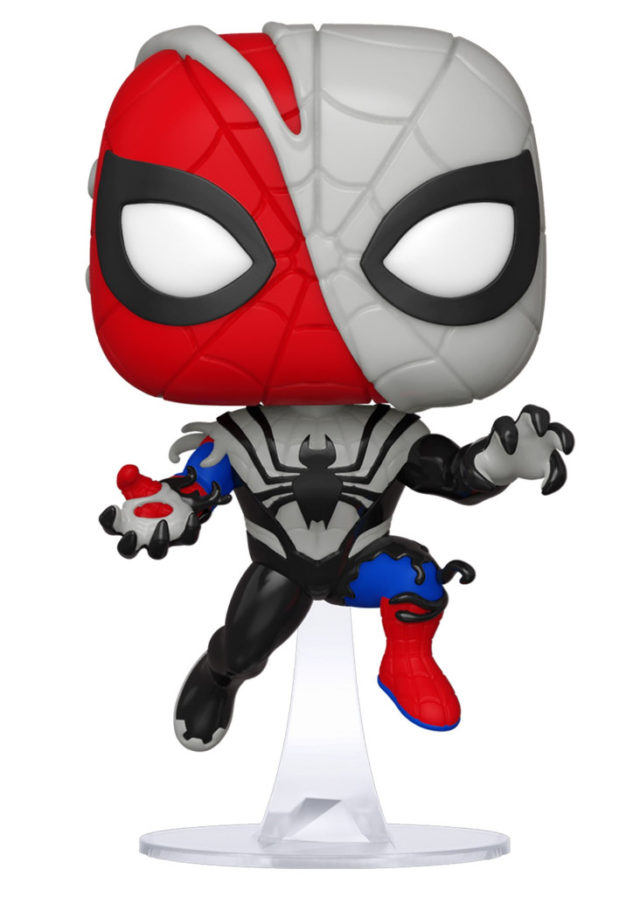 The Spider-Man is my least favorite thing in the entire theme. It just looks like he's being covered in Anti-Venom colors, with no real ferocity or horror added. This'll be tough to get since it's a Walmart exclusive, but I think many collectors may just decide they don't want this figure.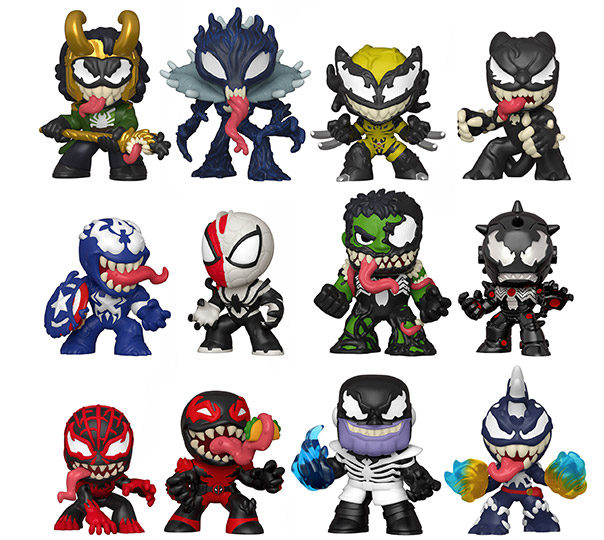 Shaking things up a bit is an unexpected series of Venomized Mystery Minis blind boxes. There's 12 different figures and each case contains 12 blind boxes, so unless Funko is going to pull some trickery I'd expect to see even 1:12 ratios made of every character in the mass retail boxes. If you want the whole set, you should be safe just pre-ordering one case. Nice to see older releases like Loki, X-23 and adult Groot in this line.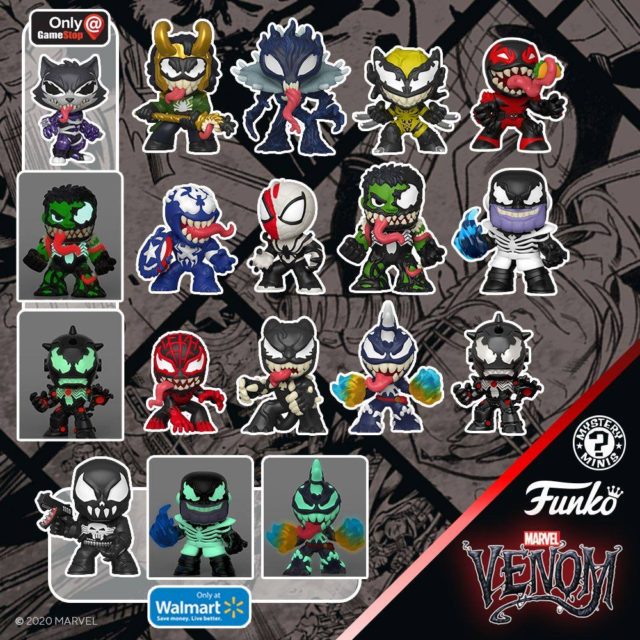 Walmart and GameStop will each get three exclusives in their own Venom Mystery Minis cases, including a unique character and two Glow-in-the-Dark variants for each (Rocket Raccoon and GITD Hulk/Iron Man at GameStop; Punisher and GITD Thanos/Captain Marvel at Walmart). If past releases are any indicator, Punisher and Rocket will end up being the most sought-after Mystery Minis in this set.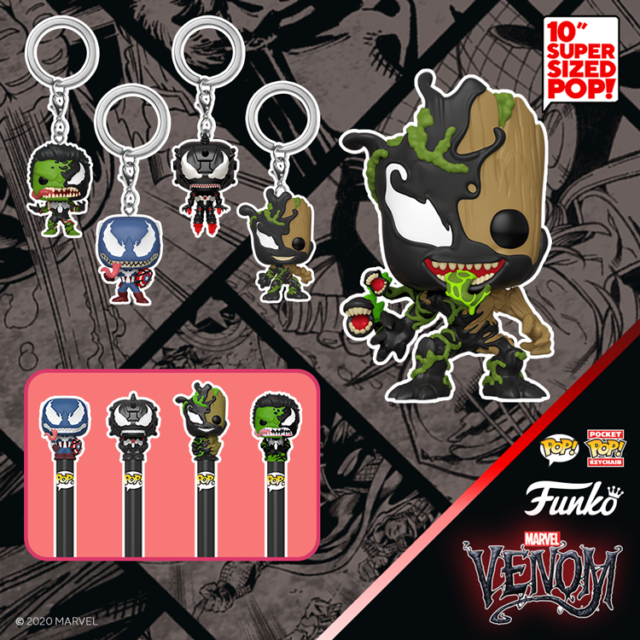 But wait—that's not all! Funko isn't a company that believes in leaving a market untapped, so there's also going to be POP Pencils and Pocket POP Keychains available of Captain America, Hulk, Iron Man and Baby Groot. I need another keychain like a hole in the head, but hell if I'm gonna miss having that sweet Venomized Baby Groot on my backpack.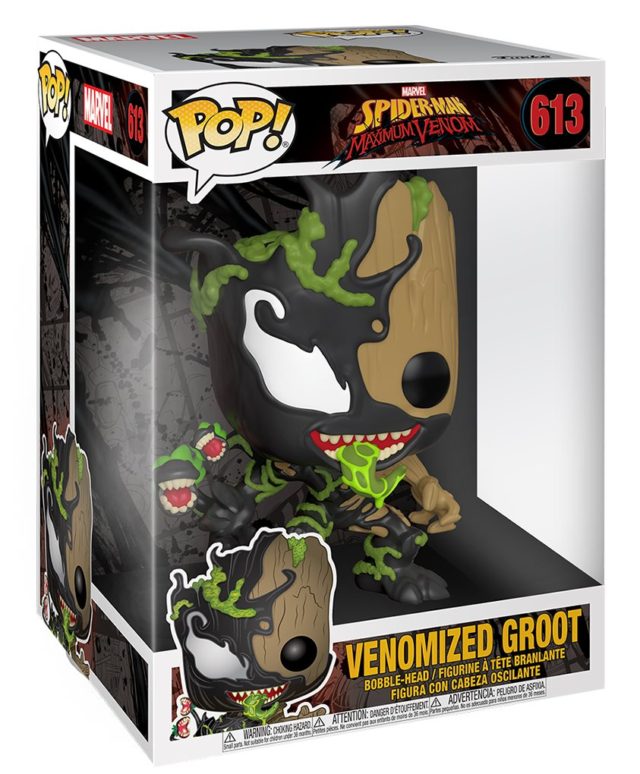 The Funko Venomized POP Vinyls & Mystery Minis are now up for order, and are scheduled to be released in February 2020. At this point Funko churns out enough toys per year that their estimates are rarely off, so I don't think there's much chance of these missing their target date and not arriving next month (with Hot Topic Green Goblin slated for March).
Any collectors out there hyped about the expansion of this series? Which Venomized POPs (if any) have you picked up in the past, and are there any Marvel characters you'd like to see get the super-deformed symbiote treatment next?
The post Funko POP Venomized Punisher Green Goblin Miles Ultron Groot & More! appeared first on Marvel Toy News.