Just when it seemed as though the Toy Fair Exclusive Scarlet Spider sixth scale figure was a lock for "Fastest Hot Toys Sell-Out of 2019" after going to Wait List in under 12 hours, Hot Toys dropped a bombshell this week when they revealed an MMS that's likely to blow poor Scarlet Spider's sales out of the water! It's so "out there" that many collectors never even considered it could happen, but the EXCLUSIVE Hot Toys Stan Lee in Spacesuit 1/6 figure is now up for order!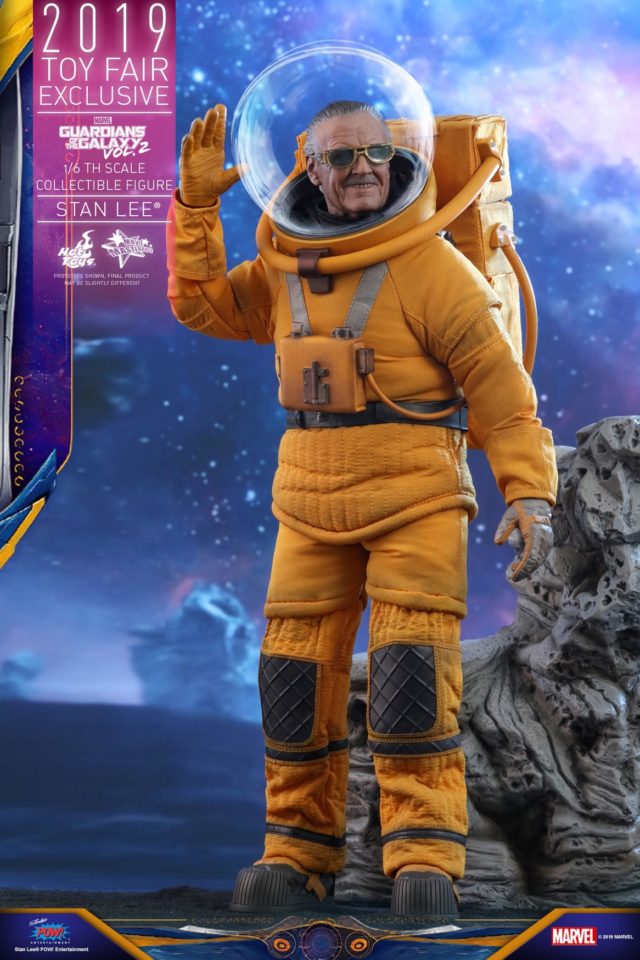 After Hasbro ended up cancelling a Stan Lee Build-A-Figure (which was never officially announced at all) a couple years back, fans worried that it would be a long, long time—if ever—before we saw a new super-articulated Stan Lee action figure.
And while to-date there's been no indication whatsoever that Hasbro has a new Stan Lee in the works, high-end collectors have something world-shaking to look forward to as one of this year's Hot Toys Summer Exclusives: a Stan Lee 1/6 figure in his spacesuit from Guardians of the Galaxy Vol. 2!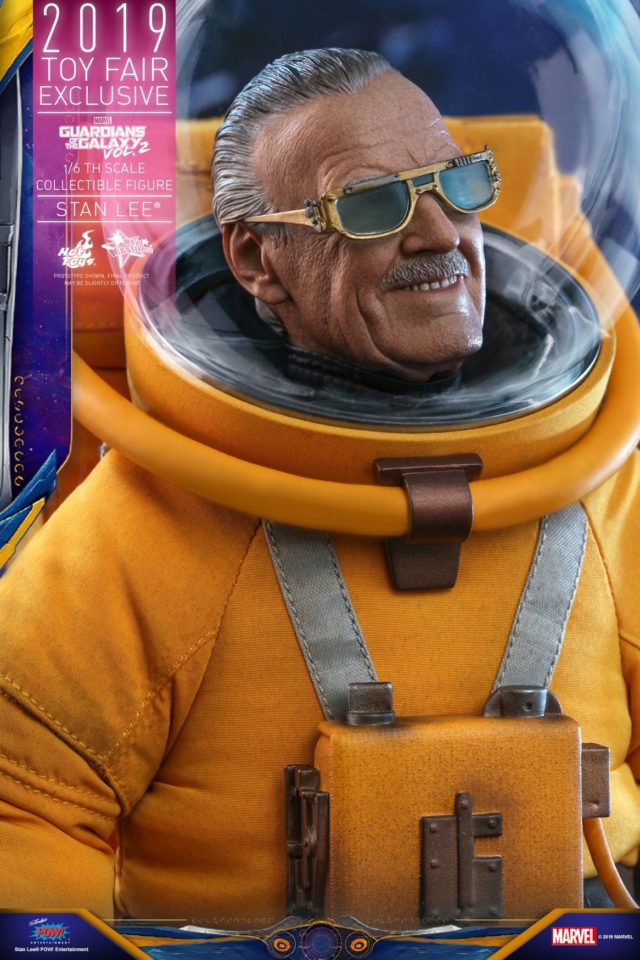 Now, figures of Stan Lee's various movie cameos aren't totally unheard of—Funko was actually able to release several of them not that long ago—but this is the first time there's ever been a major, super-articulated action figure of one of them. And the fact that it's a movie figure of Stan Lee as himself from Guardians of the Galaxy Vol. 2, well… that's just gravy.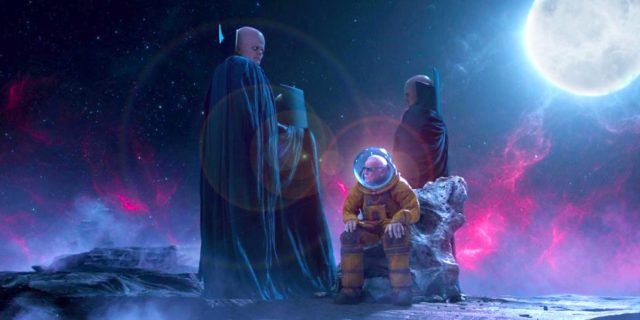 Of all his MCU movie cameos, Stan's cameo in GOTG Vol. 2 is probably my favorite since it depicts Stan in a retro-looking spacesuit, surrounded by Watchers. "Hey! I've got so many more stories to tell!" is almost certainly going to go down as the most memorable Stan Lee quote in any of the Marvel Studios movies.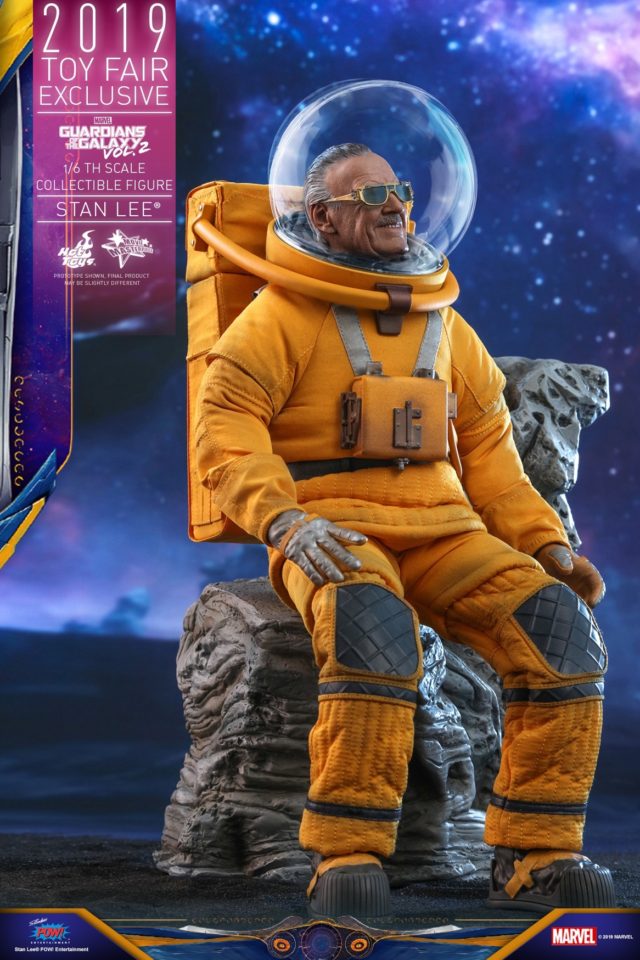 But is the figure any good? Uhhh… yeah! Frankly, it's a masterpiece. If you've ever wanted an action figure of Stan Lee in a Spacesuit, well… this is the one. The yellow Spacesuit looks bang-on perfect, and the portrait likeness is as phenomenal as you'd expect from Hot Toys (particularly since they did a non-MCU "civilian" figure of Stan a few years back).
Typical Hot Toys accessories bells and whistles are also present. Want the space "bubble" helmet to be removable? Done. Interchangeable hands? Plenty of them. Removable sunglasses? Yup.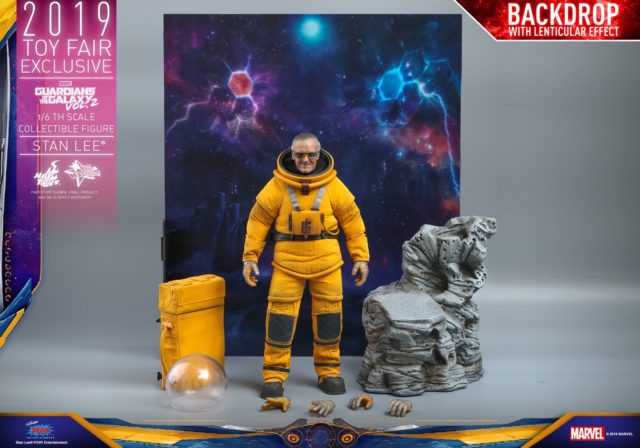 Perhaps the most impressive additions to this 1:6 figure are the "diorama" pieces, though. Not only has Hot Toys absolutely nailed the space rock that Stan Lee sits on in Guardians of the Galaxy Vol. 2 (in lieu of a generic figure stand), but there's even a way-cool lenticular effect space backdrop included. Rockin'!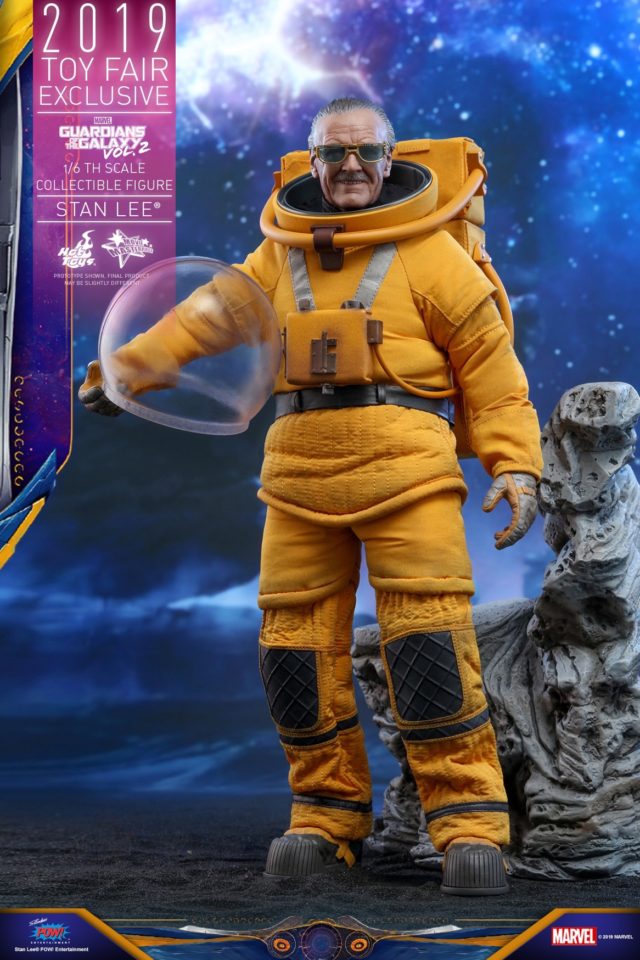 Simply put, this is an awesome figure all-around and almost certain to be the best Marvel Studios Stan Lee action figure ever made. It's a pity this is going to be a limited exclusive, because I think otherwise the sales potential for this would be out-of-this-world for Hot Toys.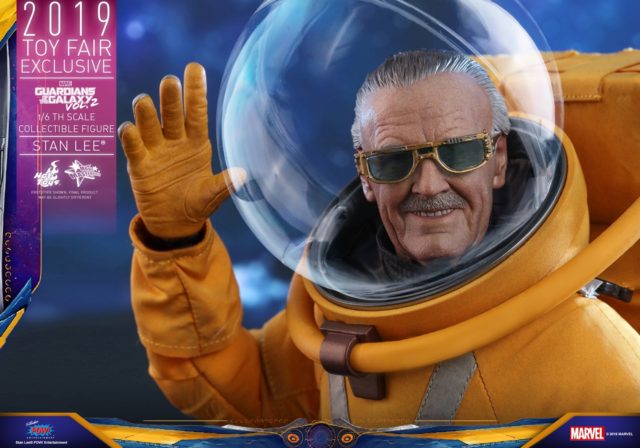 The Hot Toys Stan Lee Spacesuit Toy Fair Exclusive figure is expected to go up for order this afternoon, and should ship out this fall. After the lightning fast sell-out of Scarlet Spider last month, I don't think I need to remind anybody that these Summer Exclusives are limited and there's likely to be unprecedented demand for this Stan Lee. Wait on this one at your own peril.
Sound off, Marvel collectors! Was this Guardians of the Galaxy Vol. 2 Cameo Stan Lee Movie Masterpiece Series figure a must-have for you the moment that you saw it? Would you be interested in toys of any of Stan's other cameos from the Marvel movies, or is this the only 1:6 cameo figure of "The Man" that you'll ever need?
The post EXCLUSIVE Hot Toys Stan Lee GOTG Cameo Figure Up for Order! appeared first on Marvel Toy News.