San Diego Comic Con 2021 at Home is going on now, but it's been rather quiet news-wise for figures nonetheless. Hasbro dropped loads of new Marvel Legends figures (and a $400 World-Devourer) earlier in the month, and Hot Toys had their big week of premieres and pre-orders last week. Luckily for statue fans, Diamond Select Toys (and Sideshow Collectibles) have some goodies to show off (and sell). Let's begin with DST, whose new Legends in 3D Green Goblin Bust and Marvel Gallery Spider-Man PVC statue are now up for order!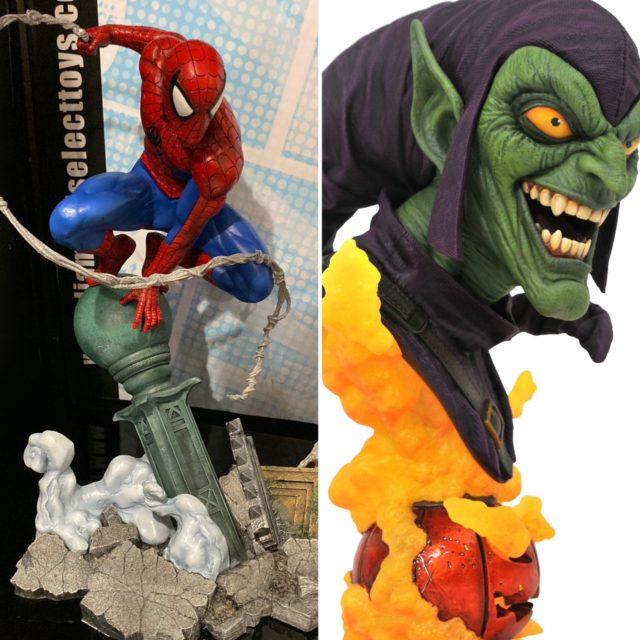 Comic-Con International or no Comic-Con International, Diamond Select Toys' new solicitations still come each and every month. And so, despite this year's San Diego Comic-Con being virtual-only, the DST July 2021 solicits have now arrived nonetheless.
Surprisingly, this is one of the calmest months for new Diamond Select Marvel collectibles in quite a while, with just two new items (both statues) posted up for pre-orders: one limited edition resin, and the other an unlimited PVC figure. Let's have a peek!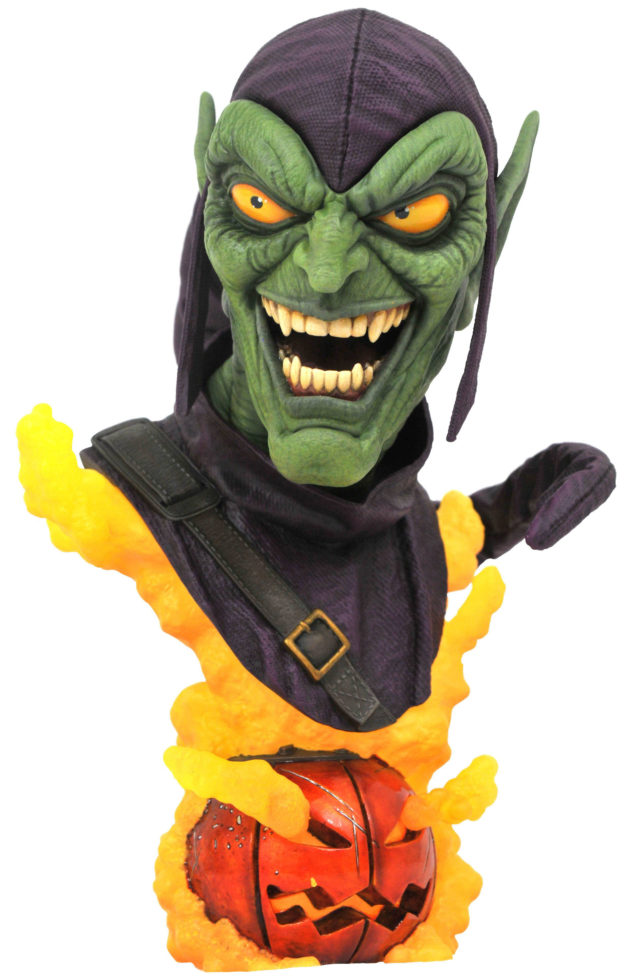 The much, much more exciting of this month's new items (at least for me) is a half-scale Green Goblin bust being added to the resin Legends in 3D lineup.
Despite usually being considered the greatest Spider-Man villain of all-time (and really only behind Venom and Carnage in popularity), we don't get a whole ton of Green Goblin merch. Sideshow did a Premium Format Figure way back in 2015, and XM Studios did a 1/4 statue available overseas, but that's really about it for Gobby as far as high-end collectibles go from companies other than DST in recent years.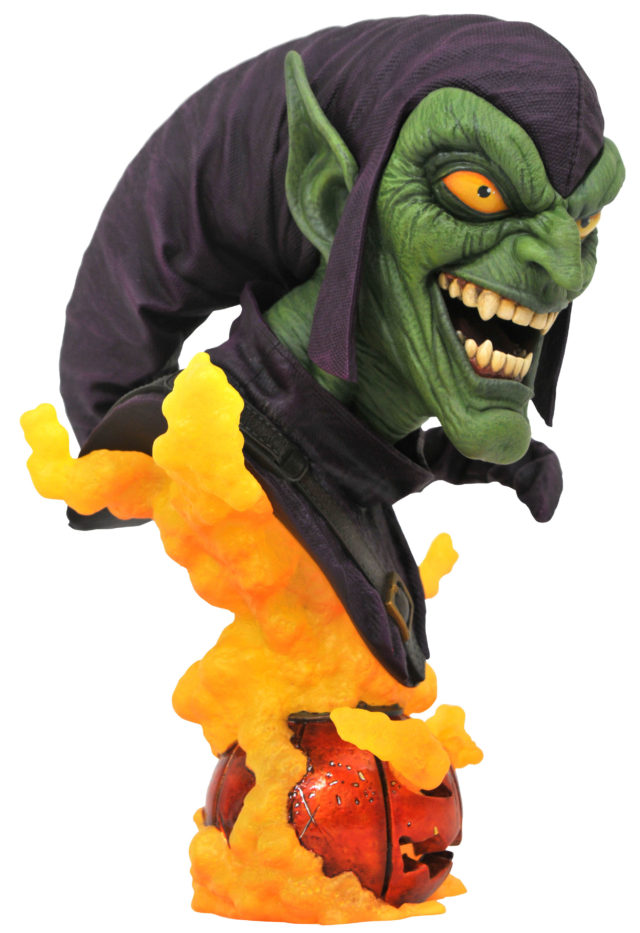 But after recently releasing their Marvel Premier Collection Green Goblin 1/6 statue, Diamond Select Toys must have developed a real taste for ol' Norman Osborn, so now he's back in bust form! I unfortunately was not enamored with the Premier Collection statue, as the portrait on it looked way too "super evil stylized demon" and not enough "comic book Green Goblin to me. Thankfully, this bust is more along the lines of what I wanted to see in the first place.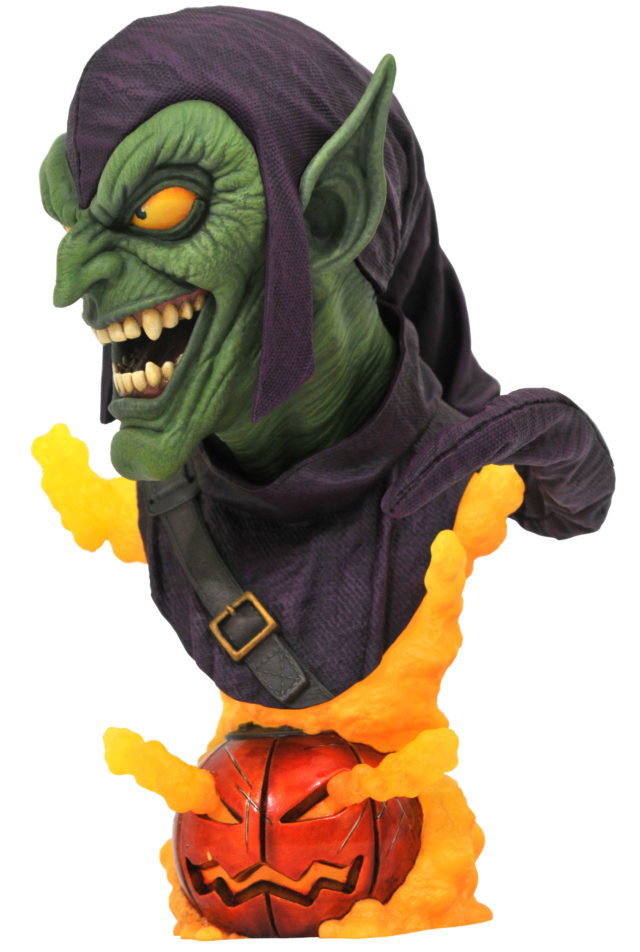 The vibrant, smoking pumpkin bomb base works far better than I would have expected it to have any right to, and the teeth, eyes and goblin masks are all more along the lines of how I visualize Spider-Man's sometimes-greatest foe.
At 160 bucks for a half-scale bust (and 155 with free shipping for pre-orders at EE), I think this is a winner for Diamond Select Toys—at least as much as any bust can be in a post-Bowen Designs world where statues have almost entirely won the war against and wiped out mini busts.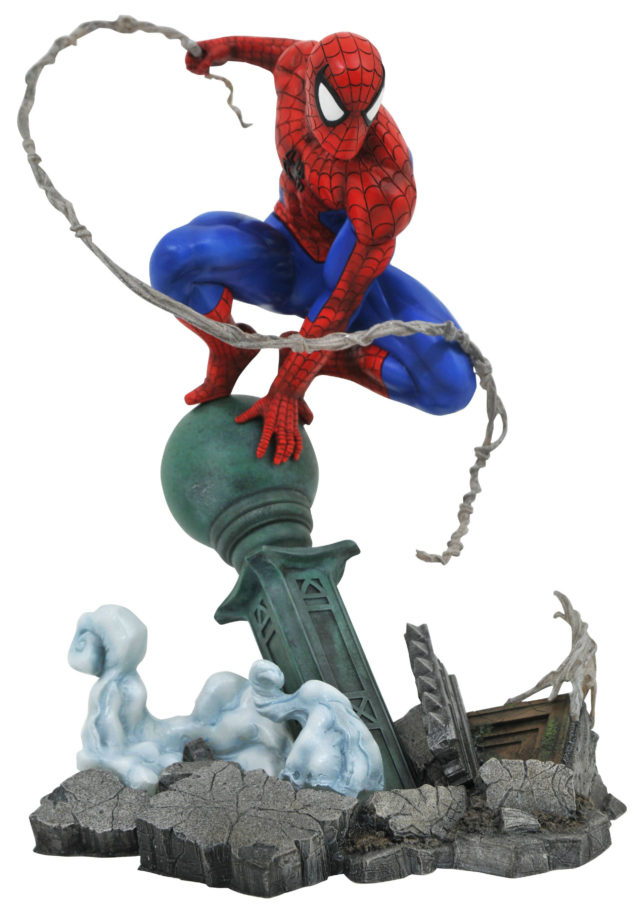 Meanwhile, there's one new Marvel Gallery PVC statue being solicited for January 2022 as well—and it's one that actually debuted back in February 2020! I thought this Spider-Man Gallery statue looked familiar when I saw it in the new solicits, and then I rifled through my old photos and discovered that I'd actually seen and photographed it at New York Toy Fair 2020 (before the world went to shit and all).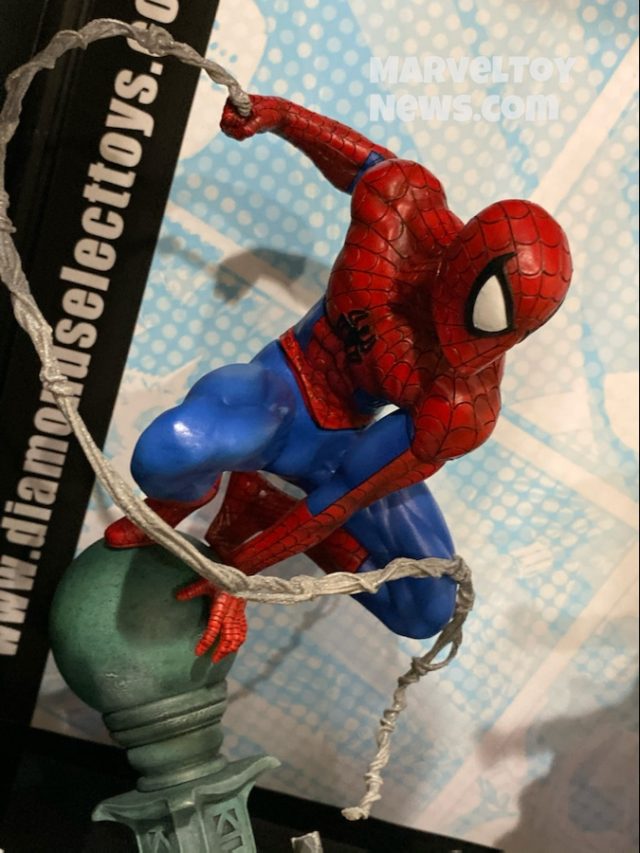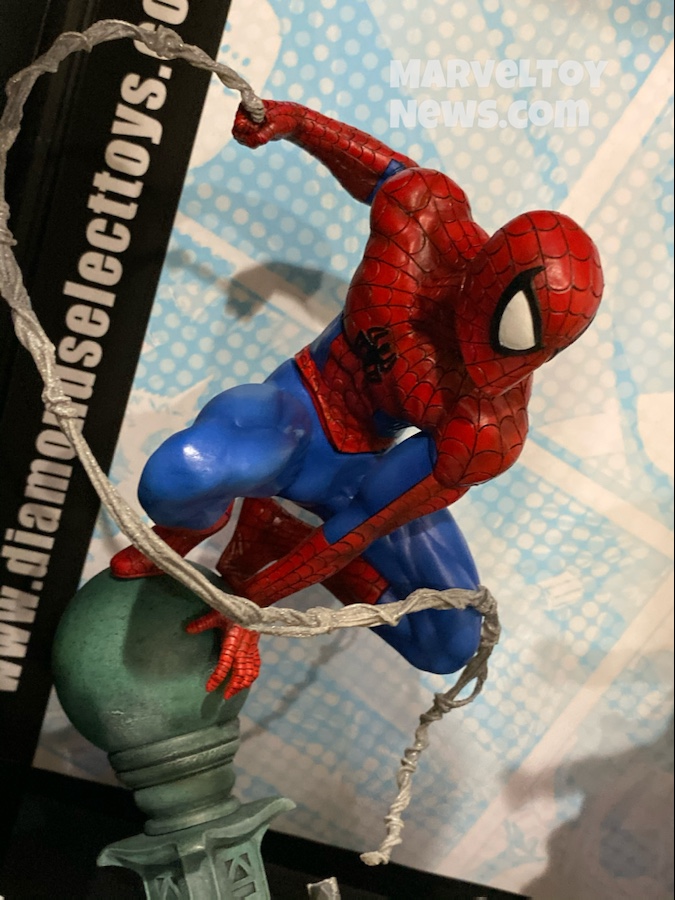 This is actually part of the Marvel Gallery VS Series (or at least that's how it was labeled at Toy Fair last year). I've lost track of how many DST Spider-Man statues there are now in the Gallery lineup (and I am definitely too lazy to look it up), but I do remember that several of the others have looked a tad awkward and this is almost certainly the best-looking Spidey to-date.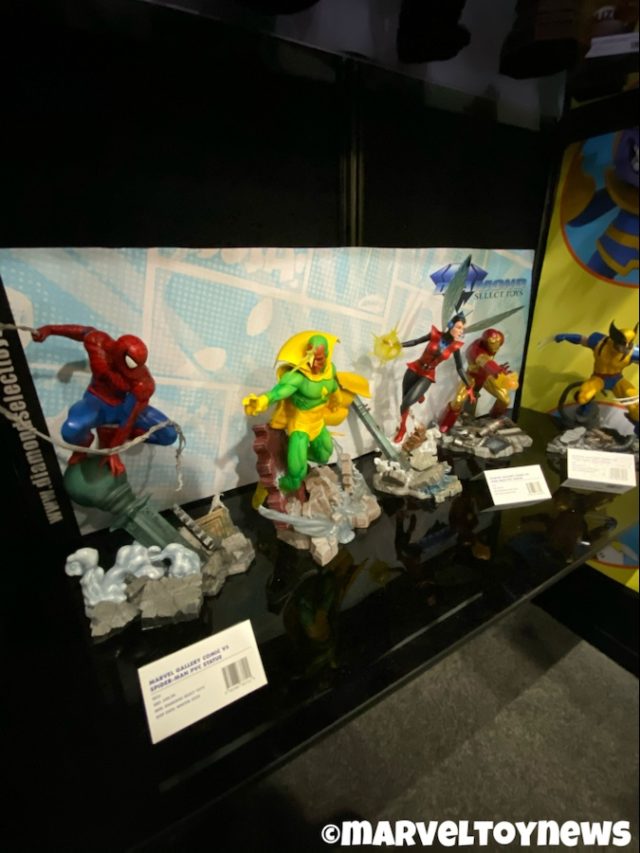 The crouching on a lamp post pose actually looks quite natural and unique compared to other offerings out there, and I even don't mind the web-line Peter has in-hand. At $49.99 MSRP for a 10" figure, this is real nice.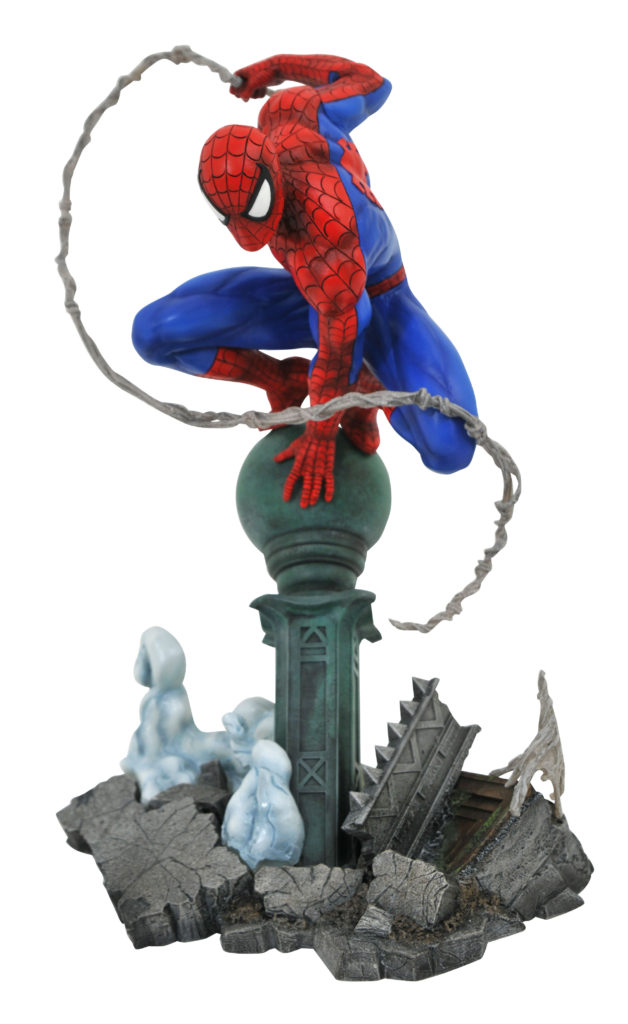 The new Marvel Gallery Spider-Man statue and Green Goblin 1:2 scale bust are now up for order, and are expected to ship out in January 2022. Spidey should be in print practically forever, but Green Goblin will be limited to 1000, so there's a *slight* possibility he may sell out before too, too long (although even with an LE 1000, busts simply do not sell out very quickly all that often these days).
What do you think of this month's round of Diamond Select Toys solicitations, Marvel collections? Does DST have your future dollars locked up for either of these new Spider-Man based statues, or is your wallet safe from them for the first month of 2022?
The post Diamond Select Green Goblin Bust & Marvel Gallery Spider-Man Statue Up for Order! appeared first on Marvel Toy News.