NEWS FROM THE FRONT
Lots of new stuff on the horizon for this winter for the Elite Brigade. More accessories, uniform pieces and the like. Also working with Artlab Design, Quartermaster's Depot, Firebase Ryan, and Mattaquatch Customs to create more 1:6 scale awesomeness. Stay tuned…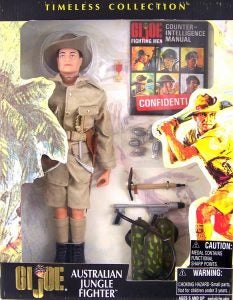 BLAST FROM THE PAST
Australian Jungle Fighter (Timeless Collection)
Released in 2001. A Target Stores Exclusive. Foreign Head GI Joe, Tan shirt with pockets, brass buttons, and insignia, Tan shorts, Tan socks, Black boots, Belt with machette, scabbard, and trench knife, Tan bush hat, Flamethrower equipment, 6 grenades, Shovel, Medal, and Booklet
And folks, he's on SALE too!
BUY NOW
WEEKLY SPECIAL
3A/ThreeZero Apocalypse War Judge Dredd
On Sale for $174.99 (Save $50)!
Click HERE for details.
Offer Expires: October 10th, 2018 at 6:00 pm (central). Cannot be combined with any other special or discounted pricing. Sorry – No Backorders or Rainchecks.
---
NEW PRODUCTS ANNOUNCED!
Elite Brigade Bushlan Commando Uniform Set (for CC Body)
Elite Brigade Storm Chaser Outfit (Camo)
Hot Toys Star Wars Series Princess Leia (Bespin Gown)
GAC Toys Kacee Female Head Sculpts (Four Different Styles)
DAM Toys French Police Unit RAID (Paris)
Creator Studio Ghost Sister
Artlab Design "Sidekicks" Module Set DIY Kit
Elite Brigade ATV RACCS Cargo Trailer
Estrela Falcon TORAK
INCOMING!
AA Design Repro AT/Action Man Decal Sets (Assorted)
COO Models Viking Ship Display
Mezco One:12 Collective Justice League: Aquaman (1:12 Scale)
Blue Box Toys Cy Girl: Kat
Blue Box Toys Cy Girl: Jet
Blue Box Toys Cy Girl: Sky
Blue Box Toys Marine Expeditionary Unit 'Rebel' 2001 Special Edition
Blue Box Toys Cunningham/Self Weekend of Heroes '05 Convention Exclusive
Blue Box Toys French Foreign Legion Leon Javert
Soldier Story CIA SAD Night Ops (Version 2.0)
Soldier Story DEVGRU Gold Team
Soldier Story US Army Future Combat Systems Testing Team
Blue Box Toys Flight Jacket Type 45P
Blue Box Toys Flight Jacket Type G1
Blue Box Toys Flight Jacket Type G8
Blue Box Toys US Army Mortar, Corporal "Red" Parker
Blue Box Toys British SAS "Clarke"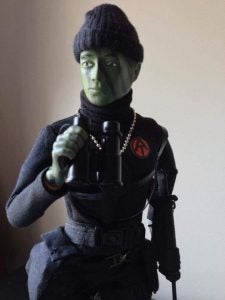 CUSTOM FIGURE OF THE WEEK
Spy Island 2018 by Ernie King
One of my favorite custom figures I've put together. Nearly all COTS gear.
Click HERE for larger image.
---