Diamond's PREVIEWS Exclusive SDCC 2020 reveals continue withy the Marvel MEA-018SP Maximum Venom Special Figure Set from Beast Kingdom!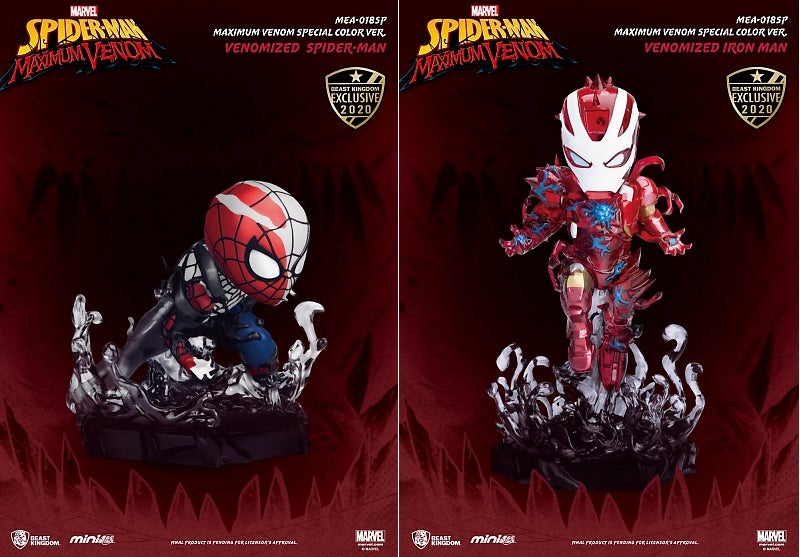 SDCC 2020 MARVEL MEA-018SP MAXIMUM VENOM SPECIAL PREVIEWS EXCLUSIVE FIGURE SET (DEC198461, $29.99, Limited to 2000 pieces.)
Beast Kingdom, The Entertainment Experience brand, takes you on a journey to the dark-side of Marvel's Villains, with the release of a special edition a set of two figures in 3" MEA (Mini Egg Attack) from the Maximum Venom figure collection. Taking arguably two of the most famous characters from Marvel — Spider-Man and Iron Man — and 'poisoning' them with the symbiotic goo of Venom, the special edition sets sees our two characters in the midst of transformation. Including a unique special edition base for both, the black Venom is taking over the bodies of both characters. Spider-Man's classic red and blue costume is already half taken over into a black and white classic Venom look. Meanwhile Iron Man's fusion is taking the suite to the brink of explosion. A translucent red and metallic sheen showcases the menacing looking character.
[See image gallery at www.figures.com]
---