– Review and photos by Scott Rubin
Back in February we got to check out the Cryptozoic Entertainment booth at New York Toy Fair 2019, and one of the cool things we saw there was an upcoming vinyl figure celebrating Gal Gadot's Wonder Woman character from her solo film. Now that statue has come to life, and we're happy to be able to share an early look at it before its official debut to the public this summer at San Diego Comic-Con. The DC Wonder Woman Movie Collectible Vinyl Figure takes all the fun elements Cryptozoic has been perfecting in its DC Comics Bombshells line and applies them to a real-life actress in character, resulting in a fun, cute, and tough presentation perfect for your display case. Let's take a closer look!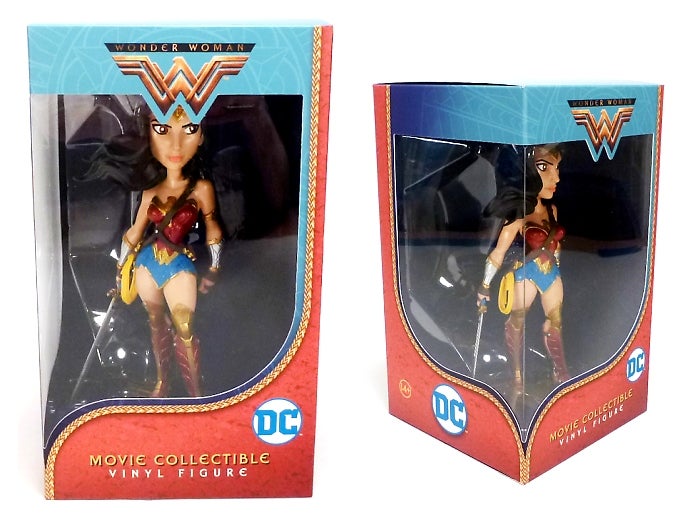 First off, the packaging. With Wonder Woman Cryptozoic went in a different direction instead of the familiar box we've seen repeatedly with the DC Bombshells and Street Fighter figures. The movie collectible still comes in a tall window box, but this one has a strong overall theme utilizing elements from the movie as well as a tailored cutout to reveal the figure inside.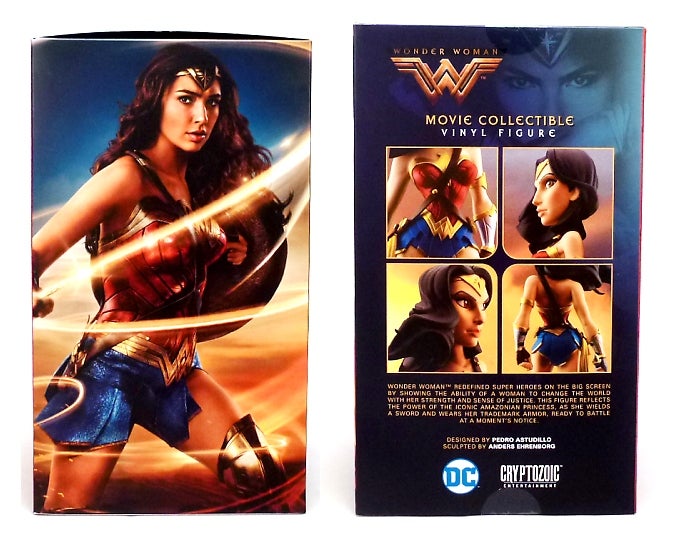 The front panel features the Wonder Woman movie title and logo with a complex blue and red background that we've seen on other collectibles from the film; there's even the braided Lasso of Truth outlining the window. On the other side panel is a full-size still of Gal Gadot as Wonder Woman in the movie, while on the back side you can find close-up photos of the vinyl figure and a short description.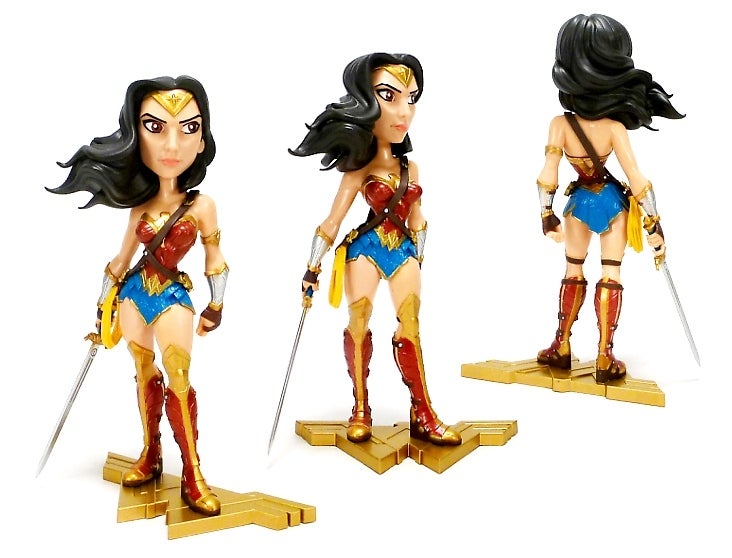 Taking design cues from the DC Comics Bombshells, Wonder Woman is a 7 inch tall vinyl figure on a decorative base, all in a fun stylized format. Princess Diana comes from the same creative team as well, designed by Pedro Astudillo and sculpted by Anders Ehrenborg. Perched on a golden Wonder Woman movie logo display base, the Amazonian stands in an attentive but relaxed pose, one leg angled forward, her upper body twisted, both arms hanging angled slightly backward, and her head turned as well. Even with its casual appearance the stance conveys a lot of personality and leaves room for tons of detail.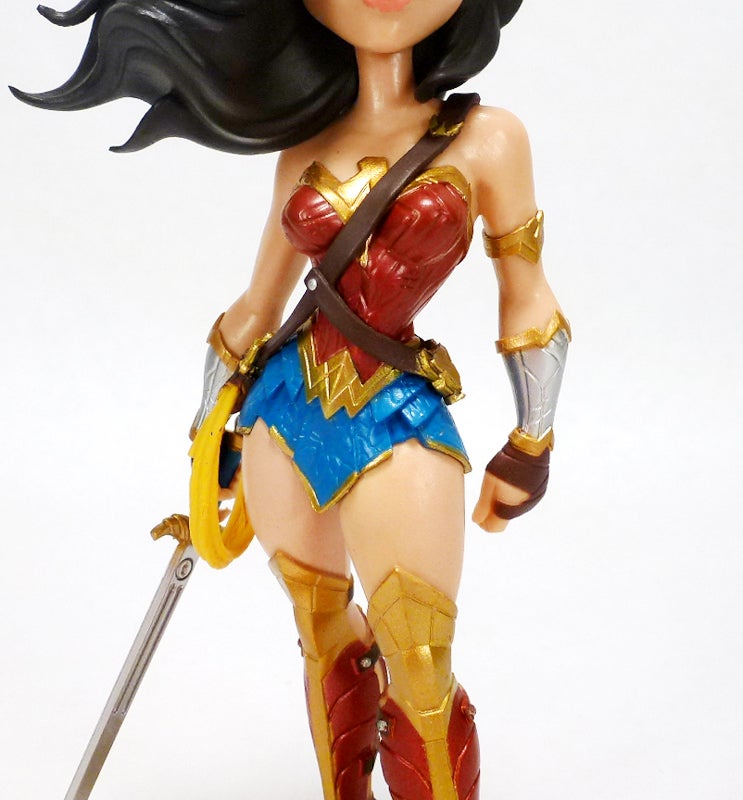 Amazon war gear isn't a big panoply of armor, but a slim outfit that gives the hero plenty of flexibility and freedom of movement. Starting from the bottom, Wonder Woman rocks armored red and gold boots with built-in greaves extending up and over her knees. Then there's the pleated blue skirt with overlapping sections, a heavy gold belt, and a slim top that matches the boots. All of these are highly detailed with sculpted textures, lines, and the works.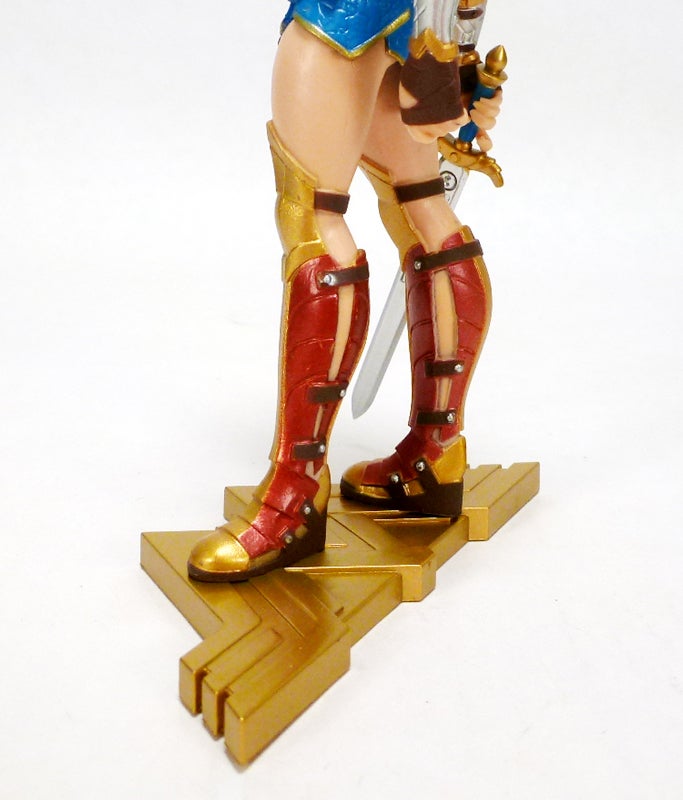 The boots are pretty rad, split down the sides with the forward and rear sections banded together. As on most Wonder Woman costumes her belt incorporates a "W" logo while there's an eagle at her chest. That's really just the tip of the iceberg, though, with hand wraps, armored bracers and an arm band, an ornately decorated torso harness carrying her Lasso of Truth at her tip, and more. She also carries a beautiful silver-bladed sword with blue handle and gold pommel details.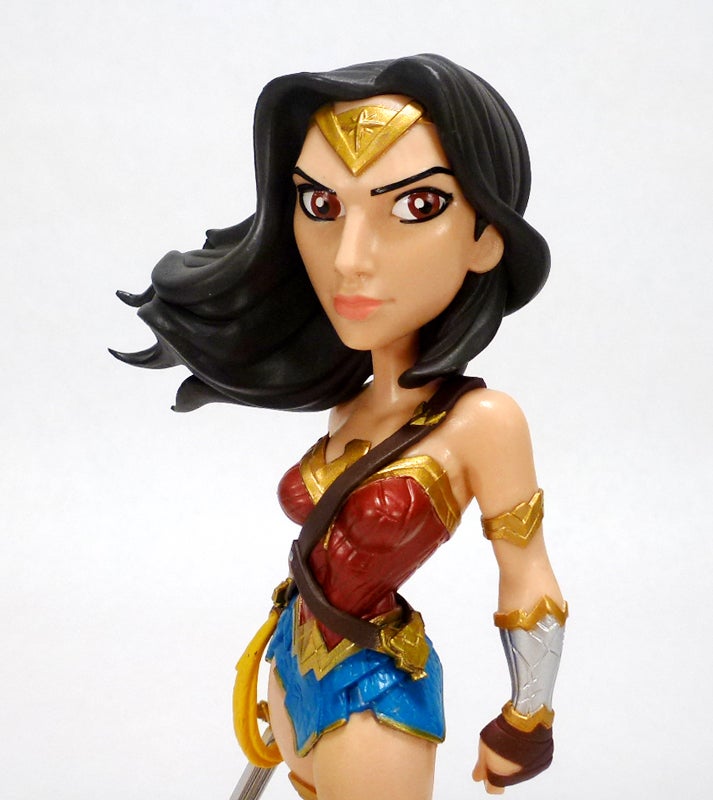 We can't talk about the Wonder Woman vinyl figure without spending time specifically on her portrait and head details. As a stylized figure the statue has an oversized head with a huge amount of hair. Her face, while exaggerated, is immediately recognizable as belonging to actress Gal Gadot, like a pretty caricature come to life. Her expression is serene yet focused, lips pursed with her huge brown eyes angled to one side. On her forehead she wears the tiara made famous in her recent film appearances with a starburst on the "V" shape. Diana's wondrous locks swirl around her head and wave off to her right side, with lots of sculpted tendrils.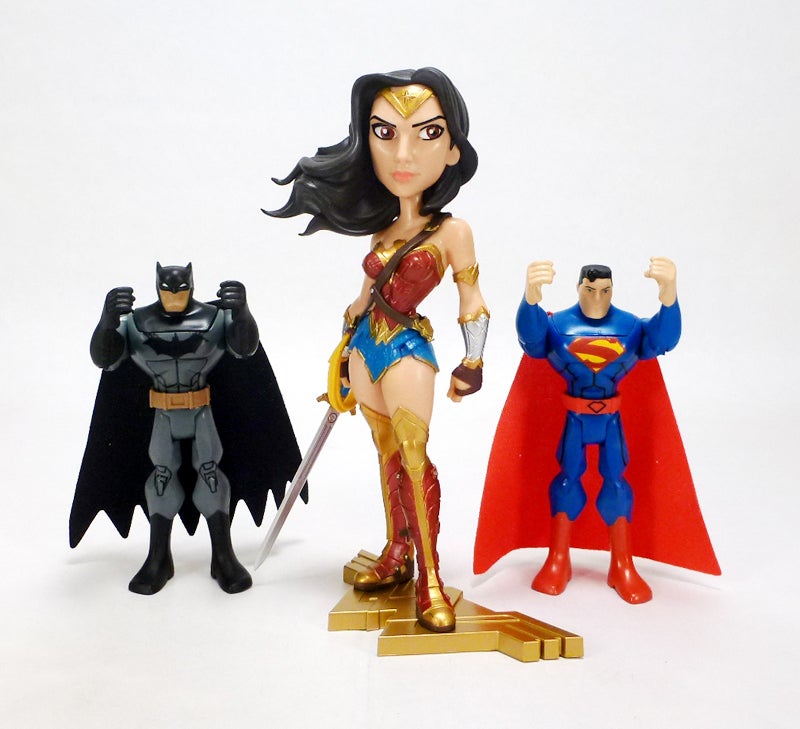 This Wonder Woman Movie Collectible Vinyl Figure looks great, and at only $29.99 MSRP is highly recommended for fans of the character, lovers of her movie and the DCEU, and of course comic book readers. Attendees at San Diego Comic-Con in two weeks will have the first crack at picking up this statue, with a wide release following after. Hardcore fans can also look out for the Noir Edition of this statue, in grayscale with red and metallic accents, coming exclusively to Barnes & Noble.
Review and photos by Scott Rubin
Review sample courtesy of Cryptozoic Entertainment
[See image gallery at www.figures.com]
---
Keep up with all the latest toy news by following Figures.com on Facebook and Twitter!
To buy action figures, take a look at Hobby Link Japan, BigBadToyStore.com, TheToySource.com, Toynk.com, and BriansToys.com.