Review and photos by Scott Rubin
Dinosaurs! I assume that when a lot of people think of dinosaur toys, they picture solid plastic or rubber creatures for kids, with fantastical sculpts, poses, and bright, solid, or, generally garish colors. And I should add that as a father of two young children I have a bunch of those very toys in my house. But there is a high-quality, great-looking, and accurate alternative… and it's really cool. Enter David Silva.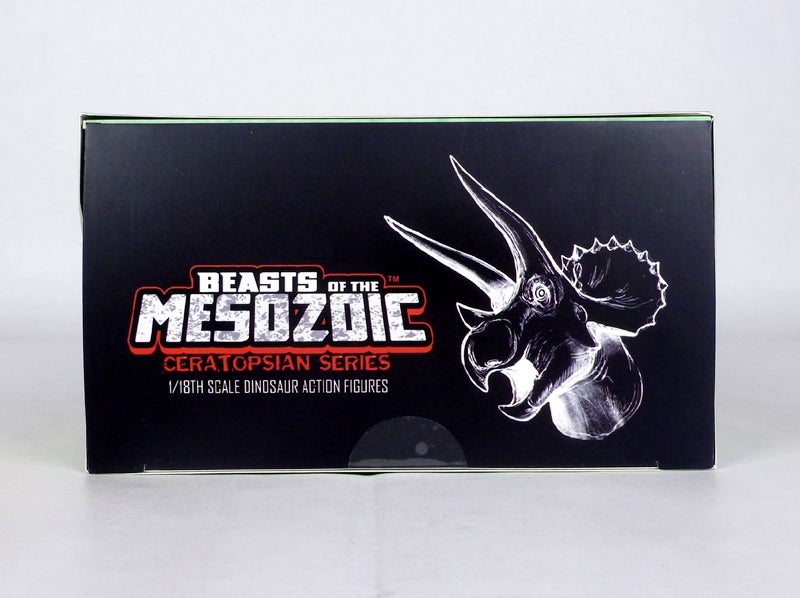 Silva has been working in the toy industry since 2003 as a designer and sculptor, for companies you may have heard of like McFarlane Toys, Hasbro, and NECA. And then in 2009 David branched out with his own company, Creative Beast Studio. Why? Because he loves dinosaurs and wanted to create the best, most authentic, highly articulated, and just plain awesome dino toys ever seen. And he did with the first Beasts of the Mesozoic Kickstarter in 2016, the Raptor Series (read our figure review HERE). After successfully fulfilling those orders Silva moved on to the next series focusing on Ceratopsians in October of 2019, and in just a couple weeks those toys will be arriving at their new homes! We were lucky enough to get a review sample of one of those, the 1/18th scale Nasutoceratops titusi that we'll be looking at today.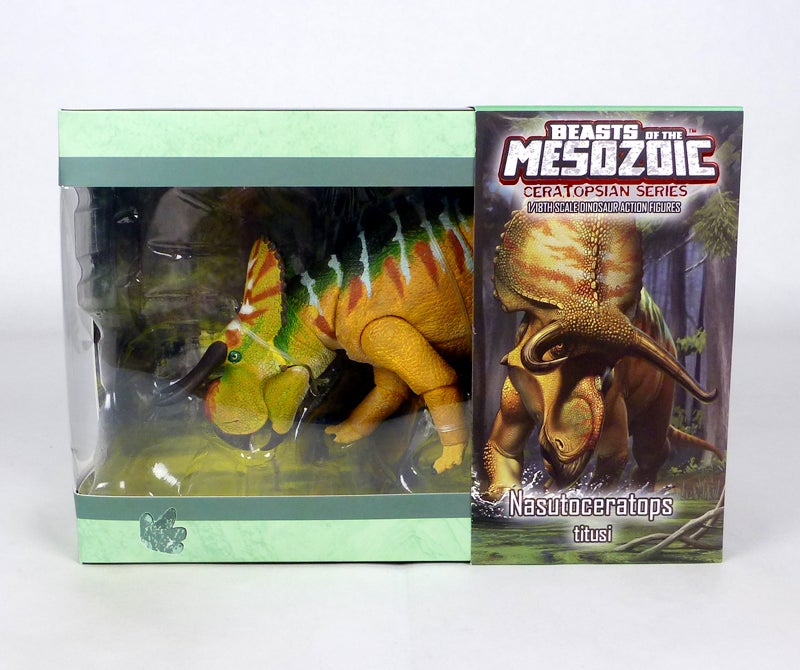 With the huge toy experience behind Beasts of the Mesozoic, it's no surprise that the action figures (and they are 100% action figures) come in really nice packaging. Nasutoceratops has a solid, great looking window box giving you a clear view of the dino from the front and one side. Most of the branding for the company and line are held off to the other side panel, the top of the box, and the outer sleeve, leaving the front super clean. The box top also lists some of the features including 19 points of articulation, "realistic movement and detail," and a profile card.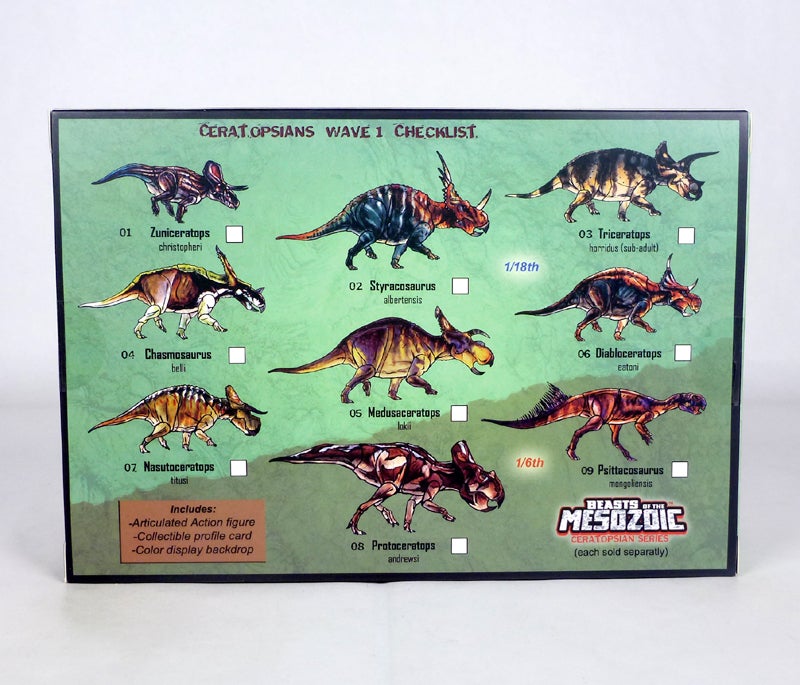 The back of the box, as you'd expect, has a glorious illustrated checklist of Ceratopsians Wave 1 with its 1/18th and 1/6th scale figures. Meanwhile, the outer sleeve has absolutely beautiful artwork of the Nasutoceratops as well as real scientific information about it.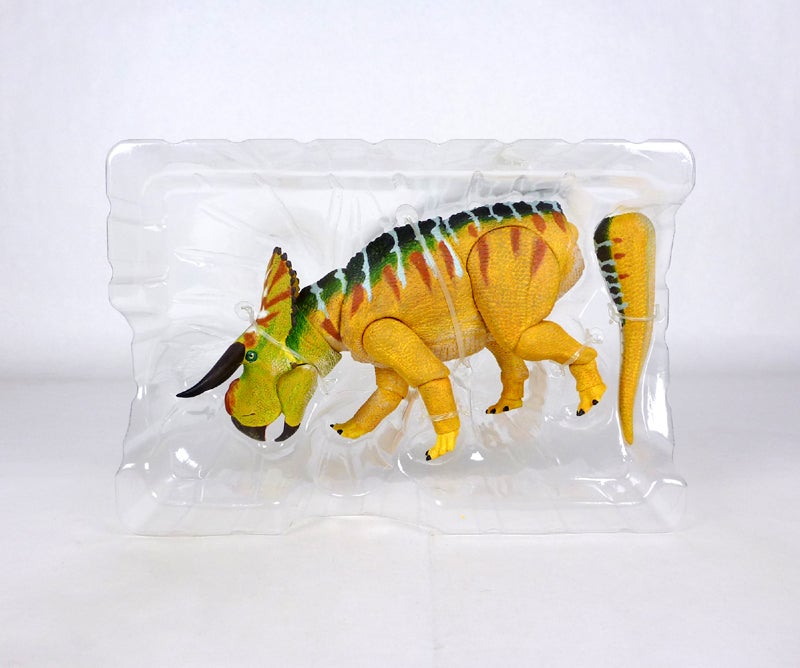 Getting your Ceratopsian ready for play or display is a matter of clipping out a series of plastic fasteners holding it in place, and then popping the tail onto its ball joint. An included instruction sheet suggests heating up the plastic of the tail at the socket (hot water, blow dryer, etc.). I found this a really good note as the plastic was very tough. I would hate to force that thing and break the ball part of the joint right off the bat. But with some heat applied it attached perfectly.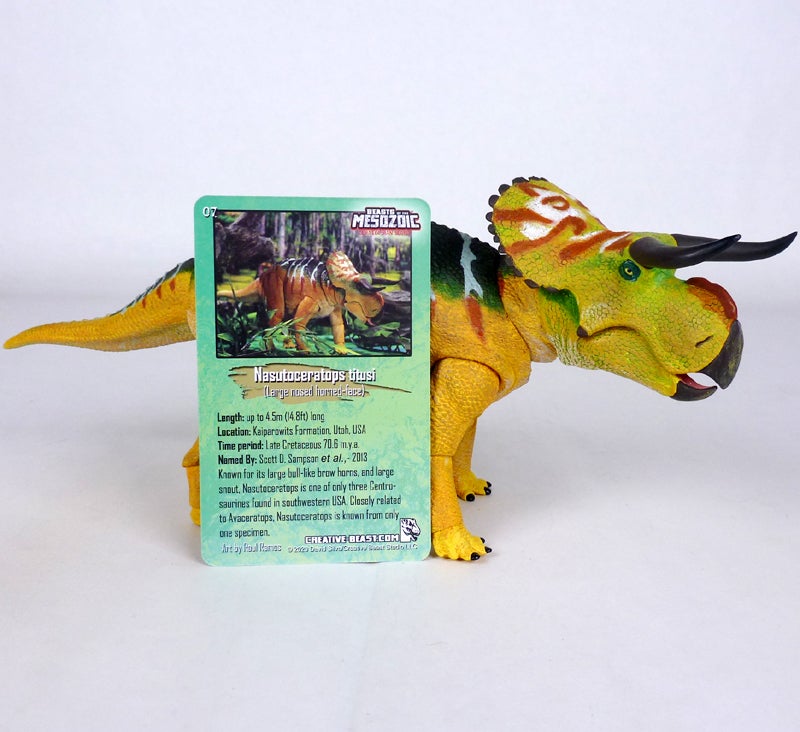 The Nasutoceratops titusi is a magnificent beast. I'll leave the science to David as far as how accurate a depiction this is (but I trust it is), but it looks super cool especially when compared to the "standard" dinosaur toys. At 1/18th scale, it stands about 4 ¼ inches to the top of its frill and nearly 10 ½ inches long from the tip of its horns to the tip of its tail.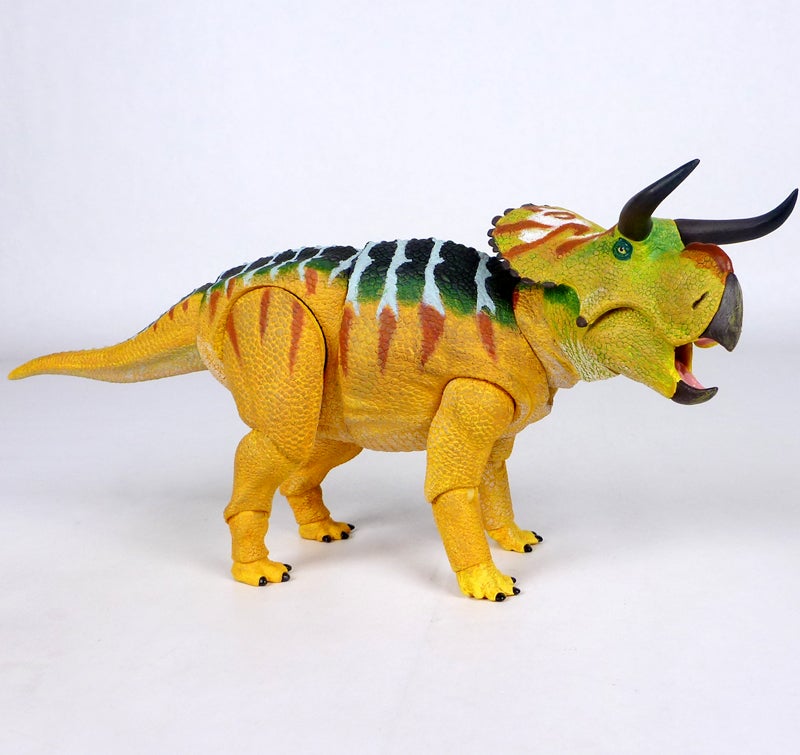 Nasutoceratops has a stocky, sturdy body with a slightly flattened back and a ridge running down the center. It has smaller and shorter forelegs that bend forward at the "knees" while the rear legs are much beefier, taller, and bend backward. What separates this species from other Ceratopsians is its unique and distinctive head shape. Nasutoceratops' name means "large nosed horn face" for good reason; its hefty head has a narrow beaked mouth, a bony ridge on the top of its muzzle, two long horns that curve forward, and a back-sweeping plate at the rear ringed by nubs.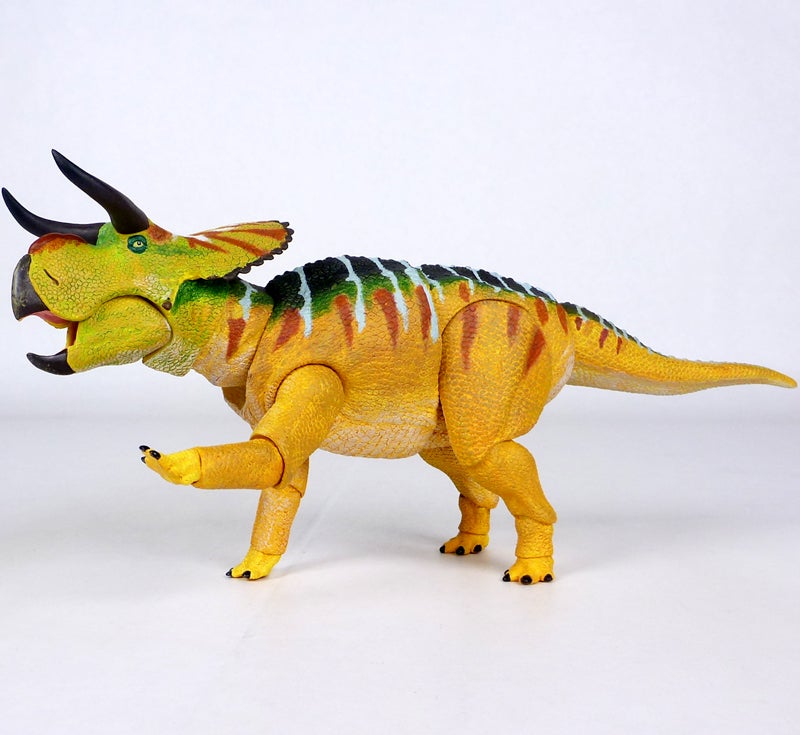 Nasutoceratops' sculpt is very impressive, and once again I have every reason to believe it's accurate to what current scholarship tells us this animal probably looked and felt like. Just about the entire surface of the animal is covered in a bumpy, uneven texture, pebbly you might say, with a really nice variation in shapes and sizes. This is made even more interesting along the neck and around leg joints where you'll find some pretty thick folds and creases. Of course, there are smooth surfaces on the nails, beak, horns, and horn nubs. The dino's toes are very interesting, with four big ones on the hind legs and three big ones with two little ones on the forelegs. They also splay out in a unique pattern which can make posing a little challenging, but the articulation is there to make it happen.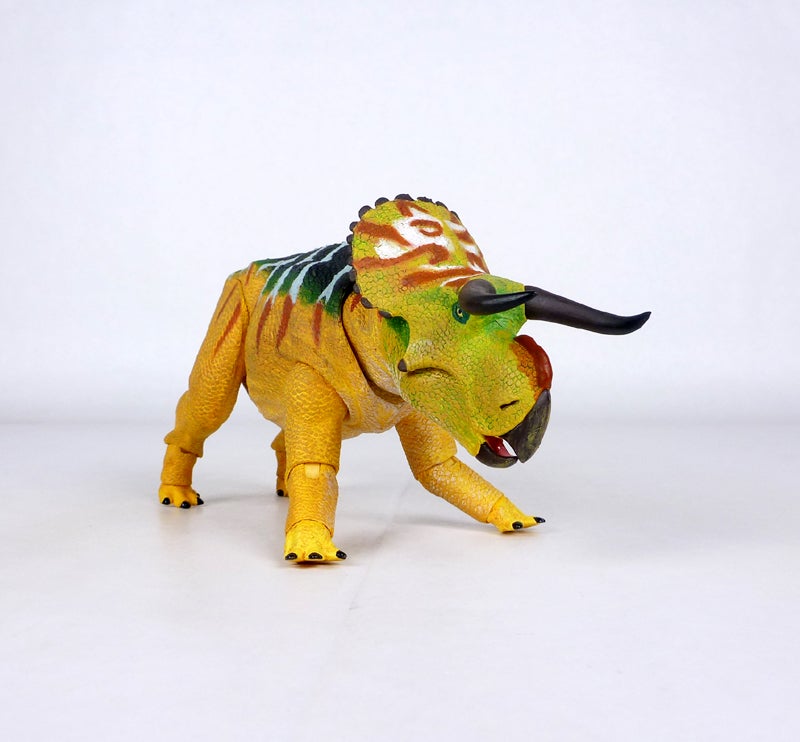 In addition to the wide range of specific dinosaur species, both Beasts of the Mesozoic series feature wildly different colors and patterns. Nasutoceratops here is mostly a vibrant yellow fading to a whitish yellow on the belly. Working your way up, at about the midline the other colors are introduced: descending orange stripes first and then bluish-gray, ending with a dark gray band running down the back that's bordered in green. So yeah, lots of colors here in a very visually interesting pattern.
It gets even better on the head with a wild swirl of those orange stripes with white mixed in, and more green on the face. Black shows up on the nails, a dark brown/black on horns, beak, and nubs, and pink inside the mouth. Last but not least, the creature's eyes are painted with thick outer green eyelids, yellowish sclera, and black centers. I really love this color scheme and the way it's broken up and detailed; it's really eye-catching and looks so much more lifelike and realistic than what you'll see on most cheaper dinosaur toys.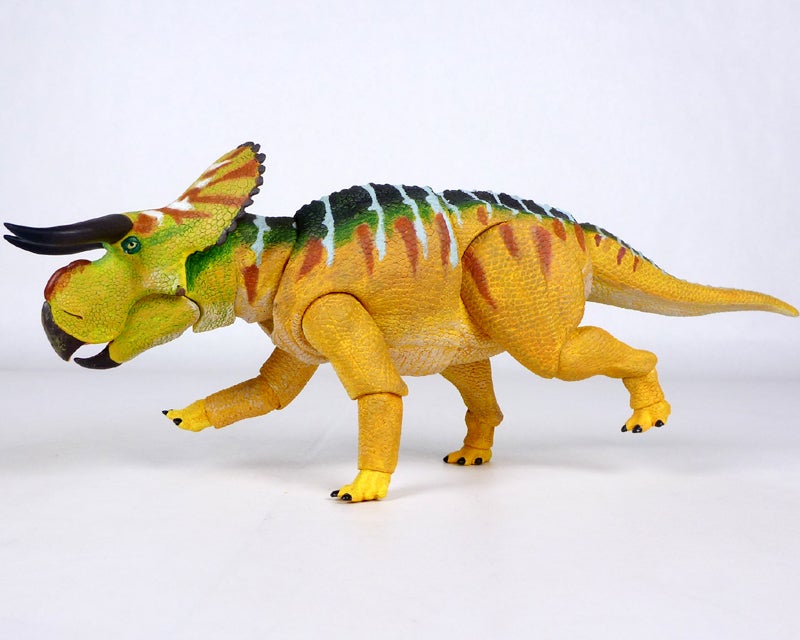 Remember when I called this an action figure? I stand by that as I marvel at its 19 points of articulation! Obviously, the majority of these can be found in the legs, but that's not all. There's a mid-body "waist," the aforementioned ball-jointed tail, and no two joints in the neck to get a really nice range of motion looking side to side and up and down.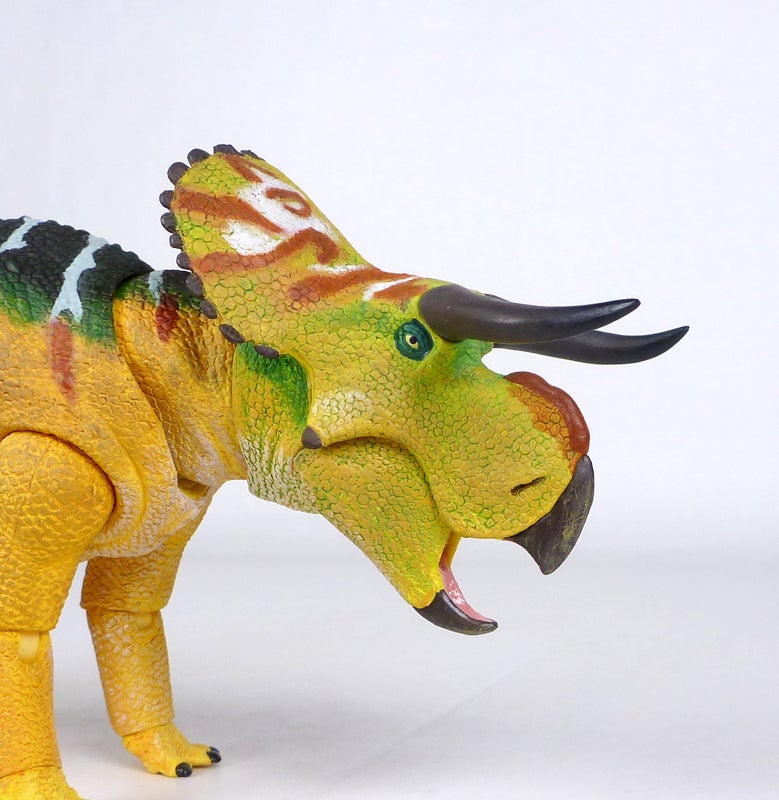 The jaw is hinged so you can display your Nasutoceratops with mouth open or closed. Forelegs have three points of articulation while the rear ones have four to accommodate the unique leg shape. I found posing the dino to be a lot of fun. It looks great in all the usual poses: standing, bending down to eat, crouching, looking around, etc. What really blew me away was that I was able to get this creature into a believable running pose balanced on only two legs! So cool.
Nasutoceratops titusi and its brothers and sisters in the Ceratopsian Series were created thanks to the successful Kickstarter, with the Wave 1 product in the U.S. and expected to start shipping to backers Thanksgiving weekend. But don't despair if you missed the crowdfunding; there are pre-orders currently running on the official Creative Beast Studio site. There's a decent range of prices depending on which dino you're looking at, especially with the different scales they fit into.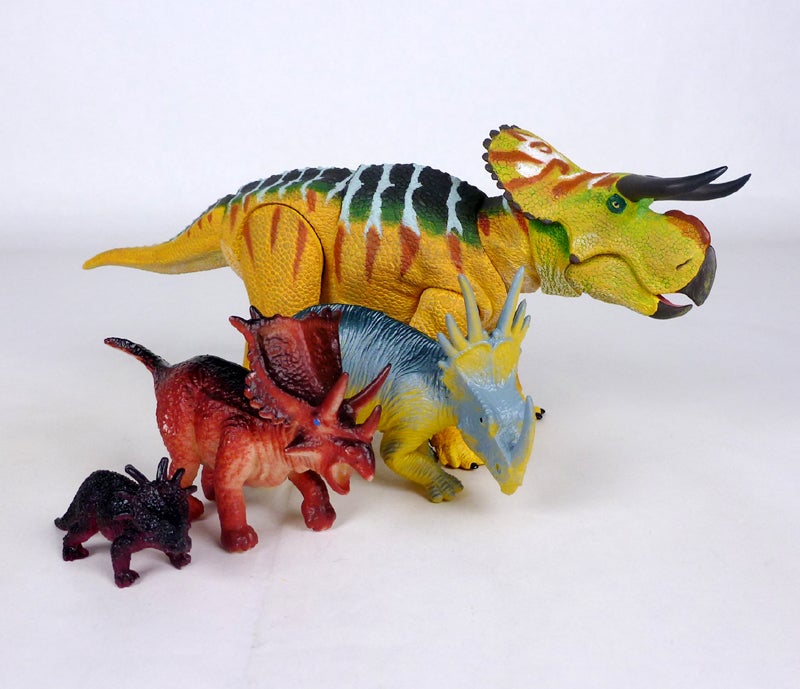 Nasutoceratops here runs just under $50, which I think is a perfectly fair price for the size, heft, appearance, and articulation, not to mention its scientific accuracy and all the interesting things you'll learn about it, especially with the included profile card. Relive the glory days of your childhood playing with dinosaur toys in style!
Review and photos by Scott Rubin
Review sample courtesy of Creative Beast Studio
[See image gallery at www.figures.com]
---