The meteoric rise of the Marvel Cinematic Universe has led to many Marvel characters that were either unknown or only somewhat liked quickly becoming beloved around the world. Such is the case with Daredevil, who was once ridiculed for having one of the worst superhero movies, but has found a new lease on life thanks to Netflix. And to go with his newfound popularity, DD is getting a new 1/4 Statue: the Sideshow Exclusive Daredevil Premium Format Figure is now up for order!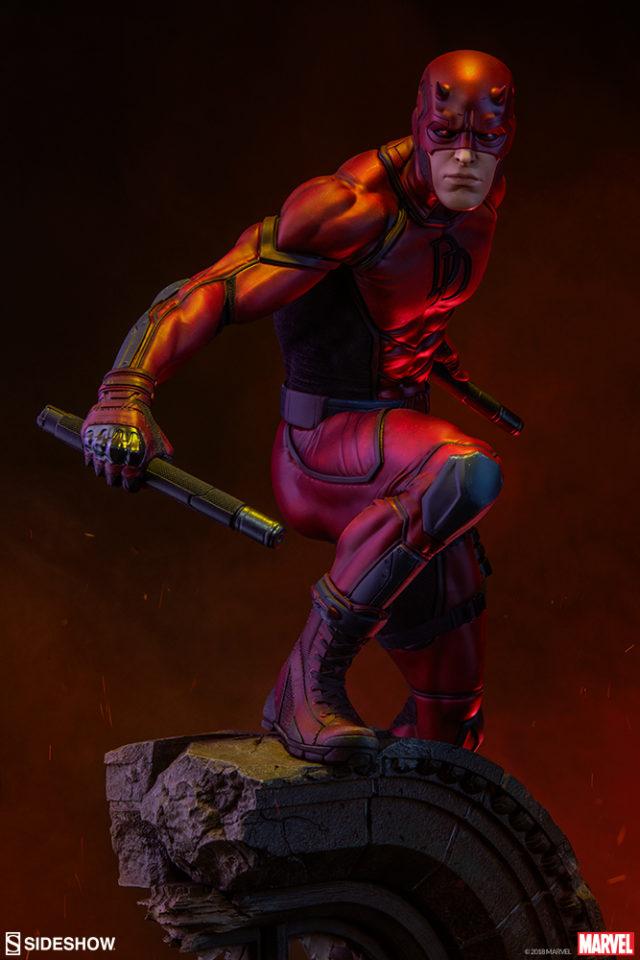 I took my future wife to see the Ben Affleck Daredevil movie on our first date and she still married me. Now that's love. As such, I've got a soft spot for Daredevil, and always give his new toys and collectibles serious thought, even though I already own more than my fair share of DD merch.
I've long-contended that the Bowen Designs Daredevil on Gargoyle Statue is the best statue ever made of The Man Without Fear, but I think that DD finally has some serious competition—from the new Sideshow Collectibles Premium Format Figure!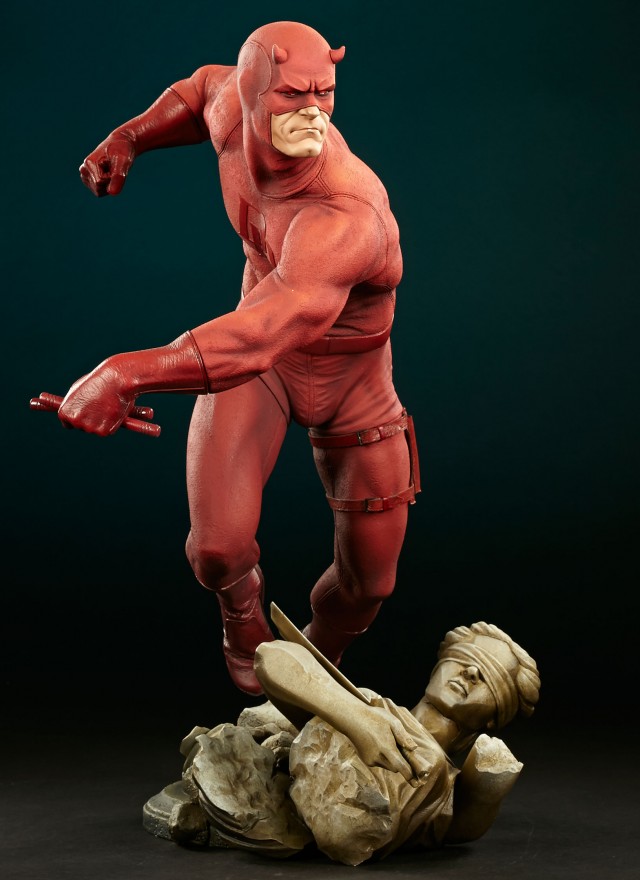 Sideshow Collectibles released another Premium Format Daredevil figure a few years back (in 2014, to be precise), but for whatever reason (perhaps the charging pose, perhaps the Netflix series not being at the height of popularity yet), that piece didn't sell all that great.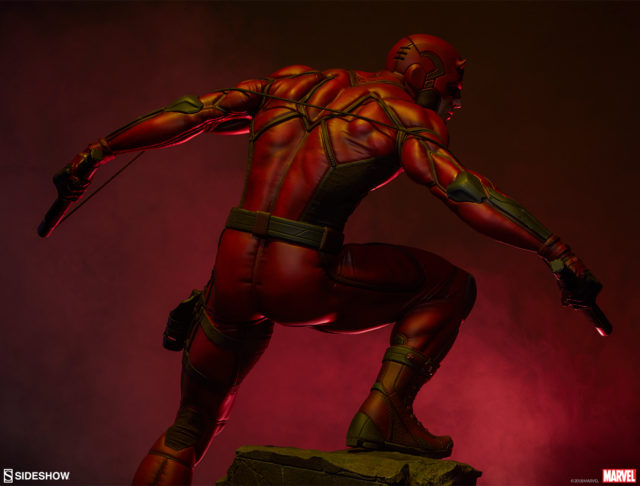 I don't think that SS is going to have that problem this time out, because simply put, this new Daredevil PFF blows the previous one out of the water in almost every way.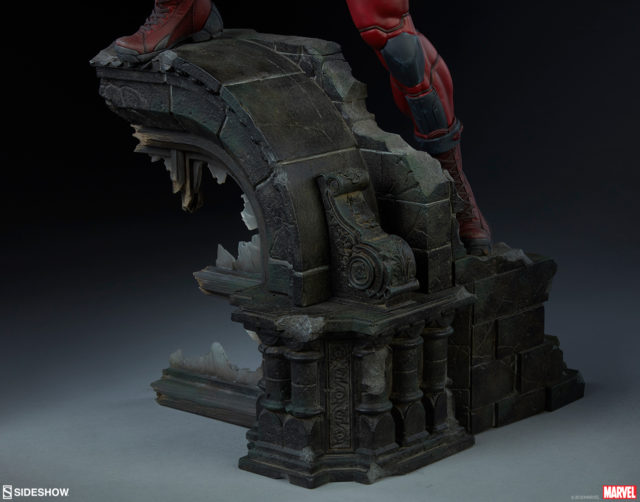 Gone is the awkward "running on a statue of Lady Justice" pose from the 2014 version, replaced with Daredevil just the way he should be: perched atop a base of gothic architecture.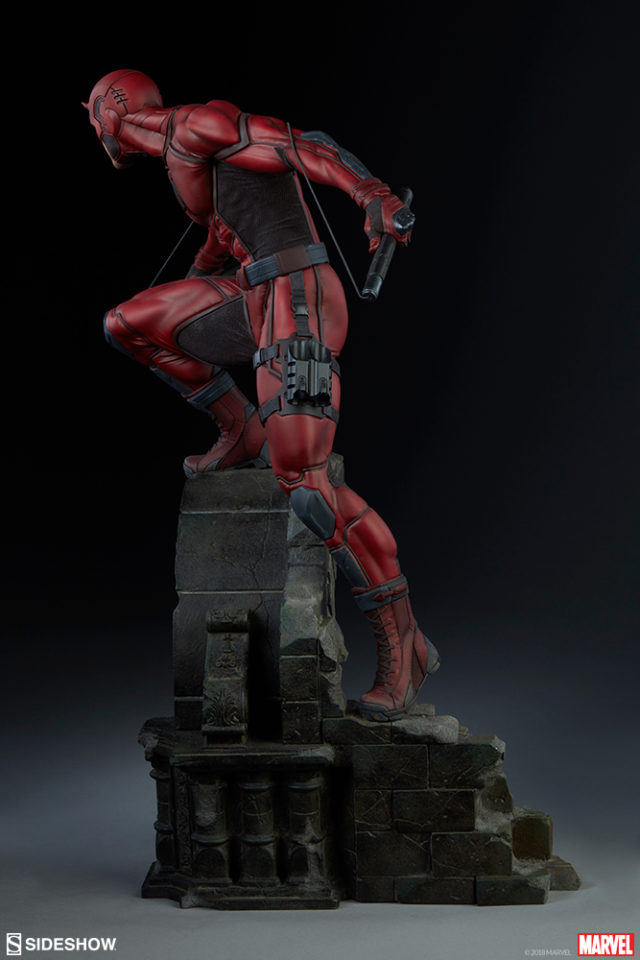 The gothic building base is beautifully detailed and intricate, and really gives this piece as a whole the right kind of gloomy feel that meshes best with a guy like Daredevil.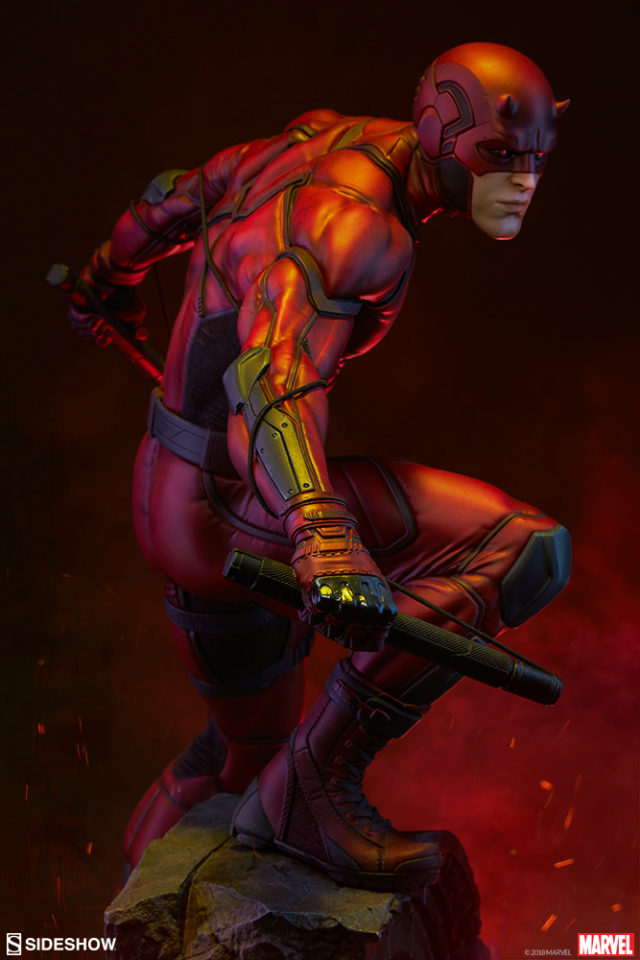 While traditionally Daredevil statues have featured the classic all-red costume, Sideshow is taking some artistic liberties (and some cues from the Netflix series) and making Matt Murdock's costume two-tone this time out with a mixture of black and red areas.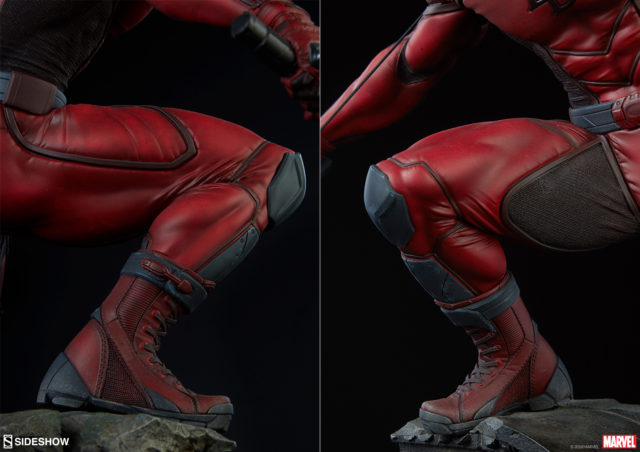 Generally, I would hate this kind of stylization to a comics-based statue, but despite my inherent bias, the design for this costume looks really snazzy. This is going to be a divisive choice, but the two-tone style on this Premium Format Figure just looks right to me.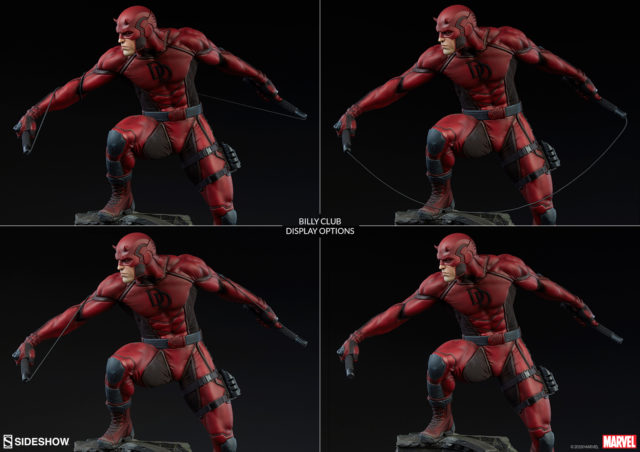 Another cool aspect of this figure is that Sideshow has engineered the billy clubs such that they can be displayed in a variety of ways. The fabric elastic wire that connects the clubs can be adjusted to however you like it to look best, and can even be removed entirely if that's your preference. Thumbs up for this unusual level of flexibility in display options!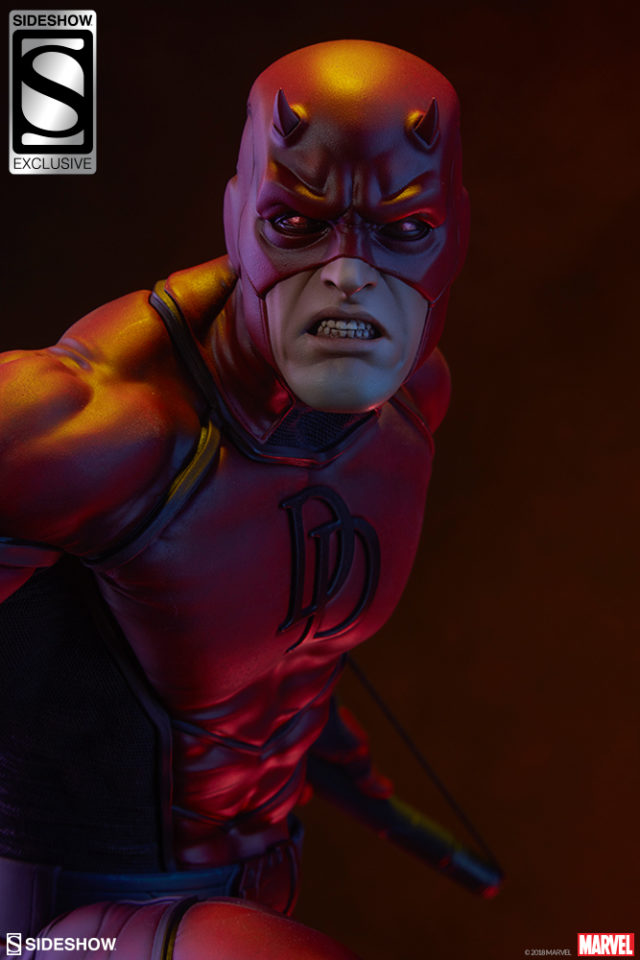 As has become almost universal with Premium Format Figures, there's an exclusive edition of the Demon of Hell's Kitchen. The Daredevil EX will come with an additional interchangeable head sculpt with gritted teeth and a more classic red mask.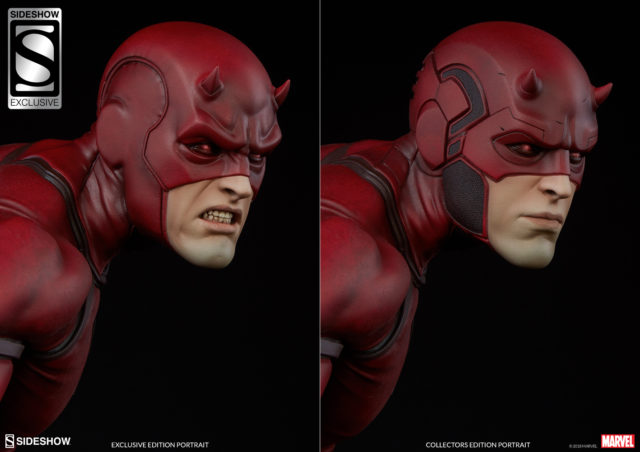 I can't believe I'm saying this, but just like with the costume itself, I actually think I prefer the stylized Sideshow interpretation head to the classic head. That breaks from the norm for me, but I really love the look of the regular, non-traditional masked head this time out. Crazy!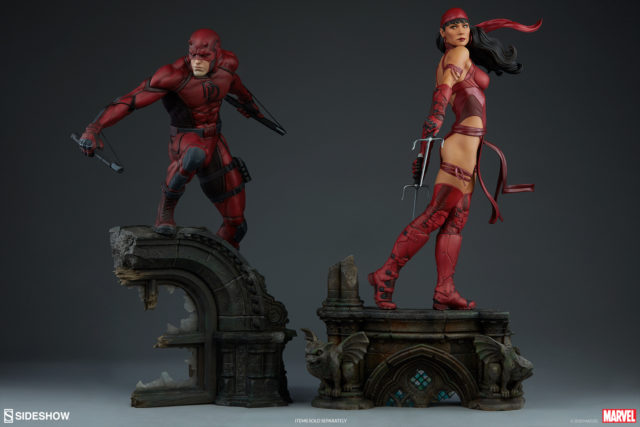 Sideshow Collectibles also has a new Elektra Premium Format Figure lined up to complement DD. While I really like how that 1/4 Elektra figure looks in the background of photos with this Daredevil, I'm not sold on it as a "must have" piece at all yet (particularly when it's certain to cost $500 or more). Hopefully I'll be more impressed with the Elektra PF when it's ready to be solicited.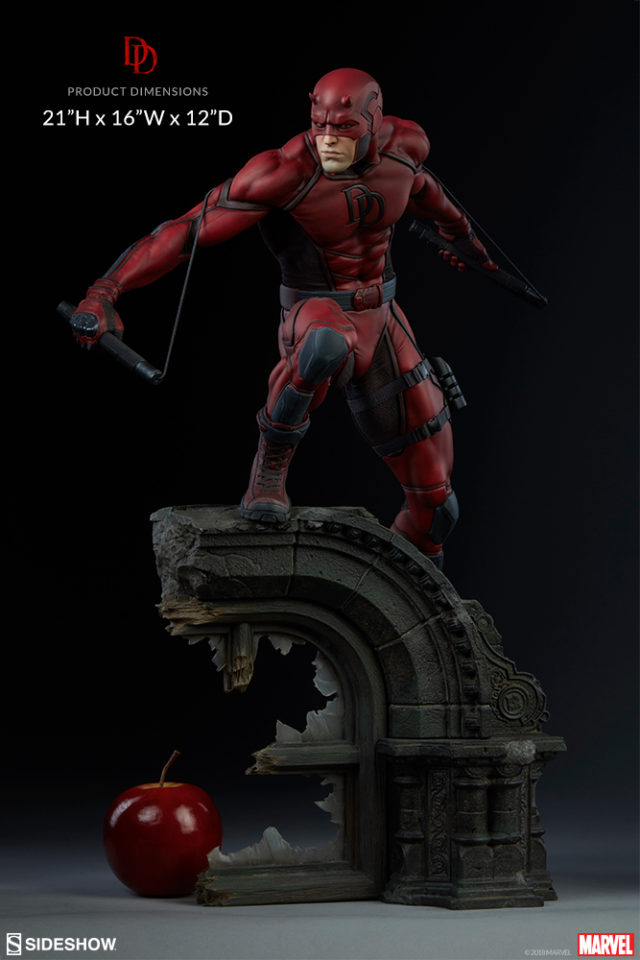 But since I breached the topic of prices, I might as well discuss the big price on this big boy: $560 for the "Collector" (regular) version and $575 for the Exclusive Edition of ol' Hornhead. That's a price that would have been unthinkable half a decade ago, but it's become par for the course these days.
Given the 21" size of this statue and the various display options with the billy clubs and the extra head, I think $575 is an "okay" price for this statue. Not overly exorbitant, but certainly not a strong value either. I'd love this piece a whole lot more at $499, frankly.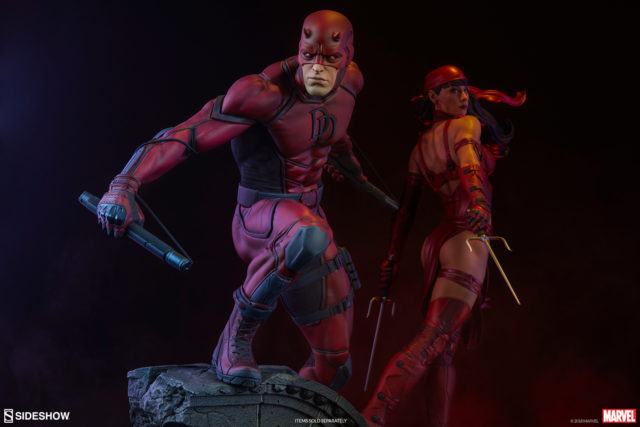 The Sideshow EXCLUSIVE Daredevil Premium Format Figure is now up for order, and is scheduled to be released in Q1 2019. There's no edition size set yet for the EX, so Sideshow is likely waiting to see how much demand there is for this piece before they officially announce any kind of LE size.
I haven't been shy about stating that this just may end up being my favorite Daredevil statue ever once it's released, but how do you think it stacks up, Marvel collectors? Does this trump all of the DDs that have come before from XM Studios, Sideshow, Kotobukiya, Bowen Designs and more, or are you sticking with an older rendition of The Man Without Fear?
The post Sideshow Exclusive Daredevil Premium Format Figure Up for Order! appeared first on Marvel Toy News.