Hard truth: With the sheer number of superheroes appearing in Avengers Infinity War, the notion of putting together a large-scale resin statue collection of a majority of the heroes in the movie is a pretty unachievable proposition. But Iron Studios has a plan that caters to statue collectors on a budget: sixteen 1:10 scale Iron Studios Infinity Wars statues for the money- and space-conscious among us! Kicking off the line, the Iron Studios Thanos and Cull Obsidian statues are now up for order!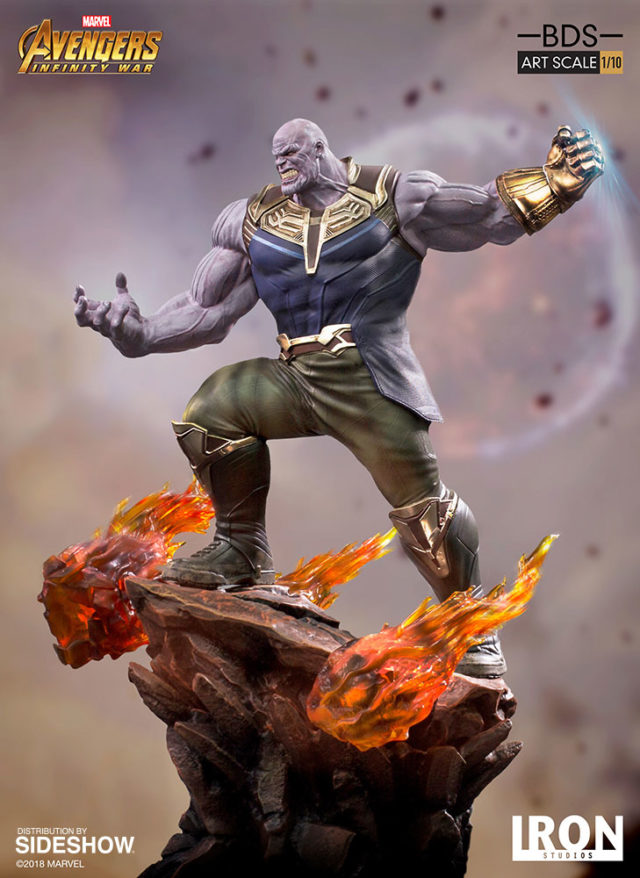 Something I've been struggling with fiercely over the last couple years is the fact that statues have basically overrun my designated display space… and the rest of my house. It's led me to sell some collectibles I hadn't planned on (though never my beloved Bowen Designs statues), and also to have an increased appreciation for smaller statues.
Diamond Select Toys has had my attention for the past two years with their space-saving, money-saving Marvel Gallery PVC series. But I have a major weakness for resin, and that's why I almost fell over when I saw how incredible the Iron Studios Battle Diorama Series looks in person.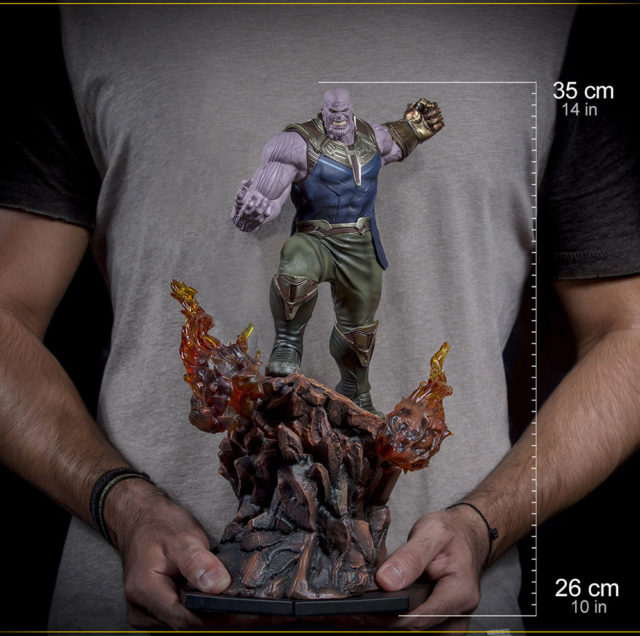 Whereas Kotobukiya's prices for their plastic 1/10th scale ARTFX+ figures are quickly spiking and selling for $75-$80 with plain black bases, Iron Studios is producing 1/10 RESIN statues with superior paint quality and detailed bases, often for just a few dollars more per statue.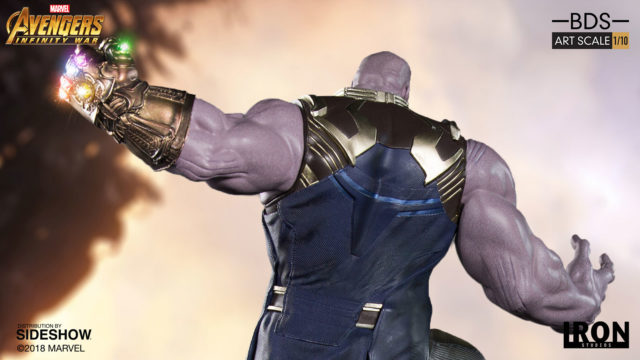 For Avengers Infinity War, Iron Studios is putting out some of their most expensive—but also some of their largest and most jaw-dropping—Marvel BDS (Battle Diorama Series) statues yet.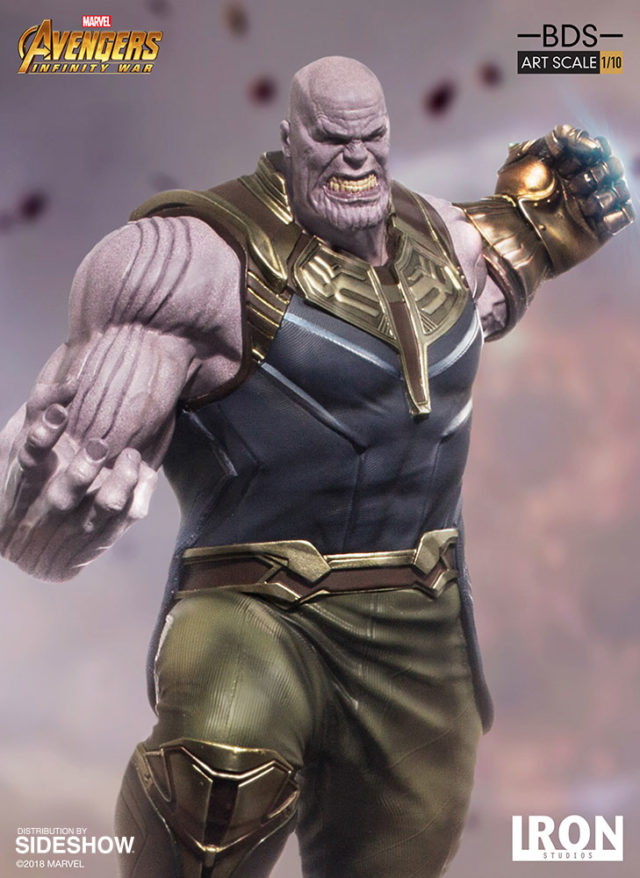 First up, we've got the Iron Studios Thanos Statue. Standing almost 14" tall, the polystone Thanos figure is one of the most authentic representations of the movie character that I've seen from any companies—up there with even Hot Toys (which is huge praise coming from me).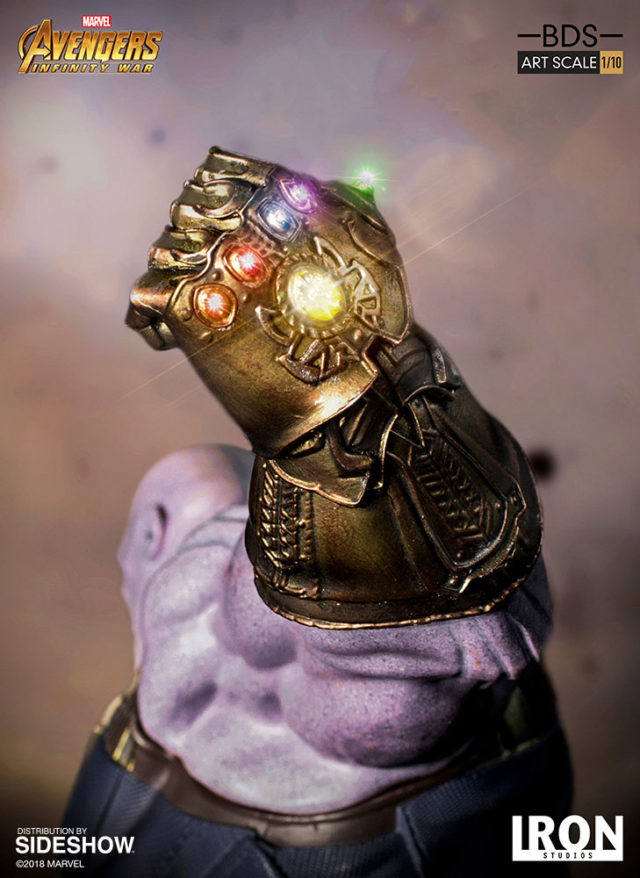 I could give or take the electronic LED light-up Infinity Gauntlet (especially if omitting it would have kept the price down), but that's a minor complaint. This Iron Studios Thanos Statue is gorgeous. If the final product comes out looking as good as the prototype, this may end up being the most impressive 1:10 Statue that I've ever seen.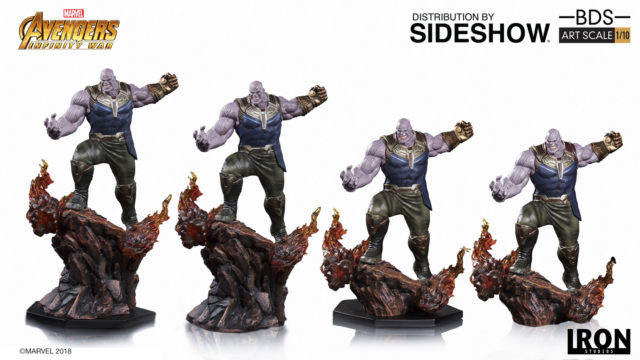 Iron Studios has also implemented a unique feature that I don't think I've ever seen before for this piece: a modular base that can be disassembled piece-by-piece in order to get the Mid Titan to the height/look that you prefer. It's not something I would have thought to ask for, but it's a seriously cool way of handling a statue base!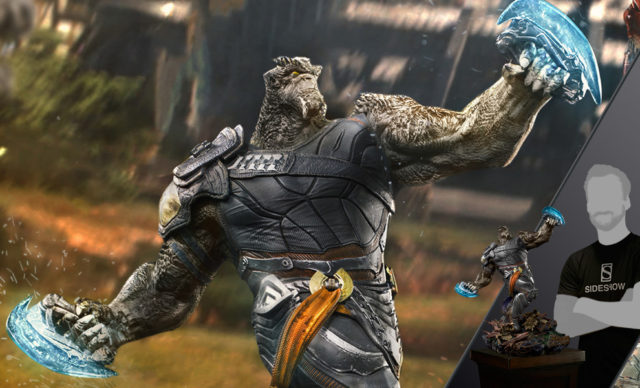 Meanwhile, the second piece in the Iron Studios Infinity War Series is a character that's not getting nearly as much merch love as Thanos: Cull Obsidian.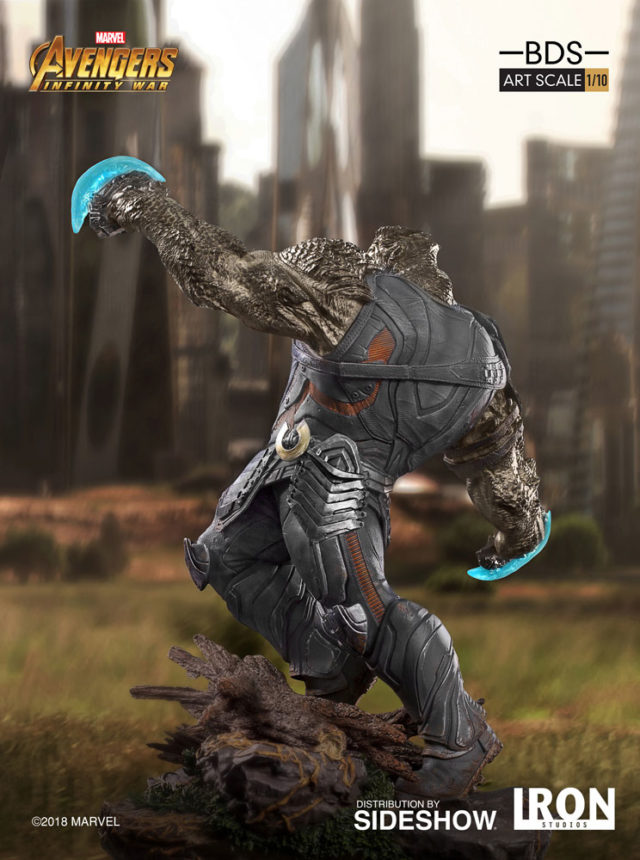 The powerhouse brawler of the Black Order, the Iron Studios Cull Obsidian Statue is even bigger (and more expensive) than Thanos. Cull Obsidian is a perfect example of a character that most collectors would never pay out $700-$1000 for as a 1:4 Statue, but might be willing to pick up for a bit north of 150 bucks.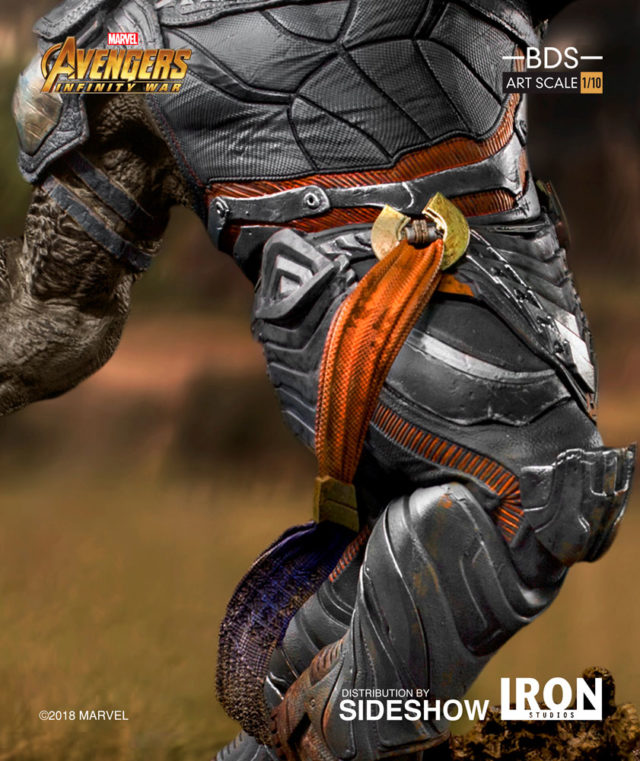 For a mere 1:10th scale statue, the textures on this statue are downright amazing. I can't even imagine how phenomenal IS could have made a 1/4 Cull Obsidian!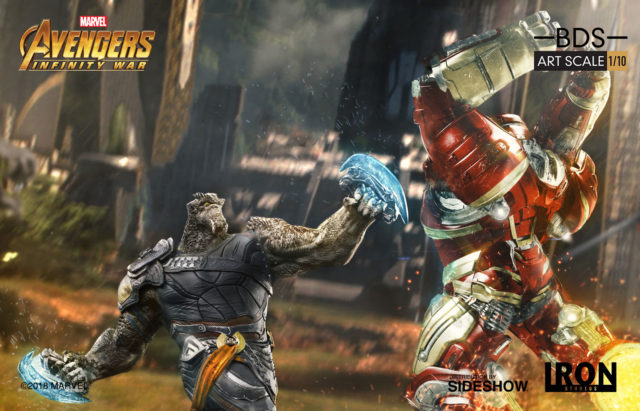 The pose on Cull Obsidian is a bit awkward in isolation, but makes sense when you see the leaping Hulkbuster Iron Man 2.0 Statue that's going to attach to this piece later on down the line. I've got a soft spot for Hulkbusters, which means that I'm planning ahead and contemplating buying the IS Cull Obsidian figure that I know is intended to be paired with him.
The remaining 14 of the Avengers 3 movie statues in the BDS Art Scale series are scheduled to be unveiled on April 26th, and I am waiting with nearly bated breath to see the rest of the range. If they're anything like these first two pieces, Iron Studios will be getting a lot of my money in 2018-2019.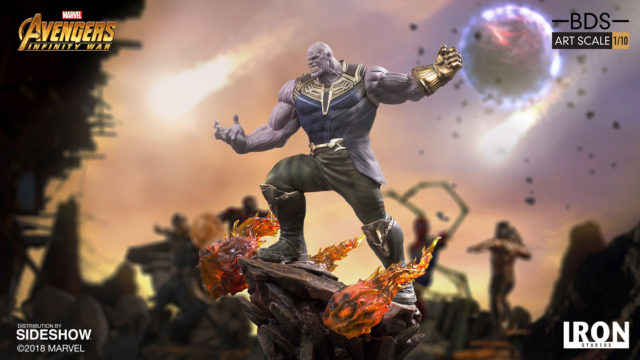 The Iron Studios Avengers Infinity War Thanos and Cull Obsidian statues are now up for order, and are scheduled to be released in Q4 2018. Sideshow has lower prices on Iron Studios statues than any of the usual online retailers like BBTS and EE this time out, which is a genuine rarity. With Cull Obsidian costing $20 less directly via Sideshow, that's where I'll be nabbing him from if anywhere.
Anyone out there collecting the 1:10 Iron Studios Marvel statues series? What do you think of the statues that you've seen or bought from the BDS so far, and what characters are you hoping to see fill out the remainder of the Infinity War BDS?
The post Iron Studios Avengers Infinity War Thanos & Cull Obsidian Statues! appeared first on Marvel Toy News.