Hot Toys shocked the Marvel collecting world last month when their launch lineup of Avengers Infinity War toys includes a jaw-dropping life-size Infinity Gauntlet prop replica. Sadly, not everyone has almost $1K they're not using for that spectacular masterpiece. But it looks like Hot Toys has realized that, because they have something a bit more budget-priced lined up for those collectors: a $95 Hot Toys Infinity Gauntlet Quarter-Scale "figure" is now up for order!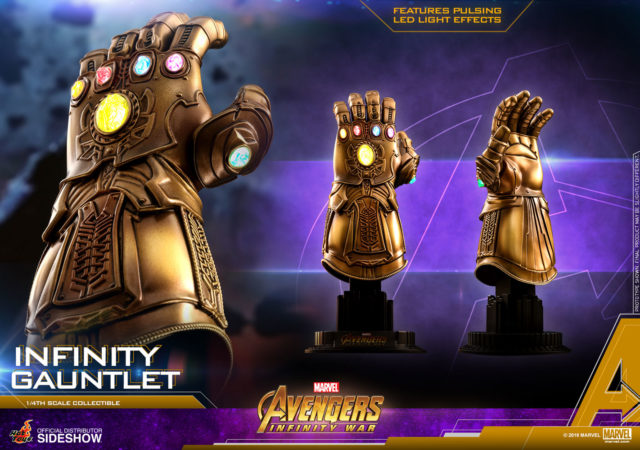 As magnificent as the Hot Toys Infinity Gauntlet life-size prop replica is, I think just as many jaws may have dropped at the $930 price-tag on that collectibles as dropped at its amazing quality.
Beautiful or not, most collectors just can't justify a nearly $1000 prop replica purchase. But Hot Toys isn't leaving those collectors high and dry. Instead, it turns out they've got a more reasonably-priced quarter scale Infinity Gauntlet up their sleeves–and it's coming in fast, with a late summer arrival this year!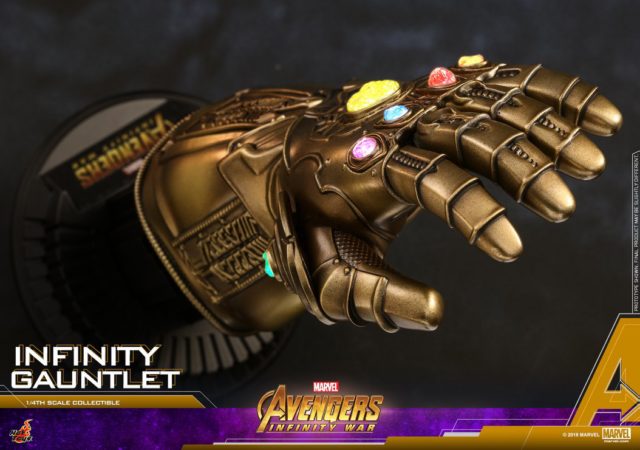 Now, at a glance it's apparent that this 1:4 Gauntlet just doesn't have the same level of "wow" as the life-size prop replica. It's smaller, and that means that fewer details can be packed into the shrunk-down surface area.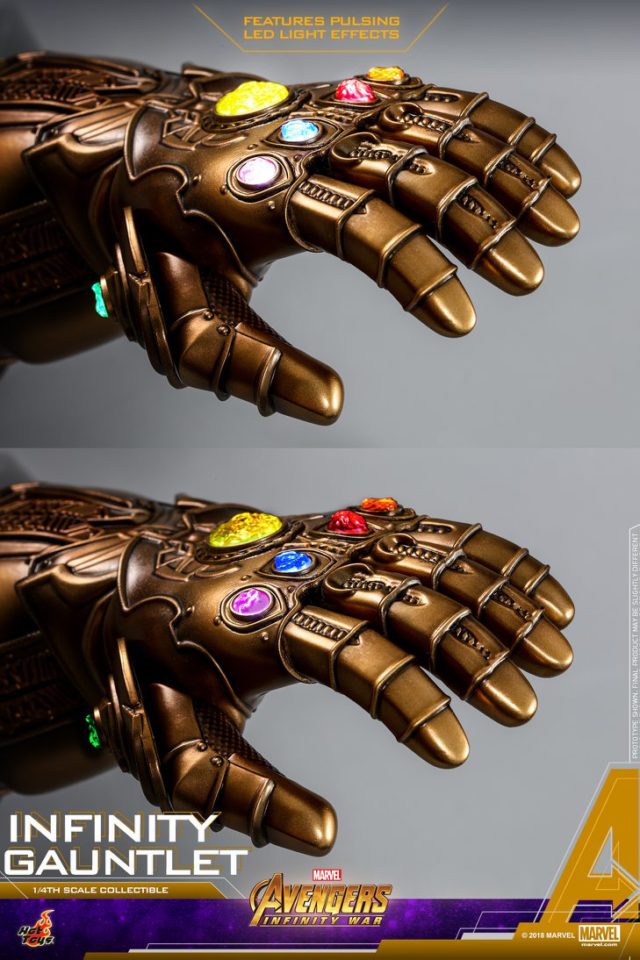 That said, this piece is still looking VERY nice, with all of the defining characteristics of the Infinity Gauntlet still present—as well as as the LED light-up Infinity Stones with a choice of always-on and pulsing effects.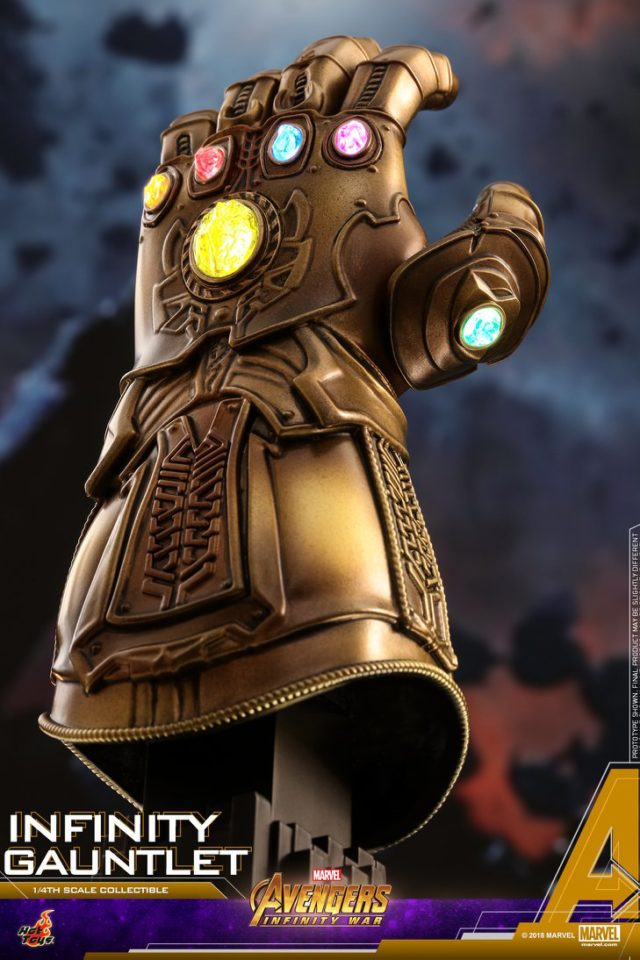 The metallic painting with weathering effects carry over from the 1:1 version, and this smaller-sized one's paint has been designed by the same painter (Lok Ho), so it should look almost as snazzy on the shelf as the big version—just a lot smaller.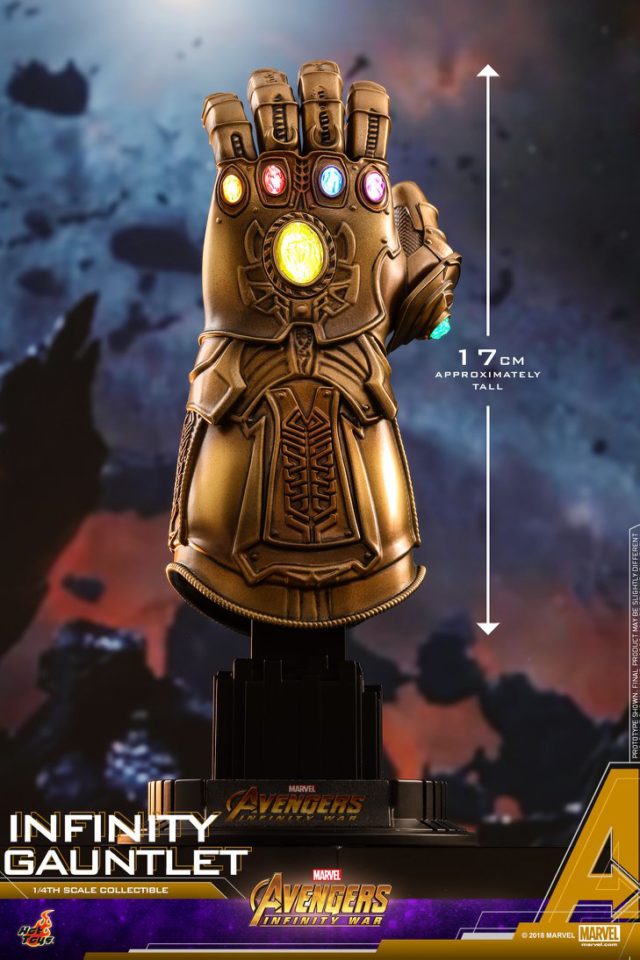 This 1/4 Infinity Gauntlet Hot Toys replica also might be a good choice for those who are space-conscious, as it's only 8.9" tall on the base (and 6.7" off the base), thus not requiring the same amount of real estate on a shelf as the full-sized version.
The major selling-point for this 1/4 Hot Toys Gauntlet, however, is likely to be the price: just $95. For a Hot Toys Marvel product, that's almost unheard of. I think at this relatively low price, Hot Toys is going to sell out of these very quickly once they arrive.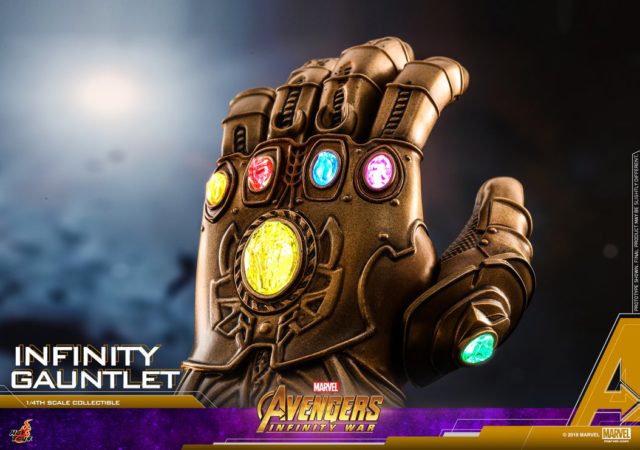 The Hot Toys Infinity Gauntlet 1/4 Replica is now up for order, and is scheduled to be released in Q3 2018 (July-September). That's a hella fast turnaround time for a Hot Toys product, so it sounds like they're so confident this piece will be a success that it's already in production right now or about to be in production.
Hands up, Marvel collectors! Who picked up the Life-Size Infinity Gauntlet replica, and does this 1:4 version have you second-guessing your choice? And for those who passed on the large version, are you intrigued by this smaller one that's 1/4th the size and 1/10th the price?
The post Hot Toys Infinity Gauntlet 1/4 Scale Replica Up for Order! $95! appeared first on Marvel Toy News.