"He's never fought us. Not us united"
Honoring director Zack Snyder's opus vision of his film the Justice League, Mezco Toyz proudly presents Batman, Superman, and The Flash in this Deluxe Steel Boxed One:12 Collective collector's set! This set is priced at $260 and is scheduled to ship January-March 2022. Pre-orders are currently open through mezcotoyz.com.
The Justice League DSB set comes complete with character-specific accessories including a Mother Box with light-up function and much more. Each One:12 Collective Zack Snyder's Justice League DSB set is packaged in a collectable tin box, designed with collectors in mind.
THE ONE:12 COLLECTIVE JUSTICE LEAGUE DELUXE STEEL BOXED SET FEATURES: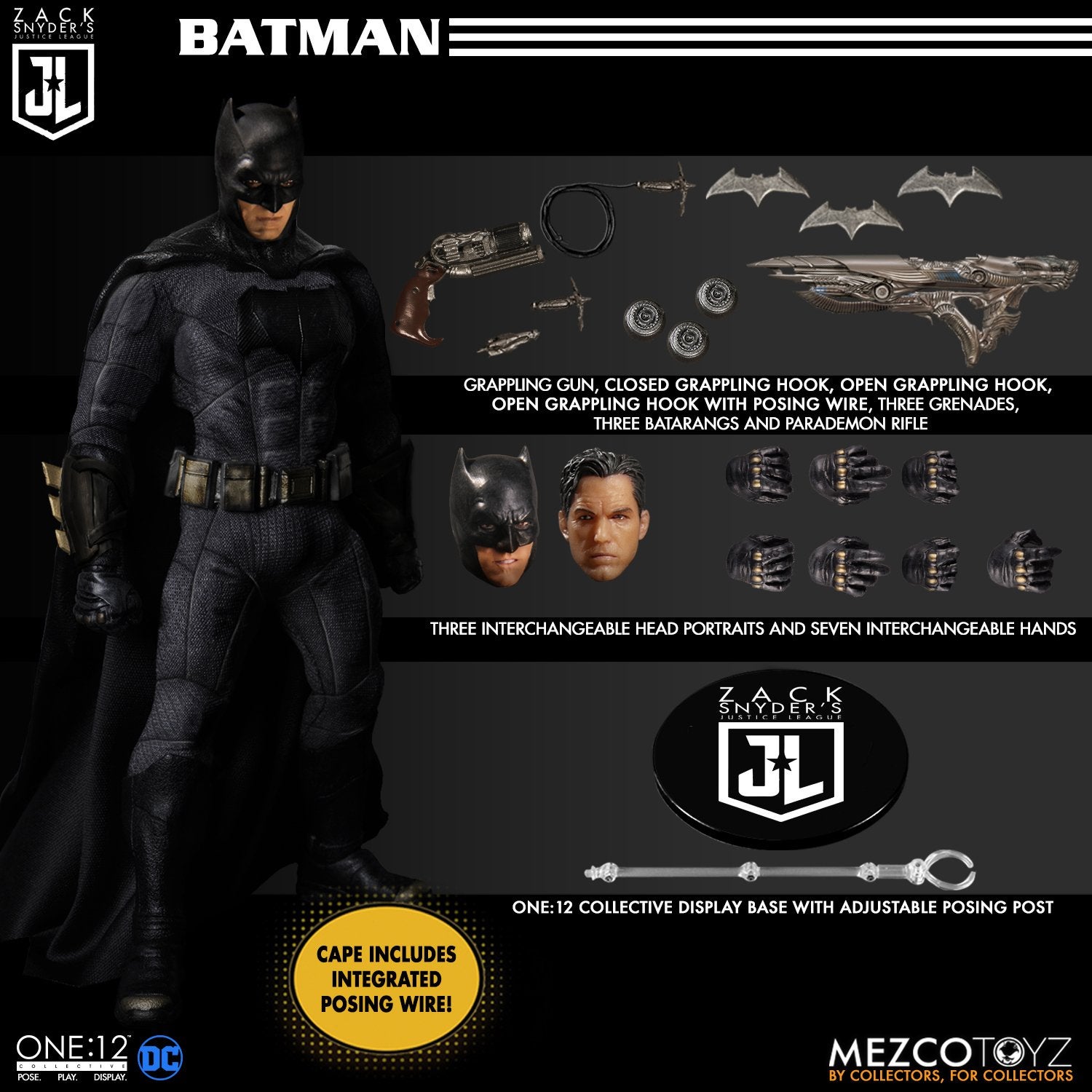 Batman
One:12 Collective body with over 30 points of articulation
Three (3) head portraits
Hand painted authentic detailing
Approximately 17cm tall
Seven (7) interchangeable hands including:
-One (1) pair of posing hands (L&R)
-One (1) gun holding hand (R)
-One (1) pair of fists (L & R)
-One (1) pair of Batarang holding hands (L & R)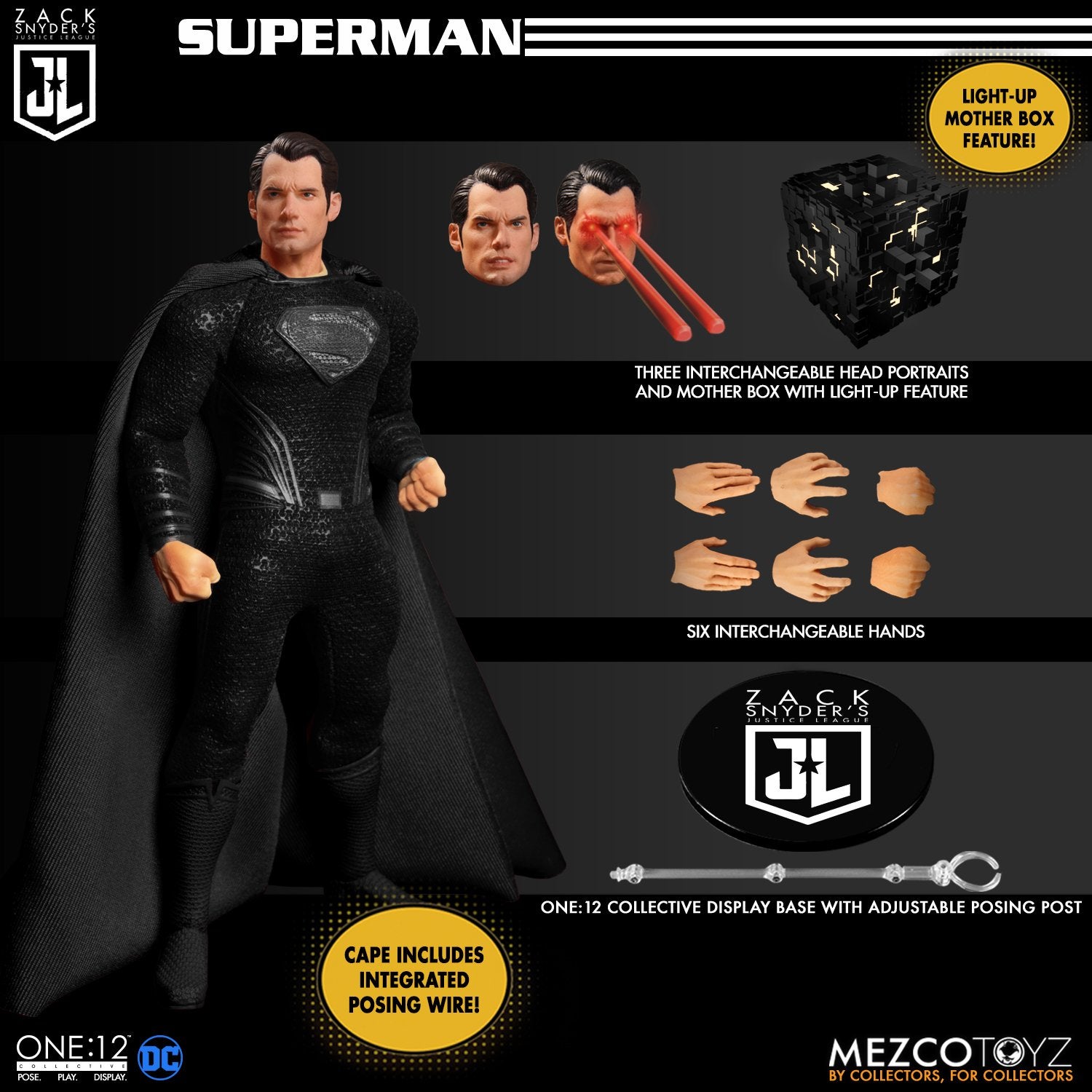 Superman
One:12 Collective body with over 32 points of articulation
Three (3) head portraits
Hand painted authentic detailing
Approximately 17cm tall
Six (6) interchangeable hands including:
-One (1) pair of fists (L & R)
-One (1) pair of flying hands (L & R)
-One (1) pair of grabbing hands (L & R)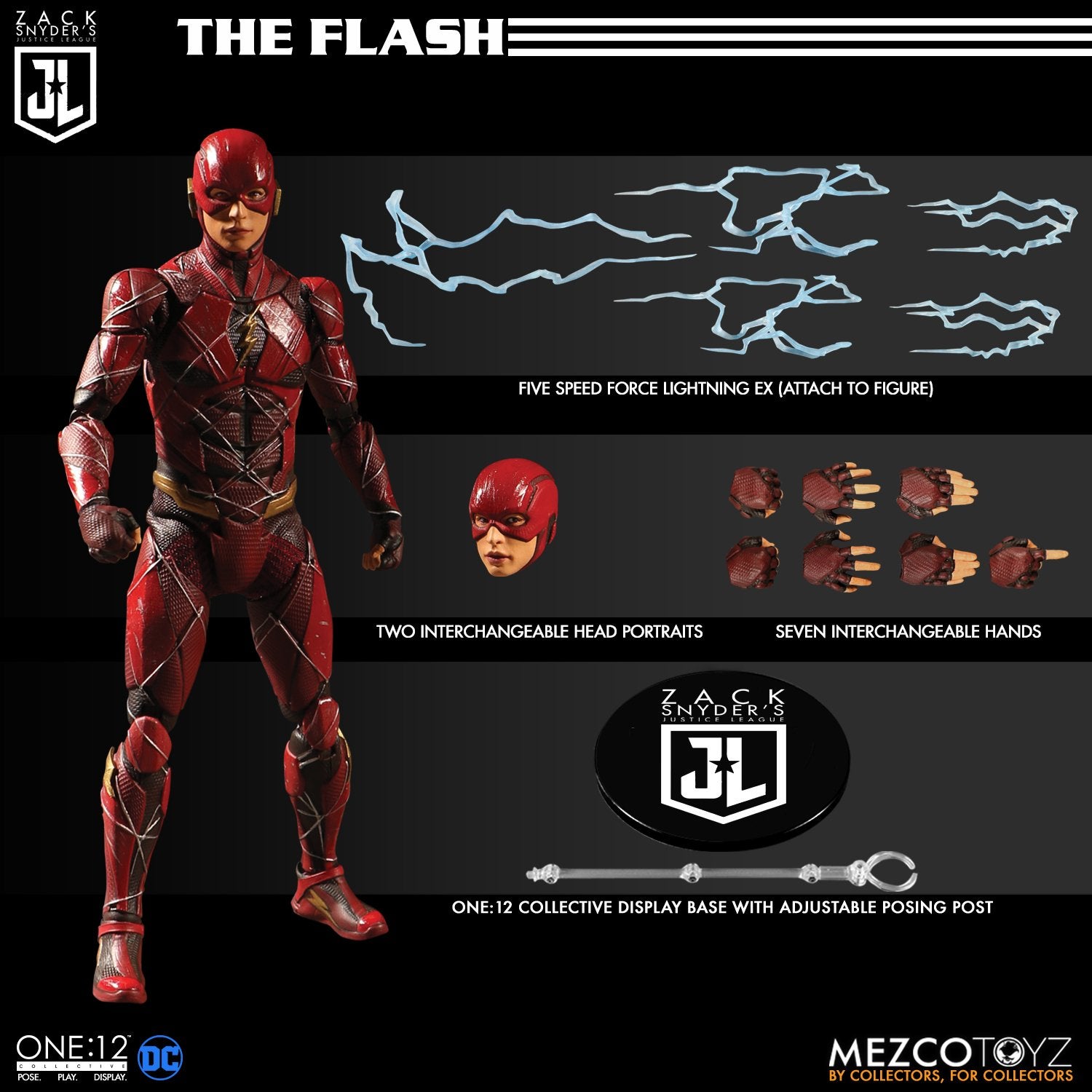 Flash
One:12 Collective body with over 30 points of articulation
Two (2) head portrait
Hand painted authentic detailing
Approximately 15cm tall
Seven (7) interchangeable hands including
-One (1) pair of fists (L & R)
-One (1) pair of posing hands (L & R)
-One (1) pair of running hands (L & R)
-One (1) pointing hand (R)
COSTUME:
Batman
Cowl (affixed to head portraits)
Leather-like cape with integrated posing wire
Batsuit with insignia
Wrist gauntlets
Utility belt
Knee-high boots
Superman
Fitted body suit with 'House of El' family crest
Cape with integrated posing wire
Mid-calf boots
Flash
Fitted protection suit with integrated soft goods
Lightning bolt insignia
ACCESSORIES:
Batman
Three (3) Batarangs
One (1) Parademon rifle
One (1) grapping gun
One (1) grappling closed hook
One (1) grappling open hook
One (1) grappling hook with posing wire
Three (3) disc grenades
One (1) One:12 Collective display base with logo
One (1) One:12 Collective adjustable display post
Superman
One (1) Mother Box with light-up function
One (1) heat vision blast FX
One (1) One:12 Collective display base with logo
One (1) One:12 Collective adjustable display post
Flash
Five (5) Speed Force lightning FX
One (1) One:12 Collective display base with logo
One (1) One:12 Collective adjustable display post
[See image gallery at www.figures.com]
---