One of the companies I haven't talked about here on Marvel Toy News in a long time is XM Studios, who make some of the finest Marvel 1/4 statues in all the land. Since XM doesn't have a US distribution license for their Marvel statues, they are generally immensely expensive to procure domestically. Even so, I want to get back to diversifying and talking about every option out there—and this is a good time to do so, because the XM Studios Rhino statue is now up for order! This massive XM Rhino 1/4 will set high-end collectors back a grand-plus: is this beast looking worth it?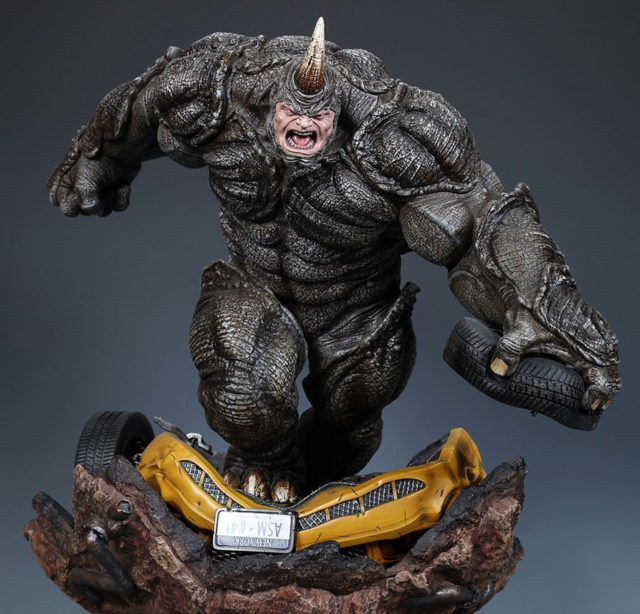 It's been so long since I previewed a new XM Studios statue that I had to sift through the archives to verify, but it's been over two years since the last time I talked about XM.
I spend a lot of my income on collecting, but other than the rare times I've lost my mind and bought a $1400 Juggernaut (that was worth every damn penny, mind you), I try to keep to my individual statue purchases to the $700 and below range (…usually). I was hella tempted by the beautiful 1/4 XM Rogue statue that went up for sale earlier this summer, but I couldn't justify her when I already have the Sideshow Exclusive Rogue from 2018.
But this latest launch is one that has definitely caught my attention, because it's a character fans have been requesting a new quarter scale statue of for many years: Aleksei Systevich, the Rhino! Let's have a look at the rampaging Rhino…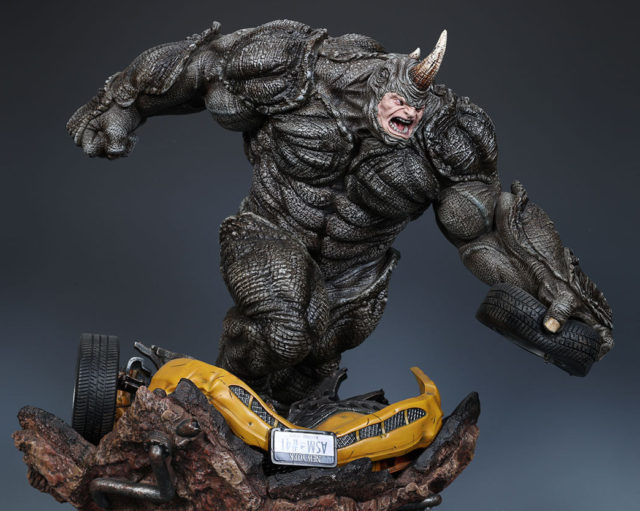 First off, let's address the elephant-slaying rhino in the room, because I suspect it's where many readers are going to skim to and then decide whether or not they're gonna keep reading: the price. This is a behemoth of a statue, weighing over 44 pounds (20 kg). XM Studios' Rhino is thick, beefy and heavy as hell, just as you would expect from a super villain with strength rivaling the Thing and Colossus (sorry, Aleksei, but you are no match for Hulk at all).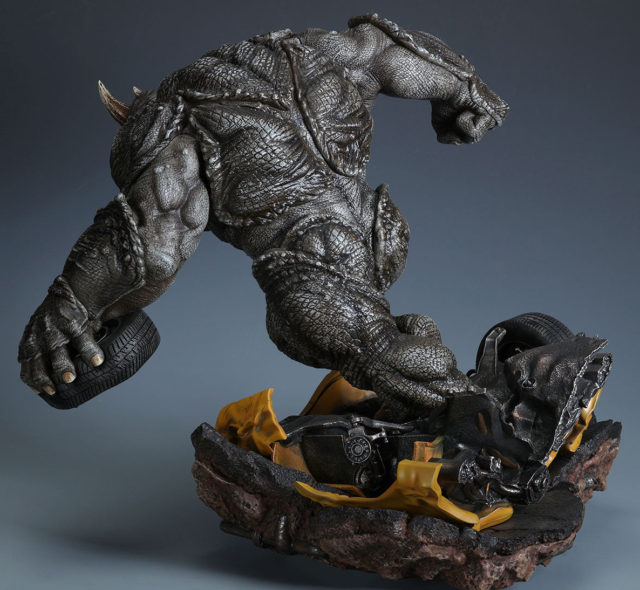 And just as you would expect, the price for such a massive statue ain't cheap: he'll set you back $1005 (plus shipping) from Spec Fiction, my favorite shop for hard to get, import-only statues. That price is not cheap (or feasible to many collectors), but it is actually a lot lower than some of the big-boy Sideshow statues in recent years like the aforementioned Juggernaut or their World War Hulk. The price certainly isn't cheap, but I do think that it is fair by today's industry standards for a huge 1:4 statue limited to under 800 pieces.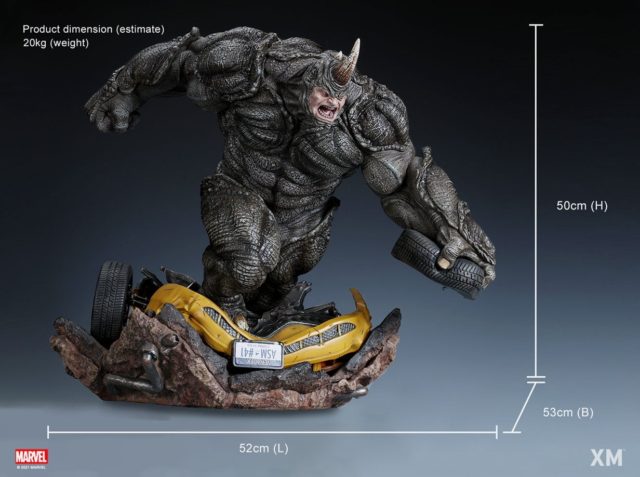 Size-wise, this statue is about 52 cm wide (20.4") and 50 cm (19.7") tall. That height sounded a bit under-scaled to me at first, but looking at the pose that Rhino is in, bent and striding forward rather than standing straight up, I can sort of see it.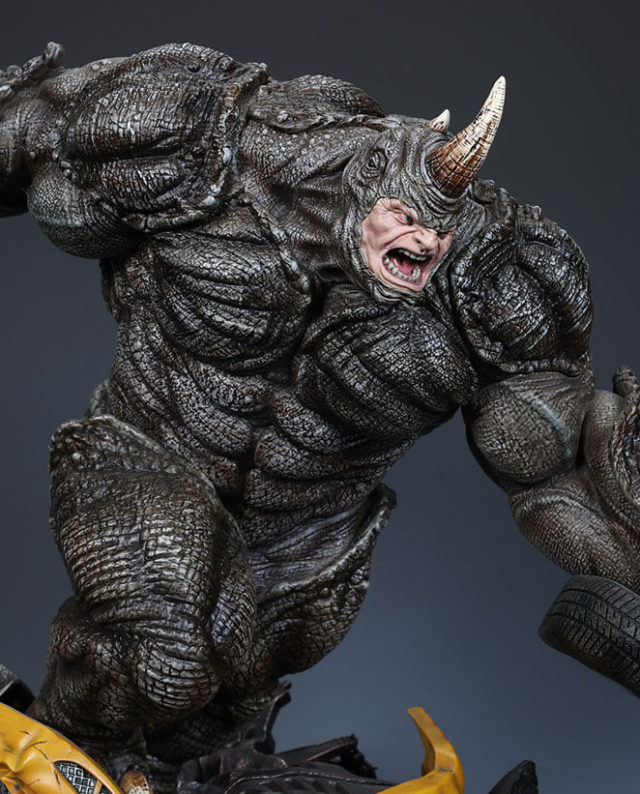 Assuming Rhino is a bit over 7 feet tall standing straight up in the comics (the best estimate I can find for the 616 version), a 1:4 statue should be around 21" tall. With this one being just under that and not standing upright, I really think the size is on-target here. Your sizing preferences may vary.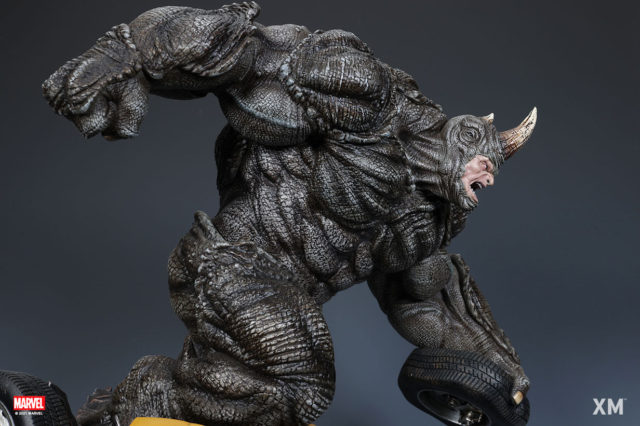 The pose itself is basically exactly what I'd want from the Rhino: charging forward like a tank, ready to wreak havoc on any heroes (and property) nearby. Rhino rushing forward with his horn outstretched is his trademark in the comics, but I wasn't sure that it would be possible to capture this type of dynamic pose in statue form and have it look good (Bowen Designs' Rhino is among my absolute least favorites of all their statues). I was wrong.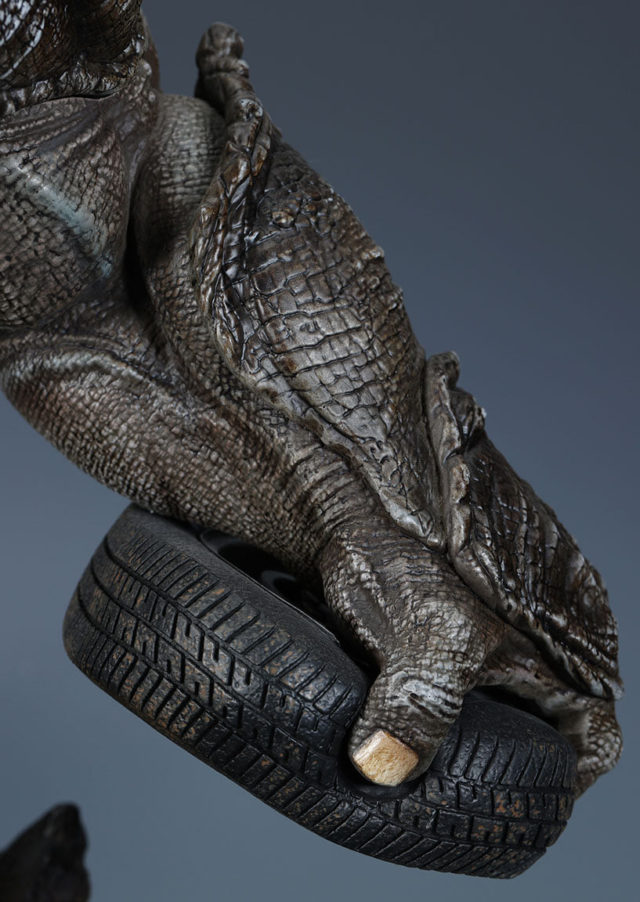 I think XM Studio has nailed this pose in a way no company has really come close to before, and I am quite pleased with the result. I don't know if I necessarily love Aleksei crushing the taxi's tire in his left hand like that, but no one can say that this design isn't evoking fearsome power.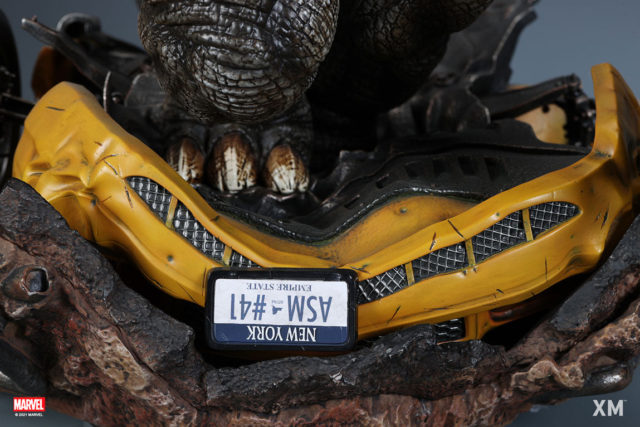 About that tire: the base here is primarily a demolished NYC taxi cab, which looks appropriately smooshed under the weight of a humongous powerhouse in a rhino suit. The yellow stands out well and complements the drabness of Rhino's costume, and the "ASM #41" license plate is a cute nod to Rhino's first appearance in 1966's Amazing Spider-Man #41. The base is wonderfully detailed and adds to the story without distracting away from it, which is the ideal for a base in my eyes. Good stuff.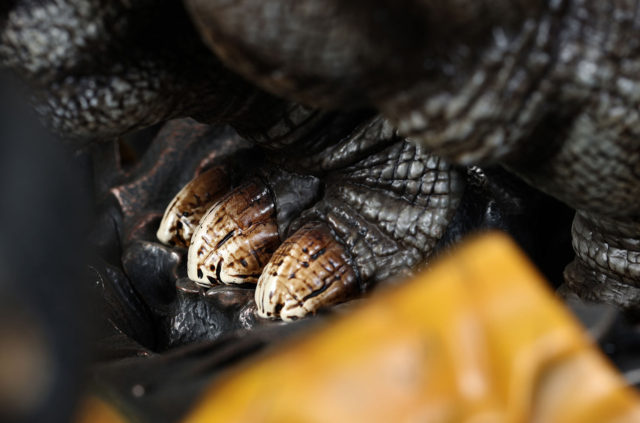 The XM Rhino itself is covered in a wonderfully-done sculpted texture, with literally thousands of tiny sculpted details present on the costume. If you ever thought you needed a cold-cast porcelain statue with immensely-intricate paint deco and texture on rhinoceros toenails, this was made for you. This blows away the level of detail ever seen before on a piece of merch for this character, and is the kind of top-notch stuff fans expect from an ultra-high-end company like XM Studios.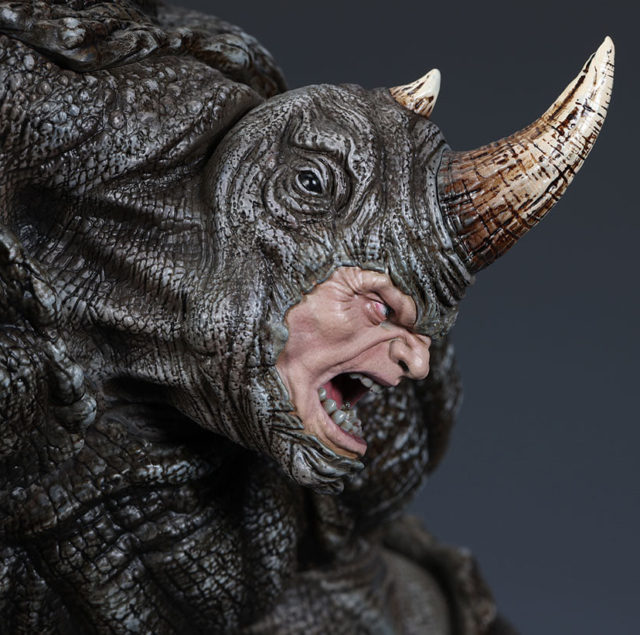 The angry, open-mouthed portrait with teeth showing is also straight-up awesome. This is one enraged Rhino on the move, and the head sculpt clearly indicates such. The paint on Aleksei's skin looks incredible, making the human face just as impressive as his rhino hide-looking armor.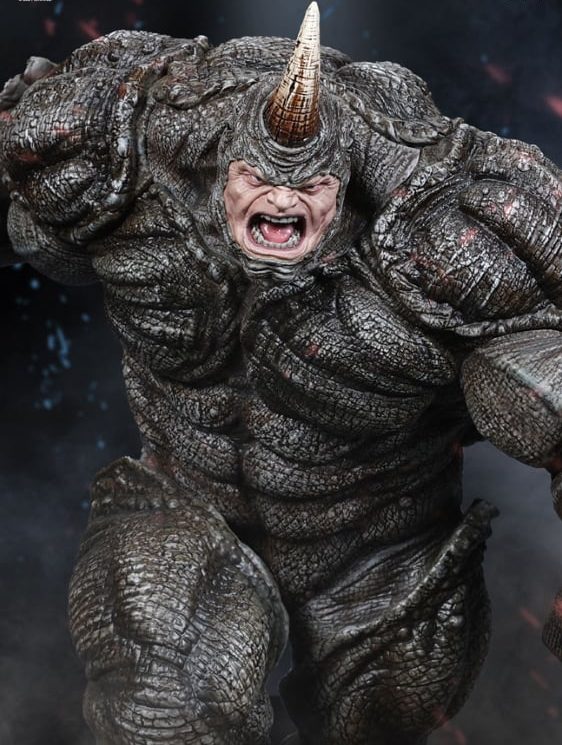 I am a hair concerned that the costume here is a bit too dark in some of the photos, but in others it looks to be closer to the medium grey that I expect. XM Studios statues in general often look a bit darker in photos than the final products do, and they've got a track record of being right on the money paint-wise, but for a $1K statue, I prefer to know for dead-certain I'm going to love—not just like—the color scheme.
Overall, though, I think this is a real winner for XM. I don't anticipate seeing anyone else do a Rhino of this size or quality any time soon, and this clearly crushes the Sideshow Collectibles Comiquette from many years ago in my eyes.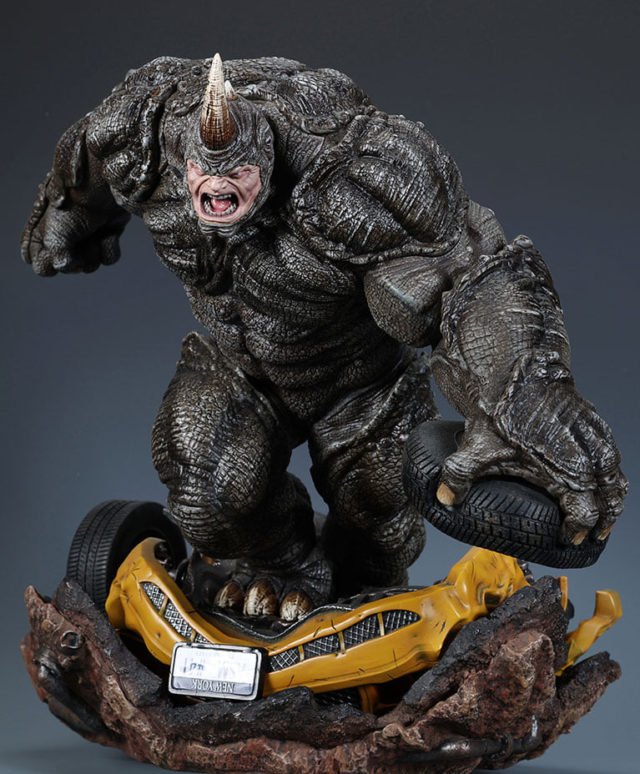 I do not feel safe buying pre-orders for items like this from rando middlemen on Facebook or overseas ebay sellers, personally. Spec Fiction Shop is the store I trust for obtaining import statues like the XM Studios Marvel lineup, and they've got the new 1:4 Rhino up for sale right now (while he lasts). Maximum edition size for this piece is 799, so pre-orders may need to close fairly quickly if this ends up being a popular statue. With the number of fans who've asked for a new quarter scale statue of this character over the years, it will definitely be interesting to see how sales go.
Any thoughts on this Rhino XM Studios statue, Marvel collectors? Is this the best representation of this character ever made? How many readers have been collecting any of the premium statues from XM, and would you like to see their new offerings covered more often here on MTN?
The post XM Studios Rhino Statue 1/4 Hi-Res Photos & Pre-Order Info! appeared first on Marvel Toy News.