Hasbro displayed some pretty rad figures at New York Toy Fair 2020 last February (right before they world ground to a halt), and one of the surprise figures that most captured my eyes was the Venomized Miles Morales Marvel Legends Venom Venompool Series figure. I've been a big Miles fan since the character's creation, and after a deluge of Spider-Verse styled merch for that version of Miles Morales Spider-Man, I was excited to see a fresh symbiote version. Now that I have the final product in-hand, is Maximum Venom Venomized Miles Morales a winner?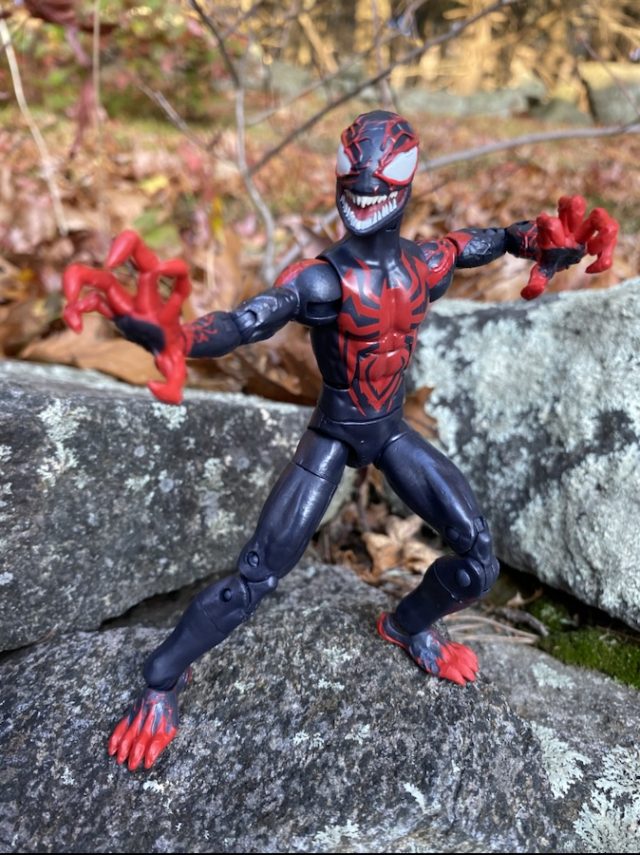 When I first saw the new Miles Morales symbiote figure in New York City in Hasbro's Toy Fair showroom, I thought that they were tapping the new "Absolute Carnage" version of Miles that appeared in the comic books.
But nope—clearly I need to have my eyes examined, because this isn't the spiral-headed version of Miles at all—it's the "Venomized" iteration of the character from the Season 3 Spider-Man animated series ("Maximum Venom").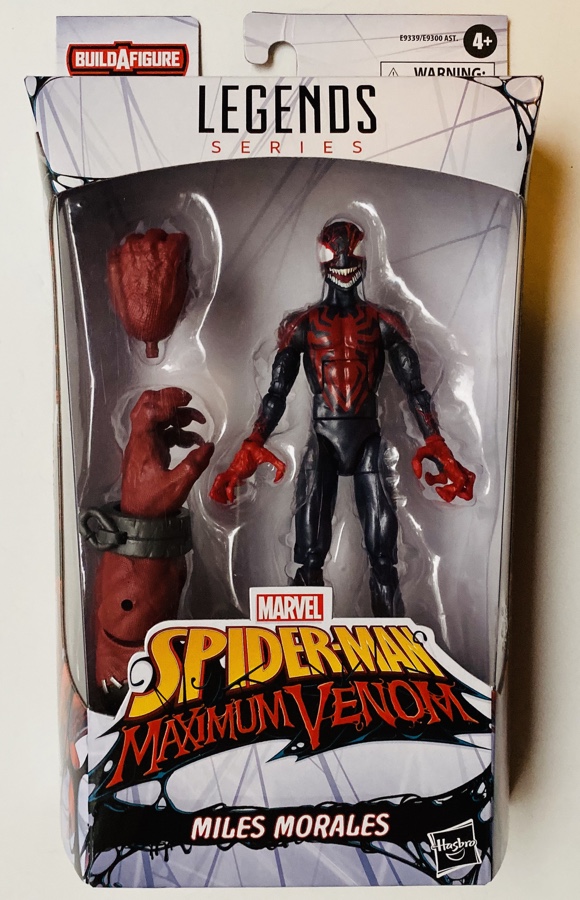 I actually think we may see the gnarlier Absolute Carnage version in toy form as well someday, but for now, let's check out Venomized Miles Morales Spider-Man.
First off, Miles Morales is a high school kid, which means he needs to look like one and not like Captain America. Hasbro has gotten this down-pat, as they're using a skinny teen body mold, exactly as the character design warrants. The proportions are lanky, and Miles looks properly short next to "adult" figures. Score.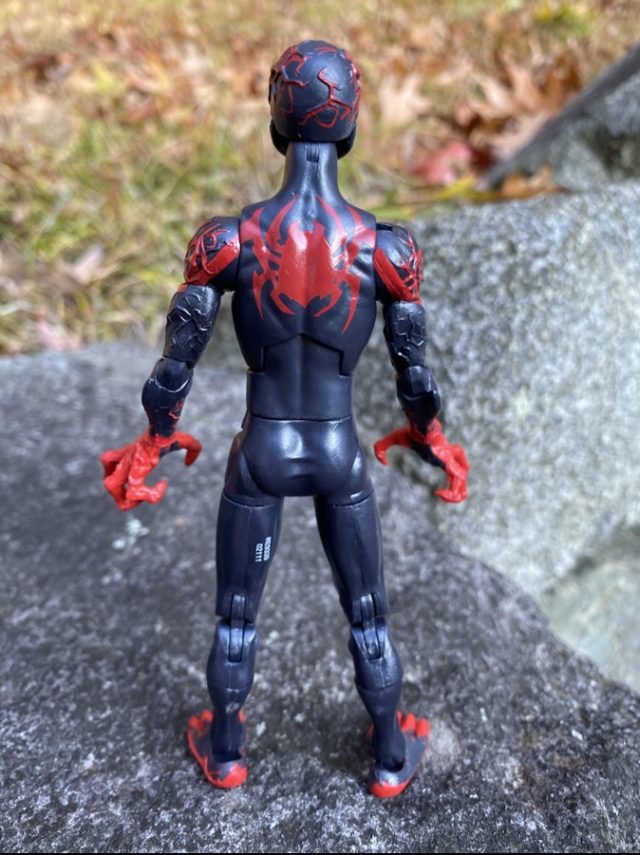 While the torso itself for this figure is standard fare without anything "symbiote" about it really, the arms, forearms, feet, hands and head all have that special Venom "twist" to them.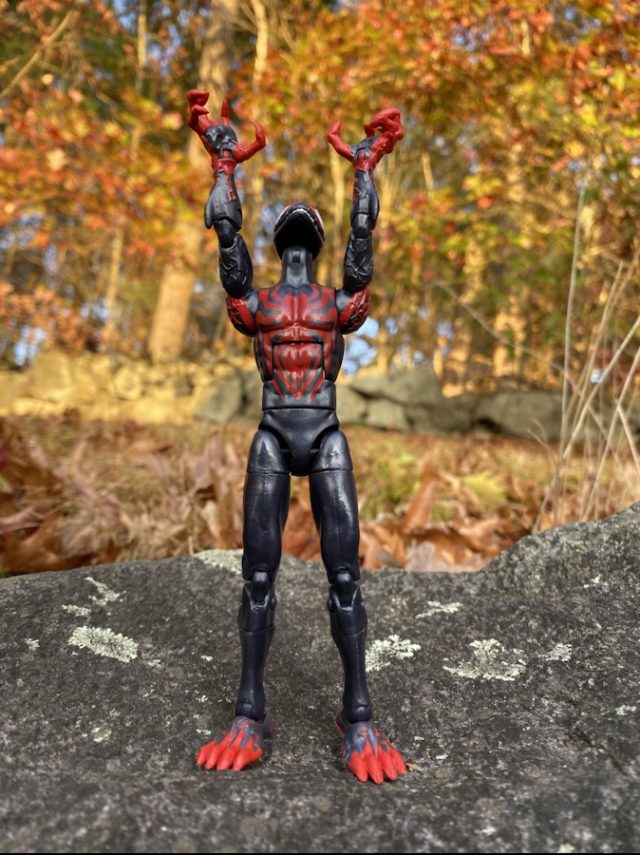 If you're not paying close attention, you might miss that the symbiote veins are running all the way down from the shoulders to the hands, which is a cool detail—although it makes me wish we actually had some veins on the chest as well, which is totally smooth.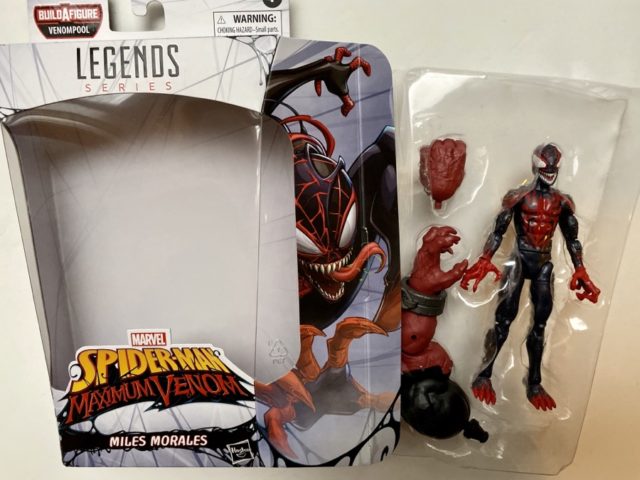 The spikes on Miles' forearms and the gangly sharp claws on his hands are quite intimidating, as are the forked toes on the feet. There's no switch-outs at all, but I think the hands and feet make for a multitude of cool poses even without. You can even pull off some neat, creepy crawling poses. (And instead of alternate hands, we get the humongous left arm and interchangeable fist for the Venompool Build-A-Figure, one of the coolest BAF Hasbro has put out in recent memory.)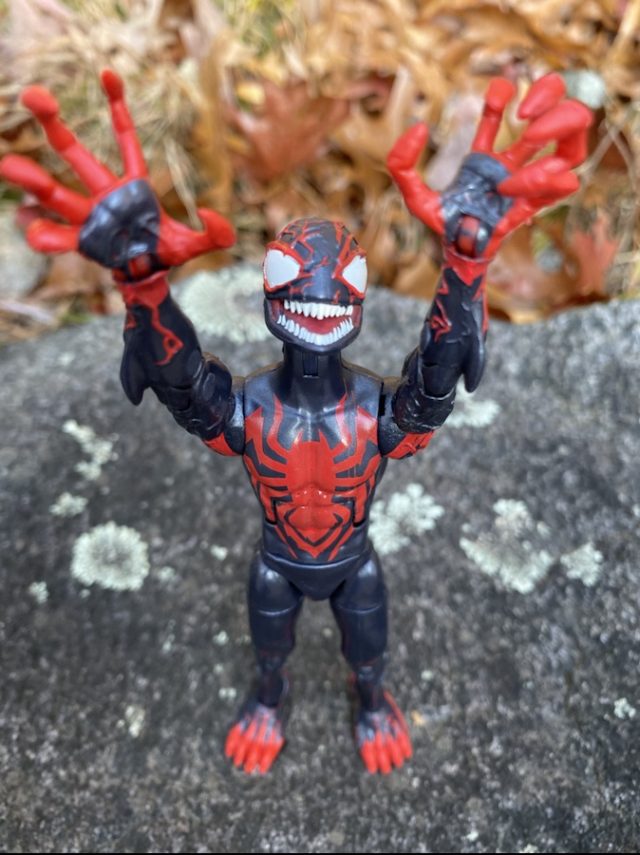 The star of the show for me here is definitely the all-new head sculpt, though. Miles is such a pure, goody-goody kid that seeing him with this demonic open-mouthed symbiote portrait with sharp teeth and gross veins is a real shocker. This head sculpt excels horror-wise. Love it.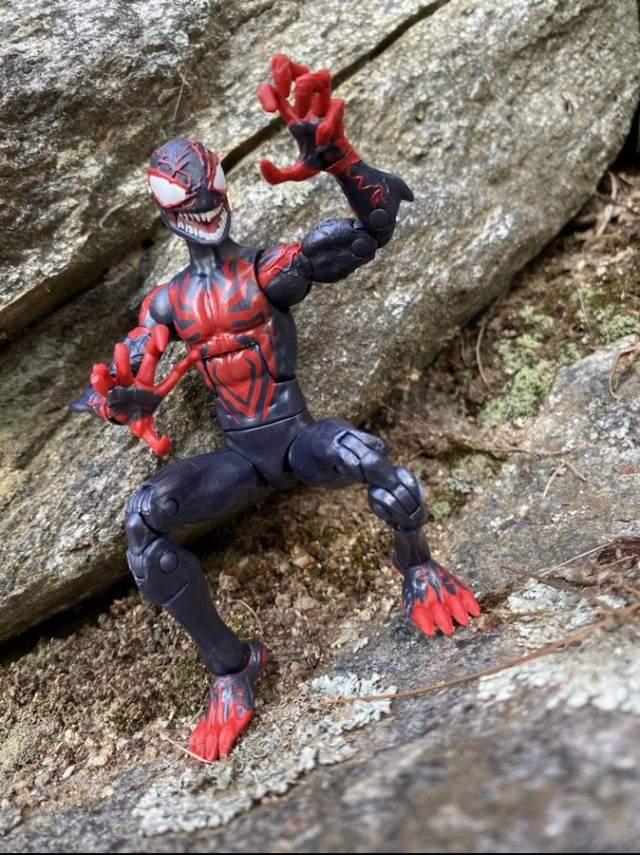 And the thing that really elevates this figure and makes it superb is the ever-awesome Marvel Legends super-articulation scheme, which consists of:
Ball-Hinge Head and Shoulders
Double-Hinge Elbows and Knees
Ab Crunch
Swivel Waist, Biceps, Thighs and Shins
Swivel-Hinge Hands/Claws
Ball Hips
Hinged Feet with Ankle Rockers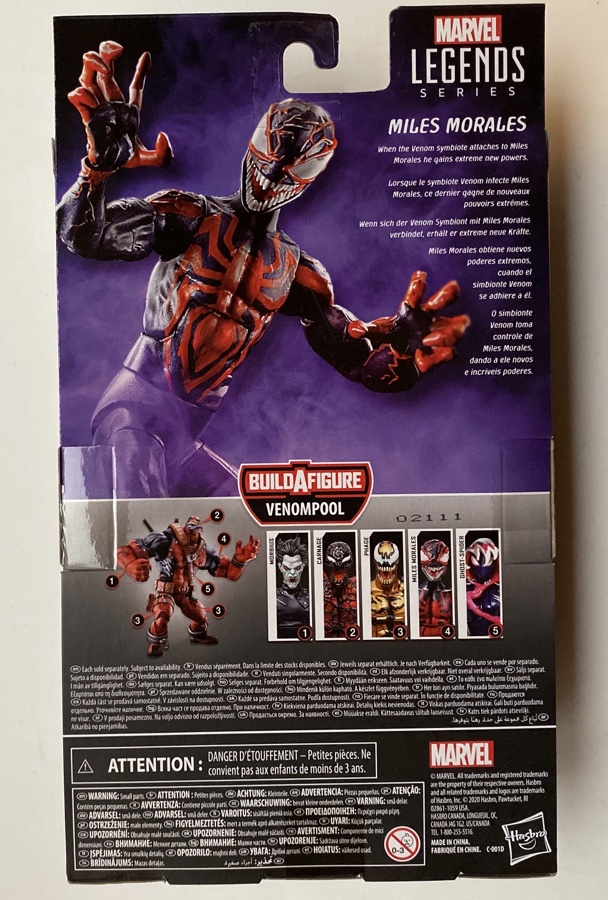 There's nothing inhibiting the range of motion, meaning you can pull off most any menacing or scary poses you want. I admittedly suck at posing action figures photos (ironically), but I've been posing this figure non-stop for the past few months and I love it to death. This is one of the 2020 Marvel Legends figures I've gotten the most enjoyment out of all year, to be frank.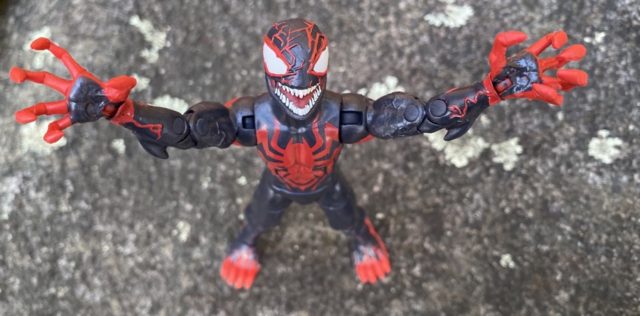 Overall: Make no mistake, I have a huge amount of fun with Marvel Legends Miles Morales Venomized figure. His lanky proportions and super-articulation mesh perfectly with his clawed fingers and toes to make a terrifically creepy figure, and something about sweet little Miles having this evil teethy symbiote head is just awesome.
That said, I think this figure could have been even more sick with some new tooling additions such as symbiotic tendrils to attach the body or even a half-Miles head with the symbiote taking over. As it is, this is a supremely cool figure that comes with zippo accessories of its own and feels a bit "light" for the $20 MSRP. Even so, I dig it immensely. Recommended.
GRADE: B+
The post Venom Marvel Legends Venomized Miles Morales Figure REVIEW appeared first on Marvel Toy News.