Having talked about some of the coolest Symbiote figures Hasbro has ever done over the last two weeks, it's only fair that today I turn my attention to the one figure in the Marvel Legends Venom Series that's a big letdown for me: sadly, Venom himself. We last got a single-carded Venom figure back in 2016 as part of the Spider-Man Absorbing Man Series. Does this newly-released ML Venom figure bring anything valuable to the table for those who have the previous version…?
The Right:
When I reviewed the previous ML Venom 6″ figure two and a half years ago, I thought it was a very solid figure that had a few flaws. That's a fortunate thing–because for the most part, this is a reissue of that figure with a few pieces of new tooling thrown in for good measure.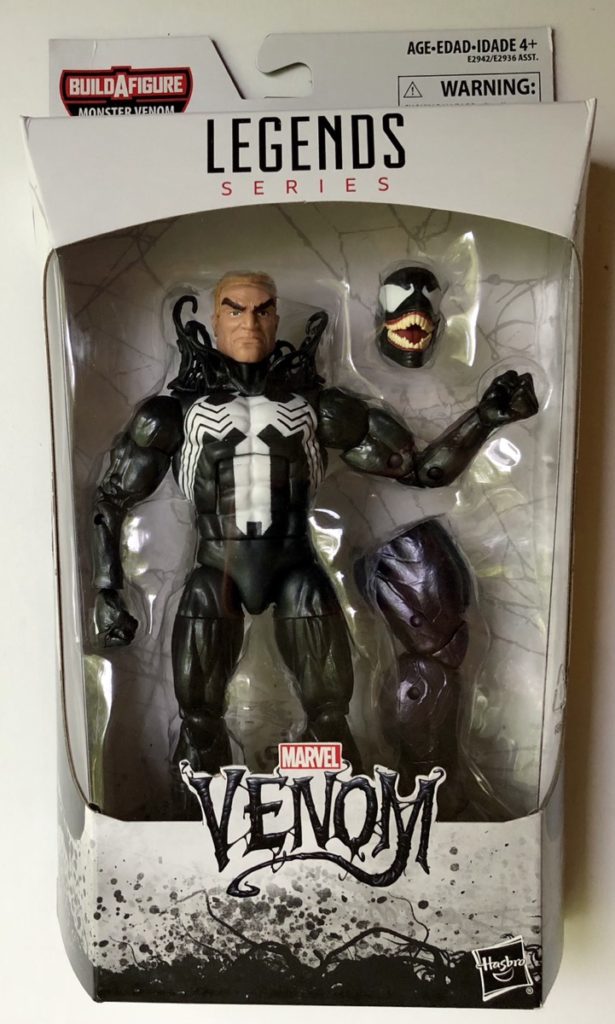 There are essentially three new additions (besides the Monster Venom Build-A-Figure Leg piece) that set this Venom action figure apart from its predecessor: two new heads and a new add-on effects piece. While I'm not a fan of how the second head turned out, I do think the other two new additions to this figure end up being worthwhile ones.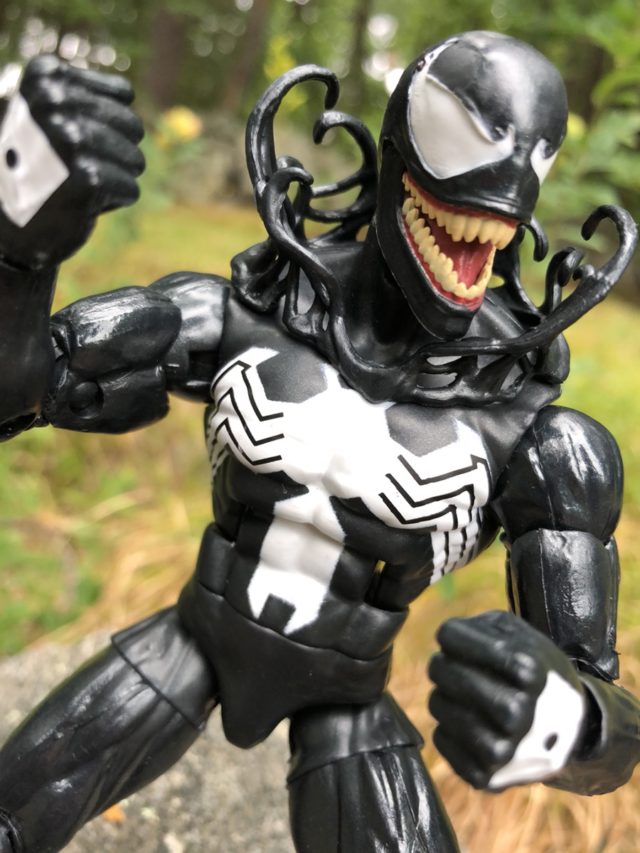 We get a classic open-mouthed head without the tongue sticking out this time, completing the triumvirate of heads you'd want for a classic Venom action figure. I personally don't like this head as much as either of the ones from 2016, but it's not a bad sculpt–just not my favorite. And hey, at least it's not just a direct repack, right?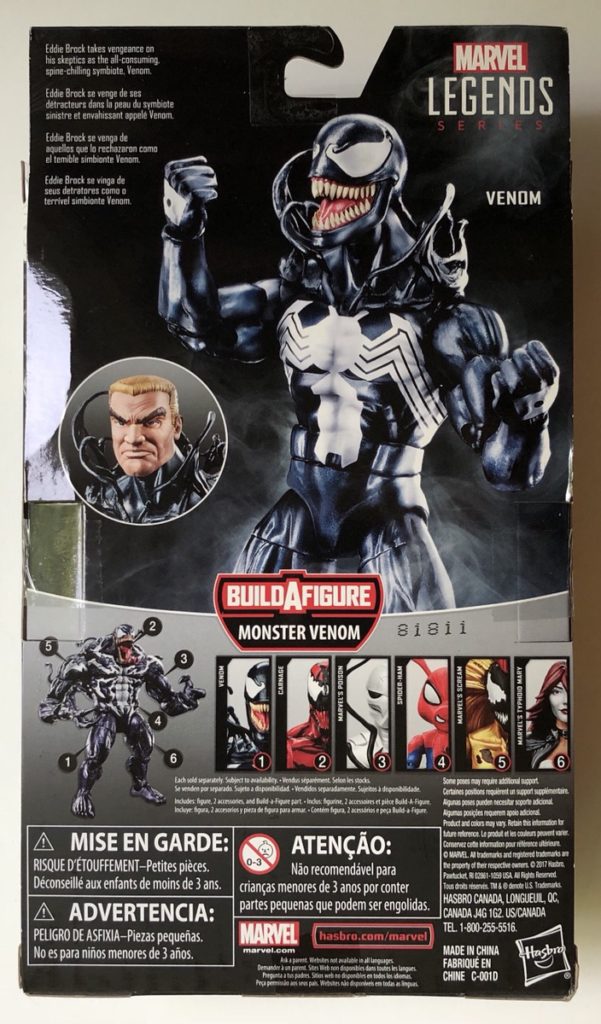 There's also a symbiote effects piece included which sits across the figure's shoulders and can be added or removed by popping the figure's head off. This is a new idea as far as Hasbro symbiotes go, and I dig it. It doesn't really blend seamlessly with the base figure, but it at least feels fresh and creative and makes this figure stand a bit apart from its predecessor.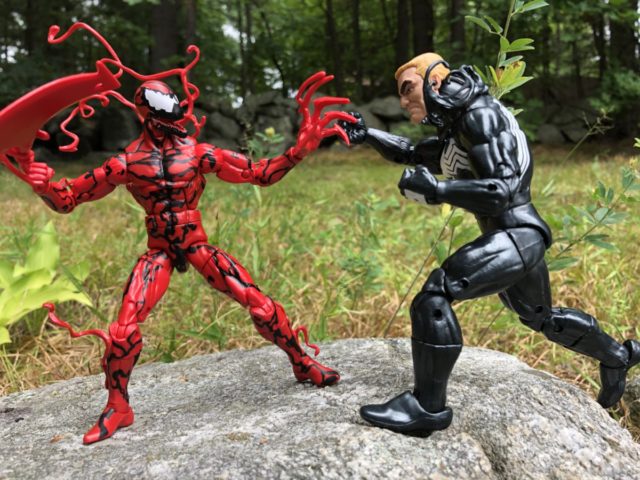 On the articulation front, the new Venom has the exact same standard super-articulation scheme as the last model. It would be nice to see the butterfly swivels added for the next edition (and let's be real, here–it's only a matter of time until there's a next edition), but super-articulation is super-articulation. He's rocking:
Ball-Hinge Head and Shoulders
Swivel Waist, Boots, Thighs and Shoulders
Double-Hinge Elbows and Knees
Ball-Joined Hips
Upper Torso Ab Crunch
Hinged Ankles with Rockers
The Wrong:
I actually went back to see what my complaints were regarding the 2016 Marvel Legends Venom figure, and was a little disappointed to see that the things I didn't like about that figure… got worse for this one.
One of my gripes regarding that figure was that Venom came with only grasping hands and fists, meaning he could only grab stuff or get into a fist fight. Two years later, Eddie Brock has seemingly given up on grabbing things and is ready to hit the boxing ring with just fists. This is incredibly limiting pose-wise—give this man some claws, Hasbro!! (Or at least include the pre-existing grasping hands.)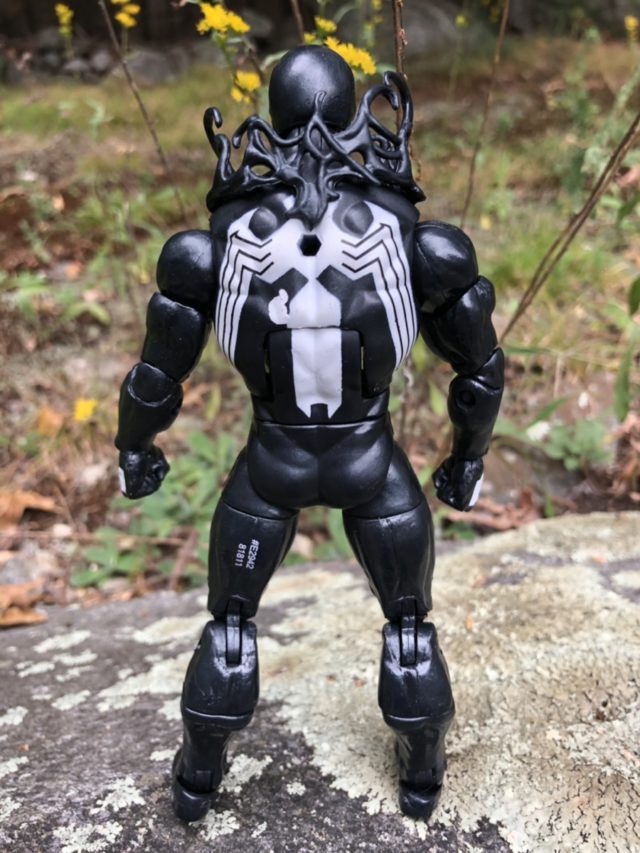 I also bemoaned that the paint wasn't perfect on the ML 2016 Venom figure… but two years later, the paint on my new version is way worse. He's got a giant glop of white paint on his back, scratched off white paint on his left eye, and his logo symbol looks very fuzzy and not at all crisply painted.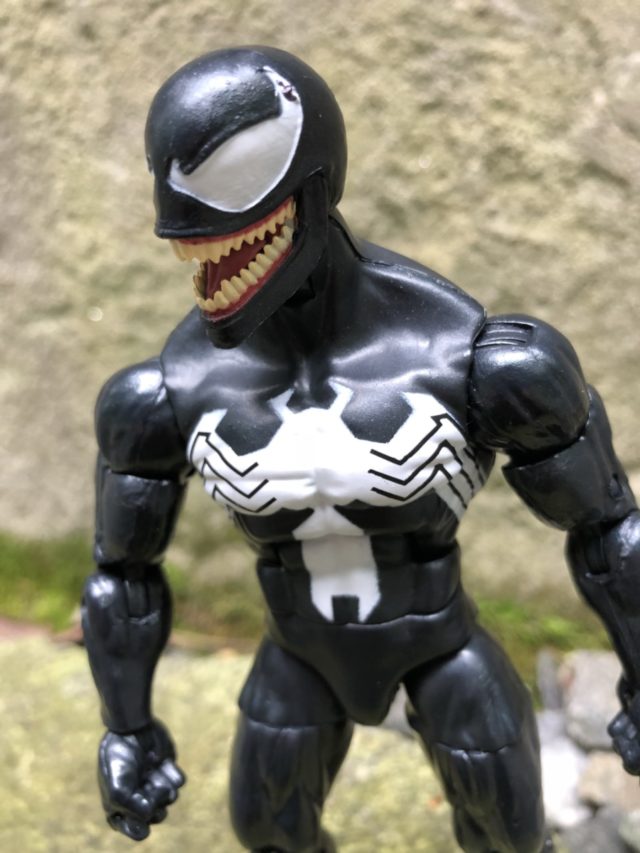 I'm sure there will be a large variance in paint quality across the run of this toy, but I can only review the one I've got—and his paint QC is really subpar.
The Ridiculous:
The one huge selling-point for this headliner figure is the new Eddie Brock Unmasked head. Unfortunately, it's almost comically oversized. When you put the "Symbiote head retracting" effects piece on it helps a little bit, but there's no denying that this noggin is just too enormous.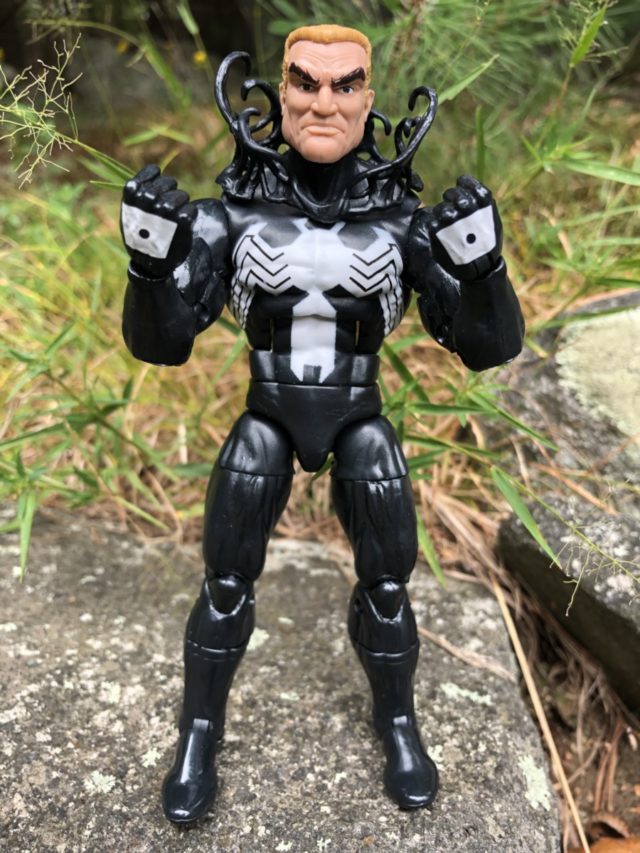 In addition, the head is, well… not that great. While Eddie Brock's big honkin' eyebrows are comic-accurate, something about this head looks very off to me. I can't place if his face is too fat or his hair is receding too far, but it just does not look right to me. Given how sensational the Cletus Kassidy head in this wave looks, the Eddie Brock portrait is a real bummer.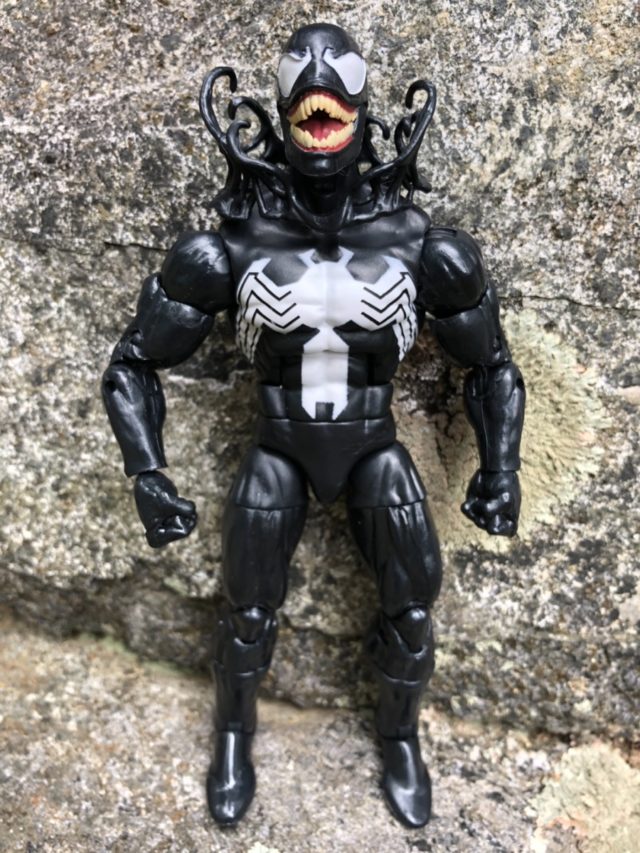 Overall: Of everything in the Venom Legends series, poor classic Venom himself is the figure I like the least. This figure doesn't bring much 'new' to the table, and the Eddie Brock head that is new just doesn't work for me because of how oversized and caricature-like it looks. The paint on my Venom is exceptionally poor, and the lack of any kind of interchangeable hands or weapons really limits the fun factor. If you have the Absorbing Man Series version and don't care about building the Monster Venom Build-A-Figure, this is a hard pass, IMO.
GRADE: C-
The post Venom Marvel Legends Venom Series Figure Review (2018) appeared first on Marvel Toy News.