Mighty Jaxx and Quiccs present, Soundwave!
Put your party gear on, Soundwave is 'bout to drop some sick beats. Hit up Soundwave for non-stop chart toppers and Decepticon beats, no Autobot can spin these discs as well as he can. Decked out in his signature blue, complete with orange and red accents, and a badass gold chain, Soundwave is all in for the party. Kick start your Transformers rave with Soundwave.
"Soundwave superior, Autobots inferior."
Will the Autobots let the Decepticons rule the night, or will Soundwave be challenged in a showdown?
Release Timing
Wednesday, 24 June
9am (NYC) 9pm (SGP) 2pm (LDN)
Release Details
$249 with Free Shipping Worldwide
via mightyjaxx.com
Product Description
8.5″ Wide Vinyl Bust
Limited Edition of 500 Only
Pre-Order
Ships Oct 2020
Prototype shown, final product may vary.
Licensee and manufactured by Mighty Jaxx International Pte Ltd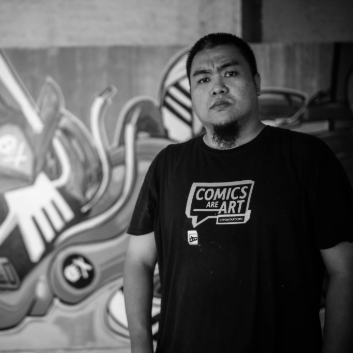 Hailing from Manila, Philippines, Quiccs has won several awards in the field of visual arts since his childhood years. He firmly believes in the fusion of graffiti art and electronic media. He wishes to push visual boundaries in his own, unique way.
He is currently working as the Art Director for Burnwater Art X Design // www.burnwater.com.ph, and as toy designer, a proud member of the collective Red Mutuca Studios.