While Diamond Select Toys brought along a sizable assortment of all new Marvel Gallery statues to premiere at New York Toy Fair for PVC collectors, that doesn't mean they were ignoring their fans of higher-end resin pieces! DST also publicly displayed a half-dozen new resin Marvel Premier Collection statues at Toy Fair 2020, including Rhino, Bullseye, movie Deadpool, Colossus, Old Man Logan and more! In a world where most resin statue prices are exploding, are these new value-priced entries worth a look when they go up for order this year?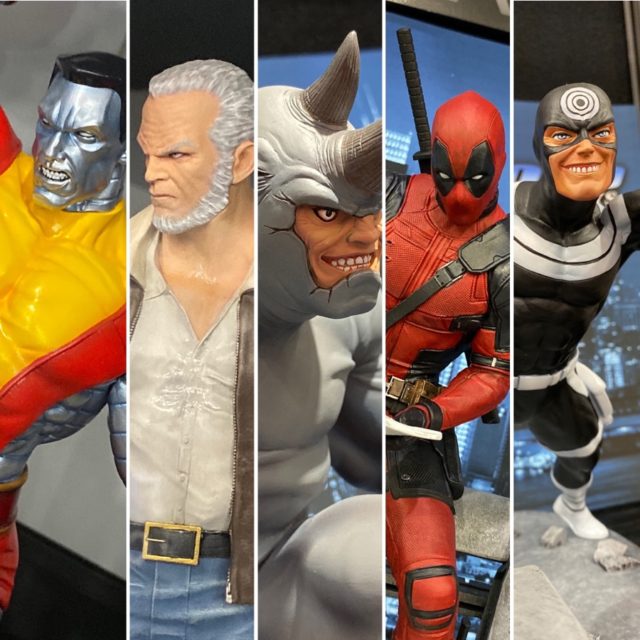 Since Bowen Designs mini busts and statues were my entryway into high end sculpture collecting, I have a special place in my heart for affordable priced, moderately sized statues such as the ones that are the basis of the Diamond Select Toys Marvel Premier Collection Series.
I wasn't sure exactly what or how many new pieces to expect in the lineup at Toy Fair, but DST exceeded my expectations with an assortment spanning the corners of the Marvel Universe!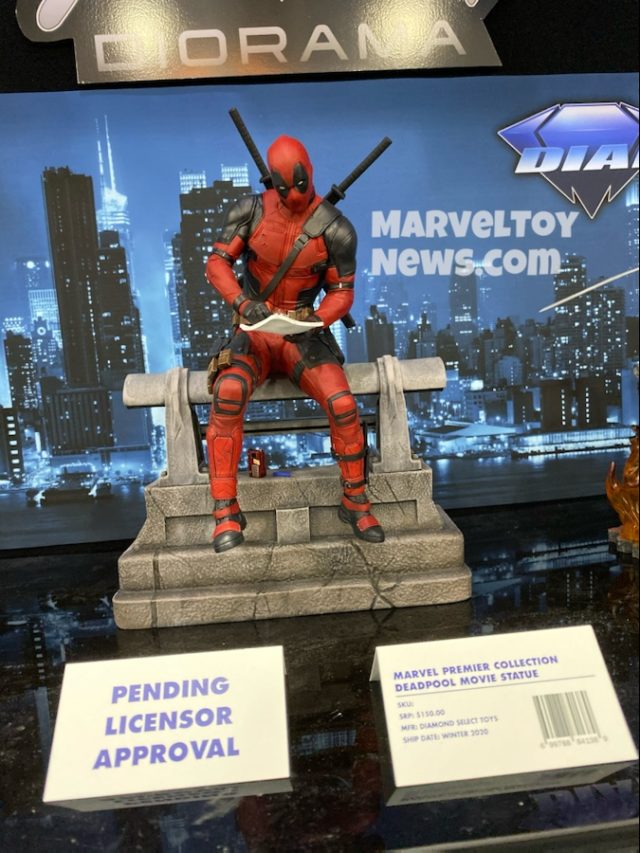 I think the best indicator of this was the movie Deadpool Premier Collection statue that was the first thing I saw as I entered the Diamond Select booth at Toy Fair. Up until now, Deadpool movie figures and statues had been entirely absent from all of DST's lines. But not anymore! Not only is FOX Wade Wilson gracing the Gallery PVC line, but he's getting a larger resin piece as well.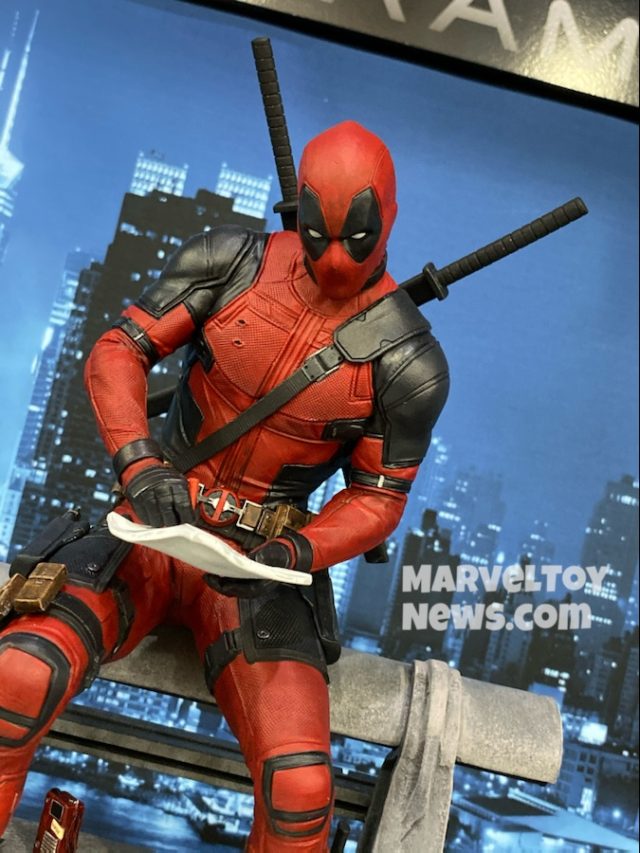 I really dig the fact that Diamond Select opted for such a unique pose here, with Deadpool sitting and writing. It's not the most action-packed Deadpool ever, but it really is a breath of fresh air in a sea filled with crazy dynamic sculptures of the character. I like it!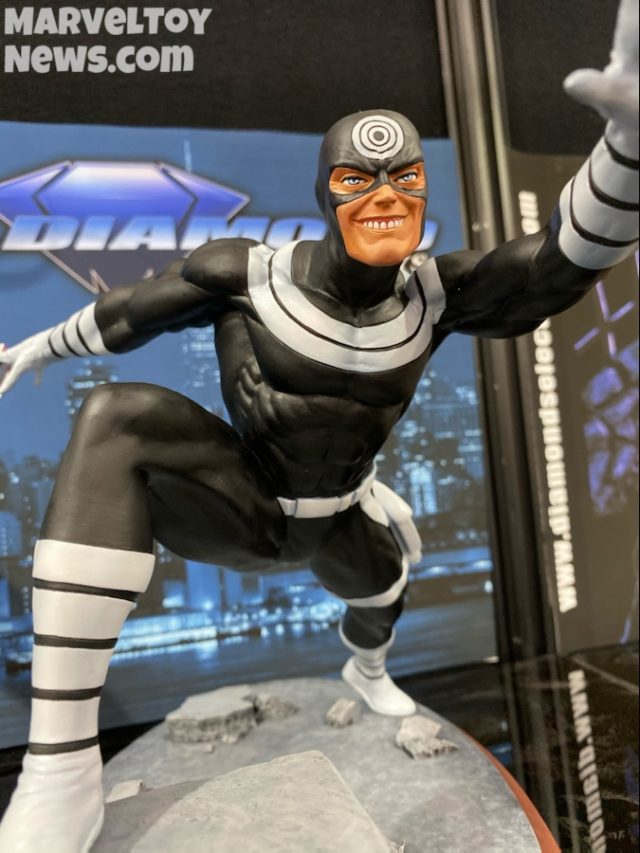 Flanking Deadpool at the front of the Diamond Select Toy Fair display were a pair of iconic villains in newly-sculpted form by Clayburn Moore: Rhino and Bullseye.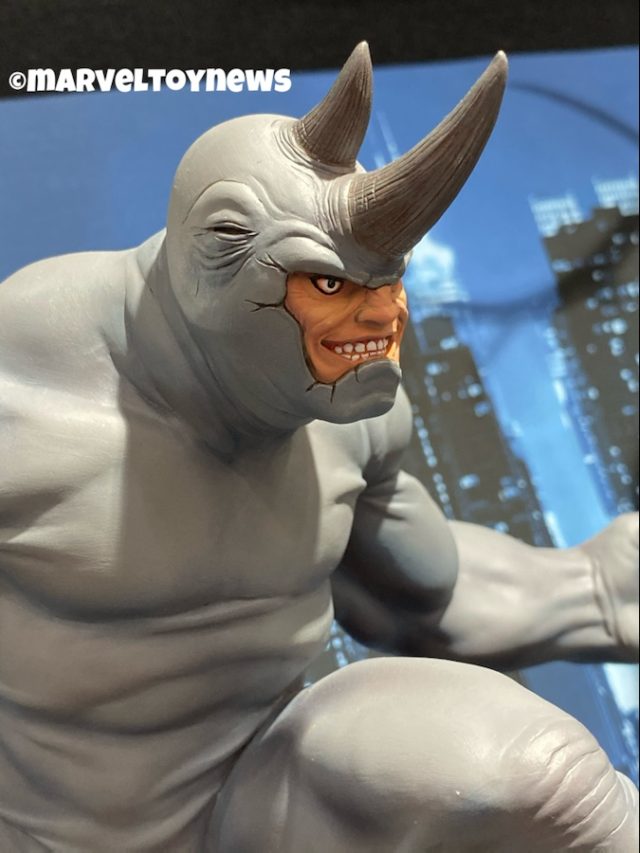 Both of these villains are characters we don't necessarily see captured in statue form all that often, so it's fun to see Moore's interpretation of the popular villains.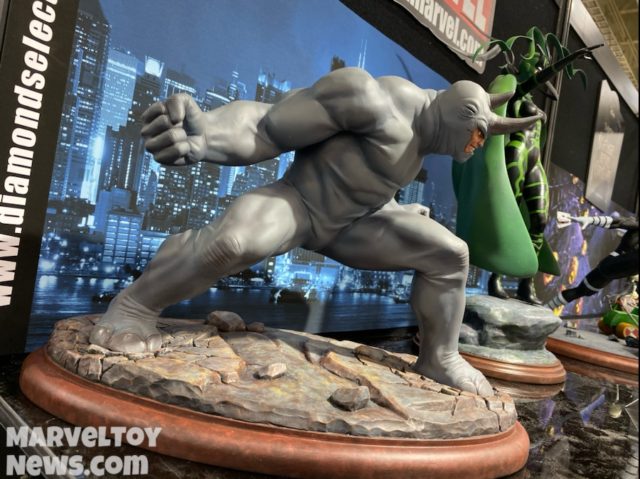 I really appreciate the girth and powerful pose of the Premier Collection Rhino, although I'm not entirely convinced yet by the detailing on the piece. I feel like Rhino's hide should have more painted and sculpted details than what we see on the prototype, which is a real shame. I need to see final prototype photos before going forward with this one.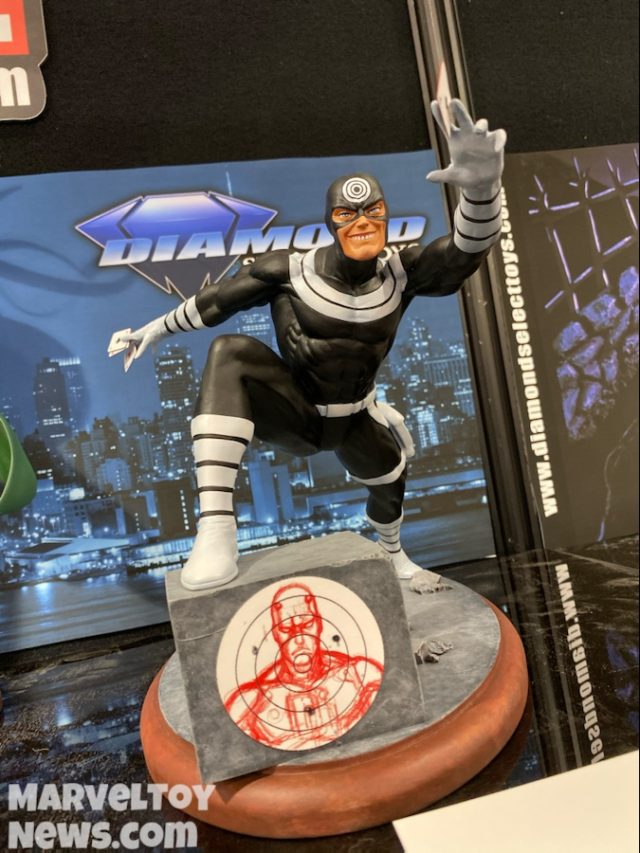 I think the Premier Collection Bullseye statue is a more refined piece, with the malevolent grin and stepping/throwing pose being right on target (no pun intended). I think this is among the best statues of this character ever done, honestly.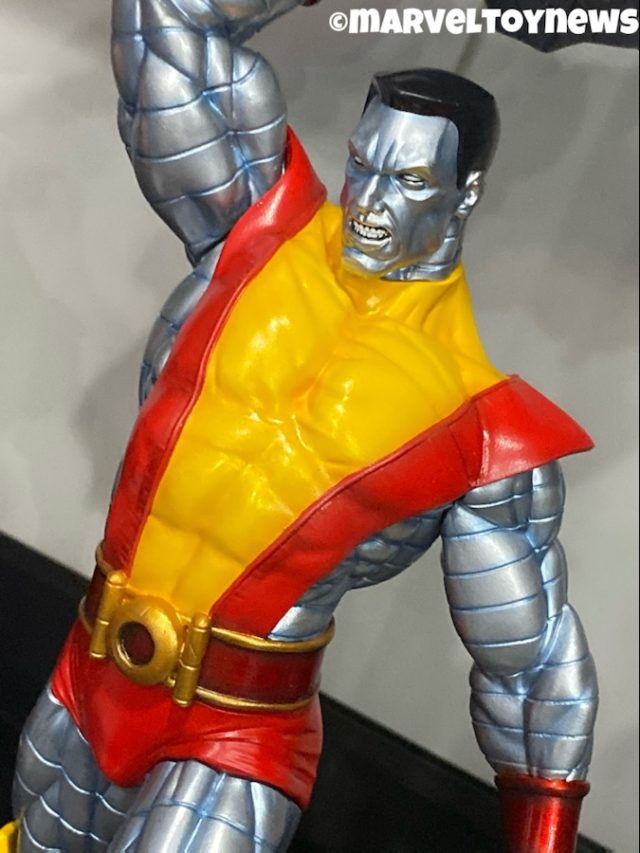 On the X-Men front, I was surprised to see two new comic-based characters joining the resin ranks: Colossus and Old Man Logan!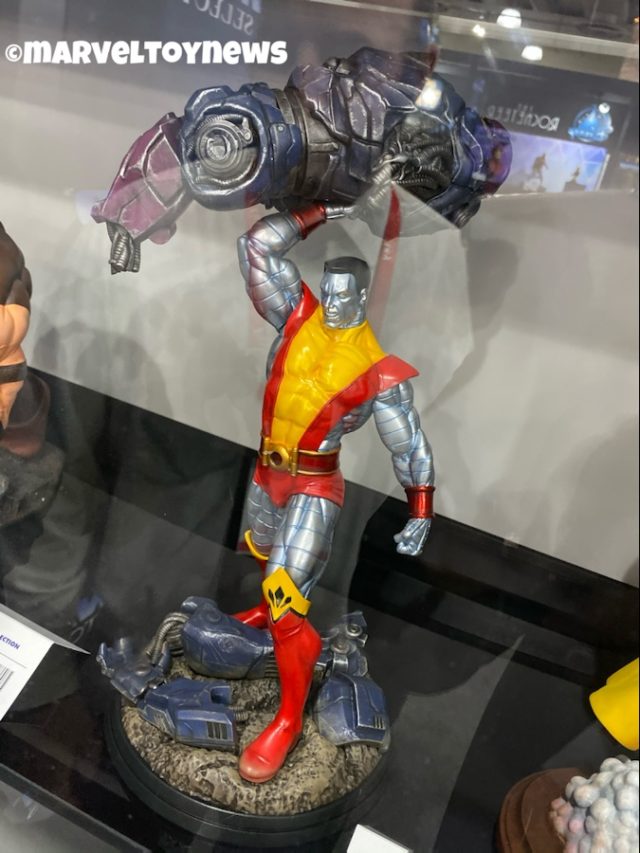 Colossus is effortlessly holding up a huge chunk of Sentinel debris, which I think is a good pose to demonstrate Piotr's power. I would've liked chrome on this piece, but with the difficult of producing chrome statues, we're seeing less and less of those types of statues as time goes by.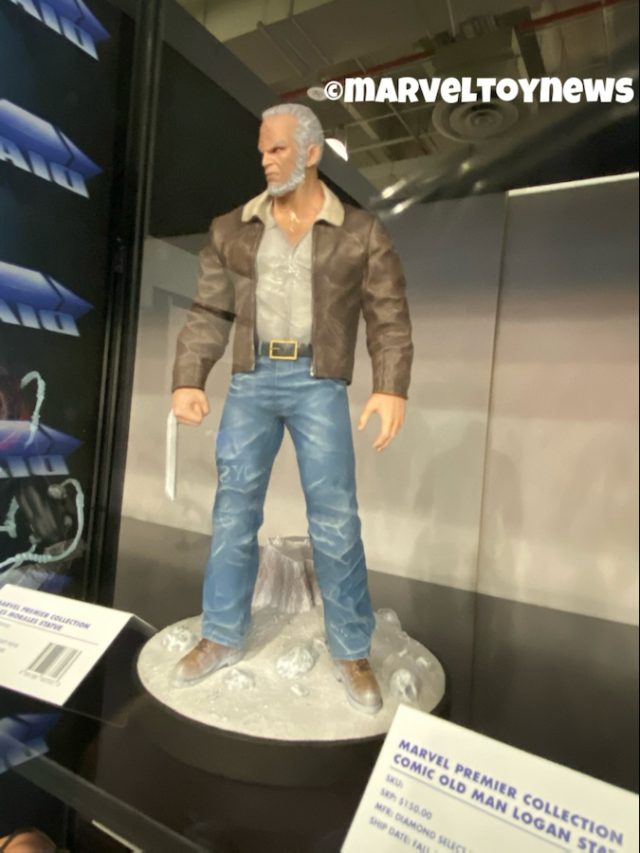 Old Man Logan is likely approaching the end of his merchandising life now that the character has been written out of the comics, so I'm glad to see DST cashing in on him while it's still viable to do so.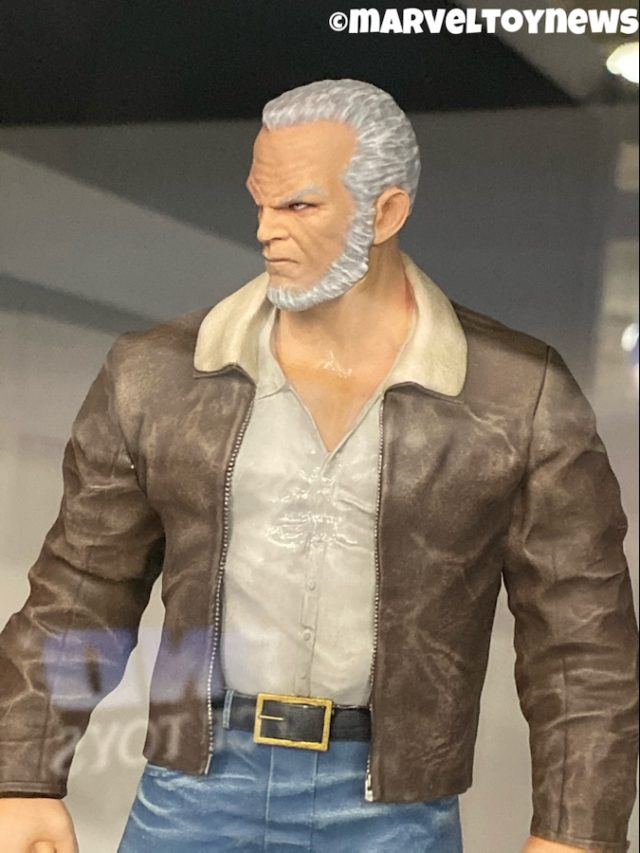 This is a nice and simple museum pose of the character in his modern costume, and I think Diamond Select did a nice job here with the likeness and attitude of this Logan.
Finally, we saw the Premier Collection Miles Morales displayed publicly for the first time after having sneak peeks at the statue posted online in the weeks before Toy Fair. I'm genuinely not sure what's going on with that crazy web line going all over the place, but the proportions and lining on Miles are tremendous. Nice to see an affordable, unique sculpt for a comic Miles Morales statue!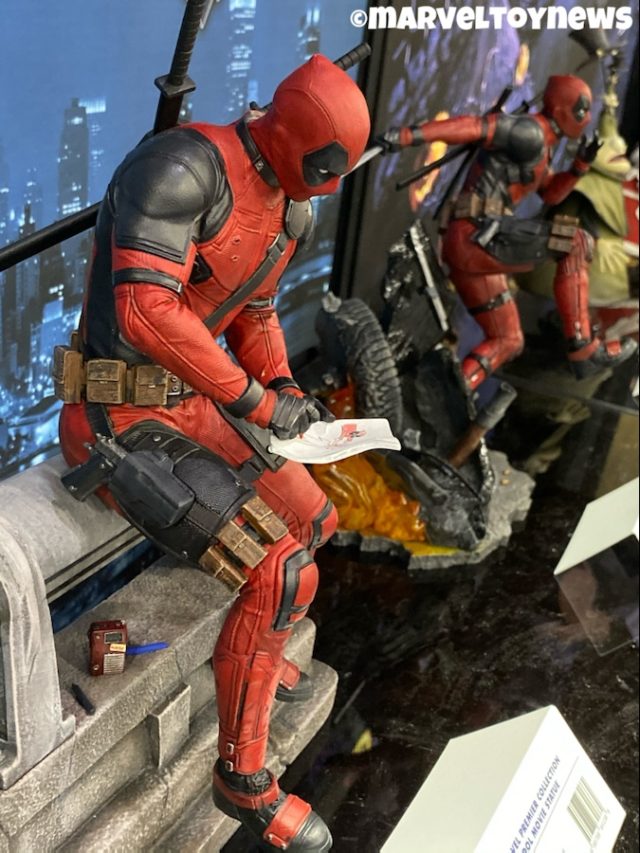 These Marvel Premier Collection statues should all be up for order in the next few months, with target shipping dates in late 2020. DST has gotten very good at delivering statues on-time, so hopefully there aren't any delays on these pieces reaching our homes due to the coronavirus or other logistical issues getting in the way.
Do any of these newly-revealed Marvel Premier Collection statues look like potential additions to your shelf? What characters would you like to see Diamond Select tackle in this resin statue series next?
The post Toy Fair: Marvel Premier Collection Statues! Rhino Bullseye Logan Deadpool! appeared first on Marvel Toy News.