One of my favorite booths to visit that I can count on to be at virtually every event that I attend is Diamond Select Toys. This year's New York Toy Fair 2020 was no exception! Even though there were no new Marvel Select figures shown (aside from the PS4 Spider-Man packaging), DST brought the big game with so many Marvel Gallery figures that will be up for pre-order this year, I can't fit them all in one article! So I'll split it in two, and start by looking at the new Marvel Gallery VS statue PVCs, including Wasp, Vision, Wolverine, classic Iron Man and more…
When I saw the big wall of new Marvel Gallery PVC statues that Diamond Select Toys brought to show off at the 2020 Toy Fair, my heart did a little jump. I've been championing this line since the day it debuted years back, and DST is raising the bar with more and better entires every year since.
And this year, Diamond Select is pumping even more fresh blood into the brand with the all-new Marvel Gallery VS Series of PVC statues! These are the same scale and price as the past statues, but now with matching terrain bases to add cohesion when building a collection (and assembling a battle)!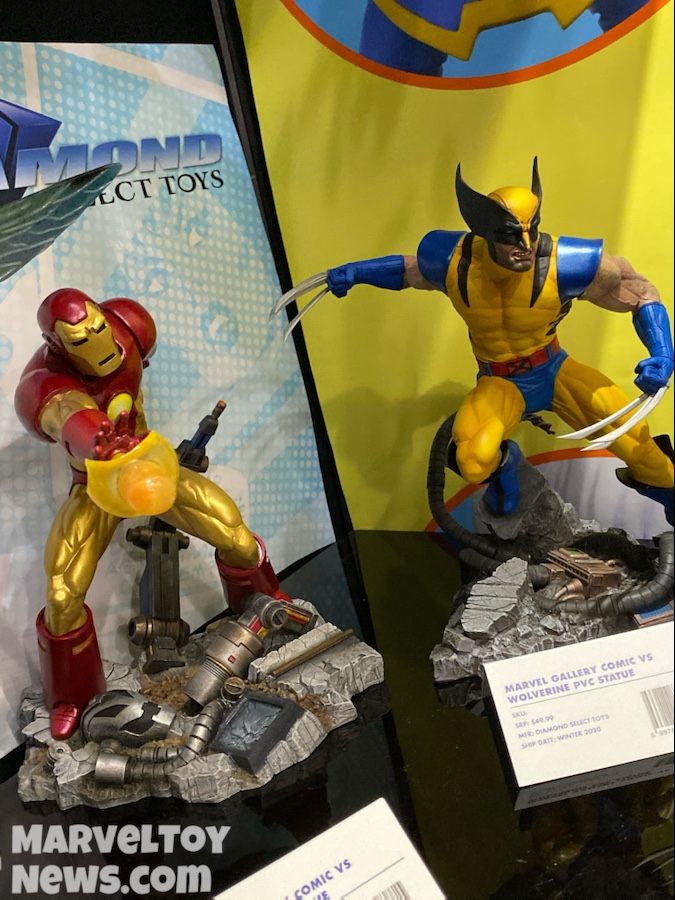 To kick off the Marvel Gallery Versus series, DST had six never-before-seen statues at NY Toy Fair:
Captain America
Wolverine
Vision
Classic Wasp
Classic Iron Man
Spider-Man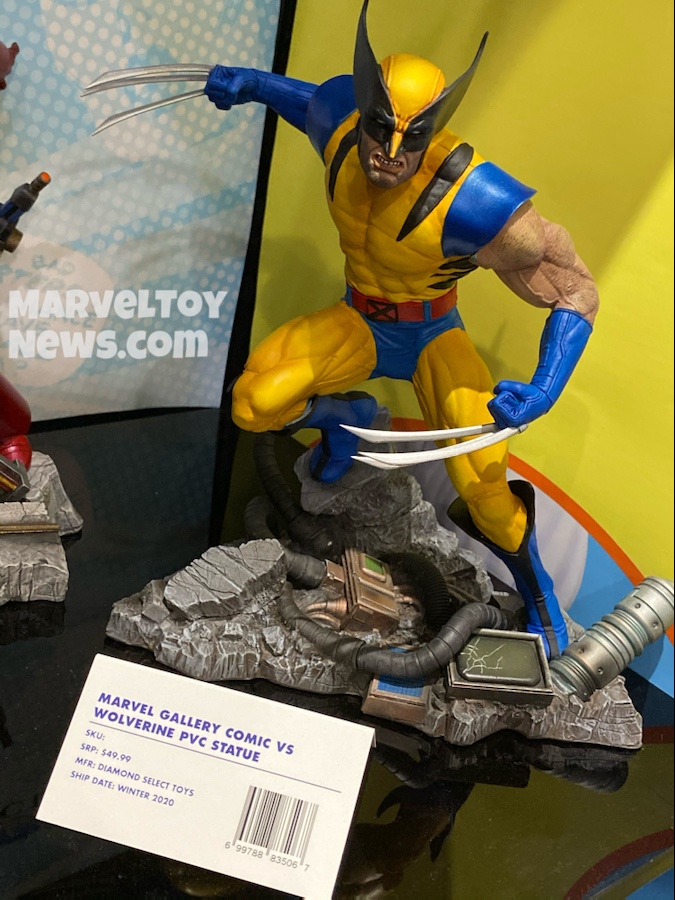 While I would love to say that my favorite piece is one of the character never done before in the line like comic Wasp or Vision, I actually totally dig the Tiger Stripe Wolverine figure the most.
While Wolverine has made a couple previous Gallery appearances, this is actually his first time appearing in his most iconic costume. The dynamic pose looks fierce, and the detailing is on-point. My favorite Wolverine DST has done to-date.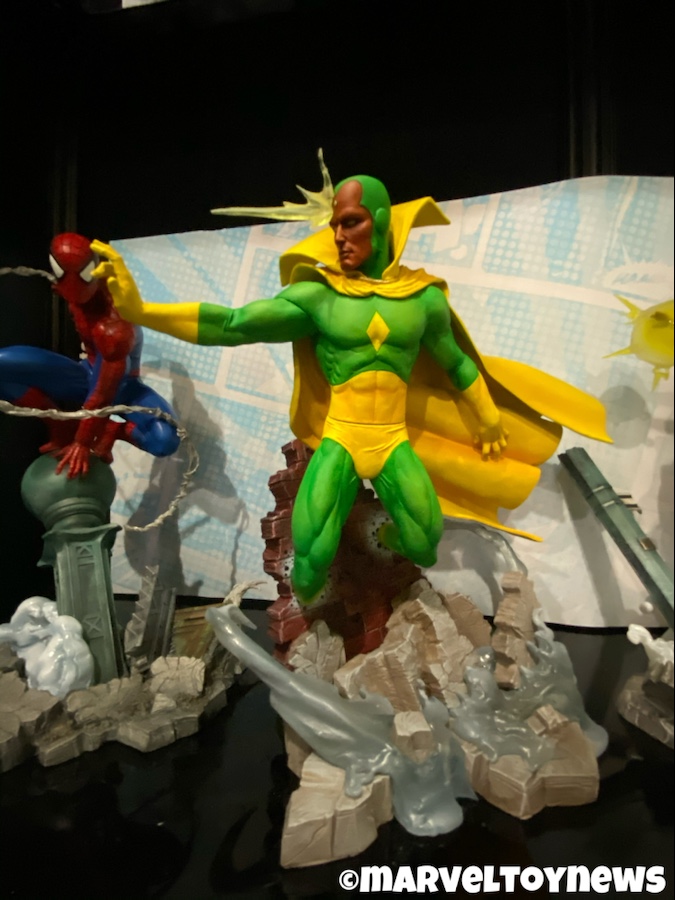 But about those new characters…! While there was a movie Wasp and a resin Vision, this is the first time we're getting standard comic book versions of both Avengers in Marvel Gallery form.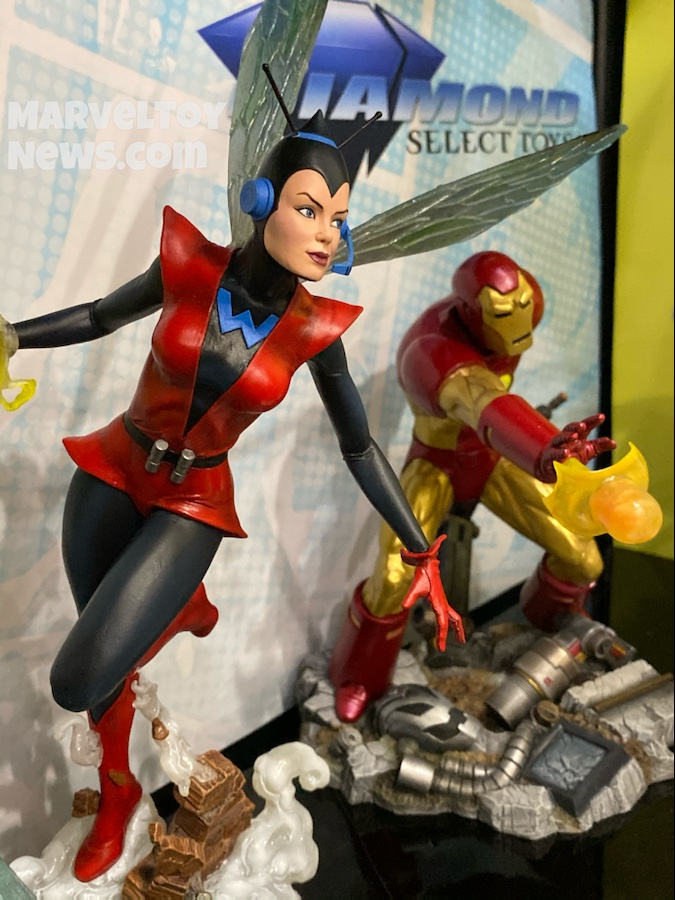 Traditionally I prefer a more modern look for Wasp, but her classic costume is really rockin' here. I think the dynamic nature of this VS series really suits the old costume well.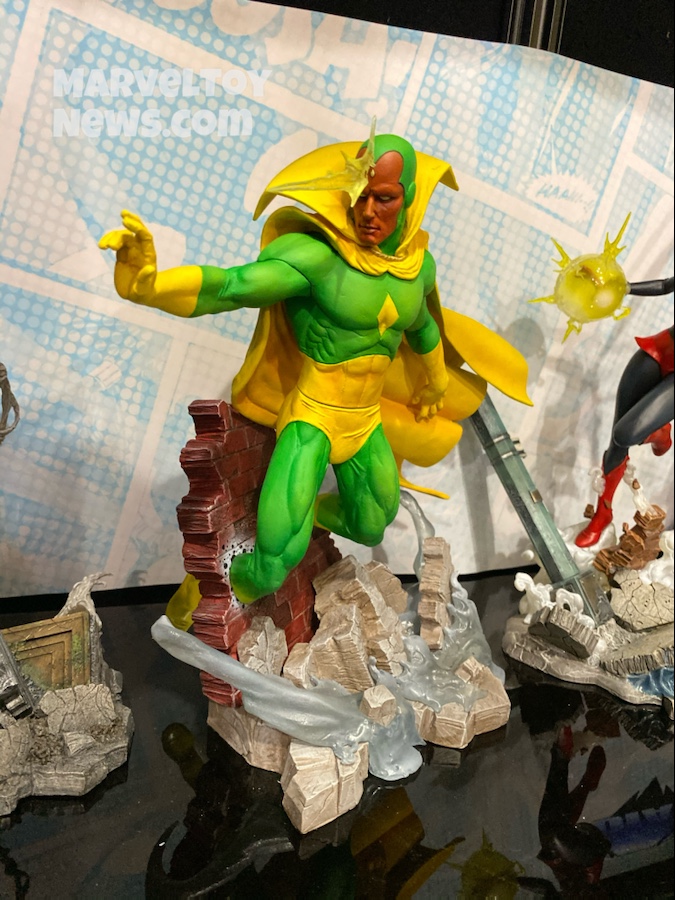 Meanwhile, I am always a sucker for the bright yellow, red and green on Vision merch, and this piece is no exception.
I love the paint deco on the wall where Vision's leg is phasing through (with translucent leg on the other side!), and it's really novel having a Vision statue with the gem on his forehead active with an effects piece.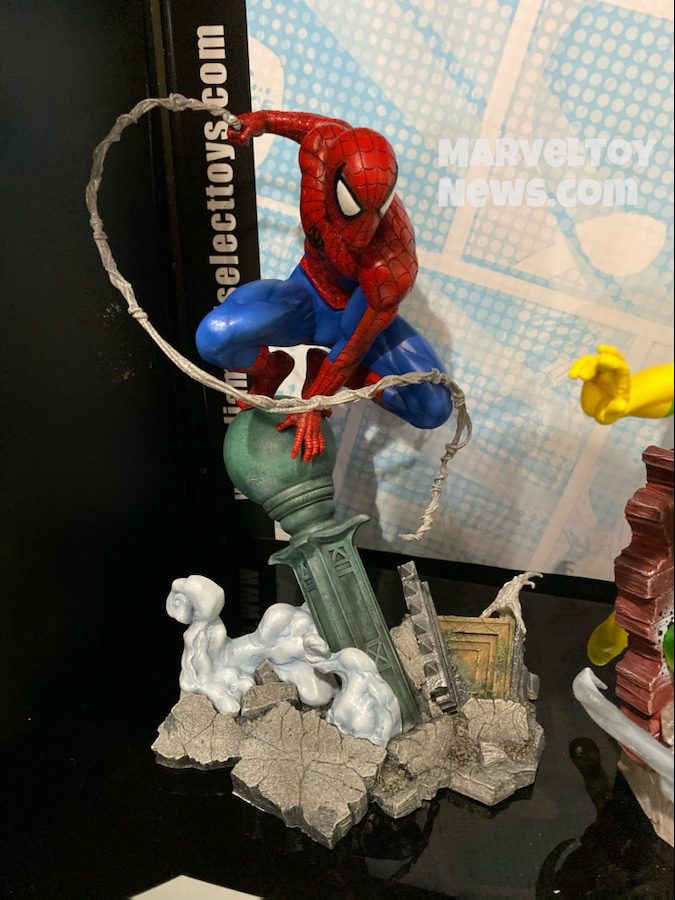 Spider-Man is perched on top of the terrain and whipping a web rather than in the middle of a more dynamic attack, but I think the posture and design DST picked for this piece really works.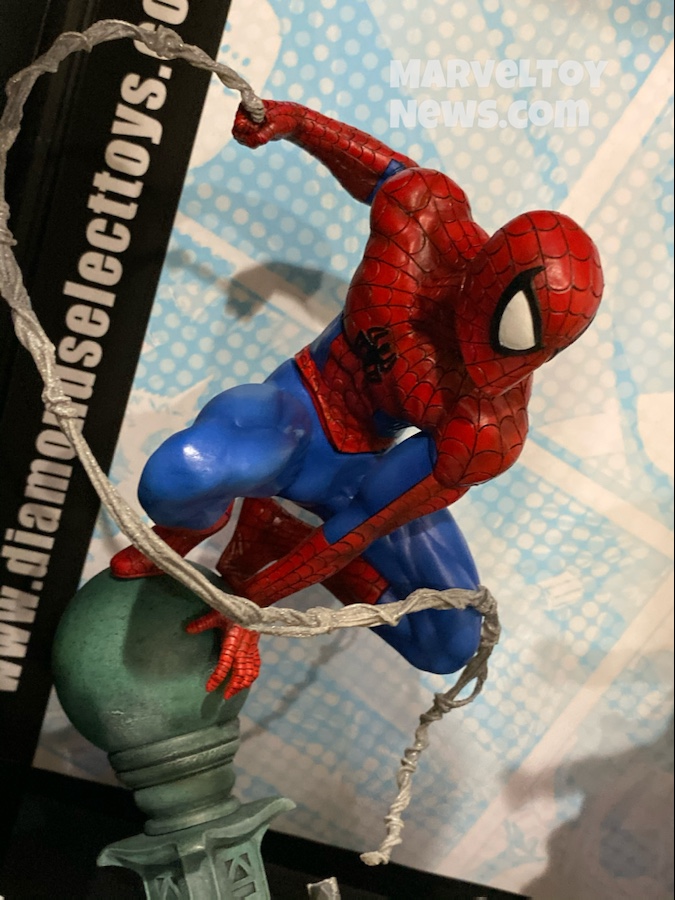 We've had quite a few Spidey statues to-date in the DST line, but I've got no problem with one more. At least this is something different from what we've seen before in the lineup, and thematically a good match for the new VS series.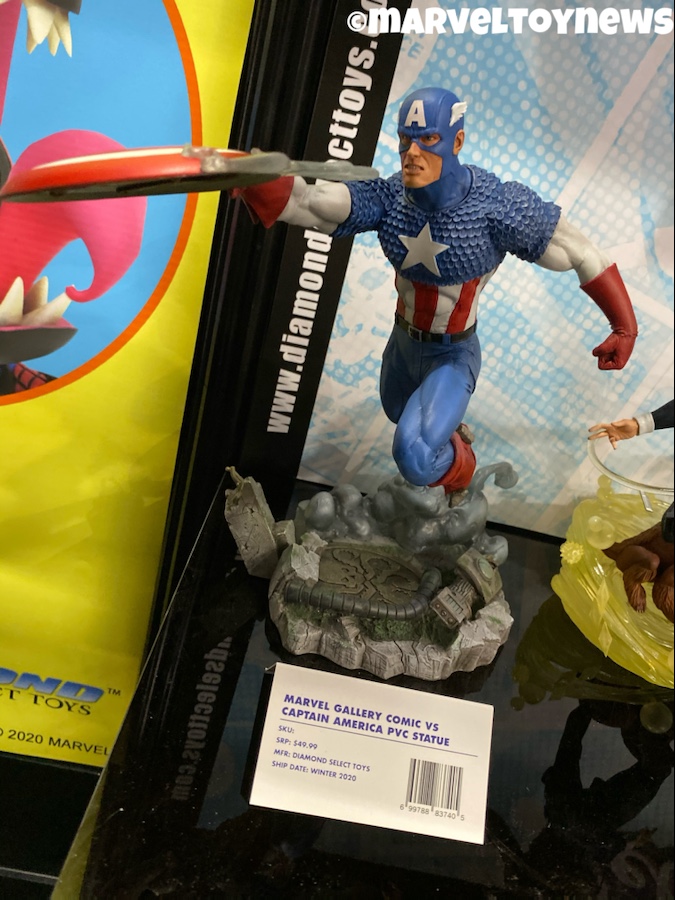 There were actually more statues than space in the display, so Marvel Gallery VS Captain America was off by his lonesome on a shelf in a different display when I was there.
Cap has his arm out to throw his shield (with a throwing effects piece attached), which is a pose that's rarely (if ever) seen for statues of the character. I like that this is something different and inventive, as there's only so many statues of Cap statically standing stoically that I can handle.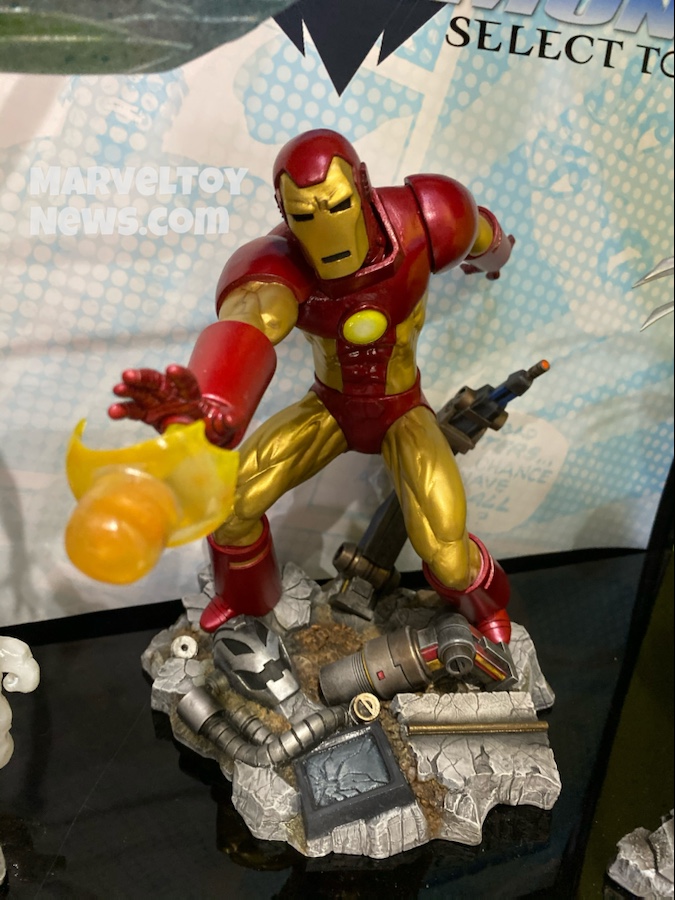 Rounding out the assortment is everybody's favorite armored Avenger: Marvel Gallery VS Iron Man. This was my least favorite of the group, as I thought the pose and proportions looked a bit awkward here. Hopefully Iron Man gets a few tweaks between now and when pre-orders launch.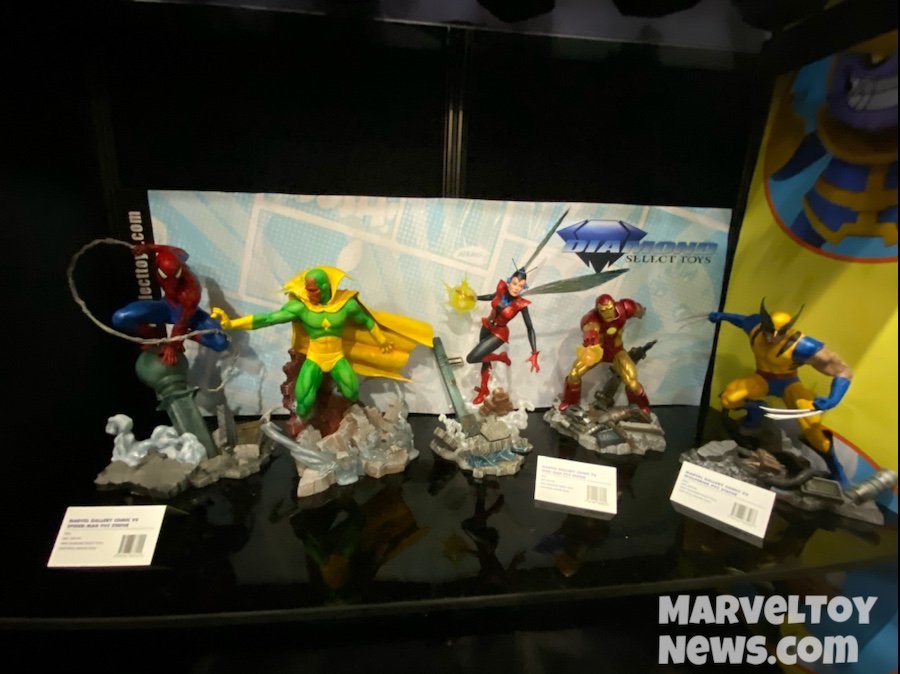 All of these Marvel Gallery Versus figures should be up for order online later this year, so stay tuned to the site and our MTN social media for updates on what goes up for order and when. All six PVCs are due out Winter 2020 with a $49.99 MSRP.
Thoughts on this new range of dynamic VS Marvel Gallery statues? Are you interested in building a whole battle scene with various characters, or are you satisfied with the standalone pieces that this Diamond Select Toys line is famous for?
The post Toy Fair: DST Marvel Gallery VS Series Revealed! Vision! Wasp! Wolverine! appeared first on Marvel Toy News.