NEWS FROM THE FRONT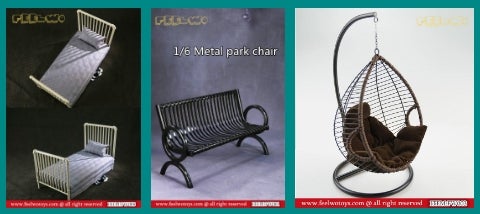 Wowzers! What a week so far. Internet here at Marketing Central (Texas) was down for 12 hours, so when it came back up again, I was scrambling to get all the new items online as fast as I could. I got a good amount done by today, but still have a bit more to go. Because of this, expect an E-News LITE this coming Friday, which should get us all caught up on the latest and greatest stuff out there. In the meantime, enjoy these teaser images of things to come!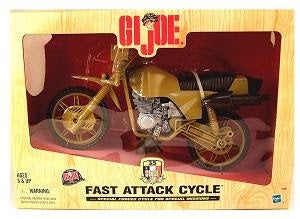 BLAST FROM THE PAST
Fast Attack Cycle, Classic Collection Version
Released in 1998. Army Special Forces off-road motorcycle. Fits all 12″ Action Figures.
BUY NOW

WEEKLY SPECIAL
Quantum Mechanix Star Trek: The Next Generation Capt. Jean-Luc Picard
On Sale for $144.99 (regularly $179.99)!
Click HERE for details.
Offer Expires: October 24th, 2018 at 6:00 pm (central). Cannot be combined with any other special or discounted pricing. Sorry – No Backorders or Rainchecks.
---
NEW PRODUCTS ANNOUNCED!
Mini Times Toys SEAL Team (Navy Special Forces)
VOR Toys Spy Killer Leather Jacket Set (Black)
VOR Toys Spy Killer Leather Jacket Set (Brown)
Micro Pupil Palm Baby
COO Models Goddess of Wisdom Athena
COO Models Goddess of the Underworld Hades
Star Ace Toys Harry Potter Series Bellatrix Lastrange
Headpool Female Head Sculpt (Puckered Lips Expression)
Elite Brigade Desert Commando Uniform Set
DAM Toys PLA Navy Marine Corps Special Operations Brigade SAW Gunner
Phicen Limited Anck Su Namun, Princess of Egypt
Ares Toys Agent (Bright Hive) Outfit & Sculpt Set
AC Play Men's Denim Outfit Set
Star Ace Toys Harry Potter Series Bellatrix Lastrange (Prisoner Version)
YM Toys Goddess of Death Outfit & Head Sculpt Set
Star Man Toys Mackenzie Female Head Sculpt
Star Ace Toys Detective Outfit Set
INCOMING!
Blue Box Toys Lcdr Scott Kartvedt Blue Angels Pilot #5 Lead Solo
21st Century Toys US Helicopter Pilot set
Artlab Design 'Sidekicks' Module Set DIY Kit
Very Hot Basic Male Body
Very Hot Figure Stands (4 Designs)
Hot Toys Suicide Squad: Harley Quinn (Dancer Dress Version)
Sideshow Toys Star Wars: Scout Trooper
Quantum Mechanix The Princess Bride: Westley (aka The Dread Pirate Roberts)
Hot Toys US Navy SEAL Team 2 Halo Night Ops Jumper
Hasbro 155-mm Howitzer Cannon
Hasbro US Army Courier & WLA 45 Harley-Davidson Motorcycle Set
21st Century Toys SWAT Weapon Set
---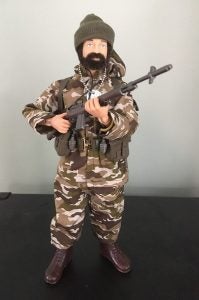 CUSTOM FIGURE OF THE WEEK
Mountain Special Ops. by Jay Greenough
The green amoeba camo is my favorite type that you make but this new camo storm chaser outfit is a close second. It reminds me of Multicam/British MTP camo.
Click HERE for larger image.
---