NEWS FROM THE FRONT
Be sure to check out our SPECIALS Page. We update it every catalog cycle change, but sometimes, we put some items on sale without notice.
Click HERE to check out our latest SPECIALS!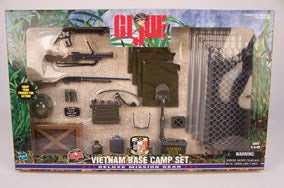 BLAST FROM THE PAST
Vietnam Base Camp Set Mission Gear
Released in 1999, this set includes: Mesh covered helmet, M16 rifle, Shotgun, 4 sandbags, Field radio, 2 smoke grenades, Grenade launcher, 3 fence panels, 3 corrugated sections, Crate, Ammo case, Shovel, Canteen, Mess kit, Utensils, MRE, Stove and sunglasses
BUY NOW

WEEKLY SPECIAL
Elite Figures & Heads Combo Sale
Buy ANY COMBINATION of 6 or more Elite Bodies, Elite Heads or Elite Complete figures at regular price and receive a 10% discount.
NOTE: Only one discount applies (does not apply in addition to a quantity discount)
Click HERE for details.
Offer Expires: May 2nd, 2018 at 6:00 pm (central). Cannot be combined with any other special or discounted pricing. Sorry – No Backorders or Rainchecks.
---
NEW PRODUCTS ANNOUNCED!
MEZCO Toys Darkseid (1:12 Scale)
Easy & Simple SMU Tier-1 Operator Security Team SAW Gunner & Sharpshooter (Original Color Weapons)
Kong Ling Ge Chinese Song Dynasty Crossbowman
Hot Toys Avengers: Infinity War Captain America
Hot Toys Avengers: Infinity War Black Widow
Hot Toys Avengers: Infinity War Iron Spider
DS Toys Fantasy Warrior
World Box Toys Yakuza Gangster
BBK Toys Supreme Leader
GAC Toys Female Head Sculpts (Assorted Hair Colors)
Wooden Trunk (Small/Turquise)
Vicky's Secret Toys Bathroom Diorama Display
Wondery Toys Daeris Human/Elf Head Sculpt
Wondery Toys Ava Human/Elf Head Sculpt
World Box Steel Wolf Head Sculpt (2 Styles)
INCOMING!
Geyperman Sport Motorcycles (4 Variations)
Geyperman Motorcycle Riders (3 Variations)
Geyperman Adventurer Basic Set (Classic Body)
Geyperman African Explorer Sets (3 Variations)
Geyperman Infiltration Set
Geyperman Basic Flocked Figure with Box
Geyperman Male Muscle Body (Headless)
Geyperman KFG Hands
Geyperman Weapons, Uniforms, Accessories, Gear
MEZCO Toys Old Man Logan (1:12 Scale)
Wooden Trunks (Assorted Sizes & Colors)
AA Design Repro Decals (Assorted Designs)
Firebase Ryan Water Drum Set (Olive Drab)
Hot Toys The Joker: (Batman: Arkham Asylum)
---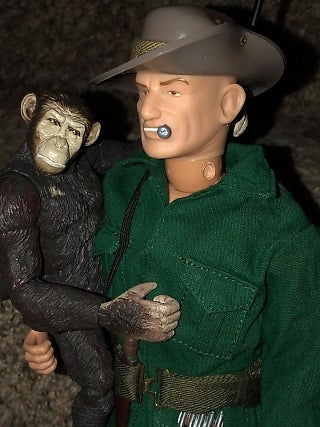 CUSTOM FIGURE OF THE WEEK
Greetings from the Congo by Phil Gilbert
For larger picture, click HERE.
---