NEWS FROM THE FRONT
Hey folks, FYI that we're working hard to get new items set up. For the past few weeks, we've been swamped (and that's an understatement) with new item announcements from our suppliers, and we're doing our darndest to get them all up. Bear with us, we'll get caught up soon.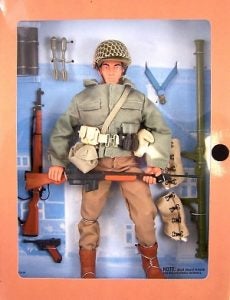 BLAST FROM THE PAST
Medal of Honor: Francis Currey
Released in 1997. Medal of Honor recipient. This set includes: Classic Collection figure with Francis Currey headsculpt, Medal of Honor (Army), Bazooka, Browning automatic rifle, Grenades, Helmet with netting, Wool knit cap, Shirt, Pants, Boots, Leggings, Jacket, Web belt, Canteen with holster, Ammo pouches, M-1 rifle, and Haversack.
BUY NOW

WEEKLY SPECIAL
Adventure Team Style Shoulder Holsters (White, Brown, Black, Tan or Yellow)
On Sale for $4.39 Each (Reg. $5.49 Each)!
Click HERE for details.
Offer Expires: June 20th, 2018 at 6:00 pm (central). Cannot be combined with any other special or discounted pricing. Sorry – No Backorders or Rainchecks.
---
NEW PRODUCTS ANNOUNCED!
X Toys Cloaks (3 Different Colors
ZY Toys Leather' Fitted Evening Coat Set
AC Play Women's Business Suits (3 Colors)
AC Play Sun Top & Shorts Sets (4 Colors)
Star Ace Toys Harry Potter Series Griphook
Hot Toys Star Wars: Han Solo (Mudtrooper Uniform)
INCOMING!
Artlab Design Mission Control System DIY Kit
Artlab Design Command Center System DIY Kit
Mezco One:12 Collective: Spider-Man, Black Outfit (1:12 Scale – PX Exclusive)
---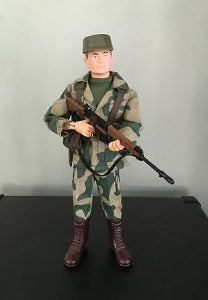 CUSTOM FIGURE OF THE WEEK
Rhodesian Light Infantry, Rhodesia (Zimbabwe) 1970 by Jay Greenough
Cotswold Elite Brigade figure with Vince head, uniform, boots, field cap, belt, pouches, canteen, bayonet scabbard, and H harness. Hasbro 40th bayonet. Vintage Action Man FN FAL rifle.
For larger picture, click HERE.
---